Afternoon tea has been a dining extravagance loved by many for decades. From traditional to not-so-traditional – there's an afternoon tea to be enjoyed by everyone. Keep warm this winter season and explore the best afternoon tea menus at the most luxurious sites across London.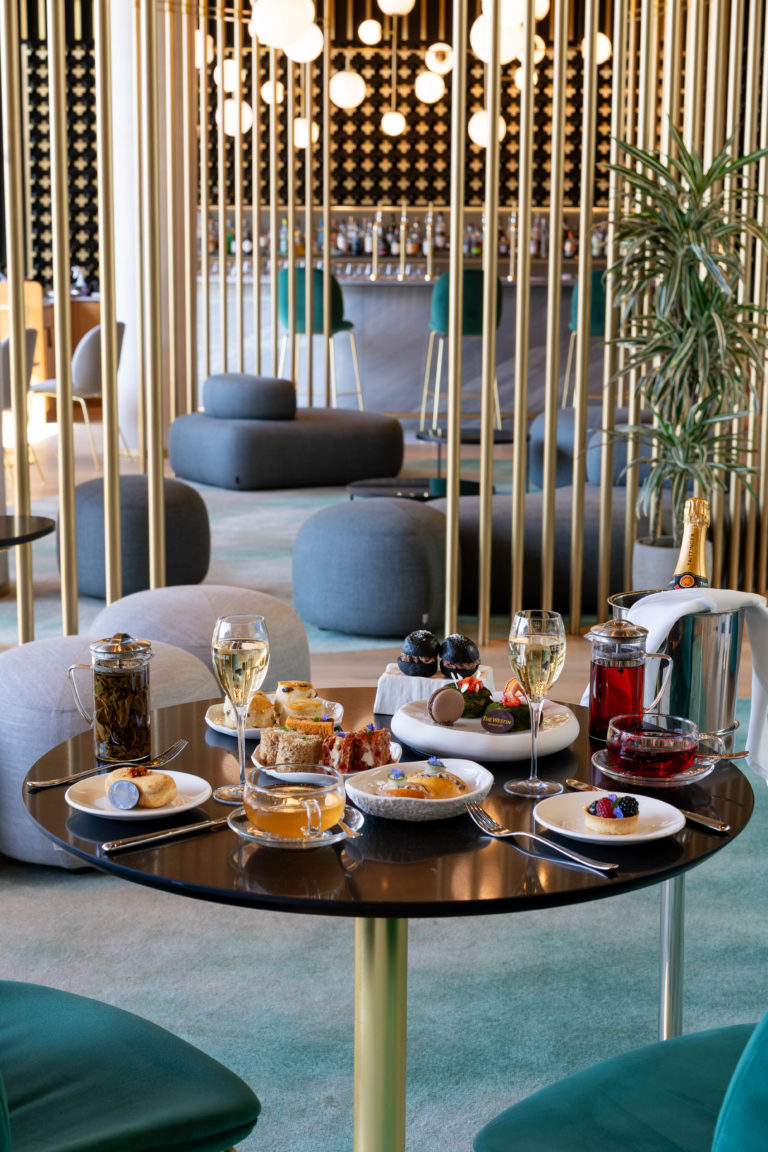 Afternoon Tea with a View at Hithe + Seek
Hithe + Seek takes a non-conventional yet chic approach to afternoon tea. Residing on the third floor of The Westin London City, the gorgeously designed restaurant sits over the River Thames providing a picturesque view for guests. Their flavourful menu curated by Chef Fabio, is plated on single dishes with sharing in mind, to relax and encourage conversation during afternoon tea.
Hithe + Seeks menu consists of eclectic flavours across the board like their sandwiches of grilled vegetables with hummus in tomato bread, Burford egg with black truffle delicately rolled in brown bread – a modern twist of the classic egg mayo with a burst of truffle aroma plus, their chicken with goji berries in a fun vibrant pink beetroot bread.
It's a party of flavours that come together in harmony for the perfect taste. Paired with their premium Jing tea you'll be given a personal timer to leave your tea to marinate for three minutes to guarantee an impeccable taste. Where aesthetics and flavour battle for first place – enjoy pastries of a delicate Nutella tart or the Jing tea matcha cake – perfect light bites that leave room for the buttery, hot scones to come.
Hithe + Seek's new afternoon tea is served daily, from 1 pm to 5 pm, priced at £45pp or £60pp with a glass of Taittinger Champagne. Vegan and vegetarian afternoon tea menus are also available to cater for dietaries.
60 Upper Thames St., London EC4V 3AD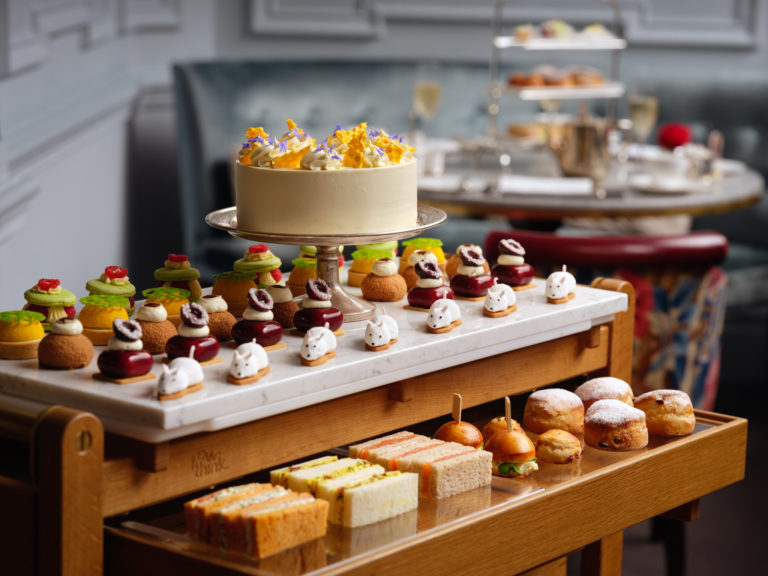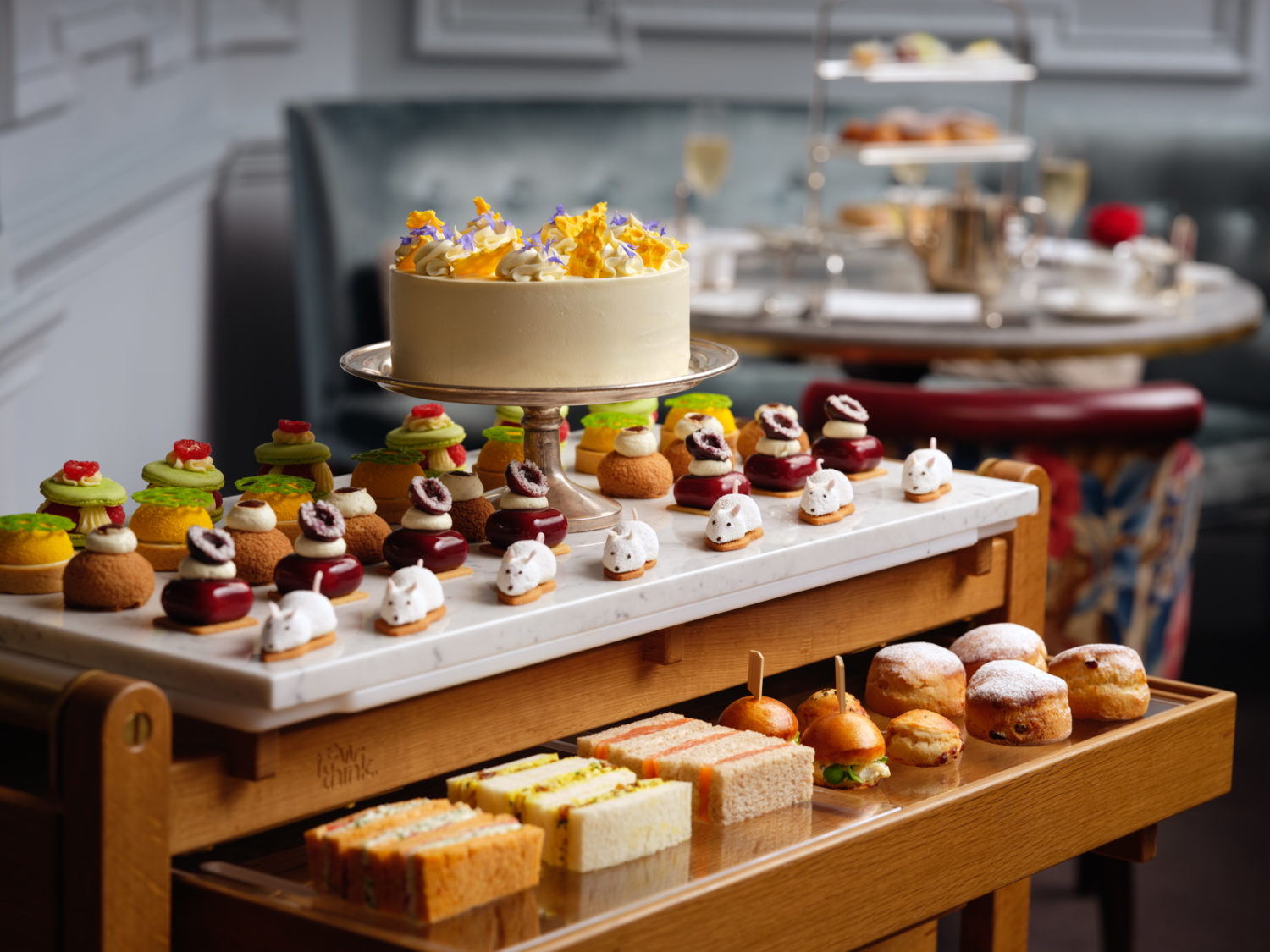 Classic British Afternoon Tea at The Stafford London
The Stafford London unveils a brand-new afternoon tea you might not want to miss. The five-star boutique hotel offers a setting fit for royalty with grand art, and vintage decor for you to unwind in magnificent afternoon tea quarters. Well recognised for its bespoke table-side service, look forward to a show-stopping presentation of pastries bought right to your tableside in a golden trolley.
Choose five of their indulgent pastries including Earl Grey and honey layer cake or raspberry, apple, and elderflower macaron and more. With no afternoon tea complete without it, The Stafford London takes special care in providing the finest selected tea range from the famous Camellia's Tea House – where premium tea is authentically made, and hand blended in London.
Whilst sipping on your tea of choice, ahead of you will be fine finger sandwiches of Montgomery cheddar with spring onion and tomato and honey-roasted ham with mustard mayonnaise. Alongside, freshly baked plain and fruit scones with classic pairings of whipped clotted cream and seasonal jams for you to enjoy any time of year.
The Stafford's new afternoon tea is served daily, 12pm to 5.30pm, priced at £70pp or £87pp with a glass of Louis Roederer Collection 243 Champagne. All cakes and pastries are also available to enjoy individually in The Stafford's lounge.
The Stafford London, 16-18 St James's Pl, London SW1A 1NJ
High Palms High Tea at The Landmark London
Where luxury knows no bounds, the stunning The Landmark London presents the sought-after High Palms High Tea. Hosted in the winter garden restaurant, you'll be seated under the tall glamorous palm trees in the atrium – an ode to its name, as the piano is delicately played.
Coined London's most exquisite afternoon tea, appreciate a quintessentially British menu created by British Bake-Off stars and 2023 winners, Head Pastry Chef Mauro Di Lieto and Sous Chef Daniel Schevenels. Choose from a wide range of teas or perhaps something more fun like a glass of Taittinger Prestige Rosé NV. The High Palms High Tea allows you to immerse yourself in a British banquet of classic sandwiches from the Lapsang Souchong smoked Scottish Salmon to the timeless cucumber.
Anticipate delving into the sweet pastry goodness of raspberry and lemon pavlova crème fraîche and warm candied apricot and marzipan scones paired with a smooth melt-in-your-mouth chocolate ganache – it's the additional topping to a scone you never knew you needed. You'll be served effortlessly and attentively, leaving no stone unturned. Experience the height of afternoon tea extravagance at The Landmark London, High Palms High Tea.
Sittings are available between 3pm and 5pm Monday to Friday, and 1pm to 5pm on Saturday and Sunday. The new Afternoon Tea is priced at £70 per person and can be accompanied with a chilled glass of Taittinger Brut Réserve NV (£83 per person) or Taittinger Prestige Rosé NV (£93 per person).
222 Marylebone Road London NW1 6JQ United Kingdom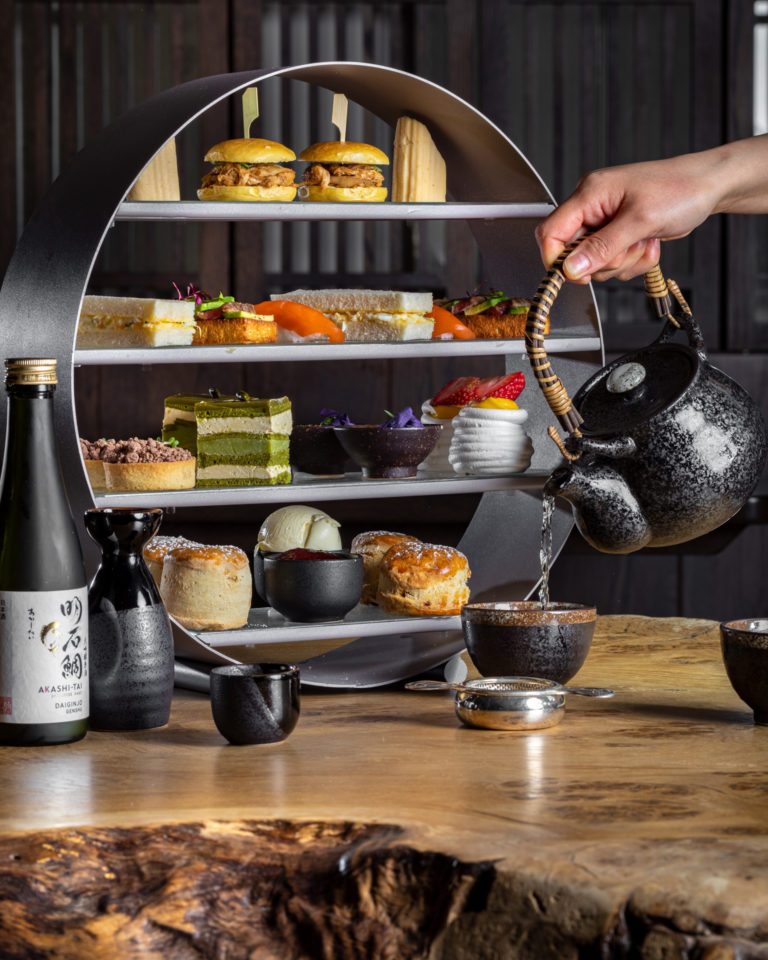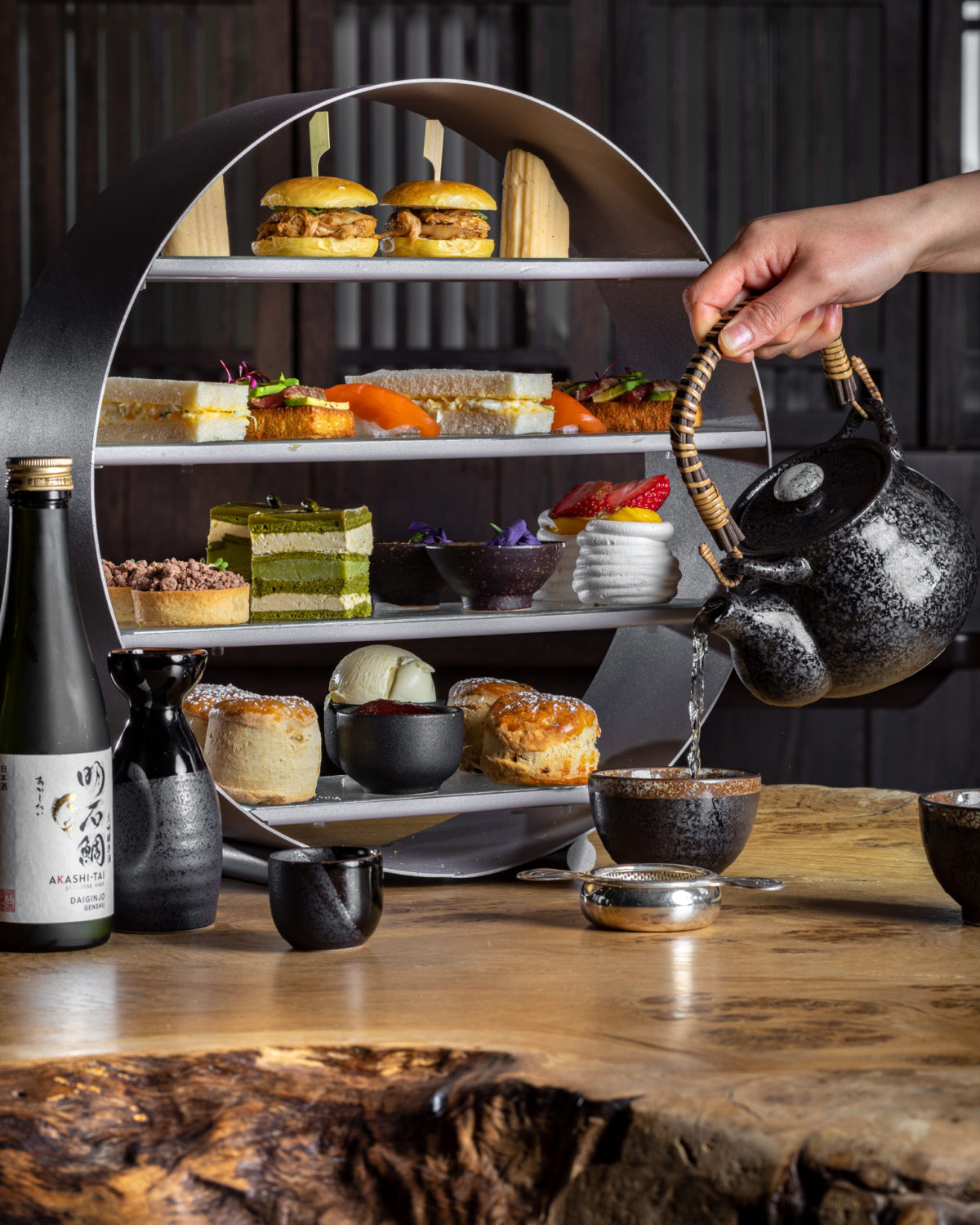 Koto Afternoon Tea at The Prince Akatoki
Appreciate afternoon tea in a new and exceptional way at the grandeur Prince Akatoki Hotel. Nestled in the Marble Arch suburbs, the Japanese hotel provides an authentic Koto Afternoon experience set in their sleek malt lounge.
Your afternoon tea begins upon arrival as the charming songstress, Kieiko Kitamura calmly serenades you on the national string instrument of Japan, the Koto. Expect a customary spread delivered on a 3-D tiered stand, consisting of Japanese delicacies like fresh salmon and yellow tail nigiri, sandwiches of crisp chicken katsu sando and Japanese pastries of matcha pistachio cake, yuzu crème brulee.
Whilst getting to know the flavours of Japan look forward to three sake pairings which will be offered up to you throughout the Koto Afternoon tea alongside a variety of traditional teas. Relax and take in the tranquil Japanese culture of Koto Afternoon tea at The Prince Akatoki.
The Koto Afternoon Tea at The Prince Akatoki is available one Sunday a month until April starting at noon. The cost is £62pp including a section of teas or £75 including the sake.
50 Great Cumberland Place, Marble Arch, London, W1H 7FD