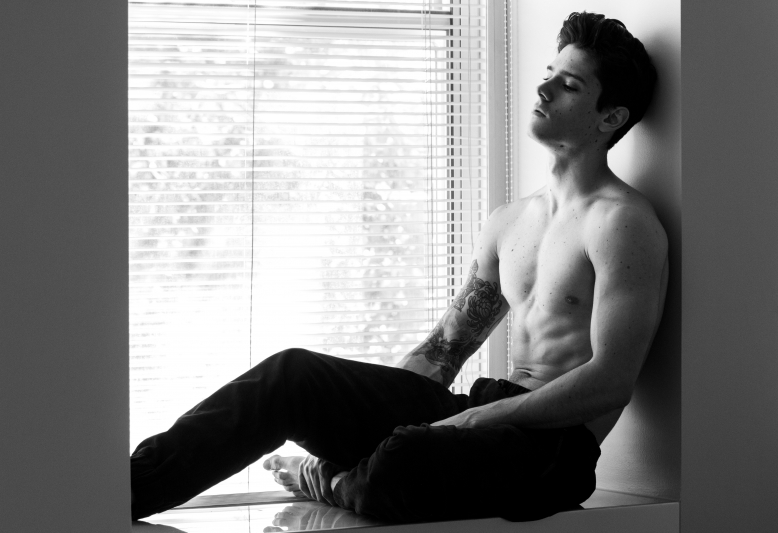 Interview Location: The Canonbury, Islington, London
Shoot Location: Sanderson , Fitzrovia, London
Not only does Diego Barrueco seem to be the name on everyone's lips these days, he is also at the end of their fingertips.
There is no denying that the Internet is a precarious tool. It can propel you to stratospheric levels of success overnight, but tirades of abuse can knock you off your pedestal just as quickly. Diego is one of the lucky ones.
There is no shortage of beautiful male models on Instagram, but very few can emulate Diego Barrueco's success. In recent years, he has become somewhat of an Internet sensation and has amassed a devoted following of almost 200,000 on Instagram alone. I have seen Diego's face more times than I care to remember, but I knew absolutely nothing about him. I was keen to find out more about the boy on screen.
It was a dark and dreary Thursday evening in Islington. The pavements were slick with rain, Jay Best and I ran perilously towards The Canonbury. The sound of rain crashed all around us and the thrash of it against our faces clouded all our senses.
The Canonbury was a haven from the bitter wind and rain outside. A friendly waitress led us to a luxurious grey velvet booth in the far corner of the pub. It was there that we sat, nursing our glasses of white wine while we waited for the man himself to arrive.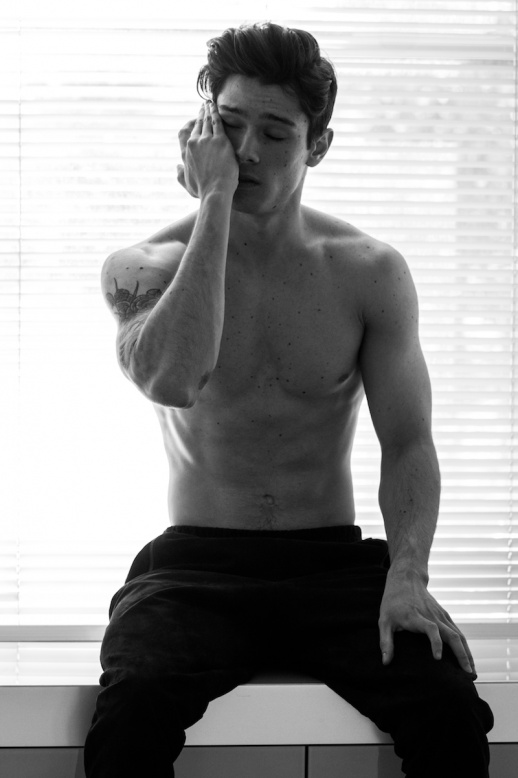 Suede joggers: Monta Heritage
My father always said that you can tell a good man by his punctuality and his handshake. Taking into account his wise words, I knew that I would love Diego even before we had exchanged a single word. Firstly, he arrived at the agreed time of precisely 7.45pm. Secondly, when he shook my hand it was warm but undeniably firm and he maintained eye contact the entire time.
Diego was the epitome of casual cool. He wore a white Ralph Lauren t-shirt underneath a black sports jacket, which he teamed with black skinny jeans. His shock of black hair was swept back into his signature quiff, droplets of rain hung to it like diamonds that shone under the light. His cheekbones were as sharp as cut glass and in the fading light of the evening, I could just make out the dozens of infamous freckles that decorated his face.
The waitress re-appeared to take Diego's order. As he looked up from the menu to meet her gaze, her cheeks flamed with embarrassment. You see, that is the kind of effect Diego has on some people. A single glance from him and the poor girl was tripping over every word she said. Diego remained completely oblivious to this of course and politely ordered a pint of Heineken.
The waitress spied at us from behind the bar as she collected our drinks. I relayed what I had just seen to Diego and he looked completely shell-shocked. His dark eyebrows furrowed in a mixture of amusement and surprise. If I am not mistaken, he may have blushed, just a little.
It is fair to say that Diego has no shortage of female attention. Just take one look at his Instagram and you can see hundreds of comments from girls declaring their undying love for him. I was keen to discover whether Diego ever got used to the unwavering attention.
He bit his lip gently and thought for a moment. He said: "Not really, it still feels very crazy. The other day I was on my way to a casting on Oxford Street and a group of girls spotted me. I was in a rush as I didn't want to be late. They were very sweet and I didn't want to be rude so I took some photographs with them. It was so funny though because they literally wouldn't let me go until I took a photograph with every single one of them."
Diego seems to be living every man's dream. He is adored by thousands of women and gets paid just for being beautiful. However, there is definitely a dark side to his online fame. Among the seemingly endless comments of adoration from his followers, there are cruder comments that Diego finds incredibly distasteful.
He pulled out his phone and began scrolling through his social media accounts, it didn't take him long to find what he was looking for. He slid his iPhone towards me and I could see dozens of sexually explicit tweets and comments directed at Diego, including; 'choke me to death', 'fuck me' and 'I want to rape you'.
Diego pointed out one tweet in particular that read, 'Literally shove your male organ down my throat until it collides with my spine and I bleed to death'.
His nose scrunched up in disgust and he crossed his arms defiantly. He said: "Comments like this are everything that is wrong with society. It is disgusting and it makes me feel very uncomfortable."
Diego has the kind of eyes that completely change colour, depending on what emotion they are expressing. When he laughed they were a deep velvety pistachio, but when he is incensed, they become clouded and dark.
Diego then raised a question that rang in my head like a bell for days after the interview. He leant towards me, his arms folded tightly to his chest. With his eyes locked to mine, he said: "What would happen to me if I left comments like that to a girl? Someone would call the police!"
He looked up at me through a veil of long black eyelashes and added softly: "Girls need to realise that the right guys aren't interested in bitches and hoes. We want wives."
Diego is a man who certainly knows what he wants and isn't afraid to say. Now that I knew what he didn't want from a woman, it led me to wonder what he did want.
He laughed mischievously and his eyes shone like marbles. He said: "On a superficial level, I tend to always go for brunettes. However, what I really find attractive in a woman is attitude."
He elaborated: "A woman with a strong personality turns me on. It doesn't matter how beautiful you are, if I can see that you are quiet, lack ambition and don't speak up for yourself, it is never going to work. The worst is when you ask a woman what they want to do and they reply "I don't mind'. I fucking hate that shit."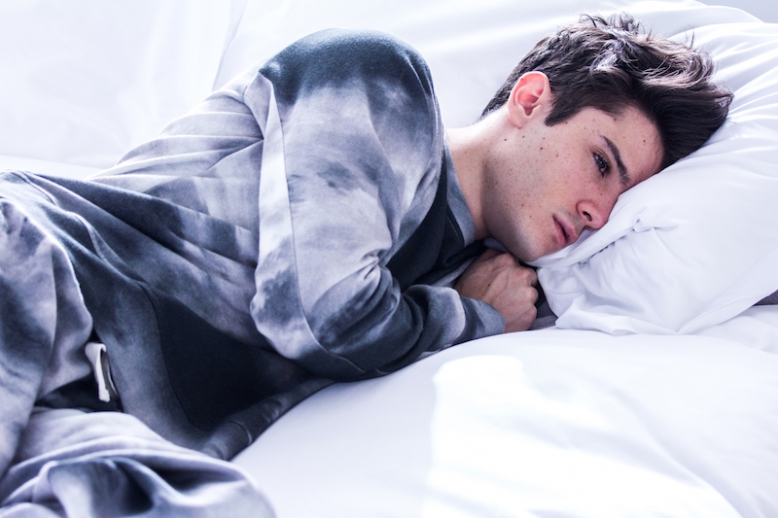 Tracksuit: Tourne de Transmission
Diego owes a lot of his success to Tumblr. The platform acted as a real catalyst in his career. He told me that he began posting photographs of himself to Tumblr in 2011 and over time more and more people re-blogged them. Soon enough hundreds turned into thousands and fame was imminent.
Diego remains completely oblivious to his popularity. He nonchalantly took a swig of Heineken and said: "I don't know why people liked them. They were really shitty photographs that I took on whatever phone I had at the time."
Although Diego may be unaware of what drives his increasing popularity, there is no denying that his followers are being drawn to him in their thousands. In the past year alone, he has racked up over 150,000 followers on Instagram and this number is constantly rising. Diego has even attracted the attention of fellow famous faces such as Ellie Goulding, Cara Delevingne and Victoria Secret model Barbara Palvin who all follow him.
Although Diego is originally from Spain, he speaks better English than many native English people I know.
However, he still has a mesmerising hint of a Spanish accent, which is especially potent when he speaks about his native country. I was keen to discover what his parents back home thought of his fame. Diego bit his lip, attempting to suppress a laugh, but he failed and it escaped his lips. He shook his head slightly and said: "It's funny because my parents didn't find out about my social media until recently. My dad joined Twitter and when he saw my profile, he was like "why the fuck do you have so many followers? Did you buy them?!"
Diego was studying History, English Literature and Language at a university in Spain when his modelling career took off. It got to a point where he was being offered so many opportunities abroad that he could not ignore them any longer. He told his parents that he wanted to drop out of university and pursue modelling.
Diego cupped his face with his hands and said thoughtfully: "To be honest, I was quite surprised by my parents reactions. My father is usually the serious one and I was nervous about telling him my plans as I thought, fuck he is going to go crazy. I also thought my mother would be really supportive but it was completely the other way around!"
The corners of his mouth curled into a small smile, he added: "My father was like, "fuck it, do what you want, Yolo!" and my mother said "No! Finish your studies and then you can do whatever you want."
However, staying in Spain to finish his degree was the last thing on Diego's mind. He revealed: "The economy in Spain is so shit at the moment and there are barely any employment opportunities. How can I be expected to keep studying something, only to graduate and be faced with no prospects; how can I be motivated by this?"
He added: "My degree course wasn't inspiring me either. I never really knew what I wanted to be, but I knew that I never wanted to be stuck in an office, typing on a computer all day. There's nothing wrong with that lifestyle but it just isn't for me."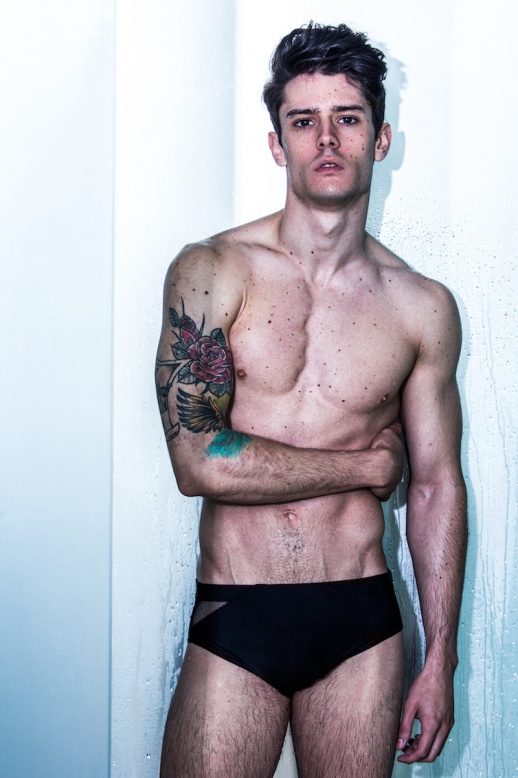 Swimwear: Ada + Nik
It is no secret that Diego truly enjoys modelling, he said: "You get to meet a lot of great people. I used to have idols that were photographers, but through modelling I have actually become friends with them. I also get a ton of free clothes, which I can't deny is very cool."
He revealed that there is a much darker side to modelling that he has struggled with in the past. He said solemnly: "I know this sounds silly, but everybody just judges you on your looks. All they see is a face and a body, not an actual person with emotions and dreams."
He added: "I think that being judged solely on your looks is pretty sad. So many people think that models are very confident but it's completely the opposite. Their entire lives are based on their looks and that can damage your self-esteem pretty badly over time."
We began discussing London Collections: Men (LCM), which had recently occurred. We spoke about the parties we had attended and the shows we had seen. Diego drummed his knuckles on the table suddenly, and said: "Do you know what's crazy? People seem to think that I am some sort of party animal, but in reality I don't really go out that often."
He added: "I went out for three nights in a row during LCM and it took the rest of the week for me to recover!"
Little did Diego know that one of those three nights would end up being one of the most exciting nights of his life. As he told me about his night of hedonism, his eyes lit up with excitement.
He said: "Honestly, it was the best day of my life. I went to see the Nasir Mazhar show with my friend Ian Connor, who had flown into London. He introduced me to ASAP Rocky and we ended up spending the day with him."
This fateful day began at the show, then ASAP Rocky invited Diego and Ian back to his hotel room to hang out. They then enjoyed a feast at a high-end Italian restaurant, where Diego ate the most expensive meal he had ever had.
Diego's eyes widened in disbelief, he said: "That restaurant was crazy, a plate of basic spaghetti was like £60!"
The night then ended in unadulterated debauchery at a strip club.
Diego leant forward and said intimately: "So, I am sitting in a strip club with ASAP Rocky and everyone is throwing money around. ASAP turned to me and said: "I have never and will never pay for pussy."
He added: "ASAP was the coolest guy, I will never forget that night for the rest of my life."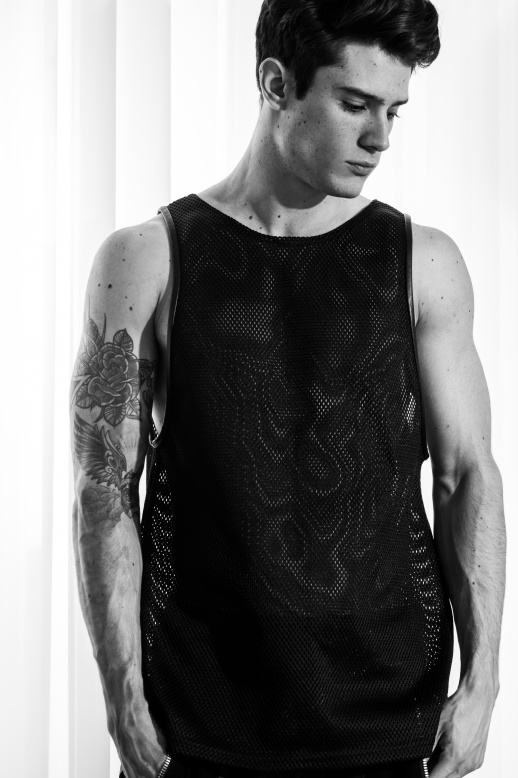 Mesh vest: Ada + Nik
Diego yanked off his sports jacket to reveal his white t-shirt. Suddenly, I was momentarily distracted by his bulging biceps. From a brief glance, Diego looks as though he has a slim yet athletic build but underneath his clothes he basically has the body of an Adonis.
Some colourful tattoos on one of his arms caught my eye and he stretched his arm out towards me for closer inspection. As I examined his four tattoos, I held his arm and his skin was red hot and rough under my fingertips. I could see blue veins snaking up and down his arms like ribbons.
One of his tattoos was instantly recognisable and my childhood flashed before me. I was briefly transported back to a time when I was five-years-old, sat on my favourite beanbag, my lips and fingers sticky with Ribena, sobbing over the death of Mufasa in The Lion King. The only thing that could put a smile on my sticky little face was the camaraderie of Timon and Pumbaa.
Diego ran his finger slowly over his tattoo of the beloved duo, the famous phrase 'Hakuna Matata' scribbled underneath. He explained: "This is probably the most meaningful tattoo I have. My best friend and I wanted matching tattoos, we both loved The Lion King and thought that Timon and Pumbaa would be a perfect tattoo."
He elaborated: "They share a warmth and friendship that is so admirable. 'Hakuna Matata' is actually written in my friends writing and his is in mine. It took around 3 and a half hours but I think that it was worth it."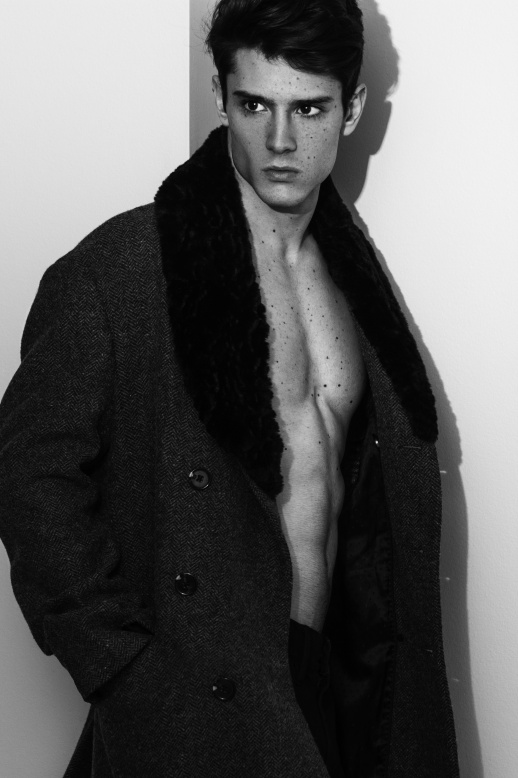 Jacket:  Atelier Scotch
Throughout the interview, what made a truly lasting impression on me was Diego's intelligence, honesty and business mind. Although he is thoroughly enjoying modelling, he is smart enough to know that this rollercoaster ride won't last forever.
He said frankly: "I'll be lucky if I have another five years of modelling. After I moved to London, I quickly realised that if you want to be truly successful you have to be so much more than just a model. You have to become a brand."
He added: "It is important to understand the difference between fame and success. I do not feel like I am famous and I certainly don't want to be."
He has already put a plan in action for his next move although this is something that he insisted remain private for the time being. We switched off the recorder for a brief moment and he revealed his business plan. All I can say that it is innovative, creative and with Diego's unwavering perseverance, I have no doubt that it will be a phenomenal success.
Diego represents everything that is great about this generation. He is undeniably smart, charismatic and mischievous without being arrogant. His work ethic is truly admirable; as is the way he uses social media to his advantage. It is for those reasons above any superficiality that make him the poster boy of a generation.
Before we knew it, midnight was fast approaching and the bell had been rung for last orders. We had been talking for over three hours, but the time had flown.
Suddenly Diego bit his lip, lost in thought for a moment. After a short while, he said quietly: "I would hate for you to just think that I am just another male model. We are not all the stereotypes that people think we are. We are not all cocky and stupid with no ambition. At the end of the day, we are normal people and not just faces and bodies."
In life, there aren't many things that one can know for sure. However, what I do know is that although there maybe thousands of beautiful people, both online and in real-life, there will only ever be one Diego Barrueco.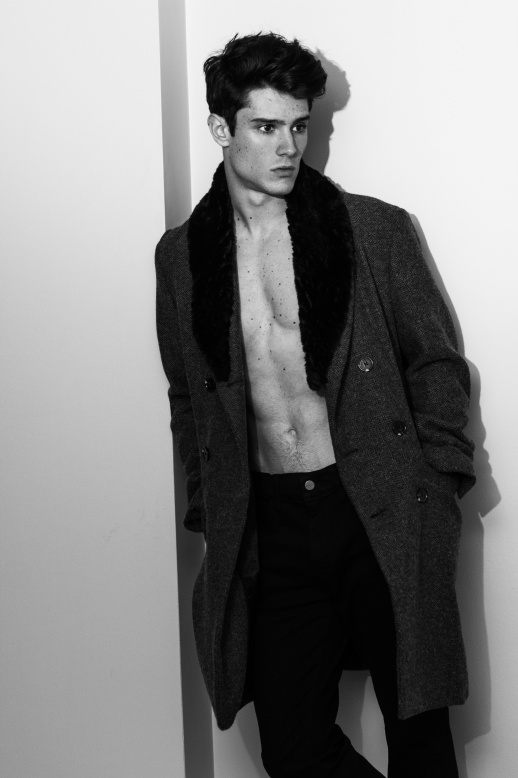 Follow Diego Barrueco on Twitter: @DiegoBarrueco
Follow Diego Barrueco on Instagram: @DiegoBarrueco
Ten Questions We Ask Everyone
 1. What did you want to be when you were younger? 
When I was younger I went through so many phases. One day I wanted to be a professional footballer, the next I wanted to be an Archaeologist. In college I decided that I wanted to teach Spanish abroad. I wanted to be that really cool teacher that everyone wanted to be taught by. You never know, I might revisit that idea one day.
2. If you could offer advice to your twelve-year-old self, what would it be? 
I would tell myself that life is too short. Do what you want to do, don't listen to anyone that forces you to study something you don't want to. Everything is going to be okay, just pick a job you like and enjoy your life!
 3. You have 24 hours with no travel restrictions, how would you spend it? 
I'd go back in time to find out if Jesus ever existed.
 4. What is the most exciting thing that has happened to you this year? 
I know that I keep going on about this, but hanging out with ASAP Rocky last Tuesday was the coolest thing that has happened in my life. That was a night I will never ever forget.
5. The film you can watch over and over yet never tire of? 
There is this fighting film called 'Never Back Down'. It is really cheesy but great motivation.
6.  The song that always makes you emotional?
Thursday – The Weeknd. I always put it on late at night when I can't sleep.
7. If you could spend an entire day with anyone uninterrupted, who would it be? 
My five future wives.
8. It is Friday night at midnight, where are you most likely to be? 
With my friends, doing funny things and smoking funny things.
9. What is your biggest vice? 
Lemon cheesecake and saying "fucking".
10. How would you like to be remembered? 
Please remember me as a nice guy who has the odd interesting thing to say.
Photography
Stylist
Stylist's Assistant
With special thanks to Suzan Masters.