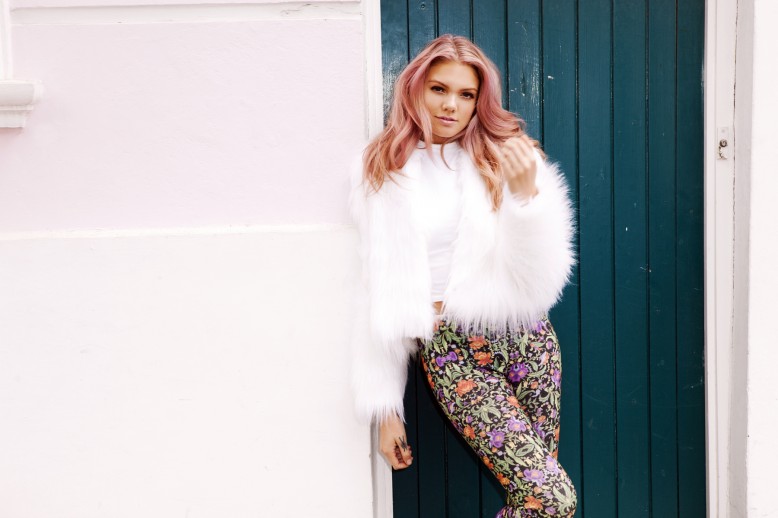 Interview Location: Dishoom, Shoreditch, London
Shoot Location: Thornhill Square, Islington, London
I had heard nothing but glowing reviews about Dishoom, a chic Bombay Café in Shoreditch. A friend had informed me that it was somewhat of a jewel amongst the rest of gritty East London.
Despite its rave reviews, I was still surprised at how busy it was on a wet Monday evening. Jay Best and I followed our waitress obediently as she weaved with ease between dozens of occupied tables.
From first glance the restaurant looked like any other trendy East London bolthole but after closer inspection, it was impossible to deny that Dishoom had a faded elegance.
Glittering chandeliers hung overhead, illuminating an eclectic clientele of office workers and creatives alike. Luxurious black leather booths framed the vast room and were filled with diners chatting animatedly amongst themselves. The restaurant was the perfect combination of traditional Indian heritage and contemporary dining experience. Laughter radiated from almost every table, this was certainly a place to be seen and heard.
Becca Dudley is a jack-of-all-trades. She is fast becoming a household name; by day she is a presenter for MTV and by night she is a successful DJ. She is also signed to the prestigious Nevs modelling agency. Consider me thoroughly impressed, I was keen to discover more about the girl on TV.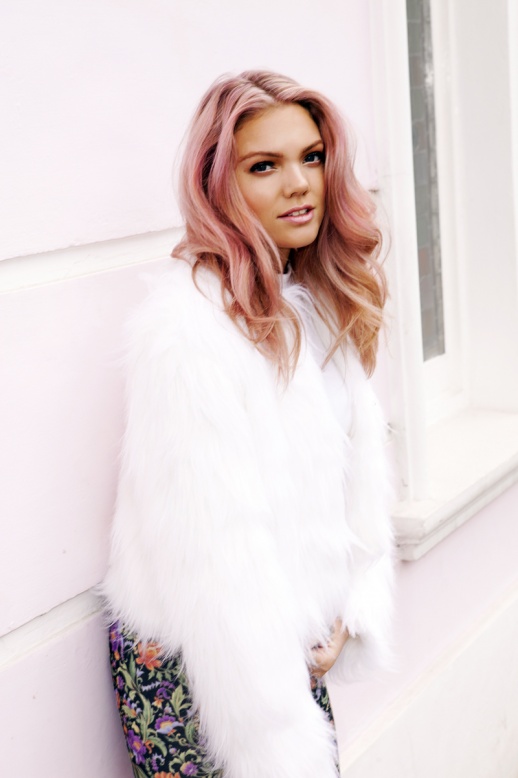 Jacket: Gemma Goldstone    Leggings: Beccas' Own
The waitress led us to a black leather booth in the quietest corner of the restaurant. Becca Dudley was shrouded by darkness; the only light emitted from her phone and illuminated her face as she typed frantically. As we approached, she sensed that she had company and looked up from her phone suddenly.
Becca Dudley is not pretty in real life, she is beautiful. She has the best kind of beauty, the mesmerising ethereal beauty that you can never quite get used to. Not only does she have an undeniable outer beauty but she also radiates a warmth that is a rarity when meeting someone for the very first time.
Becca resembled the love child of Tupac and Marilyn Manson. Her hair was swept back into two intricate French braids that resembled woven gold. A black bandana was folded neatly and tied into a tight bow on top of her head. She wore an androgynous shirt, which was knotted tightly at the waist. She teamed it with rebellious black fishnet knee high stockings.
When we complimented her on her outfit, she looked at us in bewilderment. With her forefinger and thumb she pinched at her shirt and examined it for a moment. She laughed softly: "Oh god, I don't know what I am wearing half the time. I just throw on anything, I look like a ghetto Goth today."
On Becca's recommendation, we ordered three bowls of 'Chicken Ruby' curry and cheese naan breads. The jewel-coloured dishes arrived quickly and I was so pleased that I had listened to Becca. The 'Chicken Ruby' was a piping hot bowl of tender chicken with a rich ruby red sauce that made our lips tingle. We devoured it in moments, tearing great hunks of naan bread stuffed with golden melted cheese.
As we ate we discussed Becca's eclectic style. She dipped her naan bread in the silky red sauce and said: "My style changes all the time but I always wear what I want when I want. Like today, I look like a slutty ghetto Goth Barbie but on others I look like a tomboy or a homeless man!"
She added: "My style may change a lot but one thing remains constant and that is my love of hats. You would faint if you saw my room, it is like a bloody hat shop!"
Becca's style is definitely not for the faint hearted. She revealed that she wore a somewhat unconventional outfit on her first day at MTV.
She smiled mischeviously and added: "Music has a huge influence on what I wear. I have always been into hip-hop, rap and reggae. On my first day at MTV, I wore this really bright Jamaican string vest with a leather dress on top. People must of thought I was crazy!"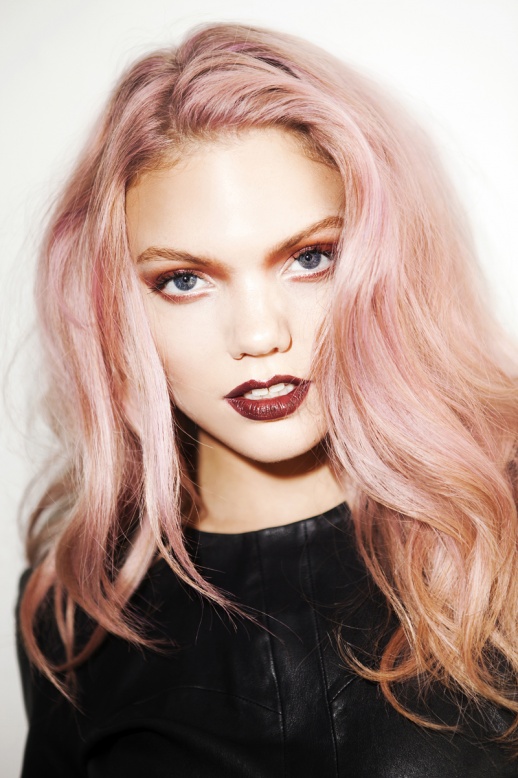 Dress:  Samsoe&Samsoe
Before MTV came a successful modelling career. She had been told to pursue modelling throughout her teens by various friends and family members. Her nose scrunched up in an adorable fashion as she recalled her teenage years. She said: "I was scarily skinny when I was younger and I really don't know why. I used to eat lots of junk food but never gained weight. I was also quite different looking. The boys at my school weren't kind and used to call me ugly, skinny and a rat."
To look at Becca now, those insults are the furthest thing from your mind. Her hair turns golden in the light and perfectly compliments her glowing caramel complexion. Her most prominent feature is her large sapphire blue eyes that twinkle when she laughs, which she often does.
After encouragement from her friends Becca realised that her unusual looks could be beneficial to her. She visited a few modelling agencies but was rejected by every single one.
Becca stuck her bottom lip out, her heart going out to her younger self. She said softly: "My heart was broken, that kind of rejection really hurts."
However, two years later she was on her lunch break at The London College of Fashion when a stranger came and sat next to her. Little did she know that that stranger would change her life.
She smiled softly at the memory and said: "It turns out that the stranger was a photographer that worked for Nevs. They told me that I should be a model and that I would be a great fit at their agency."
The photographer called the agency on the spot and told them that they had found someone that they would love. Within 24 hours, Becca was signed to Nevs model agency.
Modelling is a dream career for many and initially Becca was swept up in the prestige of it all. However after a while the cracks began to show and the darker sides of modelling became apparent. She revealed frankly: "These young boys and girls don't realise that modelling brings you down a lot more than it brings you up. Being judged on how you look is not easy. You turn up to castings to be told that you are not good enough or that you need to lose weight."
She bit her lip and added: "People think that modelling makes you more special than everyone else but that isn't the case at all. It does nothing for your self-esteem. However, on the flipside it does make you stronger. I can take a lot more criticism now, it is like water off a ducks back."
Becca modelled for two years but then MTV came along and her heart wasn't really in modelling anymore. She admitted: "I put on weight, I wasn't a size zero anymore. I had started working at MTV so all my focus was on that."
Since then Becca's modelling career has reignited once more. She recently featured in campaigns for Jack Wills and Boohoo. Becca also recently shot a television advertisement for Boohoo. Speaking of working with the online fashion brand, she said: "I love shooting with Boohoo because we get to travel to all these amazing places. For the last one we were in Dubai and before that we shot in the most beautiful beach club in Majorca."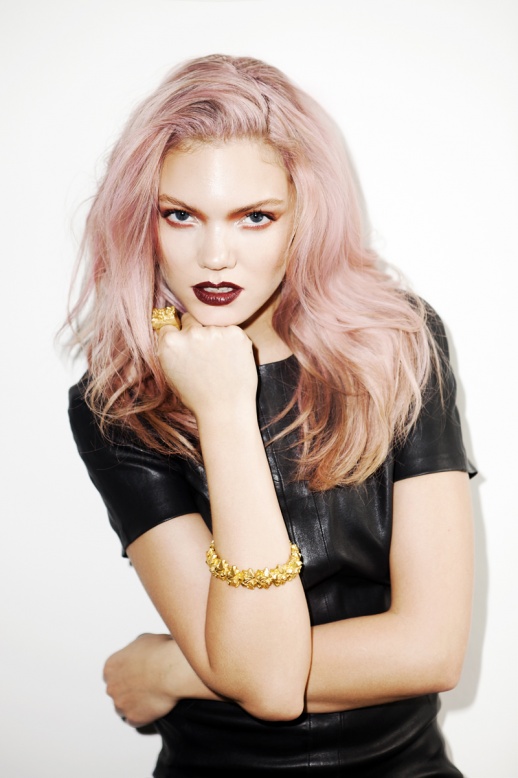 Bangle and Ring: Imogen Belfield
Becca revealed that the opportunity to be a MTV presenter literally landed in her inbox one day. She received a random email from her modelling agency that would later change her entire life. The email informed her that MTV were setting up a screen test as they were looking for a new presenter.
As Becca recalled the night before the screen test, she shook her head in disbelief. She said: "Thinking back, I had no idea how to prepare for the test, it is so embarrassing. I had no presenting experience at all, so I got my mum to make up these cue cards with fake showbiz news."
Her threw her head back and a laugh escaped her lips. Through fits of giggles, she said: "I am cringing just thinking about it. I went into to the test completely unprepared. I didn't try too hard, I just did what I know best and that's being myself."
She added: "They asked me some questions about myself and then they made me read the news. It was then cut up into a showreel and then we discussed it."
Afterwards Becca was called in for another informal chat and was then sent home. A while later, she was in bed when she got the call from her agency, informing her that she had been chosen.
She said: "I was lying in bed, I don't think I was feeling very well for some reason. When I got the call I literally screamed into my duvet. I could not believe it."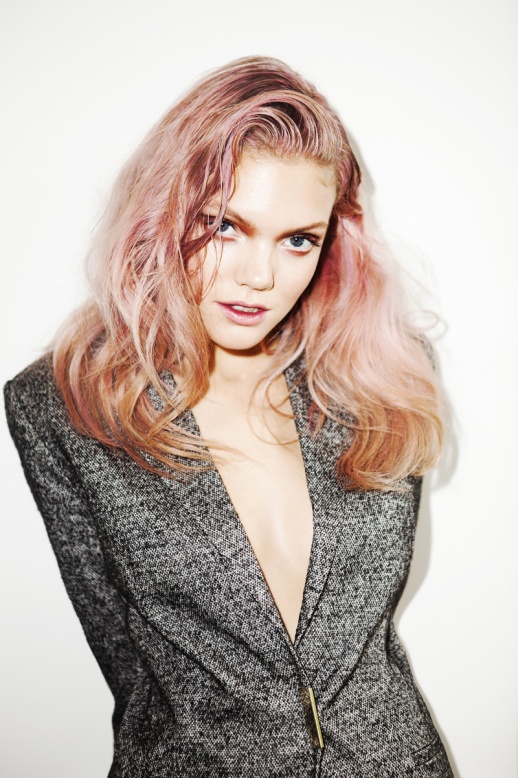 That was almost two years ago and Becca is now a regular face on our television screens. She has a job that many would kill for but she takes it all in her stride, remaining gracious at all times.
Becca assured me that there is no such thing as a typical day at MTV. She gets to the studio for 11am and spends time reading through her emails over coffee. She then practices the script before going into the studio and reading through the news.
She said: "Reading the news only usually takes 15 minutes. Then there might be an interview with a musician or actor. Sometimes there will be a movie screening at a hotel, an awards ceremony or some other red carpet event."
Throughout her illustrious presenting career Becca has interviewed some of the film and music industries elite including; Harry Styles, Pharrell Williams and Channing Tatum to name a few.
She revealed that one of her favourite interview was Cameron Diaz. She recalled: "I have been watching her movies for years and in person she was exactly like how you would expect her to be. That isn't often the case."
She added: "She was beautiful and really fun. You would think that she would be bored as she's been doing movie junkets for years but she really made an effort."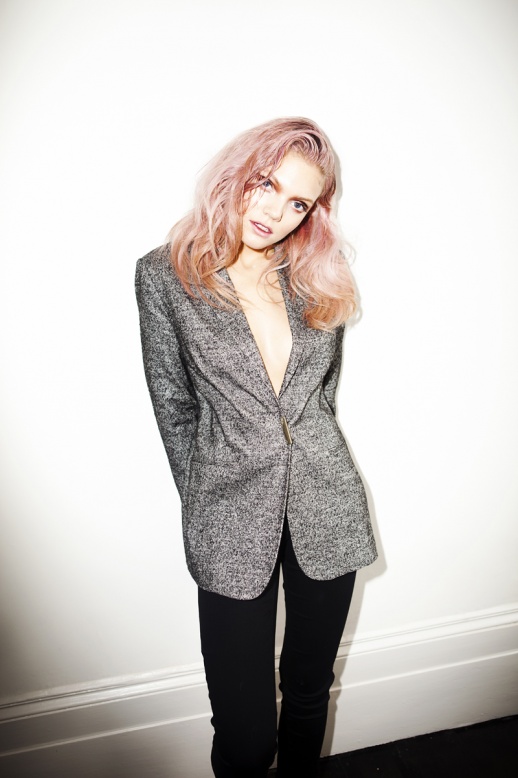 Jacket: French Connection      Jeans: JQ Jeans
You may think that the best part of Becca's job is meeting her heroes but it's actually the travelling that truly excites her. Without a moment's hesitation, she said animatedly: "I have been on some amazing trips with MTV. The European Music Awards (EMA's) are always insane. The most exciting event was definitely my first ever EMA experience. I had never been to an award show or interviewed anyone so it was so exciting!"
She added: "Aside from visiting all these amazing countries, you also get to bond with the team really well when you are travelling. Iceland was also really gorgeous, we went on helicopter rides and visited volcanoes! We even drove through a black sand desert, it was so beautiful."
The waitress came to remove our empty plates and Becca suggested that we order the 'Mango Kulfi on a Stick'. She smiled sweetly at me and said: "Trust me, it is amazing."
Moments later we tucked into sweet, creamy, exotic ice cream as the rain pounded on the window beside us. Tucked up in our cosy booth, we felt as though we were a world away from East London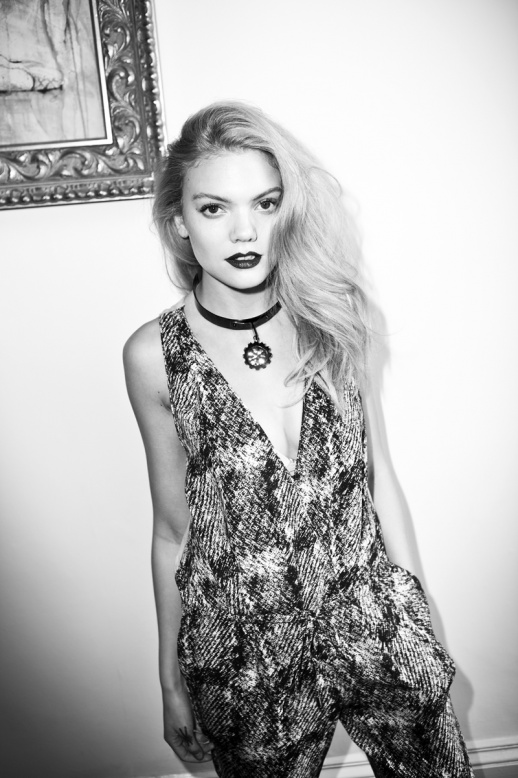 Jumpsuit: Samsoe&Samsoe    Choker: Lionstudio
Throughout the evening, we discussed almost every topic under the sun. Becca told us outrageous and hilarious stories about some of the most recognised faces in Hollywood. These stories made our toes curl and our side's ache from laughter in equal measure. However, this is the entertainment industry and although they were undeniably scandalous they must of course remain off the record, as much as it pains me to say so.
The waitress appeared at the table once more and informed us that the restaurant was due to close. We looked around in bewilderment to discover that the once bustling restaurant was now deserted. Midnight was fast approaching and we had been sitting at the table, lost in conversation for almost five hours.
Moments later we filed out onto the sodden pavement and said our goodbyes. Becca hugged us and thanked us for the interview. We thanked her as it had a pleasure. Then she was gone, striding down the black pavement, slicked with rain, her golden hair briefly illuminated under the orange glow of the street lamps.
A golden light set against a sea of dark.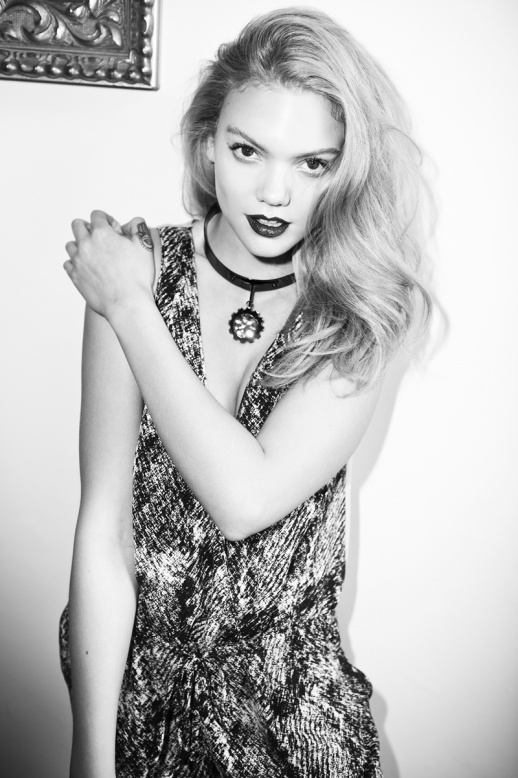 Ten Questions We Ask Everyone
 1. What did you want to be when you were younger? 
I wanted to be a choreographer even though I can't dance! Looking back I really don't know what I was thinking!
2. If you could offer advice to your twelve-year-old self, what would it be? 
Don't listen to those mean boys that called you a skinny, ugly rat! Don't worry because life will get so much better!
 3. You have 24 hours with no travel restrictions, how would you spend it? 
I would take my boyfriend to Bali because he's never been there. I love it so much and would really like to share it with him. We would go to the tiny islands, drink watermelon juice on the beach and then dip our feet in the sea.
 4. What is the most exciting thing that has happened to you this year? 
Oh no, I am going to bore you to tears going on about Bali. I spent two weeks in Bali earlier this year and it was so beautiful.
5. The film you can watch over and over yet never tire of? 
Mean Girls and Clueless!
6.  The song that always makes you emotional?
Louis Armstrong's 'What a Wonderful World' was played at my nan's funeral, I can't listen to it without crying.
7. If you could spend an entire day with anyone uninterrupted, who would it be? 
David Rodigan MBE! He was one of the first reggae DJ's in England, he's such a legend!
8. It is Friday night at midnight, where are you most likely to be? 
Drinking wine with my best friends!
9. What is your biggest vice? 
Definitely Junk food. Every Monday I try to be healthy but it's completely out the window by Wednesday!
10. How would you like to be remembered? 
I'd like to be remembered as a really loyal, happy, family orientated woman.
Follow Becca Dudley on Twitter: @BeccaDudley
Follow Becca Dudley on Instagram: @BeccaDudley
Photography
Stylist
Make-up Artist
Jessica Hunte using Kryolan Cosmetics
Stylist's Assistant
Annie Mcgill
With special thanks to Suzan Masters.