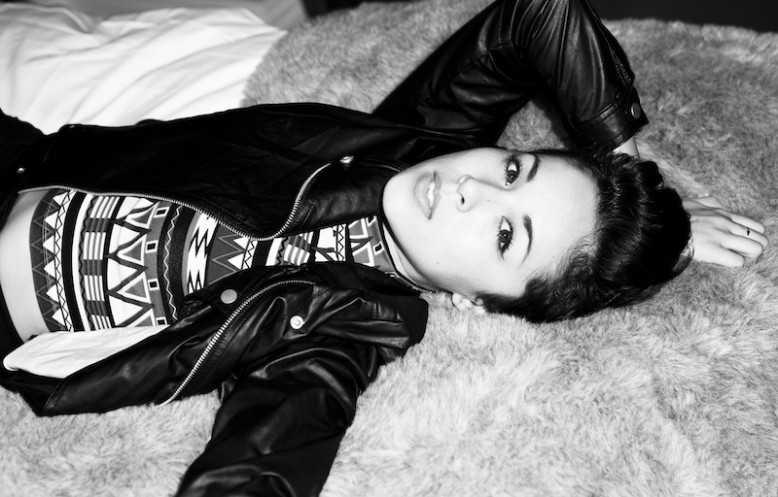 Interview Location: The Tabernacle, Notting Hill, London
Shoot Location: Malmaison Hotel, Farringdon, London
It was the kind of summers evening that inspires poets, songwriters and filmmakers. The sun was slowly setting over Notting Hill, leaving a dusky pink streaked sky in its wake. Remnants of the scorching afternoon were everywhere; from the girls singing-a-long to Blondie's 'Glass Heart' on their terrace to the customers spilling out from the pubs onto the street, glasses of wine in hand and looks of unadulterated joy plastered on their faces. Even the usually ashen-faced commuters had a spring in their step, ties were loosened and stockings had been removed, to reveal legs that probably had not seen sunlight since 2013.
My friend Stephanie and I walked through the residential streets of Notting Hill flanked either side by imposing yet majestic white stucco fronted houses. Nearly all of the sash windows had been carelessly left open; music, the smell of home cooked meals and the sound of laughter wafted out of them.
We turned sharply and found ourselves in the courtyard of The Tabernacle. I have always been slightly in awe of the ethereal Romanesque red brick building. The Tabernacle has lived a number of different lives; it was initially a church then became a famed music venue, where the likes of The Rolling Stones have taken to the stage.
The Tabernacle has witnessed the surrounding area transform from Peter Rachman's slum empire in the 1960s to a luxury residential paradise. Nowadays artists, musicians and supermodels frequent the area and the average house price often exceeds £1.8m. It is undeniably the jewel of Notting Hill, if only those walls could talk.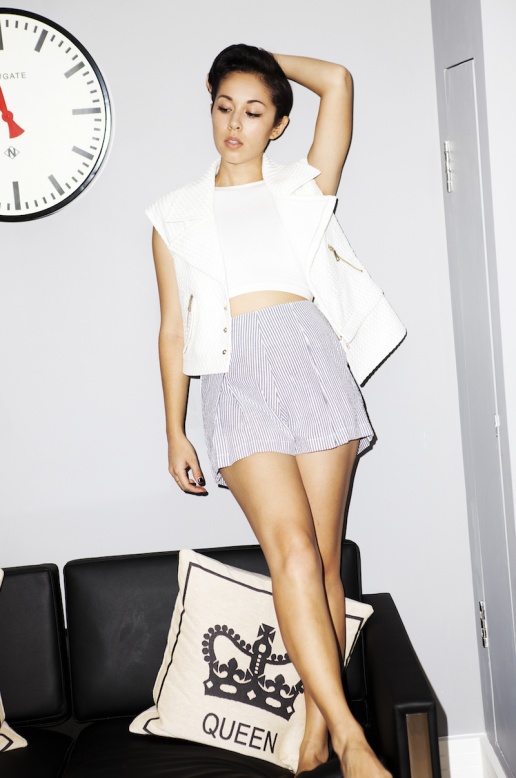 Jacket: Three Floor      Top: American Apparel      Shorts: American Apparel
We were lead past a number of security guards to Kina Grannis' dressing room. On our way, we bumped into Kina's husband Jesse, who sported an impressive black beard and kindly pointed us in the right direction.
As we entered the dressing room, Kina stood to greet us. I was astonished at how petite and naturally pretty she was. She had a darling pixie cut that framed her delicate elfin features and her brown eyes sparkled behind her a side swept fringe.
Right from the beginning, the Internet has played a fundamental role in Kina's career. She has amassed a dedicated following, which includes over 600,000 fans on social media and almost 150 million views on YouTube.
Kina was initially catapulted into the spotlight when she won the Dorito's Crash the Super Bowl 2007-2008 competition. She had launched her YouTube channel earlier that year and her first video was a performance of her original song 'Message From Your Heart.' The video was entered into the contest and Kina subsequently won.
The company purchased 60 seconds of prime advertisement during the Super Bowl and Kina's song  'Message From Your Heart' was seen by over 100 million people. The contest also landed her a lucrative recording contract with Interscope Records.
She bit her lip gently and smiled at the memory. She recalled: "The top three finalists were flown out to the Super Bowl and we were put in a viewing room. They told us that after the first quarter, one of our videos would air on national television. It was crazy. When I saw my video, I just started bawling."
She laughed softly and held her chin between her forefinger and thumb, lost in thought. She added: "It was really weird because at that exact moment, I knew that my life would be about music, and that somehow it was going to work out."
Without a moment's hesitation, Kina said simply: "The Internet has been everything. I was doing music for years before I got involved with the Internet. It was fun playing on street corners but it can only get you so far. YouTube, Twitter and Facebook opened so many new doors for me. I was instantly able to share my music with the world."
Kina is as devoted to her fans as they are to her. She ensures that she takes time to try to reply to every tweet she receives. She revealed that interaction with her fans is especially important to her.
She pondered: "The interaction has been so key for me because it started so organically and small. It never jumped to a place I couldn't handle because it was always a slow growth."
As she spoke about her fans, her voice was laced with gratitude. She said passionately: "I feel like I've really been able to get to know a lot of them and involve them in the process. I owe them everything, so it is really important to share as much as I can with them."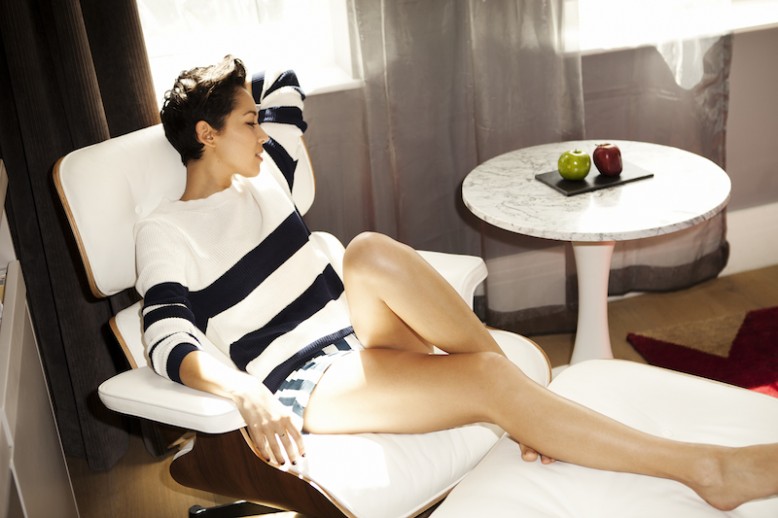 Jumper: Samsoe & Samsoe       Shorts: American Apparel
Kina is also beloved by her fans for her extraordinary covers. She is renowned for breathing new life into songs by putting her own beautifully ethereal spin on them. I told Kina that a particularly favourite of mine is her incredible cover of The Neighbourhood's 'Sweater Weather'.
She clasped her hands to her chest and a soft laugh escaped her lips. She said: "Really? Thank you! Sweater Weather was very fun, the moment I heard that song, I knew that I wanted to cover it. It was also cool to incorporate the electric guitar and everything, I don't tend to do that."
Throughout her illustrious career, Kina has released five successful studio albums. Kina revealed that her music has definitely evolved throughout the years. She pondered: "It's funny because I've been thinking about that a lot lately. My last album before the new one was 'Stairwells' and that was released four years ago. I wrote songs for that album six years ago, so I think there has been a pretty drastic evolution between my new album 'Elements' and 'Stairwells'."
She added thoughtfully, "Personally the differences feel pretty radical because so much has happened in my life during that period. I think it's the same for most musicians, we grow as people so our music does too."
I was surprised when Kina admitted that recording her new album was a rather different experience than her last four albums. She pondered: "I have been writing for most of my life so a lot of the songs on my previous albums were from a while back. I was also still very much figuring out who I was and what I sounded like."
She added: "Before 'Elements' I was touring for two years, and then started completely at square one in terms of writing material for the album. I put a lot more focus on writing; I went on writing retreats that were dedicated to trying to create again."
Kina then reached out to famed producer Matt Hales, better known as Aqualung. Hales has produced for some of the music industries elite, including; Disclosure, Tiësto and Jason Mraz.
Speaking of their harmonious collaboration, Kina said excitedly: "Matt just completely got my goal for the album. It was really important for the album to be developed sonically instead of just having a bare acoustic vibe."
She added: "I wanted to build up this whole soundscape behind it and Matt is such a genius at that kind of stuff. It was really fun to work with him, he gave me a better idea of what I wanted the album to be."
Kina's new album was predominantly inspired by her growth as an artist. She told me frankly: "In the years that I was promoting 'Stairwells', I was touring a lot. I met a lot of people and learnt a lot about myself, and then I came home and was just alone and figuring out what life was again."
Her tone lowered considerably and it was apparent that what she was saying came straight from her heart. She said: "This album is about growth, being vulnerable and honest with myself. Things like confronting death for the first time and also getting married. 'Elements' is very much about all the highs and lows that I have experienced in the last few years."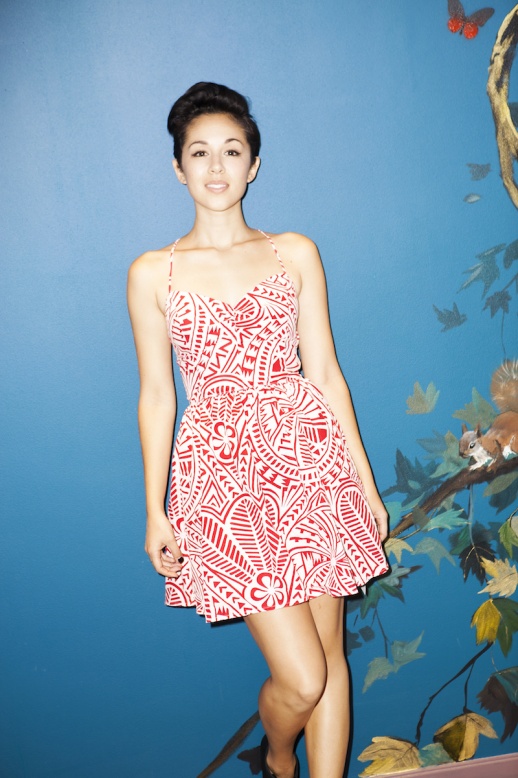 Dress: American Apparel
When she is not creating beautiful music, Kina is an avid philanthropist. Her entire world was turned upside down when her mother was diagnosed with blood cancer. It was at that point that she decided to get involved with the Leukemia and Lymphoma society.
When I mentioned her charity work, Kina's eyes immediately lit up. She said animatedly: "The LLS is the biggest charity I have been tied to and everything I do, I try to funnel some of it to the LSS."
She added frankly: "The work that these charities do is incredible and it feels amazing to give back as much as I can. I try to partner up with people whenever I can to raise money for these causes."
Kina recently launched the 'Run Team Kina' project, which was a phenomenal success and raised over $72,000 for the LSS.
Speaking of the project, Kina said: "It was really fun but I had two focuses for the project; one was to raise money for the LSS and the other was to encourage people to find different ways to challenge themselves and be healthy. Some people trained for marathons and others were just eating more vegetables."
She added: "It is pretty cool to see what happens when people come together."
Before I knew it, Kina was almost due to go on stage and we reluctantly drew the interview to a close. I told Kina that we were due to shoot her at Malmaison hotel in a few days time. Her eyes lit up once more, she said excitedly: "I know, I can't wait! Thank you so much for coming tonight, it means a lot, honestly."
We wished her good luck for the show and I said: "break a leg!" A laugh escaped her lips and her eyes glittered as it did so.
We went out to join the huge crowd that had amassed just outside of the dressing room. A security guard noticed us in the crowd and invited us to sit in the reserved seating area, where we had an unobstructed view of the stage.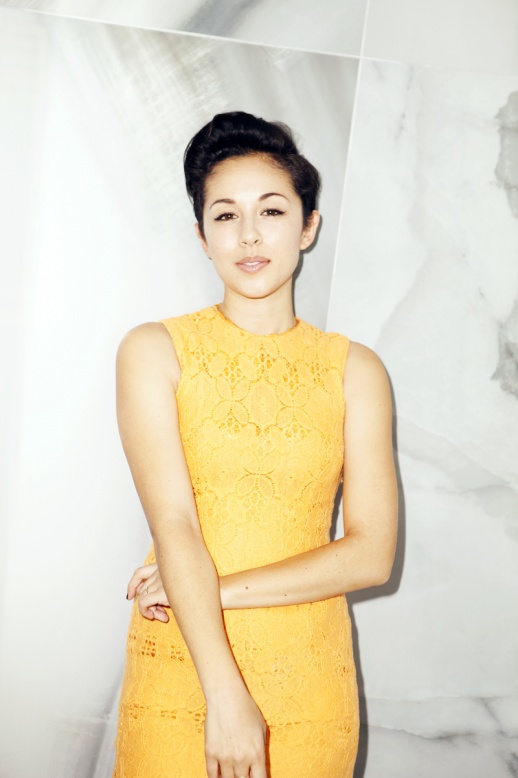 Dress : Beyond Retro
When Kina walked onto the stage a short while later, the crowd erupted in applause. Women screamed her name and men wolf whistled and stamped their feet until the floor beneath our feet trembled. It was a truly astounding reception from such an intimate crowd. They adored her as much as she adores them.
Throughout the gig, Kina radiated warmth and glowed with positive energy. She often made the audience laugh out loud or stunned them into silence with her hilarious and occasionally heart-breaking anecdotes.
In sombre tones, she told the crowd that she had lived many lives since her last album. She spoke about losing her grandfather and how that after that loss, she had developed an excruciating fear of death and losing her own parents. She revealed that her own father, having lost his father, was living her nightmare.
As she introduced 'Forever Blue', a song that was inspired by the loss, her voice cracked and my heart sank. She performed a raw, uninhibited and hauntingly beautiful rendition of the song and my eyes prickled with tears.
Kina's has a beautiful voice with an undeniably ethereal quality. Within moments, it washes over you and completely consumes you.
I was completely transfixed as she performed arguably her most popular song 'Valentine' to the delight of the crowd, who sang each word back to Kina so loudly and passionately that they almost drowned her out.
It is a rarity to see an audience connect with an artist in such a beautiful and honest way. Kina engaged with them like old friends and they reciprocated by supporting her like only a loved one could.
Before I knew it the gig was almost over, much to the devastation of the crowd. Kina leaned into the microphone, in almost a whisper, she said: "The fact that you trust me enough to give the new album a chance means the world."
After a rapturous reception, she graciously added: "You are the reason why I get to what I love. Thank you so much."
The crowd erupted into cheers of gratitude and applause once more. As we filed out of The Tabernacle and onto the balmy streets of Notting Hill, I realised that my palms ached from clapping but I didn't care, Kina Grannis was worth it.
Ten Questions We Ask Everyone
1. What did you want to be when you were younger?
A singer
2. If you could offer advice to your twelve-year-old self, what would it be?
Don't care so much about what other people think!
3. You have 24 hours with no travel restrictions, how would you spend it?
I would spend half the day wandering around Japan and the other half lying on a beach in Hawaii.
4. What is the most exciting thing that has happened to you this year?
The new album was so exciting to create but it was also very scary to imagine actually giving it to people and seeing what they thought about it.
5. The film you can watch over and over yet never tire of?
Garden State
6. The song that always makes you emotional?
Coldplay – See you soon. That song murders me!
7. If you could spend an entire day with anyone uninterrupted, who would it be?
Imogen Heap, I would love to pick her brain.
8. It is Friday night at midnight, where are you most likely to be?
Realistically, I am most likely to be watching Game of Thrones on my couch.
9. What is your biggest vice?
Ice cream!
10. How would you like to be remembered?
I'd like to be remembered as a genuine person, a real human being.
Photography
Stylist
Make-up Artist
Stylist's Assistant
Annie Mcgill
With special thanks to Suzan Masters.