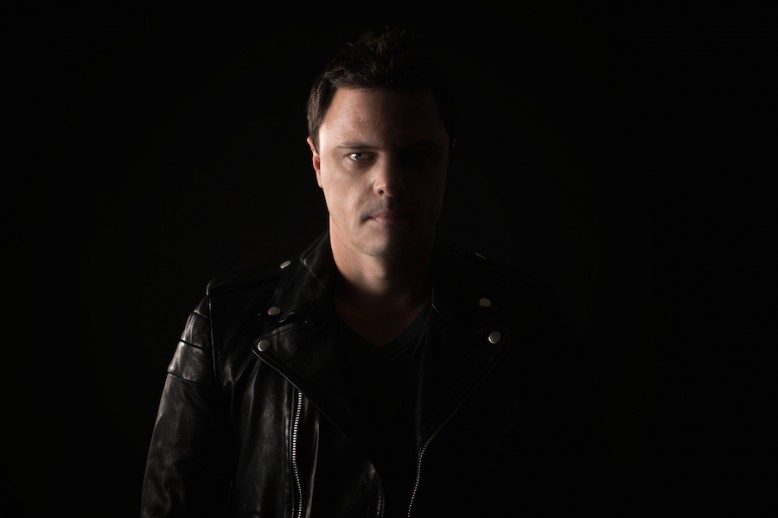 Location: Malmaison Hotel, Farringdon, London
He moved to the States from Germany when he was just 12 years old, and it certainly seems like Markus Schulz has achieved the coveted American dream.
The legendary DJ has not stopped since his teen years, when he first found his love for mixing and producing while part of a breakdancing gang.
'I used to make all the mixtapes for our crew,' Markus, 39, tells me over a cup of tea in London ahead of his headline set at Ministry Of Sound. 'We decided to throw a party one time and we were practicing for two-three months and when it came to the night of the event we were all going to take turns Djing.
'So many people turned up so everyone chickened out and I wound up Djing the whole party. It felt so comfortable, it felt like home and that memory of how it felt so right, I'll never forget it.'
Bitten by the electronic dance music bug, and taken in by the sounds of Larry Laverne and the Paradise Gang, it was non-stop for Markus as he continued learning the craft and playing sets at clubs he wasn't old enough to get into.
'I had jobs taking out trash in studios, working in the clubs where I would clean the bathroom and sweep the floors after they closed, but I just hoped that I wouldn't have to get a real job. That was always my goal.'
Markus's parents, who split when he was young, didn't quite understand his DJ ambition, though his father was a musician himself.  'My mother didn't want me to be like my father, and they both weren't happy but they couldn't stop me.'
Markus didn't stop and now he's one of the most celebrated DJs in the world who has been voted DJ Times magazine's "DJ of the Year" and played at some of the biggest music events and venues across the globe including Stereo in Montreal, EDC, Ultra, Transmission, and London's Ministry of Sound.
'This is my life,' Schulz says about his constant travels around the world, 'I live in hotels, and my family understand, but there is no magic formula to surviving it.'
He's just finished a month-long bus tour of the U.S., travelling across the country 'to take the production to cities that wouldn't normally see it.'
Certainly the growing acceptance of EDM music in the mainstream has made a tour like this possible. So what does Markus think about Simon Cowell's plan to make a DJ equivalent of The X Factor.
'Djing is an art form; it started in the club,' he explains. 'The real art of djing is taking someone on a journey by taking pre-recorded material and taking them somewhere special.
'If Simon Cowell wants to exploit EDM and add more attention to it then cool because people will graduate from that silliness and refine their palettes and find what's real.'
With over twenty years in the industry, Schulz opinion can be trusted on these matters, as he has absorbed as much as possible about the musical world he has so aptly immersed himself into.
'I always think of performing as a one-on-one experience. Now there are millions of people listening, but the idea is still the same. If you think about it too much it can mess with your head.
'Doesn't matter how many people I play to, I give the same thing.'
Today Schulz is showing no signs of slowing down, with even more gigs, a radio show and a new album, Scream II, released to rave reviews.
'When I started Scream I it took a long time before I got in the groove,' Markus recalls. 'Towards the end of making the album, ideas were flowing and it all came together.
'I still had so many more ideas and normally I take a break after completion, but I decided to just keep on working. And sure enough I had enough tracks for another album. '
So will there be a third album to make this a Wes Craven like Scream trilogy? Not just yet, as the DJ says he's 'told the complete story'.
But judging by his Djing legacy and musical trajectory, Markus Schulz's story isn't over just yet.
Interview by Hanna Flint.
Ten Questions We Ask Everyone
1. What did you want to be when you were younger?
The first time I played to a crowd I knew I wanted to be a DJ.
2. If you could offer advice to your twelve-year-old self, what would it be?
Well, not my 12-year-old self but when I was 16 I used to ride my bike 20 miles to and from the club, and I remember one night I was riding with a crate of records and I wiped out. I was laid in the street, bloody, my records all over. I remember thinking if a car hit me right now so be it. I f I could go back in time, I would go back to that time and tell that kid to get up, pick up those records, because life is going to be amazing.
3. You have 24 hours, with no travel restrictions, how would you spend it?
In my garden
4. The most exciting thing that has happened to you this year?
The bus tour – I got to go to some of these cities and really experience some different cultures with people with different mind-sets. Chico, California were the craziest.
5. The film that you can watch over and over yet never tired of?
Wedding Crashers and Smokey And The Bandit. I just love that car. I want to drive that car to Winter Music Conference one year
6. Favourite memory?
I used to sit outside clubs listening to Danny Tanaglia and then I was on the dance floor in Space Miami while he was doing a marathon set. Danny owned the crowd and I was dancing between John Digweed and Carl Cox, all together taking a journey.
7. If you could spend an entire day with anyone uninterrupted who would it be?
Larry Laverne, I never got to meet him and I would love to just see
8. It is Friday night at midnight, where are most likely to be?
On the decks
9. What is your biggest vice?
My music, I've been known to just ignore people and tune everything out for the work.
10. How would you like to be remembered?
This up and coming DJ I love Como said to me when we first started working together "I don't want to me No. 1 I want to be a legend." You can sell your soul to be No. 1 but to be a legend, that's a lifetime of work.
Follow Markus Schulz on Twitter: @MarkusSchulz
Visit Markus Schulz's official website: www.markusschulz.com
Buy Scream 2 here.