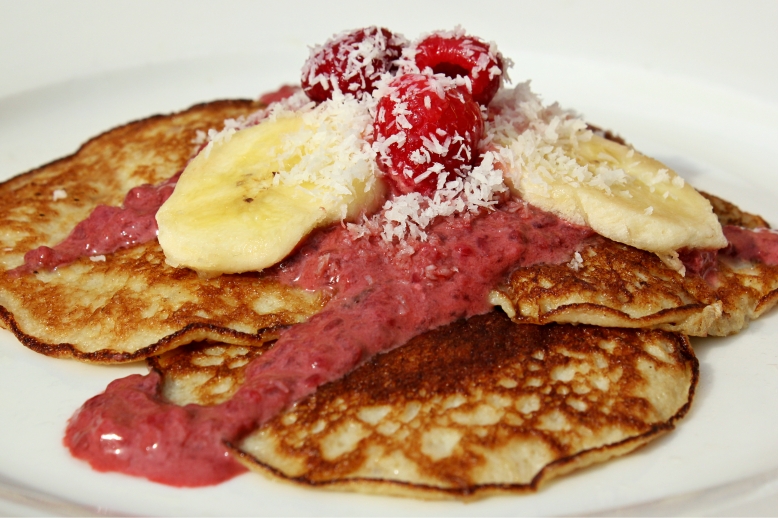 Completely flourless, gluten free, dairy free, high protein and low carb, these pancakes make for a perfect breakfast, light lunch or pre/post workout meal.The only way I can think to describe the texture and taste is like a cross between banana fritters and eggy bread or french toast and it totally works.
Any day can be pancake day with this guilt-free treat! For more great healthy recipes check out Natalie Way Bakes.
Ingredients
(8-10 pancakes)
Pancakes:
1 Large, very ripe banana
2 Medium eggs
1tbsp Coconut Oil
Toppings:
2tbsp Coconut Milk
1 Small handful of fresh raspberries
1/2tsp Molasses  
2tsp Desiccated coconut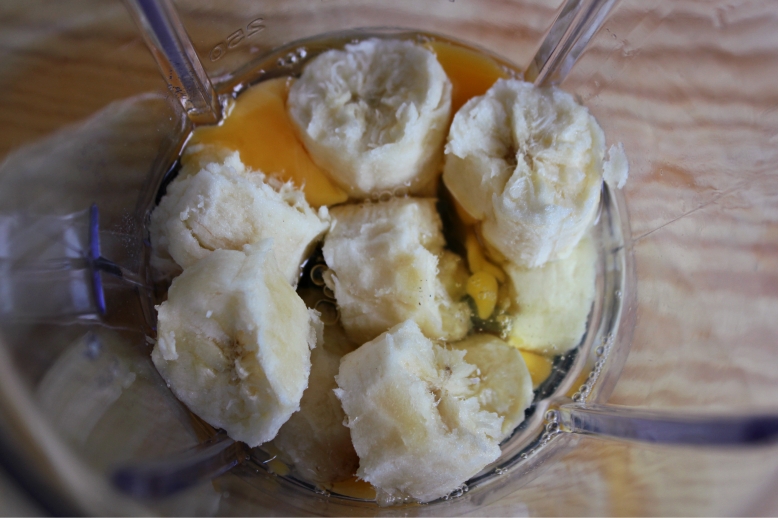 1. Whizz together your banana and eggs in a food processor or mush together in a bowl until smooth
2. Heat a frying pan with 1tbsp coconut oil to a medium heat
3. Pour 2-3 tbsps of batter at a time to make pancakes 'American pancake' size. Cook until bottom appears to set (roughly 30 – 60secs), flip using a spatula and cook for another 30-60secs.
4.  For your topping, put your fresh berries in a small  saucepan with 10ml of water and 1/2 tsp of molasses, cook over a low heat for a few mins until the raspberries start to break down.
5. Take your berries off the heat and mix in a bowl with 2tbsp of coconut milk.
6. Serve your pancakes, topped with your raspberry and coconut sauce, fresh fruit and a couple of teaspoons of desiccated coconut.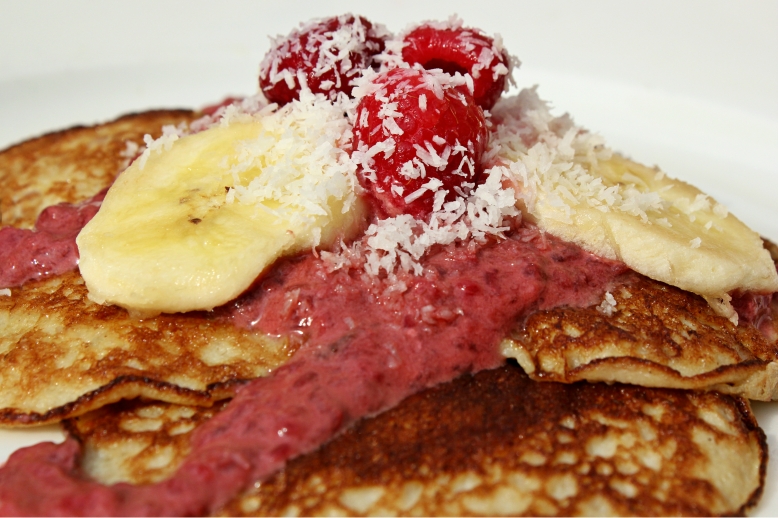 Recipe by Mica Francis-Angel
Visit Mica Francis- Angels' blog: iwaspromiseddonuts.net

Visit Mica Francis-Angels'  Instagram: @iwaspromiseddonuts