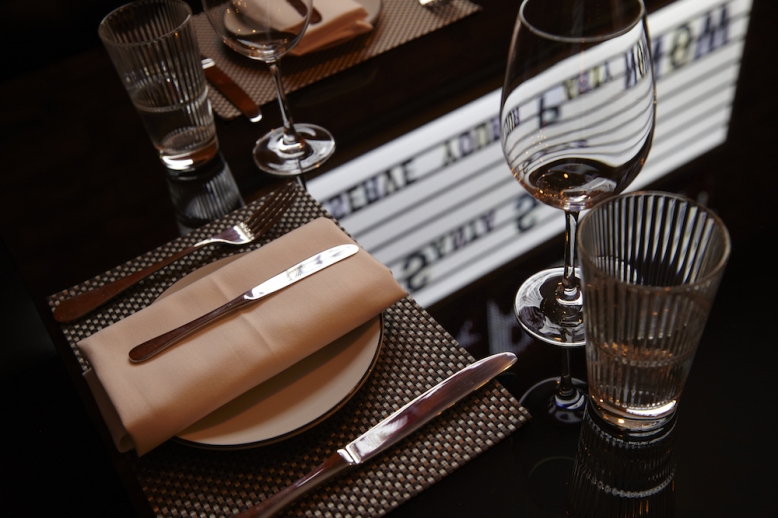 The courtyard leading to the Malimaison was slick with rain. I hobbled over the cobbles, the rain crashing down all around me. I prayed that I would not slip and fall in front of the beautifully dressed couple that were hailing a black taxi just ahead of me.
I breathed a sigh of relief as I entered the haven of the hotel lobby. I was all of the things that you don't want to be at one time: hungry, wet and exhausted. The words 'Sripbar & Steak' were emblazoned in a fierce white light my right. There was an arrow signalling down a set of stairs, I followed it obediently.
Stripbar & Steak is based on the lower floor of the hotel, directly under the lobby. It is a dark and decadent space with exposed brick walls, luxurious velvet booths and bare light bulbs that hang overhead creating small areas of light among the darkness.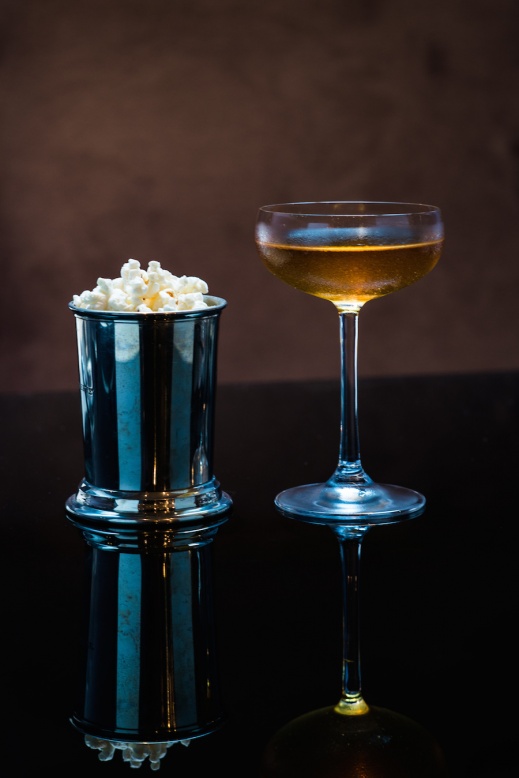 A waiter appeared and after I told him the name the reservation was under he led me to the intimate black leather booth where my party was waiting. It was a close friends birthday and the booth was decorated with lilac balloons and the table was scattered with a dozen or so empty martini glasses.
Within moments of sitting down, the efficient waiter had appeared to take my drink order. I had heard rave reviews of Arminas Girtavicius, a mixologist at Stripbar & Steak and was keen to sample his mini-masterpieces.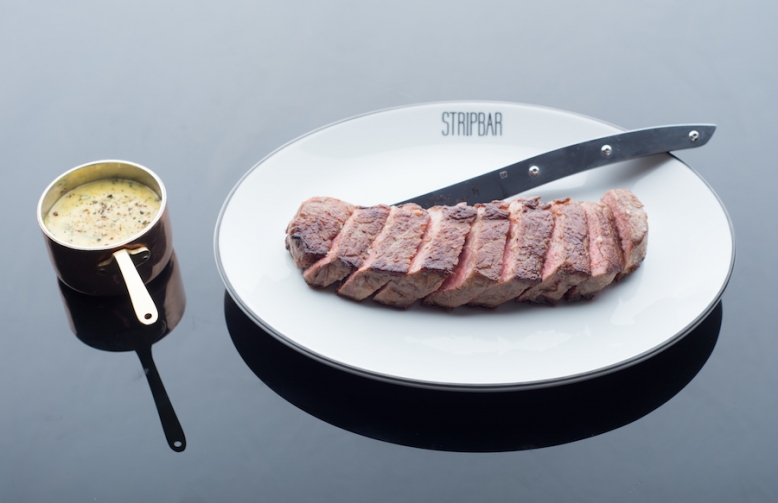 I ordered one of Girtavicius'signautre Rocking Horse martinis. It arrived within mere minutes. The drink itself was beautiful, the colour of molten gold in a coupette. It was served with popcorn in a sleek silver tumbler, a surprising yet delicious touch.
The Rocking Horse martini was made with popcorn infused vodka and thunder toffee vodka and a dash of maple syrup is added contributes to the mesmerizingly sweet and velvety taste.
Just as I finished my cocktail, the waiter brought us a plate of delicious warm cheese & herb bread rolls that were fresh from the oven. Thoroughly impressed by the Rocking Horse martini, I decided to try another signature cocktail, this time I opted for the Reverse Cowboy.
It was a truly frothy and decadent cocktail, made with Belvedere raspberry vodka, Hennessy V.S, hazelnut, and rose wine. It was garnished with a beautiful edible white and purple flower, a cinnamon stick and a light dusting of cinnamon. It was delectable, sweet without being sickly and a real pleasure for the eyes and the taste buds.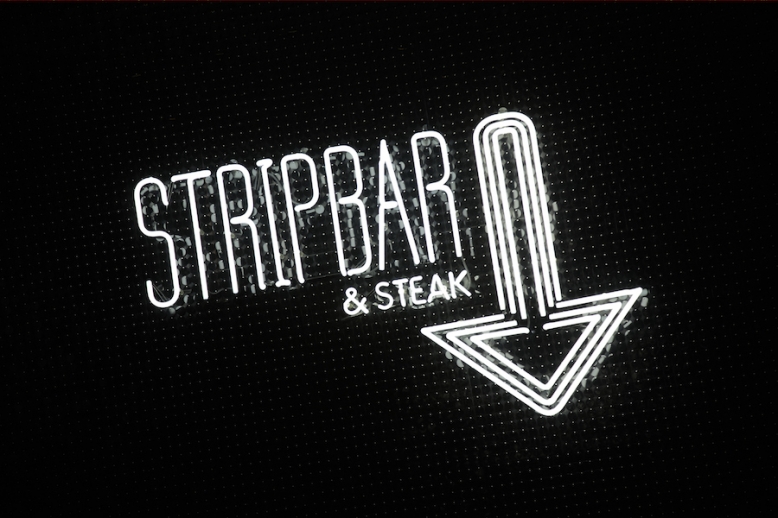 We ordered our main course and I chose the NY Prime Steak Frites. The prime steak was thinly sliced and full of flavour. It was pleased to discover that it was juicy and cut like butter. It was served with salty and golden skin on fries.
The evening was a roaring success; great company, delicious food, efficient service and delectable cocktails. If you are looking for one of the best steaks in London, look no further than Strip Bar & Steak. In the words of the establishment, cut the bull. Let's eat.
Strip Bar & Steak
020 7012 3700
Malmaison Hotel, 18-21 Charterhouse Square, London, EC1M 6AH