Vegan Kale, Pomegranate and Pear Salad with Avocado and Pistachios
This fresh and colourful superfood salad is packed with nutritional powerhouses and bursting with summery flavours. The best part is that it is raw, vegan and gluten free.
Eating a variety of raw organic fruits and vegetables can do absolute wonders for your health. So, why not try adding a few raw vegan meals to your diet.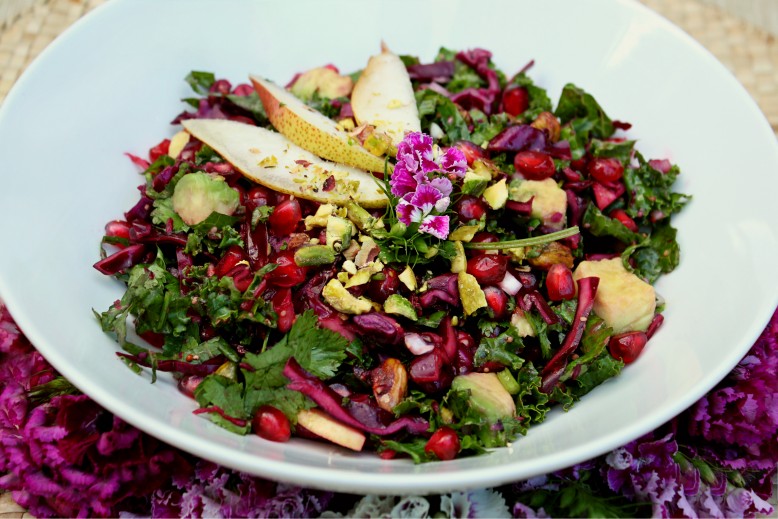 Ingredients
(Serves 4)
Salad:
4cups Kale
3cups Red cabbage
1 Pomegranate
1 Red onion
2 Pears
1 Avocado
1/2cup Pistachio nuts
2cups Corriander (chopped)
Dressing:
1tbsp Homemade raw wholegrain mustard
– (2tbsp mustard seeds, 5tbsp apple cider vinegar, 1tsp raw honey)
2tbsp Balsamic vinegar
3tbsp Olive Oil
1 Lime (juiced)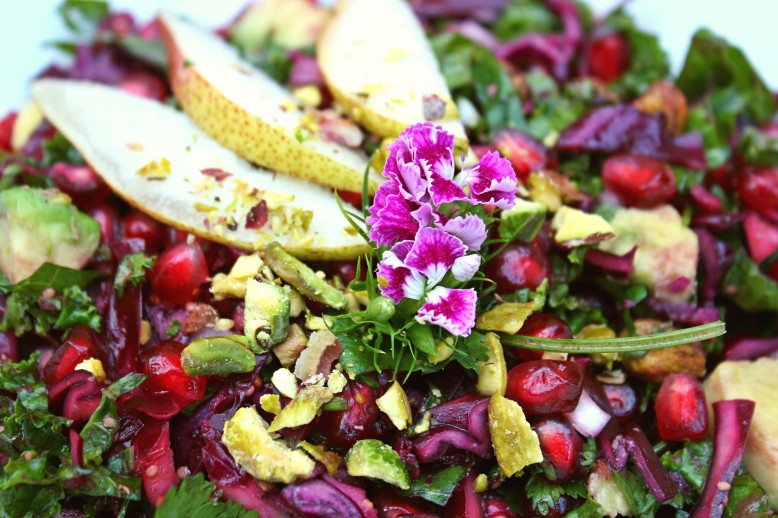 1. To make your homemade, raw wholegrain mustard, soak mustard seeds in apple cider vinegar and leave overnight. Mix with 1tsp of raw honey.
2. Prepare your salad ingredients – Roughly chop your kale, cabbage and coriander, finely slice red onion, cut your avocado and pears in to cubes (saving a few slices of pear for garnish) and de-seed your pomegranate. 
3. Using a large salad bowl, throw together all your salad ingredients.
4. Whisk together your dressing and pour over your bowl of salad. Carefully toss your salad until nicely mixed.
5. When serving, garnish with a few slices of pear and crushed pistachio nuts – And pretty flowers if you like!
Note: If you are not in the mood for vegan, feta cheese is a great addition to this salad!
Recipe by Mica Francis-Angel
Visit Mica Francis- Angels' blog: iwaspromiseddonuts.net

Visit Mica Francis-Angels'  Instagram: @iwaspromiseddonuts