Spicy Peanut Pork Ramen
This fiery ramen dish is impressively delicious, gluten-free and quick and easy to make.
Not for the faint hearted! Very spicy.
Alternatively, if you are not a big fan of the heat, simply reduce the amounts of chilli in the recipe!
(Serves 2)
Ingredients
180g Rice noodles 
1/4 Red chilli pepper (finely chopped)
2 Spring onions (thinly sliced)
2cups Baby spinach
1/2tsp Chilli powder
1tbsp Peanut butter
2cups Low sodium chicken broth
600ml Water
For the pork:
2 Pork chops (boneless)
2tsp Peanut butter
1tsp Soy Sauce
1tbsp Tomato Ketchup
1/2tsp Chilli powder
Handful of sesame seeds
For the miso base:
1tbsp Dried seaweed
1/4 cup Miso paste (gluten free)
2 Instant miso sachets (gluten free)
Note: For gluten free miso paste or instant miso sachets, I use the brand Clearspring (www.clearspring.co.uk)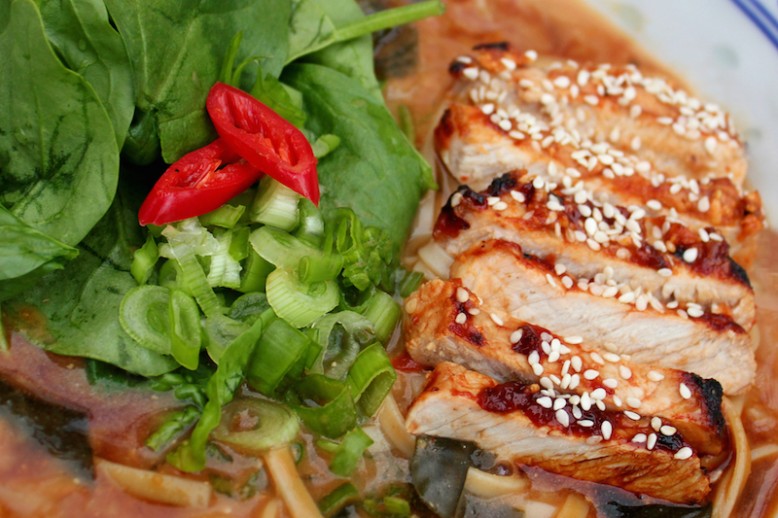 1. Season pork chops with tomato ketchup, chilli powder and soy sauce. Grill for roughly 5 mins on each side.
2. Remove from grill and cover chops with a teaspoon of peanut butter on each side. Put back under grill for another 5mins on each side. Once cooked, thinly slice pork chops and sprinkle with sesame seeds.
3. While your pork chops are under the grill, bring 600ml of water in a pan to boil. Add your miso paste and seaweed or instant miso sachets.  Add 2 cups of chicken stock, chilli powder, hot sauce and finely chopped chilli pepper, bring to a simmer. Simmer for 5mins.
4. Add your rice noodles to the broth. Cook these for 8mins.
5. Combine your broth, noodles, spring onions and a handful of baby spinach to your serving bowl, place a sliced pork chop on top.
Optional: Sprinkle with extra sesame seeds. Add a couple of slices of chilli for decoration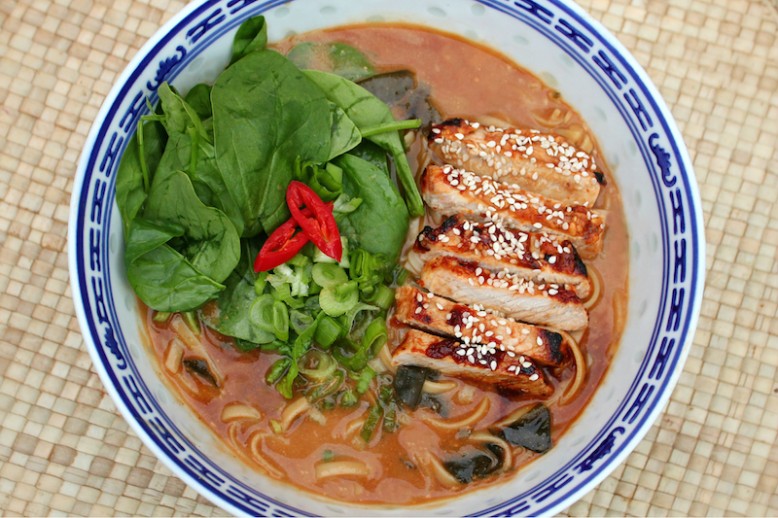 Recipe by Mica Francis-Angel
Visit Mica Francis- Angels' blog: iwaspromiseddonuts.net

Visit Mica Francis-Angels'  Instagram: @iwaspromiseddonuts