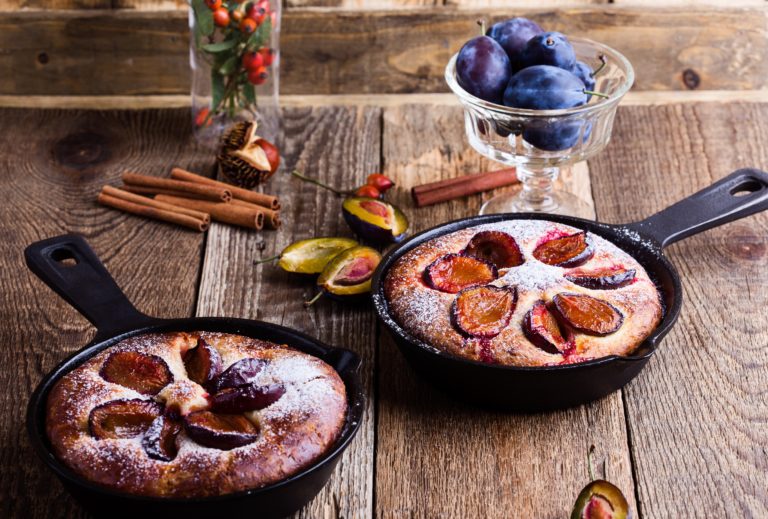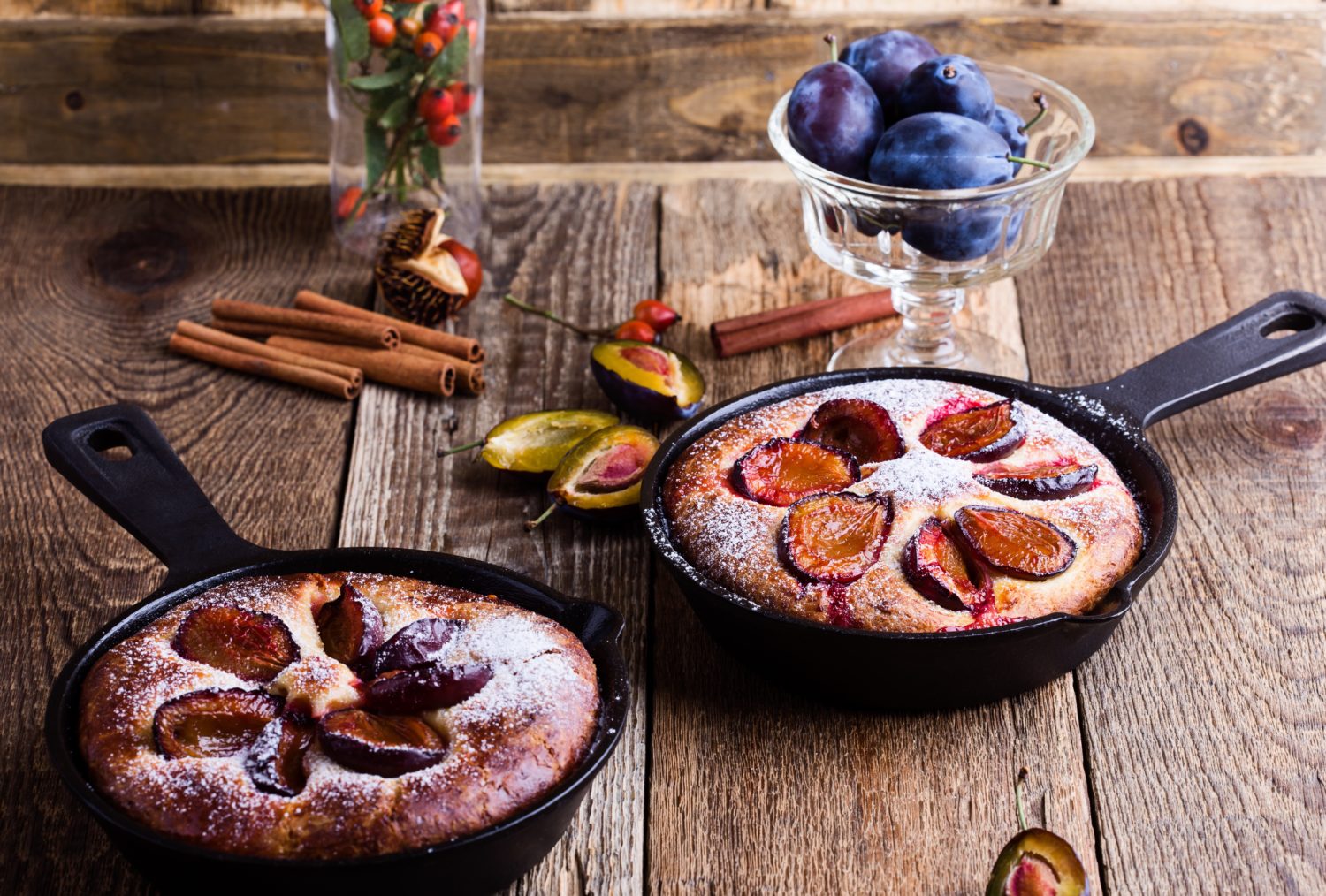 There are several tasty desserts that you can make in a cast-iron skillet. From cobblers to pies and even brownies! These desserts are as decadent or as elegant as you like. Get your ingredients, season your cast iron skillet and try these recipes out next time you need a quick dessert or you want something sweet – here are a few of our favorites!
#1 – Cast Iron Tarte Tatin
This recipe brings together all the best dessert ingredients, caramel sauce, flaky puff pastry, and sweet fruit.
Preheat your oven to 375F. Melt 1/2 cup of unsalted cultured butter in a skillet, whisk in 3/4 cup of brown sugar, and a cap full of vanilla essence. Whisk the mixture until the sugar dissolves and becomes a smooth caramel sauce.
Carefully stir the sauce for 5 – 7 minutes over medium to low heat. Remove from heat.
Arrange slices of apple inside the sauce. The apples should be tightly and evenly packed. Make sure you overlay the apples to allow for shrinking.
Place a layer of puff pastry over the apples in the skillet. Make sure to tuck the edges into the skillet around the apples. Gently prick the top of the pasty with a fork.
Bake the Tarte Tatin for 30- 45 minutes until the pastry is golden brown. Remove the hot skillet carefully from the oven and allow it to stand for 10 minutes before turning out onto a plate carefully.
Serve your Tarte with custard, ice cream, or fresh cream.
#2- Easy Skillet Peach Cobbler
Peaches and soft pockets of soft crumbly crust make this dessert warm and full of deliciousness.
Preheat your oven to 375F.
Melt 2 – 4 tablespoons of butter in a cast-iron skillet. Remove from heat when the butter is browned and golden. Arrange the slices of 6 ripe and peeled peaches in the skillet. Sprinkle over 1 tablespoon of bourbon whiskey and 1 teaspoon of vanilla extract. Gently fold the pieces of peaches in the skillet with 1/2 cup of brown sugar.
In a large bowl, mix 1 cup of flour, 1 teaspoon of cinnamon, 1/2 cup of sugar, and ground pecans. Cut in a stick of butter until the mixture is crumbly. Add in a 1/2 cup of milk, stirring until well combined.
Drop spoons of batter over the peaches, space the batter out across the peaches to cover the whole pan. Sprinkle with cinnamon sugar.
Bake for 30 to 40 minutes, checking for readiness.
Set aside to cool for 5 – 10 minutes before serving warm with a hearty serving of ice cream.
#3 – Pecan Pie in a Skillet
This pecan pie recipe calls for store-bought pie crusts. It is shockingly easy to make and tastes so good no one will be able to tell that you didn't make the pastry.
Preheat your oven to 325F. Place a 10-inch pie crust into a cast-iron skillet, lightly dust powdered sugar onto the crust.
In a mixing bowl, beat 4 large eggs in a bowl until frothy and foamy, add 1 1/2 cups of brown sugar, 1/2 cup melted butter, 1/2 cup chopped pecans, 2 tablespoons of whole milk. Stir to combine well. Add in 2 tablespoons of bourbon and a capful of vanilla extract.
Add 1 heaped cup of halved and whole pecans. Pour the pecan mixture over the pie crust, and place in the oven.
Bake for 30 minutes before reducing the heat to 300F and bake for another 30 minutes. Turn the heat off and allow the pie to rest in the oven for 3 hours. Don't open the oven until the pie has set. Remove from the oven, and test to see if the pie is ready.
Serve with cream and freshly cut fruit.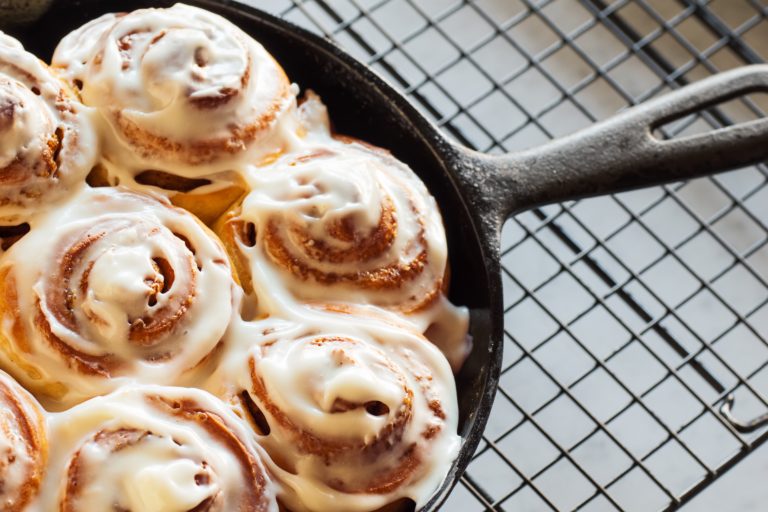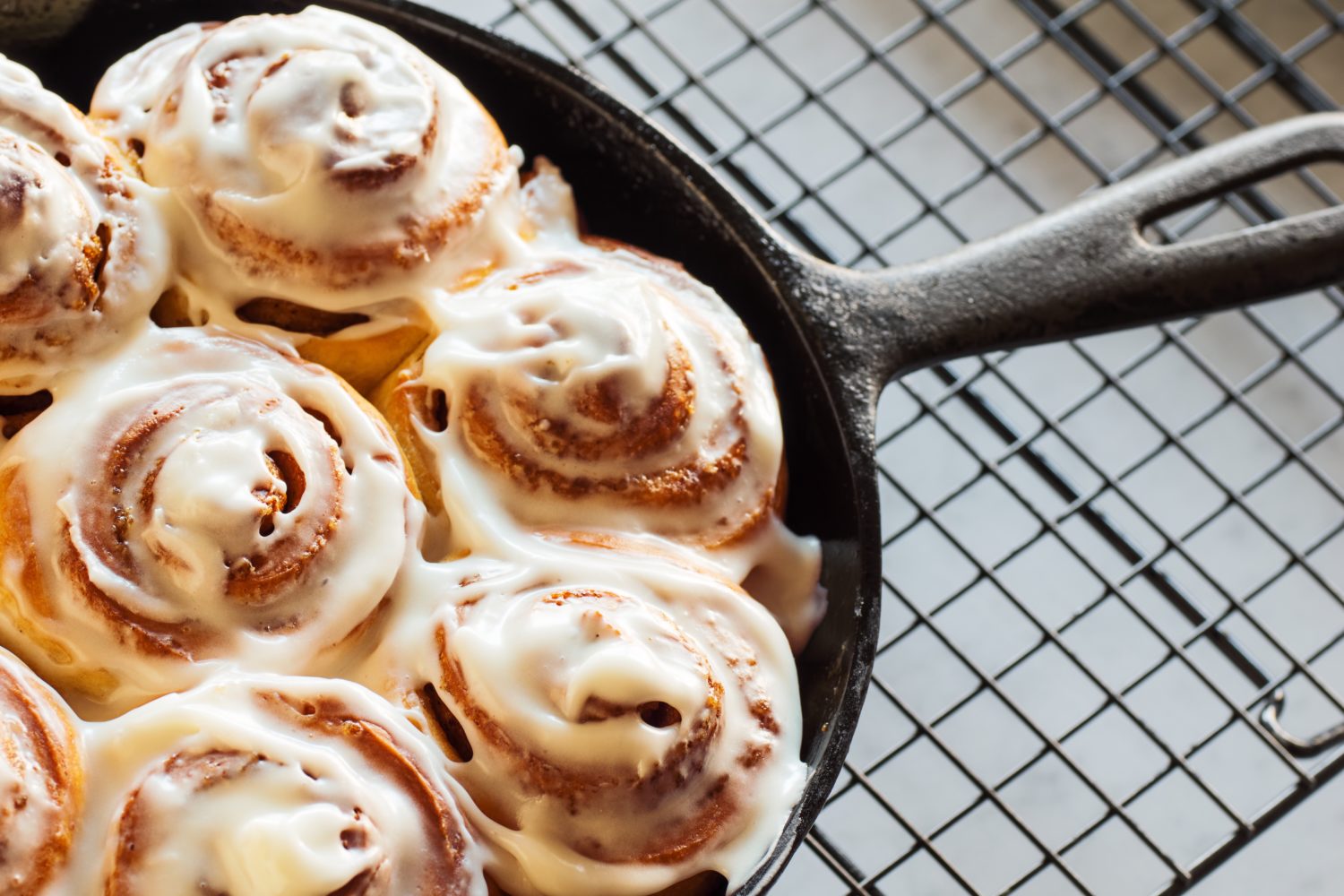 #4 – Cinnamon Rolls
Pull-apart deliciousness, skillets are the perfect size for these tasty and delicious buns. These can be made with an at-home cinnamon roll dough recipe or with a can of Pillsbury cinnamon rolls.
Preheat the oven to 375F.
Slice 2 cans of Pillsbury Cinnamon rolls into medium-thin rolls. You should be able to make two layers of cinnamon rolls in the skillet. Arrange the first layer into a greased skillet. Set the rest aside.
In a bowl, beat together one 8oz package of cream cheese, 1/2 cup of brown sugar, and vanilla extract. Using a spatula, spread the cream cheese mixture over the cinnamon rolls evenly. Layer the second layer of rolls over the top. Top with cream cheese and drizzle over a salted caramel sauce.
Bake for 20 minutes until the rolls are cooked through, remove from the oven, drizzle with more caramel sauce and extra cream cheese.