From opening runway shows to opening action packed scenes as Freydis Eriksdotter in the Netflix hit series Vikings: Valhalla, Frida Gustavsson transforms herself to embody her role, whether it be as a model or actress. Citing herself as someone who can immerse herself in her characters, Gustavsson has been most recently navigating new territory, starring in Ronnie Sandahl's Tigers.
As we sat down to chat over Zoom about her recent work, Gustavsson beamed about being back in her home country, Sweden. "I think the biggest gift of being Swedish is that we endure so much in the dark period of the year, which is the majority of the year when you live in Sweden, then suddenly the sun pops up and it's like everyone in Sweden is under a curse. People just take their clothes off and just randomly start talking to each other in the street. They have the biggest grins on their faces, so it's quite a magical time."
Gustavsson has an ethereal nature about her and despite being separated by screens, she shares a whimsical presence. By ways of contrast, Gustavsson is both softly spoken and strong in her ability to share her thoughts. Without hesitation she opened up about the dynamics within her career firstly as a model and her now clear understanding of what the industry means to her today. Growing up as a young girl in a sporty, working class family in the suburbs of Stockholm, fashion became Gustavsson's preferred medium of escapism, exploring vintage stores, making her own clothes and creating a new identity for herself. Starting in the industry at just 12-years-old, she recalled how she had a long career ahead of her in modelling. "Yeah, it's true." She laughed gently as she revealed how she was in fact scouted to be a model in IKEA. "It's like the most Swedish thing ever, I was queuing, buying meatballs with my Dad."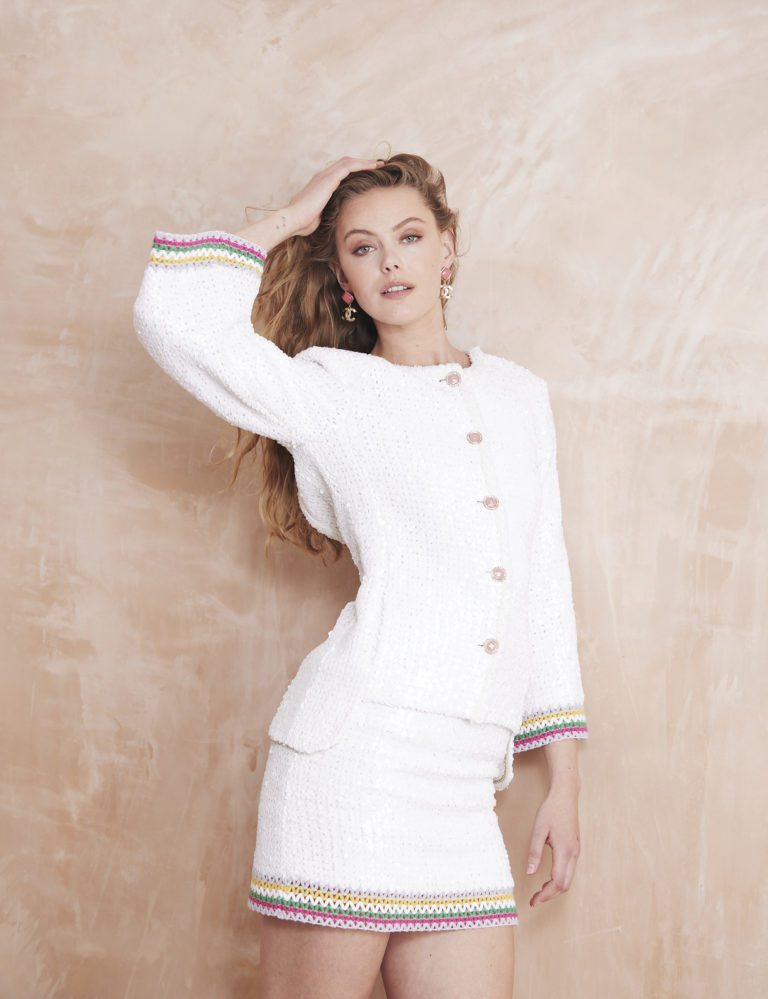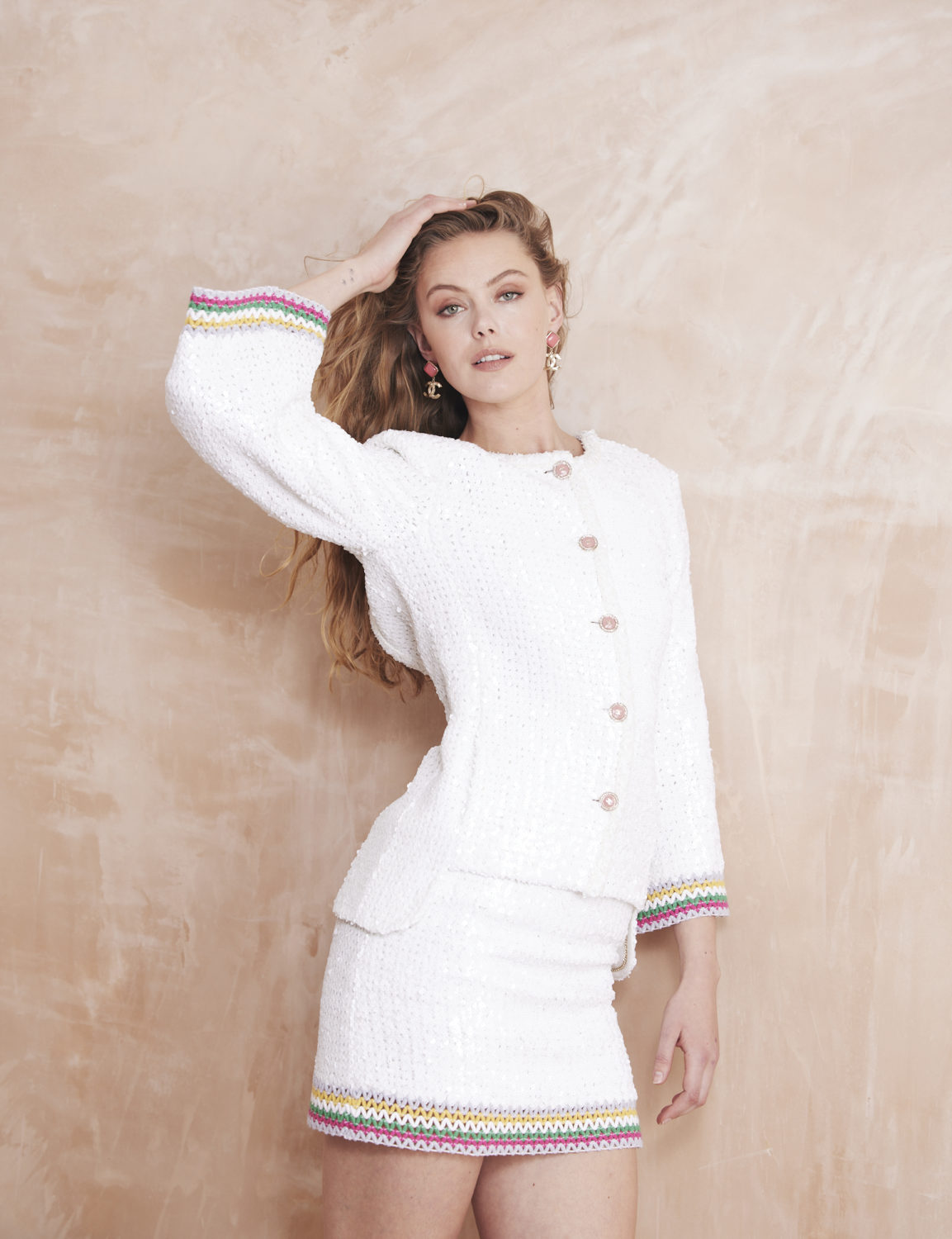 She added, "Before I was scouted, I had never worn high heels, I had never worn makeup, I never really identified with the kind of hyper-feminine aesthetics that was in the 90s. The very short, Paris Hilton type of over sexualised look. I guess analysing it now, I think working with fashion was a way for me to really break out of my own identity and try to experience th
e world as other people. I was this, really lanky, skinny girl with no boobs, and I had never had mascara and I thought someone was like poking my eyes out. Then all of a sudden, I looked at myself in the mirror and I just transformed into another person, that was a really powerful moment for me."
As someone who has landed life-changing modelling jobs on billboards, catwalks and long-standing fragrance commercials, Gustavsson chatted so candidly about her work, "I then realised that this is something that I could be quite good at. I think I have an aspect that I can become quite a chameleon, I found it an interesting challenge to see how far I could change and how far I could go into it." With such an adaptable quality about her, it is easy to see why she has been able to be a muse for so many designers.
She recounted, "I think what really kicked off my career, I had just turned 16 and I was in Paris for couture week in the summer. I got hired to be the Luxe model for Valentino and this was the first show after Valentino himself had quit so Maria Grazia and Pier Paolo were still working together. I remember sitting there and all of these supermodels would come in that I loved, and it would be wonderful for me, as a young person, to just see all of these amazing women come in. At the end I realised that with the first look and last look, no one had fitted them. They turned to me and said, 'Look Frida, we've chosen you to open and close. We want you to be the face of the collection." This defining moment allowed teenage Gustavsson to personify the collections' dark, Virgin Suicides-esque world.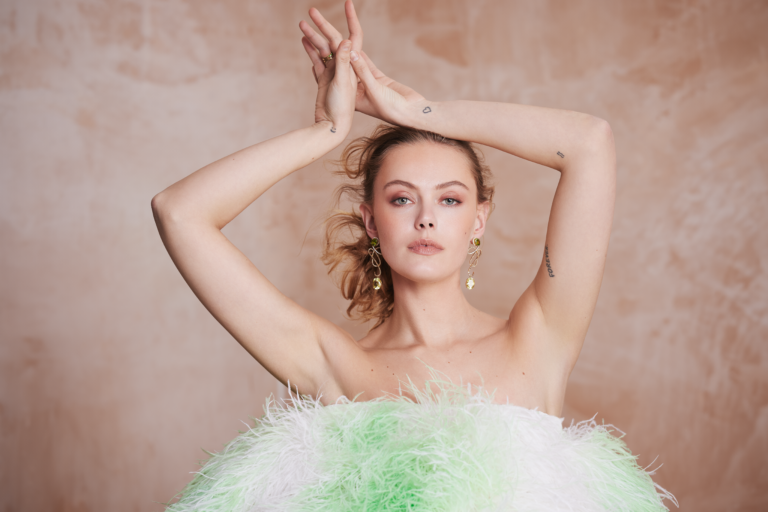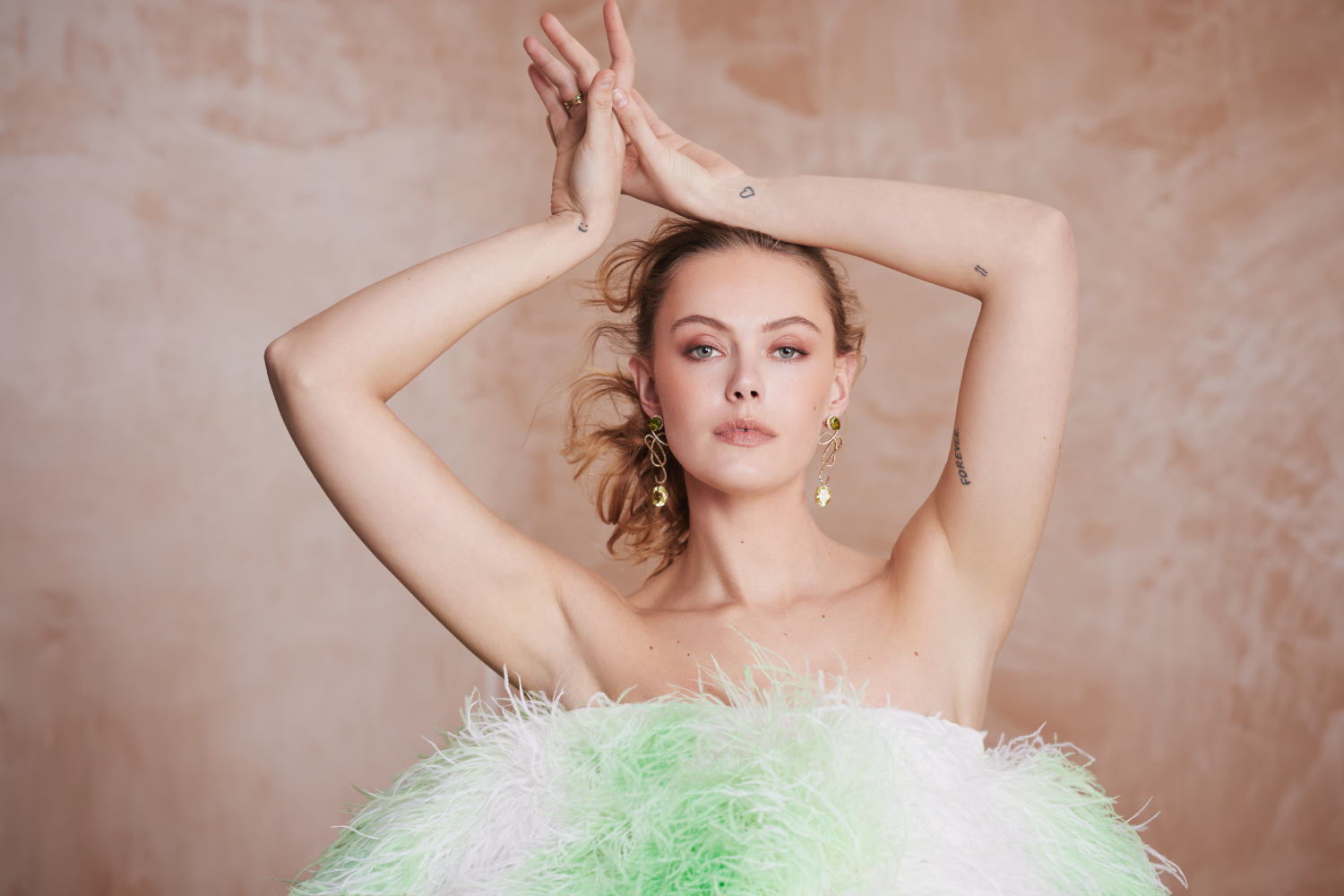 With such a positive focus on her modelling experience, finding out what it truly takes to work to such a standard, Gustavsson said candidly, "I think when you operate at the absolute highest level, people tend to be nicer to you. But at the same time, we're talking about the highlights. We're not talking about all of those years of starving myself and all of those years of just feeling that my body was never good enough. There is a heap of negative experiences that are tied to working with your body and being owned by these conglomerates."
She continued, "Interestingly enough, that was an experience that I used very profoundly in my work with Vivek in Tigers, so that was something that me and Ronnie spoke great lengths about. The similarities of a young football player and a young model, how these capitalist interests of older people, of brands, of sport club owners or agency owners. They project all of their interests upon you and therefore your value as a human is reduced to just what you represent to them. Looking back, that is something that has taken me a really long time to overcome, this feeling that my body belongs to me, and that it's okay to not look like a model anymore. I've been through the wringer a little bit working with my body in the fashion industry."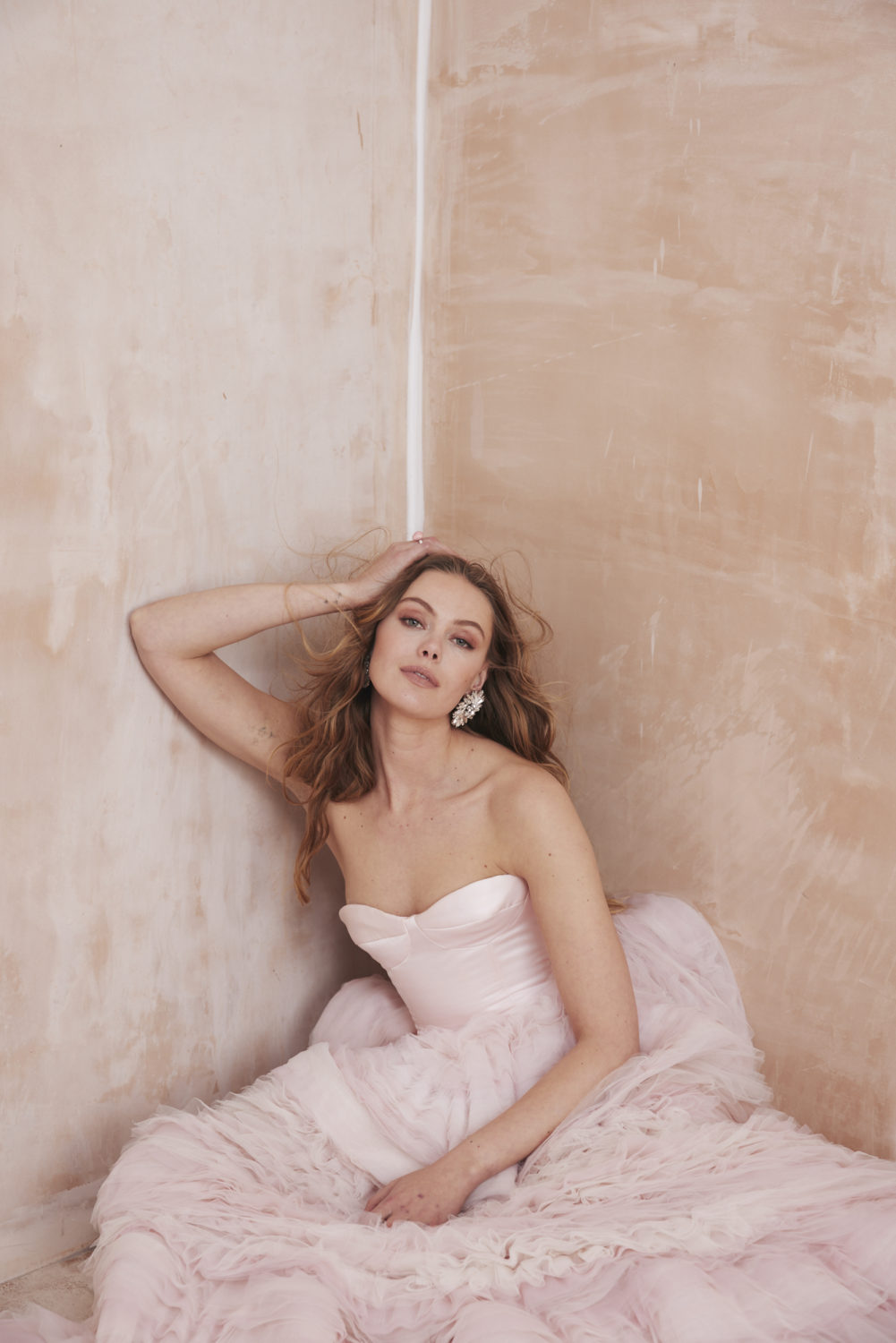 Much of the story is set in the 90s originally, so many people were not willing to fully look at the profoundness of Martin Bengtsson's testimony. Sandahl also ties this into what goes on behind the scenes of idolised sports stars. Gustavsson emphasised, "It shows that it is such a difficult route to get there and how inhumane people are being treated in the search for something that is so deeply inhumane after all."
Gustavsson's character Vibeke, takes on interesting similarities navigating a career as a model. Touching on her own experience and what she brought to the role, she revealed, "This was the first time I truly leaned on my own experiences and actually used them in the character work. Usually, to make it more authentic for myself, I use my own life and this visualisation, and I try to always think about the character as myself."
She added, "For this, me and Ronnie spent a lot of time talking about experiences that I've had, and I got to influence certain things in the scenes where Vivek talks to Martin, so it was quite terrifying at the same time, because it's like almost playing a version of yourself in a twisted universe, and also quite emotional. When I left the modelling industry and I went into drama school, I thought of all those negative experiences, I put them in a little box and hid them at the back of my head. I focused on moving forward and having a new goal. Opening that box again for Tigers made me start questioning things about myself and certain aspects of my career."
Working for more extensive periods as a strong female lead on set for Vikings: Valhalla, Frida noted how easy it was to take on traits of her character. She explained, "I feel like after filming for six months of Vikings Valhalla where I'm Freydis and running around in the forest being this almost radicalised person in their mindset, it takes me a little while when I get home to release all of that anger because it's very tense. With Vivek it was harder because I had to really try to look objectively at certain aspects of an industry that I think I had fooled myself into just having positive memories of."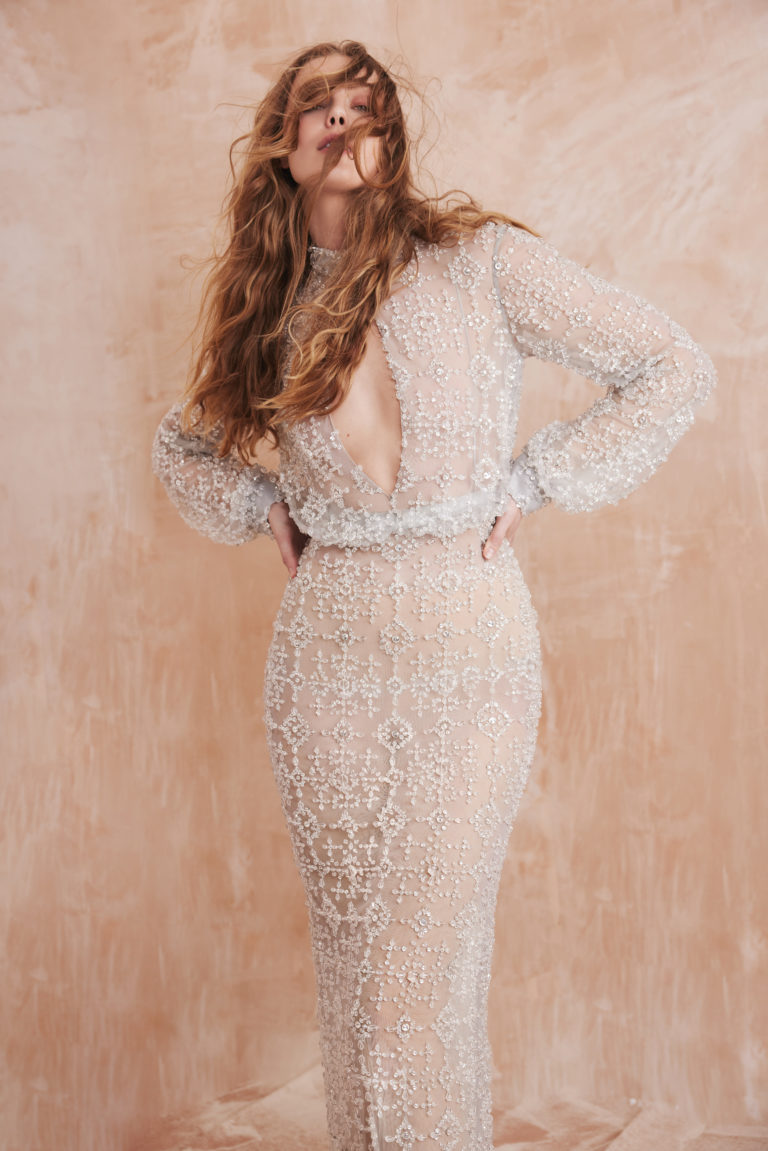 Whilst both Tigers and the Vikings: Valhalla series share more intimate nude scenes, Frida understands the magnitude of sharing her body with the world and exploring more vulnerable moments on screen. To prepare for each nude scene during the filming of Vikings: Valhalla, the actors work with an intimacy coordinator and rehearse everything thoroughly with the director making sure that everyone is comfortable. For Gustavsson that was not the same environment she was used to as a model. "I think that's a double-edged sword for me because I grew up in the fashion industry and I think for so many years I was always expected to be comfortable being naked. I remember I had my first shoot when I was completely naked probably when I was 16. That's pretty fucked up and I think I had this idea of myself that, 'Oh, I don't mind, it's just my body, it doesn't matter. It's not mine.' I think with sex scenes, I don't personally have that much of a problem with as long as they suit the story. I think certain directors or certain projects tend to over sexualise the body just for a certain visual aspect and that's fine as long as the actors doing it are prepared and realise the consequences."
She continued, "I think looking back, if I hadn't been so young, I would probably now, when confronted with a similar scenario, say no. But you know, you live, and you learn, and I think that's something that I take with me."
The scale of production for Vikings: Valhalla means that Gustavsson must be ready for all physical aspects of the role. "I started really wanting to explore how a person that has lived such an incredibly hard life would move, would feel, so I started working with my trainer to really build a strong back, like I had ridden my entire life, or building biceps like I could really shoot a bow and arrow. That was a great way for me to get into this almost animalistic, beastly vibe that Freydis has, she's so strong, she's so impulsive, I love that. The work with Freydis has been so incredible, it's been very transformative which I really enjoy. Working with Jeff Stewart, our show-runner, has been a very profound experience for me."
"There was just something about Freydis, it was like she appeared in front of me. I straightaway realised what she deserved, in terms of pacing, in terms of how she would speak, the way that she is very physical. She really speaks with her actions. I think what I brought into it was the physical aspect of her, just movement patterns, and the physicality, because everything else is on the paper, and then you just have to come in and kind of shape it yourself."
"I am a very obsessive person and I love to really over prepare, and prepare and read and think and write and then when you have it all on paper, it's so wonderful. You're right in the moment, you play the scene and it's always the most interesting things that come up. It's never the thing that you think is really going to affect you and that teaches you so much about yourself."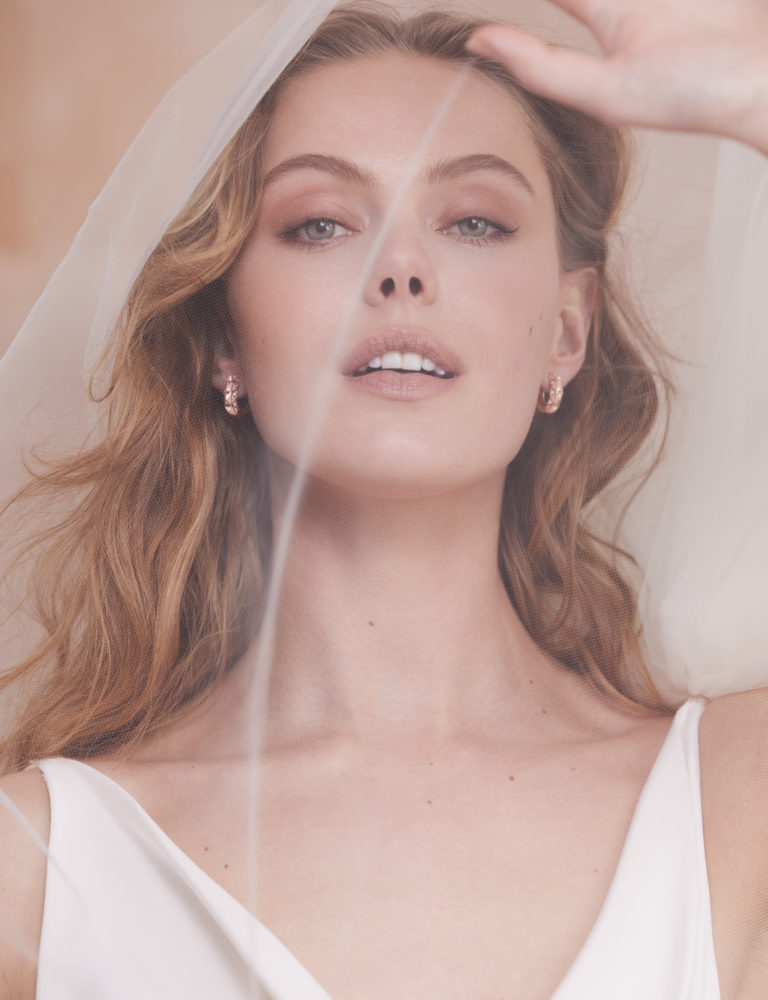 Gustavsson's excitement for the portrayal of the 'women hiding in the shadows of history' has meant that there is a purity to her performance. Placing these female characters centre stage, the Swedish actress has accounted for a new generation of those embracing history. "I found it incredibly fascinating to look at and sometimes maybe we need the filter of history to be able to see the faults in our own society. When you look at something that's incredibly
contemporary, you're so blinded, because you can only see the stickiness of contemporary culture. History is a great window to look beyond contemporary culture."
With filming now well underway for season two of Vikings: Valhalla, Gustavsson said proudly, "It's quite wonderful to come back into the boots of Freydis and to have the show finally being broadcasted to the global audience that it's reached. It feels really cool to know that people have seen and taken a liking to what we've done. That will probably occupy my spring, summer and early fall and then we'll see, It's exciting times indeed so we're laying the pieces of the puzzle to see the shape of the next year."
@fridagustavsson
TIGERS is available to stream on Amazon Prime now.
Photographer 
Catherine Harbour
Stylist 
Jennifer Michalski- Bray
Make- Up Artist 
Mary Greenwell at Premier Artists using Armani Beauty
Hair Stylist 
Ken O'Rourke at Premier Artists
Styling Assistant 
Kayleigh Dennis
Retoucher 
Natalya Tran