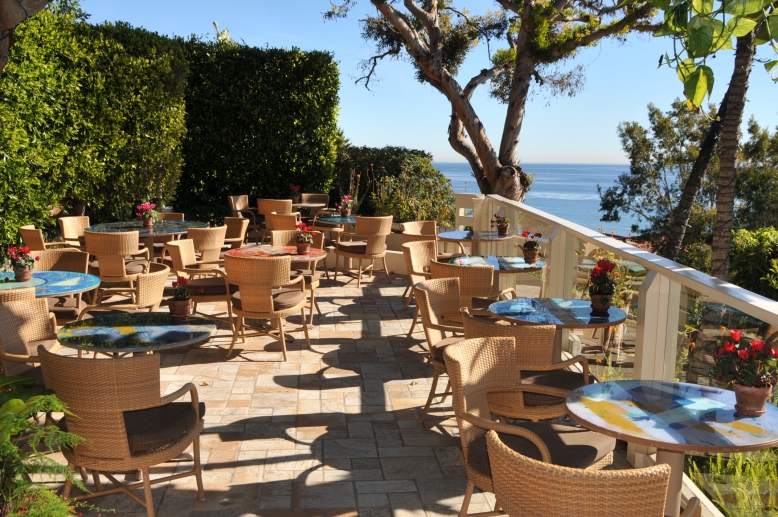 They say that Malibu is the happiest place on earth and it is not hard to see why. It was a perfect Sunday morning as I drove along the winding Pacific Coast Highway from Los Angeles to Malibu. The sun was beaming brightly in the sky, casting a golden glow on everything it touched. I tore past long stretches of golden sand; the azure ocean sparkled in the distance.
Suddenly, Geoffrey's famous sign came into view and I pulled into the steep driveway. The drive was full of perfectly valet parked supercars, they gleamed in the sunshine like jewels; there was a pearly white Rolls Royce Ghost, an onyx Aston Martin Vanquish and a ruby red Lamborghini Aventador, its suicide doors erected in the sky, awaiting its owners return.
Geoffrey's is frequented by Hollywood's elite and has been for three decades. The restaurant regularly welcomes famous faces including; Oprah Winfrey, Halle Berry and Justin Bieber.
As it was Sunday, Geoffrey's iconic brunch had drawn an eclectic crowd. Nearest to my partner and I, there was a family of four, spoon-feeding their youngest child bread and butter pudding, opposite them sat a beautiful brunette with scarlet red lips who was showering her equally beautiful blonde boyfriend with kisses.
An incredibly friendly waitress with an infectious smile introduced herself as Laura and weaved us through the occupied tables, towards ours, the only empty table in the house. We were sat next to a table filled with men dressed in suits, their heads ducked discreetly and their tones hushed as they read and then discussed a script.
I would say that arguably we obtained the best table in the house. Although all of the tables offered panoramic views of the ocean, ours was one of the closest and also overlooked the 'multi-million dollar row' of exclusive beach homes that were dotted below.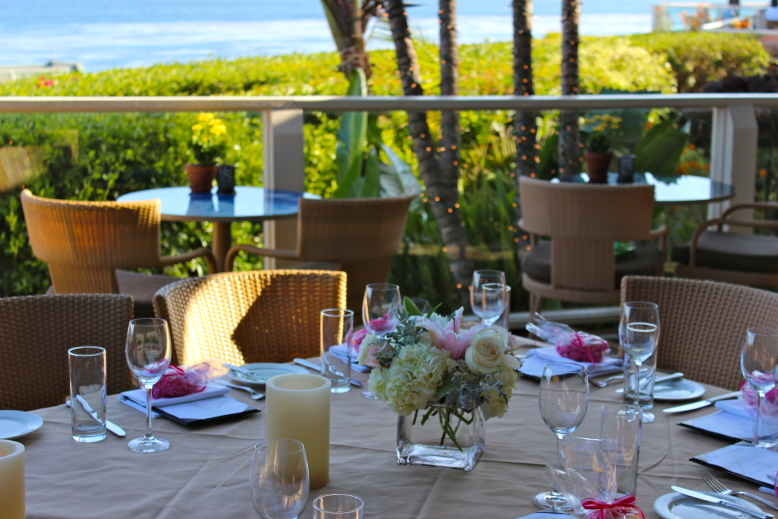 We surveyed the extensive cocktail list. Laura asked what our signature drinks were. I replied: "Surprise me. I fancy something fruity but with a serious kick."
Laura smiled knowingly, she later returned with Geoffrey's raspberry daiquiri. I took a sip of the daiquiri and my eyebrows shot up involuntarily in surprise. The drink was ice-cold with a sharp and refreshing taste from the raspberry and fresh mint but there was also an intoxicating hit from the rum. Laura saw my face and burst out laughing, she said: "Hey, I did promise you a serious kick".
My partner and I were lost in the magical views. Above us was a cloudless powder blue sky that met the turquoise waters of the North Pacific Ocean.
Our daydream was interrupted by the arrival of our starters. We had opted for the 'Artisan Cheese Plate' and I was pleasantly surprised at how beautifully it was presented. There were three types of cheese, topped with candied walnuts, stacked underneath two grilled crostini slices and drizzled with a rich concoction of aged balsamic and warm fig compote. It was a heavenly combination; the crostini was crunchy, the cheese was smooth and salty and the walnuts and compote added an indulgent sweetness. The flavours balanced each other out with ease and contributed to an aesthetically beautiful but also remarkably delicious dish.
Next came our main courses, we had both opted for Geoffrey's famous 'Eggs Benedict'. I thought it would be hard to top the cheese plate but this came very close. It was served on a golden toasted croissant and topped with prosciutto di Parma, two perfectly poached eggs that oozed golden yolks and a decadent hollandaise sauce. A serving of bronzed rosemary potatoes and a plate of fresh fruit accompanied it.
The service had been outstanding. The restaurant was absolutely packed with diners and Laura was waiting on a number of tables, however you would never have known it. She could have only been serving us, every time I looked up; she was there ready and waiting to help.
At one point during our meal, my partner accidently knocked his knife off the table and it clattered to the floor. Laura was serving a table on the other side of the patio but I saw her immediately turn and note it. Before he had the chance to ask for another, she approached us with a smile, a clean knife in hand.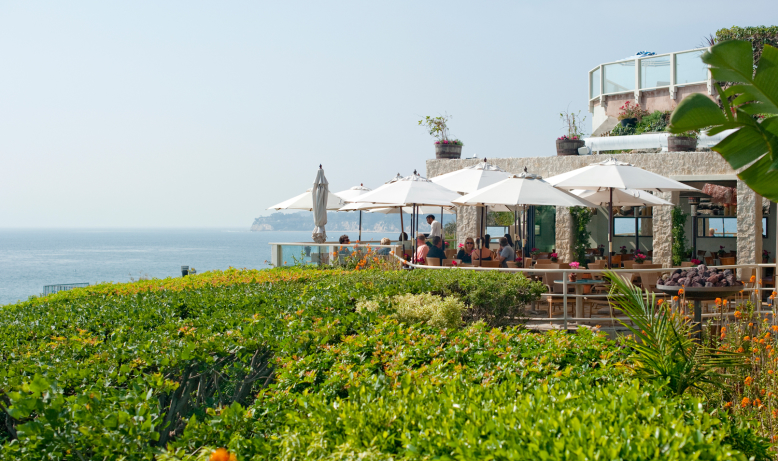 After two incredible courses, we were considering skipping dessert but Laura revealed that Geoffrey's 'Maple Blueberry Cheesecake' was legendary. That was too good an offer to pass up.
The cheesecake was served generously and we immediately tucked in. It had a sweet Maple Graham cracker crust, topped with smooth and creamy cheesecake, with a decadent and delicious blueberry compote. It was the perfect end to a perfect meal.
Geoffrey's has been an iconic destination in California for three decades and has undeniably earned the title of a truly classic restaurant. As Tabatha Coffey once said: "Classics never make a comeback. They wait for that perfect moment to take the spotlight from overdone, tired trends."
That's the true magic of Geoffrey's, foodie trends will come and go but with outstanding service, spectacular views and incredible food, Geoffrey's has proved that it is here to stay.
Geoffrey's
310-457-1519
27400 Pacific Coast Hwy, Malibu, CA 90265