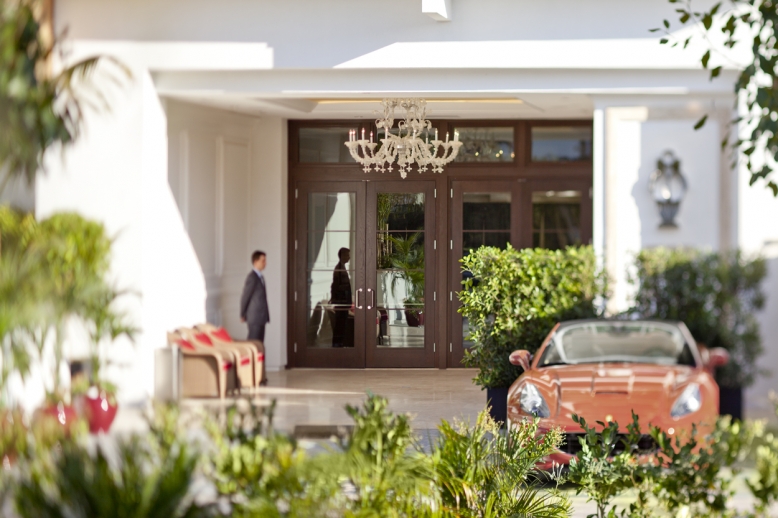 The Cipriani name has been revered throughout the world for decades and it isn't hard to see why. It is synonymous with quiet luxury and undeniable elegance. Mr. C Beverly Hills is my home away from home when I visit Los Angeles and every stay has proved to be more extraordinary than the last. So when I decided to venture downstairs to the restaurant for dinner one evening, my expectations were sky-high.
The hotel lobby epitomises the glory days of old-Hollywood, a running theme throughout the hotel. A majestic bottle-green chesterfield sofa stood proudly next to vintage silver theatrical lighting, that look as though they have come straight from a James Dean film set.
The walls were adored with vintage monochrome film photography that captured some of the most iconic and historic cultural moments in Hollywood and brought them to life once more.
Modern Family star Sofia Vergara was holding an event at the hotel that evening and through the main doors, I could see a line of perfectly valet-parked supercars. They came in a rainbow of colours that glistened under the sleek black velvet sky. They looked like a row of exquisite jewels; from the ruby red Ferrari California to the glittering gold Maserati GranTurismo and the pearly white Bentley GT3-R.
The restaurant at Mr. C instantly reminded me of childhood summer evenings on the French Riviera. The large doors were open, allowing a warm breeze to flow through the restaurant, ruffling the perfectly white tablecloths as it did so. The walls were adorned with vintage-style wall sconces that glowed amber in the lowlighting of the restaurant.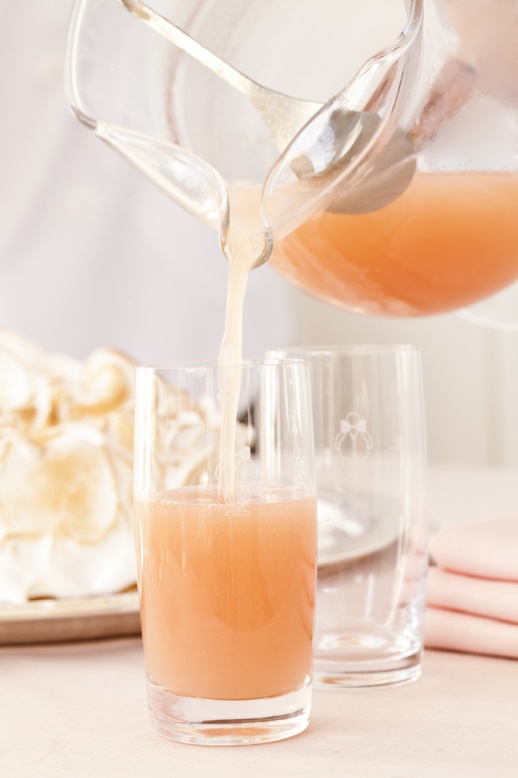 The restaurants clientele were eclectic to say the least; there was a rapper with the most spectacular diamond chain hanging from his neck and a matching bracelets on his wrist, he was accompanied by a statuesque Swedish model in a white sundress. Opposite them, sat two Middle-Eastern businessmen who were dressed impeccably in pastel tailored suits.
I was seated at a table opposite an elderly couple that looked very much in love. They were holding hands across the table, their eyes completely locked with one another; it was a beautiful sight to behold.
A friendly waiter, dressed in a stunning all-white suit appeared to take my partner and I's drink order. He recommended the Mr. C signature cocktail, he said: "It's like a little ray of sunshine, you will love it."
It sounded so delicious that my partner and I immediately ordered two. It arrived within moments and was every bit as refreshing and bursting with flavour as he had promised. It was an intoxicating blend of sharp mandarin purée, lemon juice, teamed with a strong kick of Yacht Club vodka topped with sparkling Cipriano prosecco.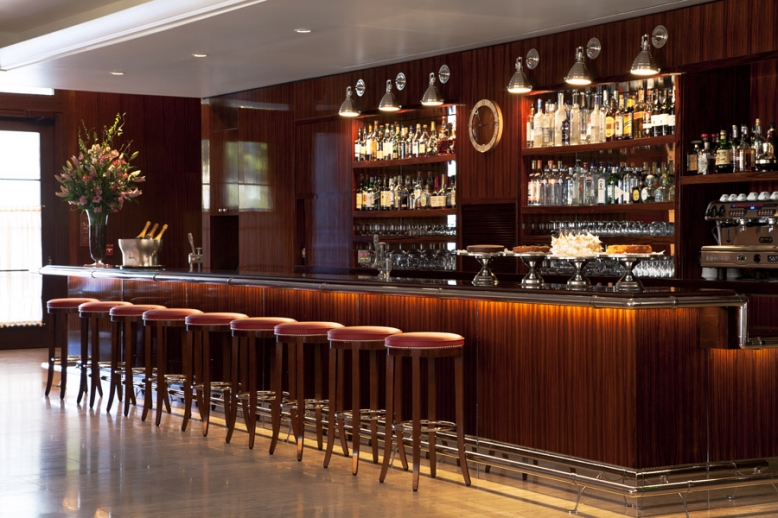 We placed our food order and tucked into the fresh breadbasket that had been placed in front of us. I chose a warm golden croissant style roll; it was so buttery and flaky that it melted on my tongue.
Our starters arrived in efficient succession. I had ordered the Mozzarella di Bufala with Vine Ripe Tomatoes but requested avocado on the side. Mr C kindly accommodated my request; the creamy avocado was served in a separate dish whilst the delicious balls of soft white mozzarella and ruby red tomato glistened under a coating of olive oil.
For our main course, we had both ordered the Prime Beef Tenderloin al Barolo served with Mashed Potatoes.When it arrived my eyes almost popped out of my head. The bronzed medalion of beef was so tender that it cut like butter. The waiter had listened carefully to my request and the beef was cooked perfectly medium, just as I had asked. The dish was accompanied by a mountain of white, whipped mashed potatoes. They were without a doubt the most delicious mashed potatoes I had ever had. They were whisked up into white impossibly smooth peaks like candyfloss and was bursting with rich and creamy flavours.
The food had been outstanding but what was equally impressive was how attentive the staff were. They anticipated our every need, before I had the chance to ask for a refill, they were already beside me, bottle in hand. They were warm, friendly and unbelievably accommodating. They went above and beyond to ensure that my every need was catered for, without me even having to ask.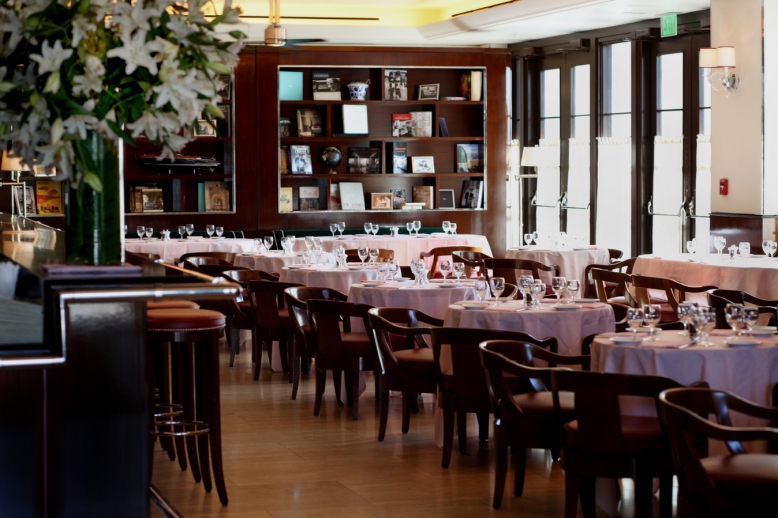 Our main courses were whisked away and our waiter reappeared, a silver cake stand in each hand that was heaving with decadent desserts. As the waiter explained each dessert, the elderly man leant in and said in a warm southern accent: "Get the Vanilla Cream Meringue cake, it is wonderful."
A knowing smile crept across the waiters face, he said: "Ah, yes sir. The Meringata Alla Crema, it is our signature dessert and is famous all over the world."
I am not particularly a fan of meringue but after his reaction, I had to shun all preconceptions and try this wonder for myself.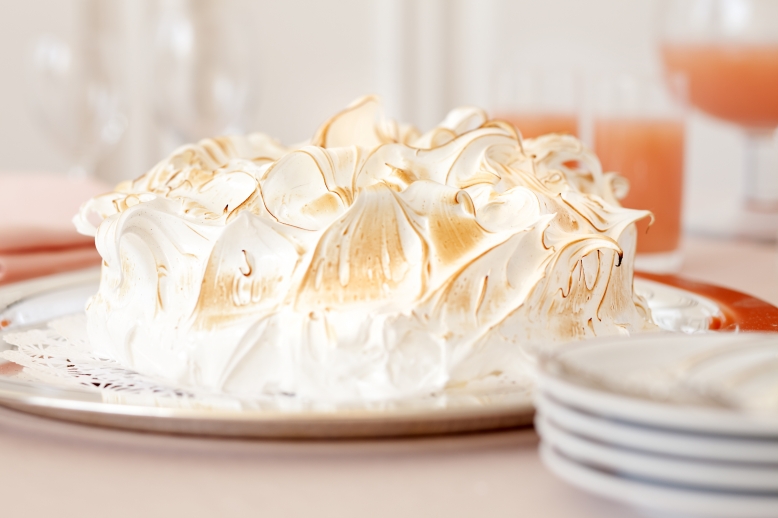 The Meringata Alla Crema was an absolute dream. It was a decadent yet moreish all-white cake with numerous layers of cream as thick as clouds and softly whipped and devilishly sweet meringue.
The restaurant at Mr. C is an extension of the extraordinary experience I have come to expect from the hotel itself. Its phenomenal service, undeniable elegance and luxurious setting are what coaxes me back year after year. Mr. C has that rare combination of old Hollywood class and new Hollywood clientele.
The minute I walked through under their signature luminous chandelier for the first time, I knew that this would be that start of a love affair, little did I know that it will probably last a lifetime.
Mr C. Hotel
310-277-2800
1224 Beverwil Drive, Beverly Hills, Los Angeles, California 90035