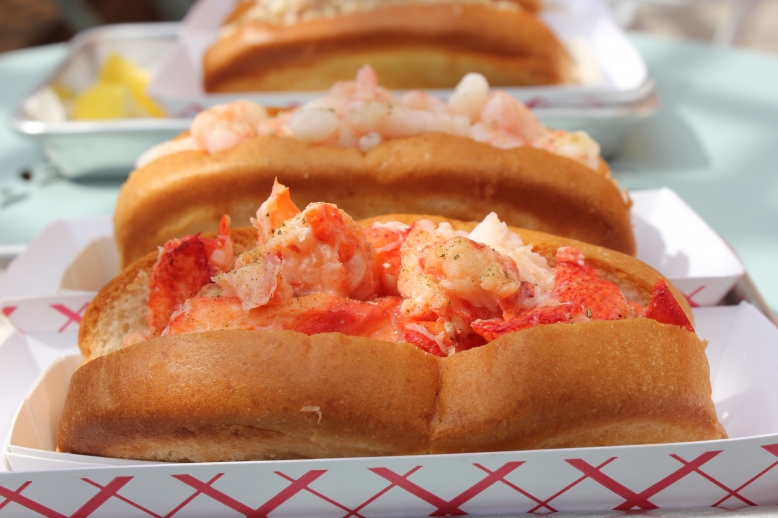 Knuckle & Claw's reputation definitely precedes it. I told some local friends that I was due to visit there for lunch and their faces immediately illuminated, they exclaimed: "Best lobster in the city, you're going to love it."
I should also mention that my boyfriend has developed a severe allergy to seafood in recent years. He grew up on lobster, crab and prawns but now hasn't been able to touch a single one in years. However, this did not deter us and our friends assured us that there would be something equally delicious on the menu for him.
It was a perfect LA day, there wasn't a cloud in the sky and the drive down W Sunset Boulevard was perfectly clear. I parked my car next to the restaurant with ease, a luxury that I am definitely not accustomed to in London.
I walked into the cool interior of Knuckle & Claw and was met by a sea of welcoming faces behind the counter.
We were served by Geordie, a charismatic LA surfer type with golden waves tucked under a pink baseball cap. As he introduced himself, he winked at us, then said: "You guys are from London? My name is Geordie, like Newcastle!"
My boyfriend told him about his allergy, Geordie shook his head and smiled, he said: "Dude, the Grilled Cheese is legendary here. You won't miss out, I promise."
Geordie ran us through the most popular items on the menu and gave us his valuable recommendations.
I decided on Knuckle & Claw's signature Maine Lobster Split Top with Deep River Sea Salt and Vinegar chips. My boyfriend  opted for the Grilled Cheese with Deep River Mesquite BBQ chips.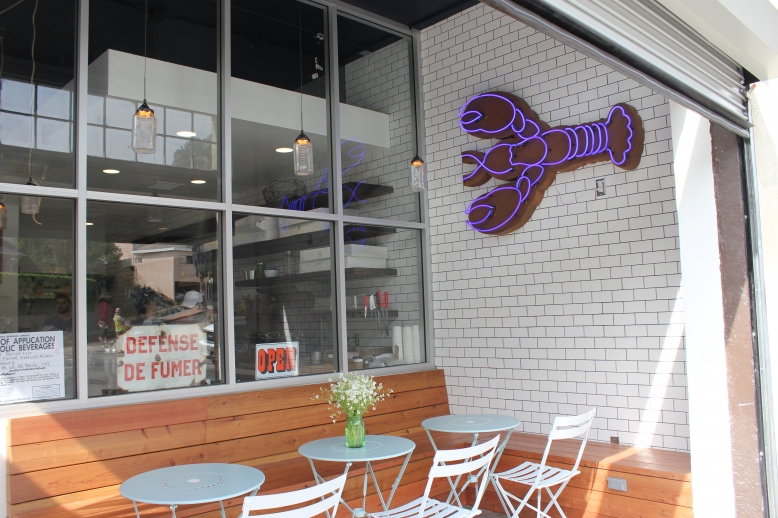 We took a seat on the beautiful patio outside of the restaurant to soak in that famous Californian sun. It was an intimate space, filled with pretty round blue tables with intricate leaf detailing and decorated with small green plants. Dozens of delicate light bulbs were strung up from the wooden rafters and I could only imagine how beautiful they looked at night. The attention to detail was startling, distressed wooden signs emblazoned with red lobsters adorned the walls and crates advertising 'Live Lobster' stood stacked in the corner. I felt like I was eating on the coast of Maine, rather than in the heart of Los Angeles.
Geordie brought us our drinks and placed them before us. We had both chosen Fentiman's Victorian Lemonade; it glowed golden in the sunlight. I took a sip of the ice-cold liquid, which was light, refreshing and bursting with flavour.
He reappeared a moment later, carrying two silver trays laden with food. I had never seen a lobster roll quite like it, I had become accustomed to chunky bread rolls stuffed with a creamy pink paste, which is made with more mayonnaise than actual lobster. Knuckle & Claw's offering was a world away, the bun was soft and deliciously sweet. It was slicked with golden melted butter that oozed out as you held it between your fingers. Lobster was definitely the main attraction of this meal and so it should be. The bronze roll was filled with great chunks of meaty lobster slicked in a light mayonnaise. A giant slice of freshly cut lemon and a pickle accompanied it.
Geordie revealed that there were two secrets to Knuckle & Claw's culinary success. He told me that the fresh lobsters are flown in overnight from the cold waters of Maine, which ensures that they are of the highest quality. Co-owner Nikki has also developed 'Nikki's Secret Seasoning', which literally brings each dish to life. I won't even attempt to describe the flavours as that is all part of the surprise but I can assure you that they are extraordinary.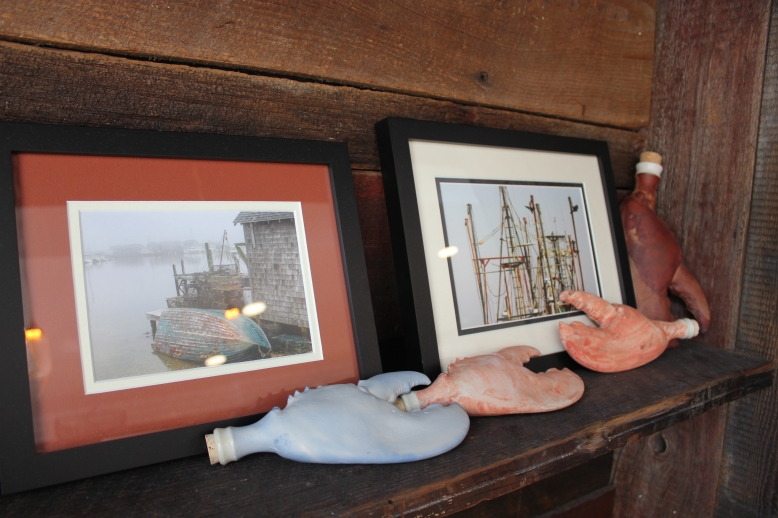 I looked over at my boyfriend, who had devoured his Grilled Cheese. He is notoriously hard to please when it comes to food but he grinned at me like a Cheshire cat. He said: "By far the best Grilled Cheese I have ever had. Lets order another, you have to try it."
Geordie was as attentive as one would expect at a Michelin-starred restaurant. He kept popping his head outside to ensure that we had everything we wanted and his consideration was much appreciated.
I ordered another two Grilled Cheeses and Geordie responded with a dazzling smile, he laughed then said: "You go gurrrrrrl, get whatever you want!"
The Grilled Cheese was indeed the best I had ever tasted. The crispy-bronzed bread was dripping with golden butter and the cheese flowed like molten amber. It was bursting with the immense flavours from 'Nikki's Special Seasoning' and each bite melted heavenly on my tongue.
Knuckle & Claw is everything that a restaurant should be. It delivers extraordinary service and the food is incredible without being pretentious. It brings luxurious lobster from the East Coast to the West Coast. If you are looking for the most luxurious lobster, look no further than Knuckle & Claw.
Knuckle & Claw
3112 W Sunset Blvd, Los Angeles, CA 90026
(323) 407-6142