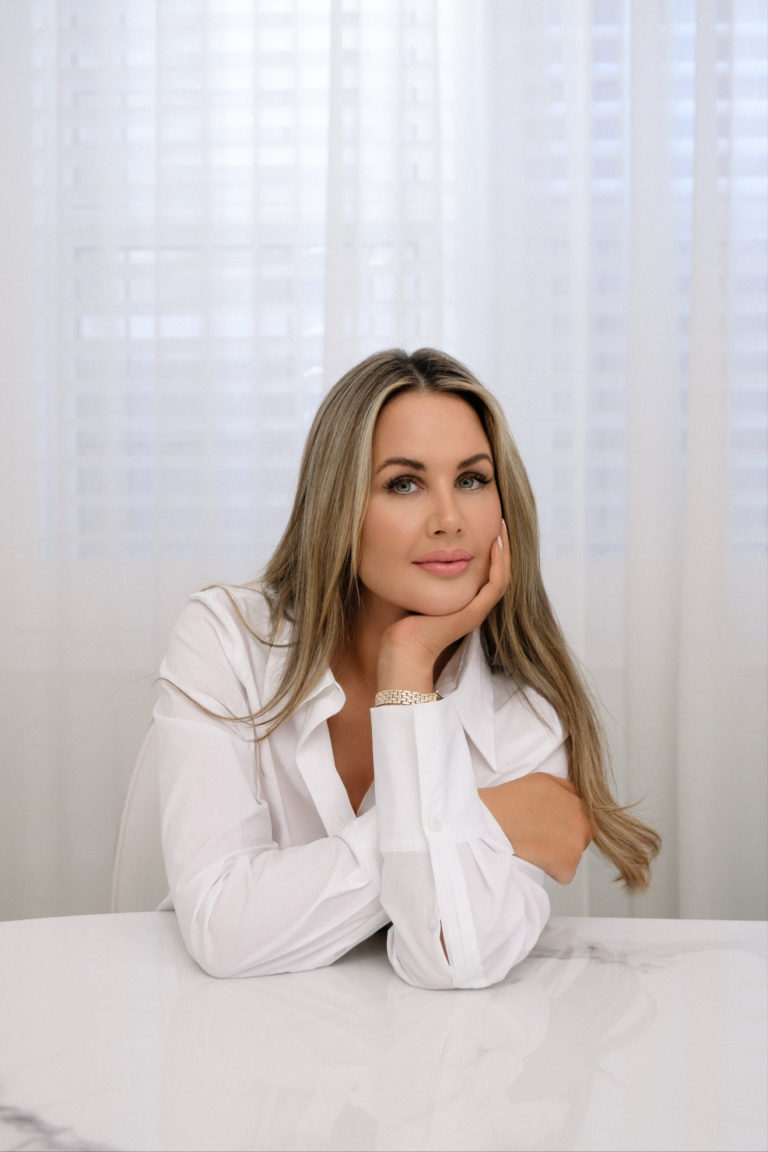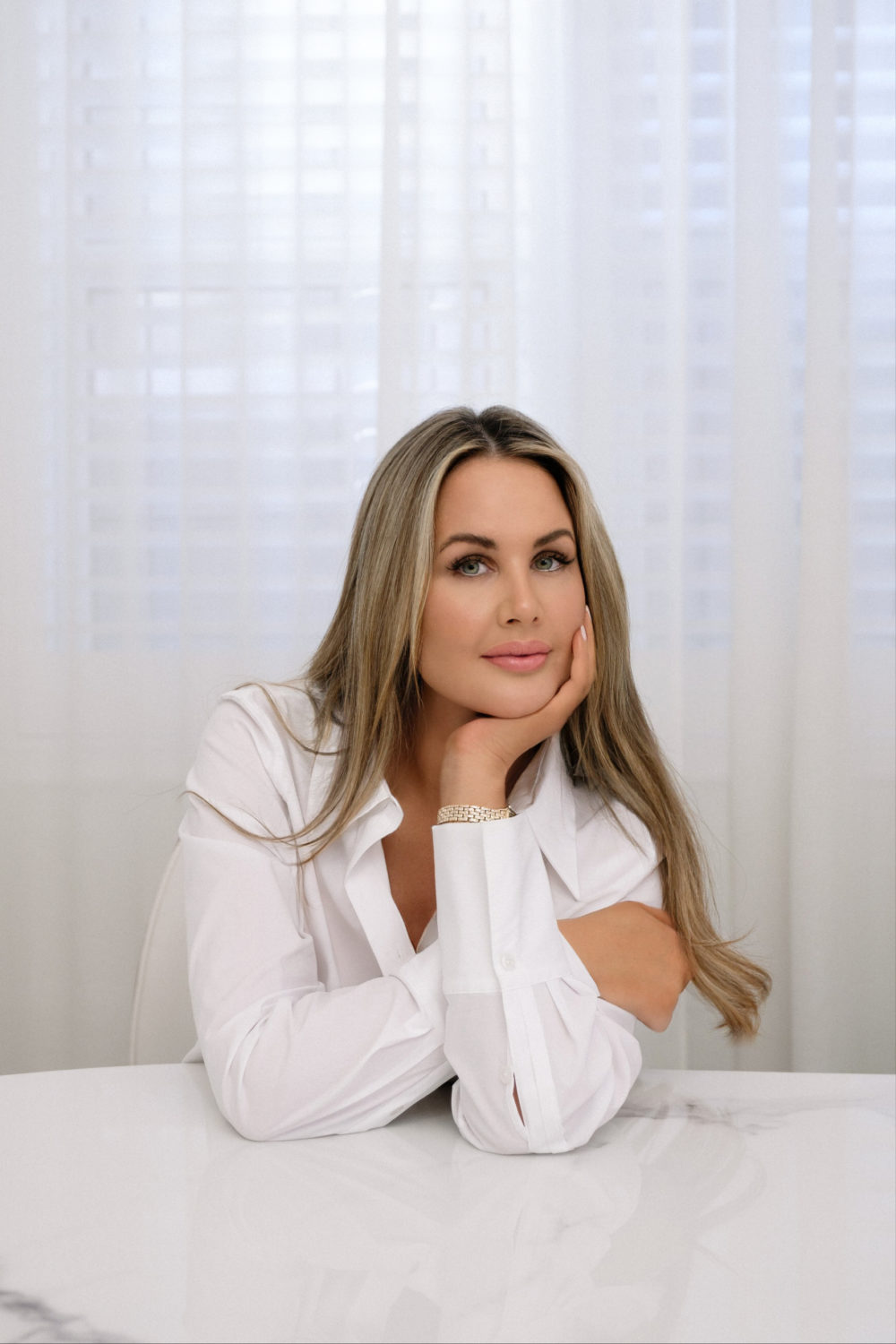 Founder of Harley Street Injectables, Alice Henshaw is one of the United Kingdom's most talented aesthetic practitioners, operating from her impossibly chic clinic in the heart of London's Marylebone. Her client roster spans the globe, with clients jetting in from various corners of the world to rely on her expertise. Her award-winning reputation precedes her, making her the go-to practitioner for enhancing natural features through subtle tweakments.
In 2021, Alice unveiled her very own skincare line called Skincycles. This distinctive line all about science-backed, ethical solutions to keep skin looking fresh and beautiful. Earlier this year, Skincycles launched in Liberty of London, a match made in skincare heaven.
Yvette Thomson sat down with the New Zealand native to talk all things beauty.
You are originally from New Zealand, when did you come to the UK and how did you get to where you are today?
My connection to the UK has always been personal; my grandmother was born here, which granted me the privilege of British citizenship through descent. I had travelled over a few times in my early twenties and was absolutely enchanted by the rich tapestry of culture and history, not to mention the allure of having Europe right at my doorstep. What was intended to be a year-long adventure blossomed into a decade of growth and opportunity.
After a year of living in the UK and absorbing the nuances of the market, I noticed a clear gap for clinics that specialise in natural aesthetic treatments. That's when I decided to establish Harley Street Injectables. It wasn't just about starting a business; it was about setting a new standard in an industry I am deeply passionate about. The clinic went from strength to strength, carving out a niche for those seeking enhancements that honour their natural beauty.
During the lockdown, when people couldn't visit the clinic for their usual treatments, I recognised the increasing reliance on skincare. This inspired the creation of Skincycle skincare. My aim was to provide anti-aging quality products that people could trust and turn to, even when they couldn't access professional treatments.
You regularly talk about never letting anyone walk out of your clinic looking unnatural. Would you say this is what makes your business distinctive?
Absolutely, the commitment to natural results is a cornerstone of my practice. The beauty industry is saturated with images of overdone procedures, which can create a false standard of beauty. My business stands out because I focus on subtle enhancements that complement each person's unique features. It's about respecting the natural anatomy and making tweaks that give a refreshed, rejuvenated appearance without being obvious.
What are the most common misconceptions surrounding tweakments?
There are several misconceptions about cosmetic treatments, or "tweakments." Many people believe they are inherently risky or will always result in a "done" look, but this is not the case when procedures are performed by a qualified and conservative practitioner. Another common misconception is that these treatments are only for the aging population, which ignores the preventative and confidence-boosting benefits they can offer to younger clients.
You clearly love your job. What makes you tick?
What really makes me tick is seeing the positive impact my work can have on an individual's self-esteem and confidence. It's not just about the physical appearance; it's about how these changes make my clients feel. There's something incredibly rewarding about helping someone see their own beauty, sometimes in ways they hadn't recognised before.
What have been your biggest challenges as a woman in this largely male-dominated business?
Being a woman in a male-dominated field comes with its trials. One of the biggest challenges is being taken seriously and establishing credibility in a space where male voices have traditionally been given more weight. There's also the ongoing effort to balance assertiveness with approachability, to lead with confidence without being labelled as difficult.
Do you ever get overwhelmed and if so, how do you manage that?
Yes, there are moments of overwhelm, especially when running a clinic as dynamic as Harley Street Injectables. I manage this by prioritising self-care, delegating tasks where possible, and maintaining open communication with my team. Mindfulness and a strong support network are also crucial for maintaining balance.
Looking back at Harley Street Injectables from inception, is there anything you would have done differently?
Looking back, there's always the temptation to wonder "what if?" But every decision, even those that may have seemed like missteps at the time, were learning opportunities that helped shape the business into what it is today. That said, I believe in the importance of continual evolution and I'm always seeking ways to refine our approach and services.
Any plans on expanding your clinic?
Expansion is always on the horizon. My goal is to bring our unique approach to beauty to a wider audience, but without sacrificing the quality and personalised care that we are known for. Any expansion plans would be carried out thoughtfully, ensuring that we stay true to our core values.
Your skincare range, Skincycles, is now in Liberty. Was it a natural progression for you or was it always part of the plan?
Having Skincycles in Liberty was indeed a natural progression but also part of a broader strategic plan. The brand aligns with Liberty's ethos of quality and innovation, and it was always a dream to have our products featured there. It represents both an achievement and a stepping stone to further growth.
You can only choose three products from your line, which ones would they be and why?
The DNA Defence Sunshield is a product I hold in high regard and recommend frequently for its multifaceted benefits. This isn't just a sunscreen; it's a sophisticated blend of skin defense mechanisms. It protects against UVA and UVB rays, certainly, but it also contains ingredients that help shield the delicate strands of DNA in skin cells from the oxidative stress caused by sunlight and environmental pollutants.
The DNA Defence Sunshield also boasts antioxidants that combat free radicals, reducing the potential for photoaging and maintaining the integrity of the skin's collagen and elastin. Its lightweight formula means it sits comfortably on the skin, perfect for daily use without feeling heavy or greasy, and it's designed to work seamlessly with other skincare products and makeup. For me, it epitomises the principle of proactive skincare—protecting before you need to repair.
The Hydrating Bio-Cellulose Mask is a staple for instant rejuvenation. It harnesses the latest in bio-cellulose technology, which allows for an incredible infusion of hydration and nutrients. The mask adheres to the contours of the face like a second skin, ensuring optimal delivery of the active ingredients. It's infused with hyaluronic acid, which draws moisture into the skin, plumping it from within to diminish the appearance of fine lines and wrinkles.
The addition of soothing botanical extracts also helps to calm the skin, making it a fantastic treatment for post-procedure care or simply as a weekly boost for stressed, tired skin. This product is a favourite for anyone needing a quick return to a more youthful, dewy complexion—it's essentially a drink of water for the skin, giving it that bounce and radiance we all strive for.
The Refine Cleanser stands out for its gentle yet effective cleansing properties. A cornerstone of any skincare regimen is the removal of impurities that can clog pores and dull the skin's appearance. This cleanser is formulated to do just that, but with a gentle touch to ensure the skin's natural oils and pH balance aren't disrupted. It's suitable for all skin types and contains a blend of ingredients that purify the skin, including natural botanicals known for their soothing properties. The cleanser also prepares the skin to better absorb the active ingredients in subsequent steps of the skincare routine, making it an essential first step in the Skincycles regimen. With consistent use, it helps to refine skin texture, promoting a clear, smooth, and refreshed complexion.
Can you give me any sneak peeks into new Skincycles products?
We're pushing the envelope with Skincycles, developing clinical products that can be utilised by fellow clinicians. These include a range of peels and mesotherapy options that we're excited to launch in late January 2024. Innovation doesn't stop at the clinic's doors, though. We're also expanding our retail presence with new products that will cater to diverse skincare needs across the Middle East, France, the UK, and Australasia. It's a thrilling time for the brand, and I believe our commitment to quality and efficacy will resonate in these new markets.
Who is your beauty icon and why?
Audrey Hepburn is my beauty icon. She embodied timeless elegance and poise, and her beauty was accentuated by her philanthropy and strength of character. She understood that true beauty comes from within and is reflected in how you treat others.
Red lip or smokey eye?
A red lip, without a doubt. It's classic, bold, and requires minimal effort for maximum impact.
Skiing or island hopping?
While I adore skiing, I'm ultimately a water baby at heart. There's nothing quite like the feel of the water and the warmth of the sun.
What is your favourite way to spend a Sunday – when you're not working?
A perfect Sunday for me involves a balance of relaxation and activity. A morning Pilates session followed by a leisurely brunch and a walk in the park is my ideal. It's about recharging and spending time with loved ones.
77 Harley St, London W1G 8QN