Here's another delicious, grain free, gluten free pancake recipe! These are high in protein, fiber and healthy fats, and they turned out super fluffy and moist! Topped with a caramel coconut tahini ganache, Pancake Sunday was complete!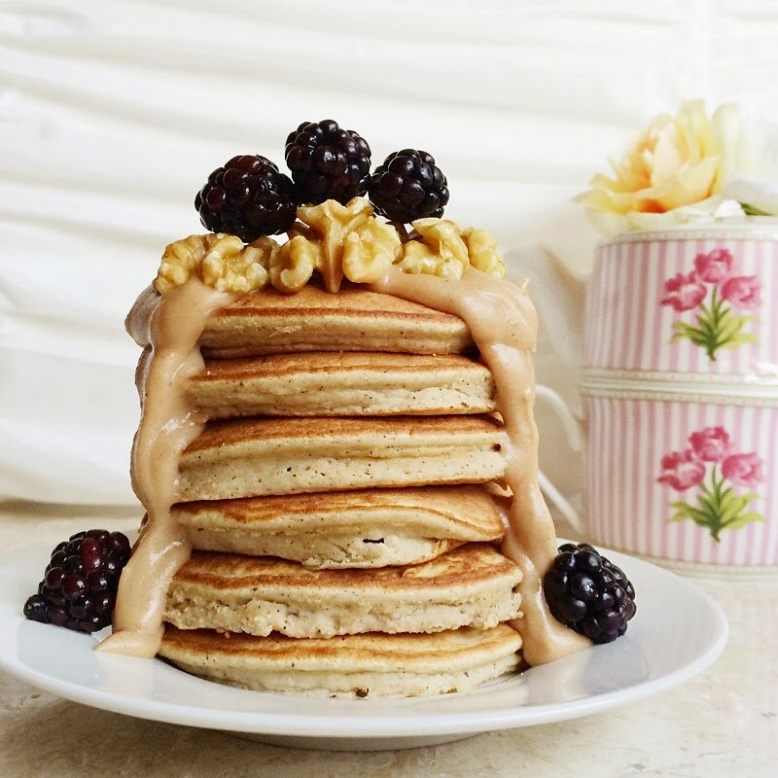 Serves 1
Makes about 6, 3-inch pancakes
You will need:
Dry Ingredients:
1/4 cup coconut flour
1 tsp lucuma powder
1 tsp maca powder
1 tsp ginger
1/2 tsp cinnamon
1/8 tsp nutmeg
1/4 tsp baking powder
optional: 1/2 tsp sweetener of choice
Wet Ingredients:
1/2 cup 100% egg whites (from the carton)
1/4 cup + 1 tbsp milk of choice
1 egg
Directions:
Heat a pan over medium and melt a little coconut oil to coat the bottom.
Whisk together the dry ingredients in a medium sized mixing bowl, then whisk in the wet ingredients.
Continue to whisk until the clumps are gone and the batter is smooth, but thick and only slightly pourable.
Turn down the heat slightly to medium low.
For each pancake, pour a little under 1/4 cup of the batter onto the pan until it forms a circle.
Let cook until bubbles form on the top, then flip and cook until both sides are nicely browned.
To achieve the fluff-factor, DO NOT press down the pancakes after flipping them.
Repeat with the rest of the batter until it's gone!
For the Caramel Coconut Tahini Ganache:
1 tsp lucuma powder
1/2 tbsp melted coconut butter
1/2 tbsp tahini
Combine all ingredients in a small bowl and stir until it reaches a smooth, pourable consistency. If it is too thick, add a tiny drizzle of warm water, stirring constantly, until it becomes pourable.
Enjoy!
Website: www.caseys-wholesome-kitchen.com
Instagram: www.instagram.com/wholeandhealthy
Facebook: www.facebook.com/caseyswholesomekitchen
Pinterest: http://www.pinterest.com/caseyyrose/caseys-wholesome-kitchen/