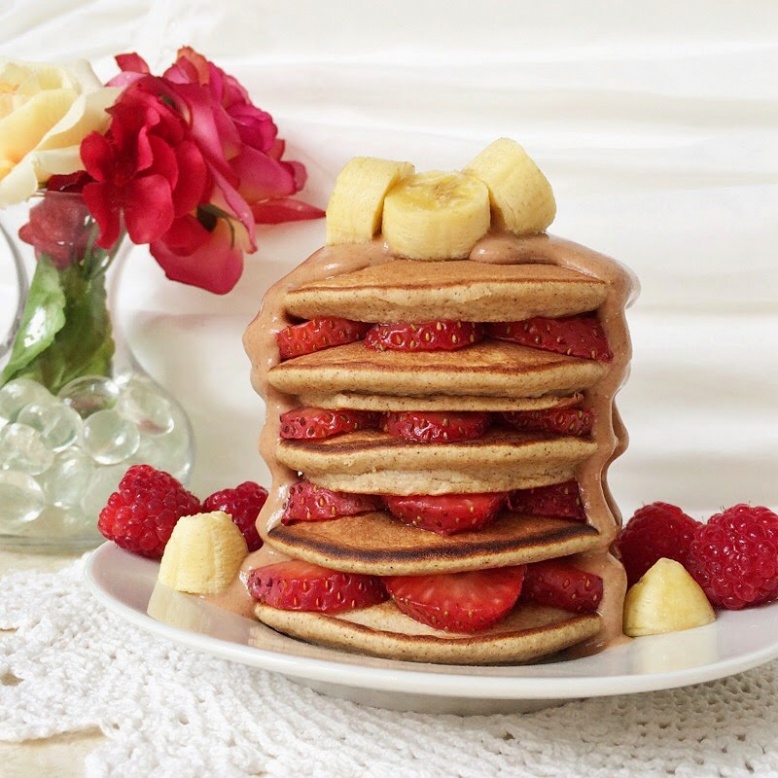 These delicious pancakes are gluten free, grain free, dairy free, and have a great protein kick to help keep you full!
Serves 1
Makes 5, 3-inch pancakes
For the pancakes, you will need:
2 tbsp + 1 tsp coconut flour
1 tsp lucuma powder
1 tsp mesquite powder
15g (1/2 scoop) vanilla protein powder
I used Julian Bakery vanilla egg white protein
1/4 tsp baking powder
1 egg
1/2 cup milk of choice
sweetener of choice, to taste
Directions:
Preheat a pan over medium heat and melt a little coconut oil to coat the bottom.
Sift the coconut flour, lucuma powder, mesquite powder, protein powder and baking powder into a mixing bowl, then whisk to combine.
In a separate bowl, whisk the egg and add it to the dry ingredients.
Add the milk to the bowl and whisk until smooth and there are no clumps remaining.
Let this sit for a few minutes so the coconut flour can absorb the liquid.
Turn down the heat slightly, and pour about 2 tbsp of the batter into the center of the pan.
Let cook until the top bubbles and begins to look "set" (about 2-3 minutes) then flip and cook for another 30-60 seconds.
Repeat with the rest of the batter. Layer sliced strawberries between each pancake as you stack them up – the strawberries will get warm, just like a delicious strawberry shortcake!
Cinnamon Lucuma Coconut Ganache:
2 tsp lucuma powder
1/4 tsp cinnamon
1/2 tbsp melted coconut butter
granulated sweetener of choice, to taste
Directions:
Place the lucuma powder, cinnamon and sweetener in a small bowl.
SLOWLY add a drizzle of warm water, mixing continuously, until it forms a sauce consistency.
Add the coconut butter and stir again.
Add more warm water until it reaches your desired consistency.