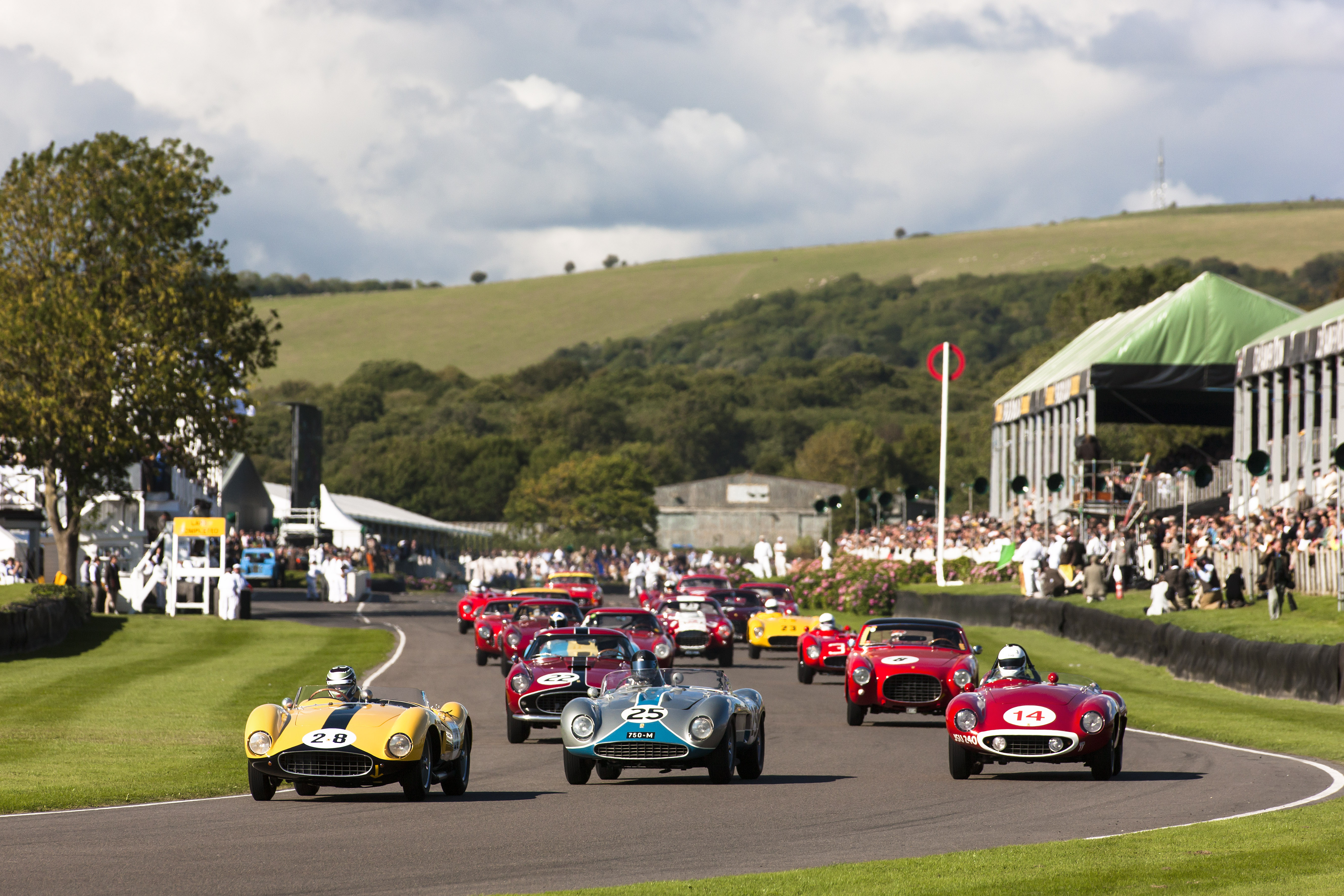 When it comes to all things vintage, no one does it better than Goodwood Revival. The historic circuit is a Mecca for automotive enthusiasts everywhere – transporting its many visitors into various past eras for three glorious days in September. With its popularity ever increasing, this year the Revival weekend had a record-breaking 150,000 attendees to the event which takes place on the picturesque Goodwood Estate in West Sussex.
After delving into the Goodwood archives to look for photos from previous years to give me an insight into what I should wear, it became clear that this was not just some fancy-dress event – people went all-out to make their outfit as historically accurate as possible. I always knew that the Revival guests were notorious for their calibre of dress, but I don't think I ever realised quite the lengths that people will go to. One woman interviewed even admitted that she'd spent a whole year planning and putting together her perfect Goodwood attire. However, all this effort does not go unnoticed, and a team of expert judges pick the crème de la crème of vintage clad each year to crown one lucky winner with the prestigious 'Best Dressed' title.
As my friend Layla and I pulled up to park, we could see hoards of colourful people making their way towards the entrance. We had a last-minute outfit check, hopped out of the car, and eagerly joined the mass crowd up ahead of us. We passed aviator pilots, 60s go-go dancers, 1940s land girls and all-in-white car mechanics sporting handlebar moustaches. There were World War Two soldiers, dashing naval sailors, scooter-riding mods and bike-riding rockers; it was as if you'd stepped back in time…into different eras simultaneously.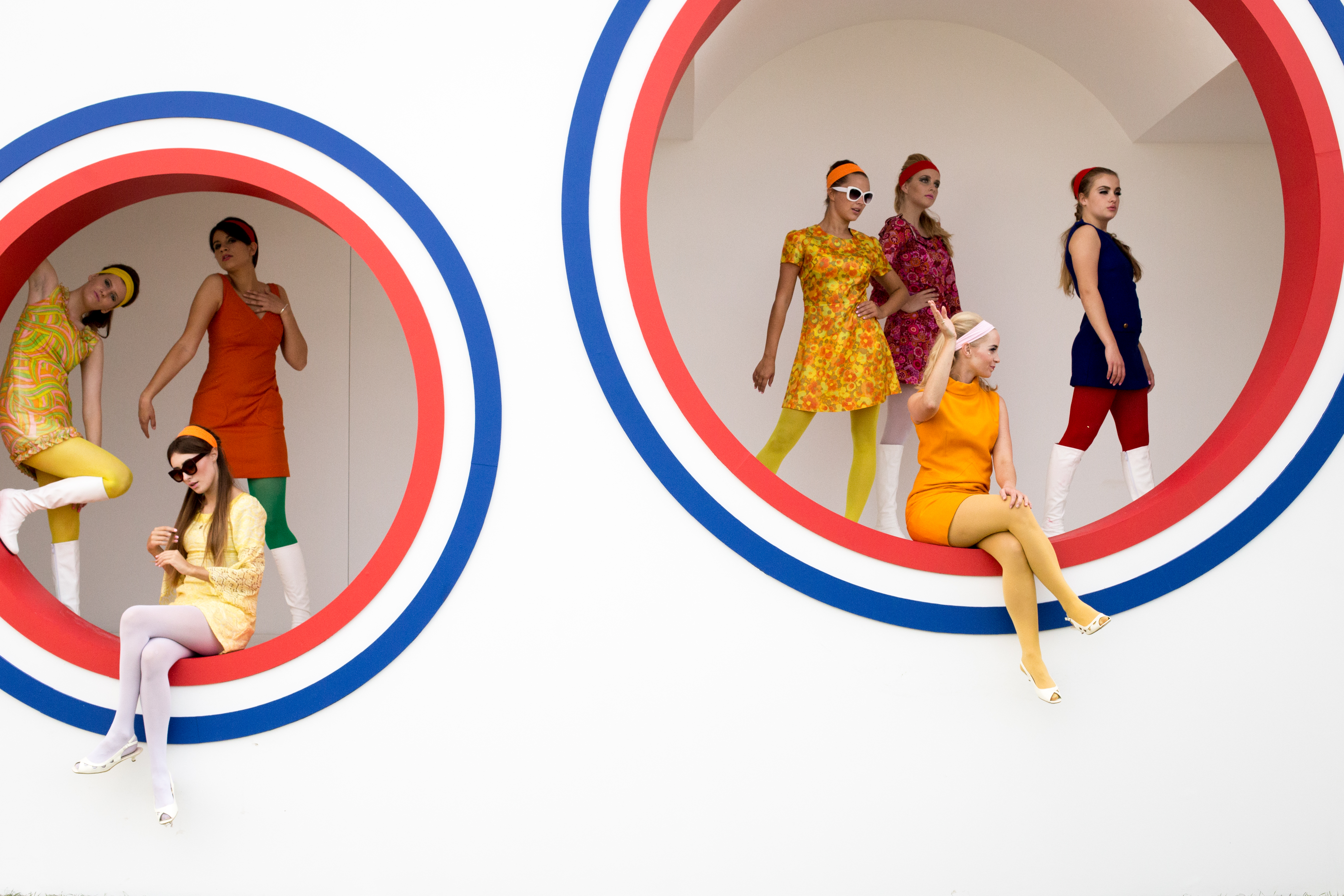 I'd opted for a nod to the 60s in a retro printed mini-dress, oversized cream sunglasses and knee-high boots, while Layla channelled 40s style with a forest green chiffon dress and faux fur shrug – but even we felt underdressed next to some of the guests, some of which had also brought along children dressed in the most gorgeous little vintage outfits.
As we got closer we could hear the sound of a big band blasting out 40s and 50s swing music; we could smell the petrol fumes of the cars getting ready to make their way onto the track, and just beyond the gates we could see groups of guests clinking glasses of champagne while reading through the order of events for the day.
Although the day started off drizzly, the rain soon cleared up and it looked to be another gloriously sunny Revival weekend. Our first port of call was to the bar, where we bought two small bottles of champagne to enjoy while we watched the end of the first race which featured classic grand prix cars and voiturette from the 1930s to the 50s.
Between each race, spectators would scatter to make the most of what the event had to offer away from the track. Betty's Hair Salon, a fully functioning 1950s replica of a hairdresser's, was in high demand; women were queuing up to have their hair curled, coiffed and backcombed into the most elaborate and fantastic dos. Showrooms filled with vintage Ferraris, Jaguars, Mercedes and Alpha Romeos were packed with car enthusiasts admiring the undeniable craftsmanship and great history behind the famous motors.
Layla and I followed the unmistakable sound of the brass band until we reached a huge marquee filled with people. On stage was an authentic 50s swing group and in the centre of the crowd, trained dancers jived and hopped while spectators applauded. We thought better of staying for the jive class and returned to the circuit to enjoy some more racing.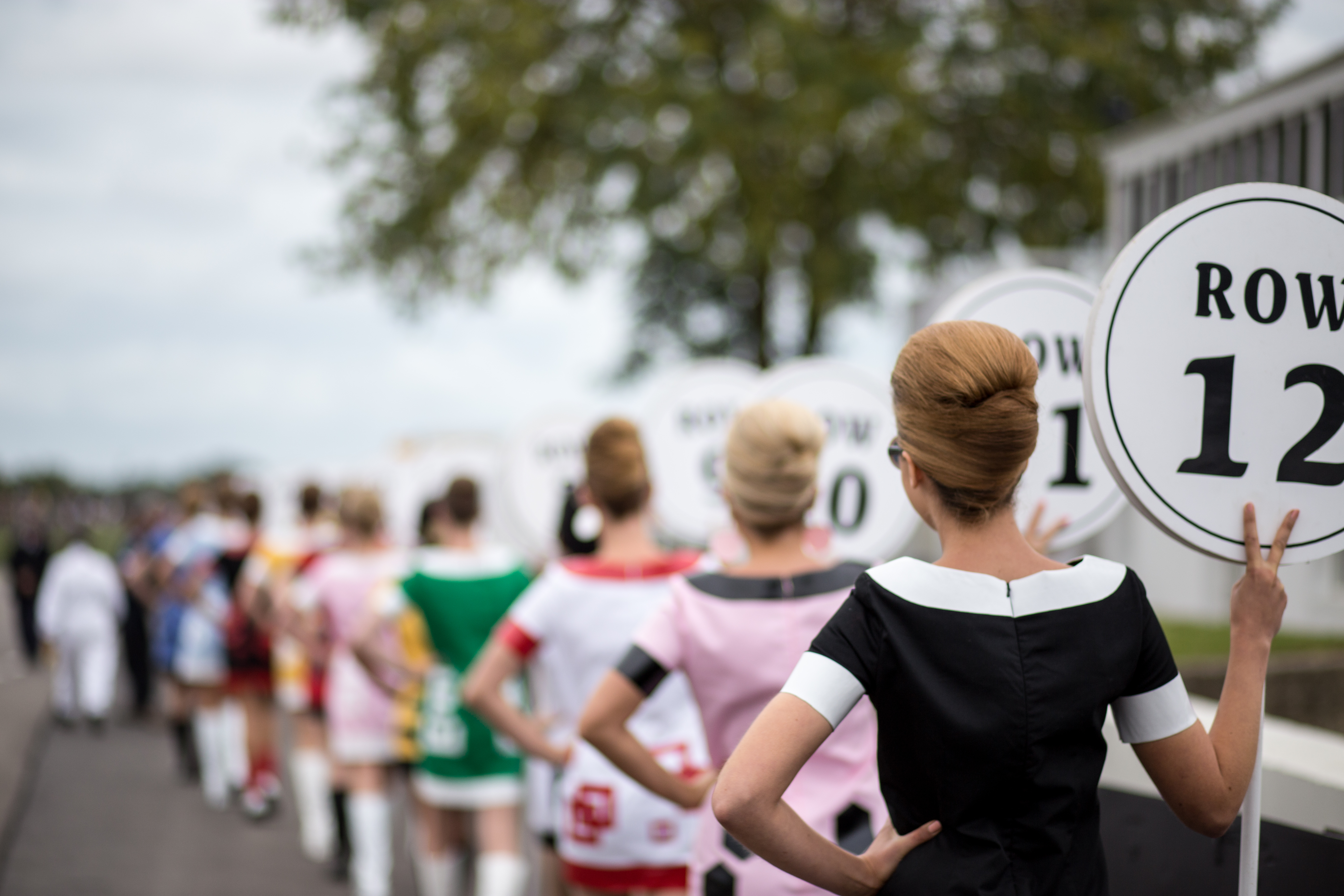 We were spoilt for choice when deciding what to have for lunch, but when it came down to it, nothing can beat good old British fish and chips. The delicious hand-made treats at the cake bar justified the enormous queue it created, with all-butter cherry and lemon curd shortbreads, decadent chocolate brownies and my indulgent choice, a marshmallow, chocolate, fudge-filled rocky road.
As we walked along we noticed a Tesco's outlet with the longest queue forming out of the door. It was a supermarket with a difference; the inside had been filled with replicas of retro 1950s products, complete with original packaging designs of classic products like 'Daz', 'Ricicles' and 'Milk Tray' – a real step back in time for those who remember the era.
We found the perfect spot on the grassy bank to watch the remainder of the races from whilst enjoying our fish and chips. Our position on the track allowed us to see cars hurtling at high speeds down the pit-straight and drifting fearlessly round the first corner while spectators gasped and cheered at the fantastic battles going on around the circuit, all at the same time as Spitfires and other wartime aircraft were flying directly over our heads and circling the estate. The whole thing was very surreal in the most brilliant way.
Famous faces from the racing world adore the event; F1 legend Sir Stirling Moss made an appearance and was reunited with his iconic Mercedes-Benz 300 SLR from his 1955 Mille Miglia victory. One of the highlights of the day was definitely the Lavant Cup race, exclusively for 1950s Ferrari sports prototypes, with a thrilling battle for first place ending with a coming-together between the two contenders.
The day was perfectly rounded off with an after-party set in one of the enormous marquees, complete with an old-fashioned bar, Beatles tribute band and crowds of authentically dressed people ready to dance well into the night.
Goodwood Revival had well and truly charmed us with every aspect; from the vintage cars to the retro outfits, fantastic food, brilliant live music and all round spirit of the event. I have to say I am completely hooked and will definitely be attending next year's revival without a doubt. In fact I should probably start planning my outfit now…
Goodwood Revival
Goodwood Estate, Chichester, West Sussex, PO18 0PX
The next Goodwood Revival will be held 9th-11th September 2016.