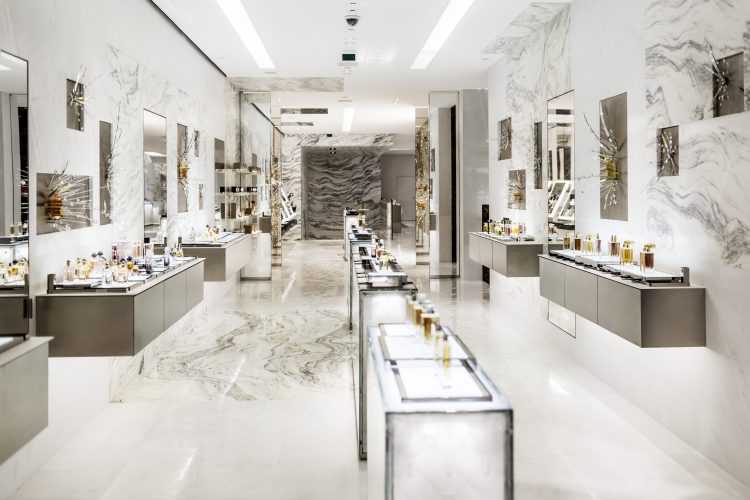 Champs-Elysees is widely known as one of the most iconic avenues in the World. It is known for its Theatres, famous cafes and luxury fashion and beauty stores. In 1939 Guerlain open its doors to its first every store at number 68 Avenue Des Champs Elysees. Over a century later L'institute Guerlain now resides here inviting Guerlain lovers for a one of a kind sensory experience. Known for such statement perfumes such as Mon Guerlain. The brand is now offering a perfume customisation experience.
Surrounded by over 50 iconic bee bottles you sit down with one Guerlian's head Perfumers and start your journey. To narrow down the options of your favourite scents you will be handed in iPad to complete a quick questionnaire based on your favourite seasons, spices and perfumes notes. The perfumer then goes on to talk to you about your childhood and the different smells linked to your happiest memories. And then bringing it to your present self she asks what kind of foods and spices you use in the kitchen. After 45 minutes of discussing scents and memories you are then presented with 2-4 option of signature fragrances by Guerlain. Once you have picked your chosen perfume. You are able to design your bottle from the colour to the ribbon and have it monogrammed with your chosen initials. 
As a perfume lover and a huge fan of Guerlian, it is truly a magical experience. Not only to be able to customise your fragrance but to be able to sit in such an iconic store was an experience you will never forget.
68 Av. des Champs-Élysées, 75008 Paris, France