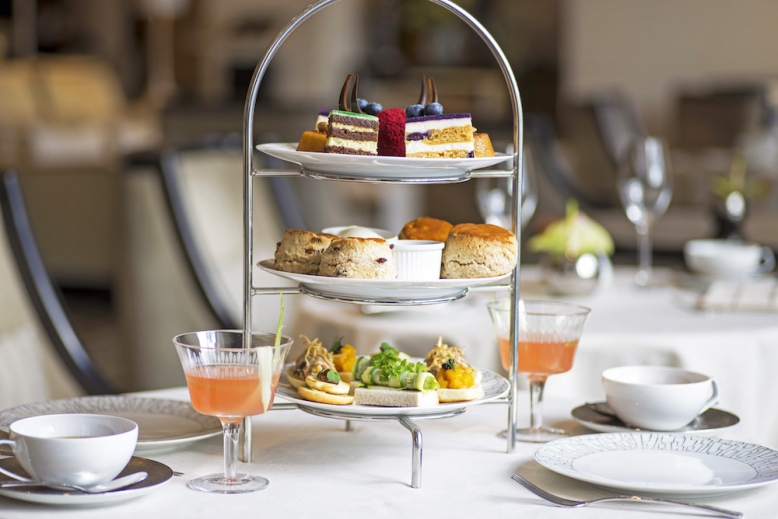 Over the years I have become somewhat of an afternoon tea connoisseur in my circle. I've had the pleasure of enjoying some of the most delicious afternoon teas in the world, so when I was told about the InterContinental's Guiltless afternoon tea, I was immediately intrigued. Afternoon tea is famed for it's sheer indulgence and I was keen to discover what the InterContinental's wholesomely indulgent tea would be like.
This may sound strange but one of my favourite attractions of the InterContinental Park Lane is not its undeniable beauty, or its spectacular location over looking Hyde Park, it is in fact the smell. Bear with me here. As soon as you walk into the serene environment of the Wellington Lounge, you are met with the delectable smell of fresh jasmine. It never fails to put a smile on my face.
A tall and rather handsome French waiter greeted fashion editor Jay Best and I warmly and led us to our table. He courteously pushed our chairs in and placed impossibly white napkins on our laps.
He placed our menus on the snow-white tablecloth in front of us, as he did so he explained that our afternoon tea experience would be like nothing we had tried before.
The menu featured all of the classic items you would expect, such as a tray of finger sandwiches, a selection of teas, a tray of scones and a variety of pastries. However, this is where the comparison to the traditional afternoon tea ends.
The Guiltless afternoon is free of refined sugar and was carefully created with all natural nutrient-filled ingredients. It can also be tailored to any dietary requirements, including gluten and dairy free.
As we surveyed the menu, the waiter placed a 'Guilt free cocktail' before us. It was sweet and a soft powder pink. The cocktail was incredibly deceiving, initially it was refreshing but left a tantalizing tingle of alcohol on your lips, long after you had drained your glass.
Our waiter was incredibly knowledge about the extensive teas on offer. It was refreshing to see someone so passionate about their job. We adhered to his recommendations and ordered a pot of 'Wellington Blend'.
The 'Wellington Blend' was created by the hotel's Executive Chef Paul Bates. It is a luxurious blend that embraces the spirit of a wonderful English breakfast tea, using a balance of Assam, China Black tea, Earl Grey, softened by English cornflowers and mallow blossoms.
As we finished our pot of tea, a silver stand laden with treats arrived. It was a vision of colour, with a crown of brightly coloured cakes on top. We immediately got stuck into the array of sandwiches, which were all served on Colombian gluten free bread.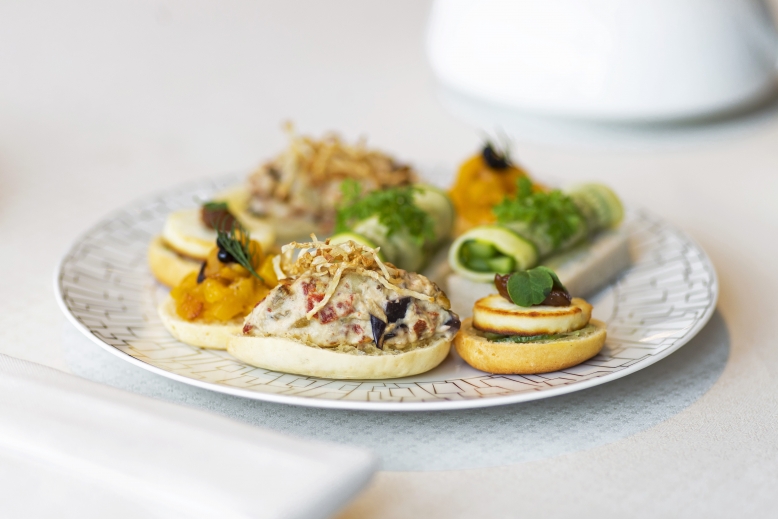 The sandwiches were delicate in appearance but absolutely bursting with flavour. We tried a nettle-marinated asparagus sandwich, rolled in courgette ribbons and a thyme-roasted butternut with balsamic caviar and fresh dill sandwich. Our favourites were the basil marinated Manouri cheese with cucumber and apple relish sandwich and the smoked aubergine and roasted piquillo pepper with crisp celeriac sandwich.
The moment we had finished the sandwiches, our waiter appeared and efficiently whisked them away. He returned with a tray laden with warm sultana and wholemeal scones. They were accompanied by a rich homemade red berry compote and a luxurious mountain of crème fraîche.
Our waiter suggested that we change our tea to complement the sweets. We chose the incredible 'Number One Park Lane' tea, a blend that is made from Madagascan Vanilla Pods and marigold flowers. It had a light sweetness yet it also had an undeniably full-bodied flavour due to the InterContinental London Park Lane's exclusive black tea blend.
We devoured the tray of pastries that were almost too beautiful to eat. There was a decadent red velvet cake ball, a luxurious flourless chocolate and mint cake, a sweet and nutty polenta and almond cake and the grand finale, a beautiful stack of blueberry and fresh yoghurt chiffon cake.
The food had been sensational. It was bursting with both traditional and exotic flavours. They were so delicious that you completely forgot that the dishes contained significantly less sugar.
The service was particularly outstanding and I couldn't recommend our waiter highly enough. He was warm, attentive and charismatic. He had a profound knowledge of the entire menu and answered all of our questions with ease. He even told us about his childhood summers in Corsica, later returning with phenomenal images of the Corsican landscape.
Initially I was intrigued by the InterContinental London Park Lane's 'guiltless' take on the traditional afternoon tea but now I am completely sold. It's a revolutionary move to transform a British tradition into an equally extravagant experience that is welcome in this generation, where being healthy yet indulging yourself is paramount.
The InterContinental Park Lane's 'Guiltless' afternoon has made it possible to indulge in a delicious treat without the guilt of overindulging. As Mae West once said: "Too much of a good thing can be wonderful."
The Guiltless Afternoon Tea is £40 per person, it is available until June 2015.
Click here to view the menu and click here to book a table.
InterContinental London Park Lane
One Hamilton Place, Park Lane, London W1J 7QY