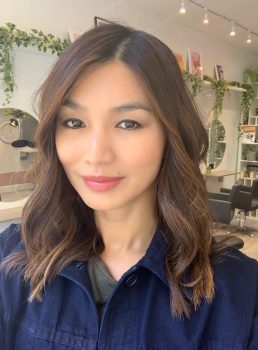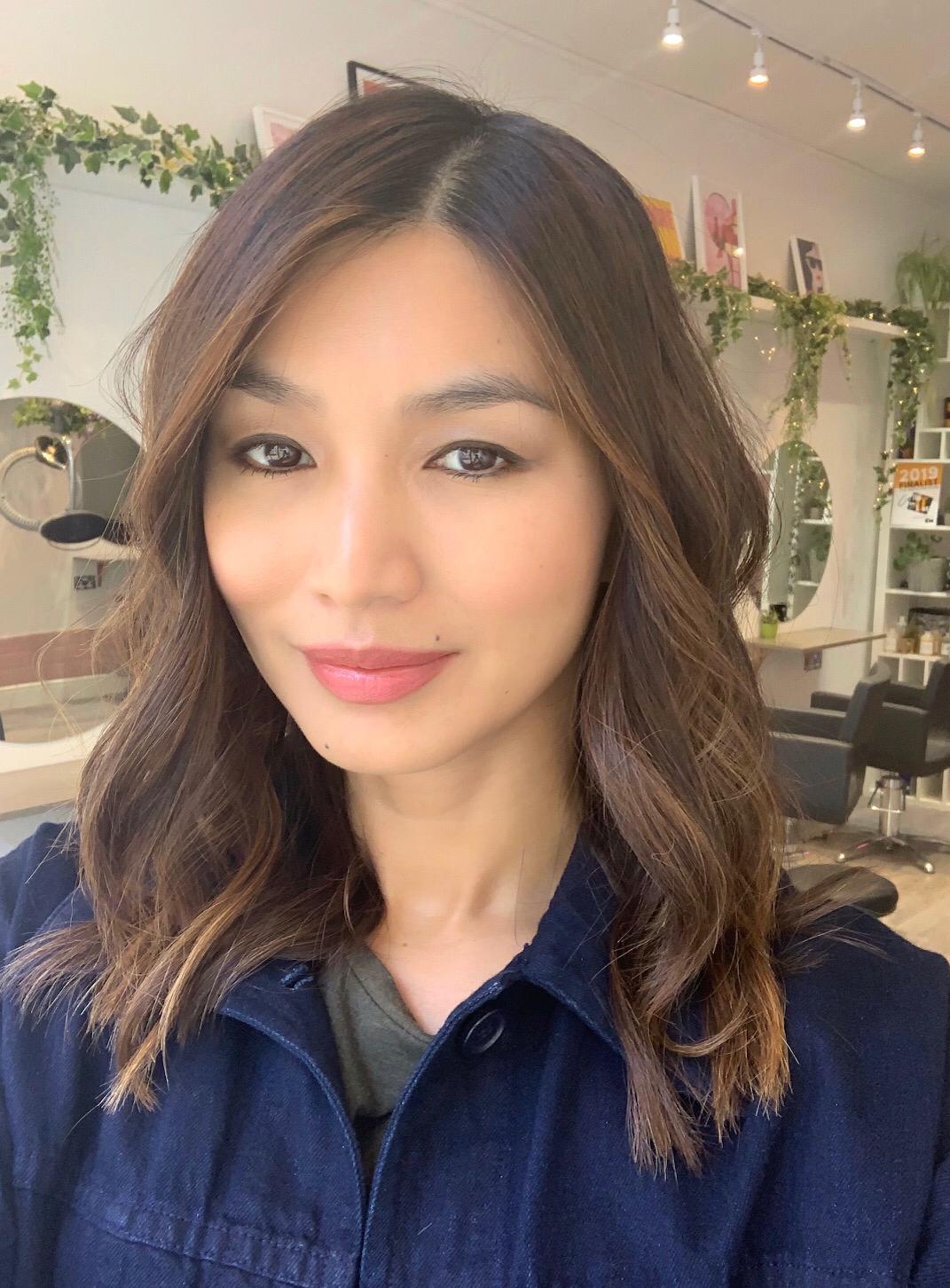 After 14 years in the hair industry, Katie Allen, followed her dreams of opening her very own hair salon. Starting her training at Vidal Sassoon, she became a hugely successful Senior Master Stylist at the prestigious Charles Worthington salon, as well as becoming an ambassador for L'Oreal as a Colour Degree Expert and counts the ethereal actress, Gemma Chan, as a regular client.
Nestled in the leafy suburb of west London's Chiswick, MAYFIVE – named after Katie's birthday, is the latest addition to Devonshire Road, a charming street filled with independent boutiques and yellow-bricked Georgian houses.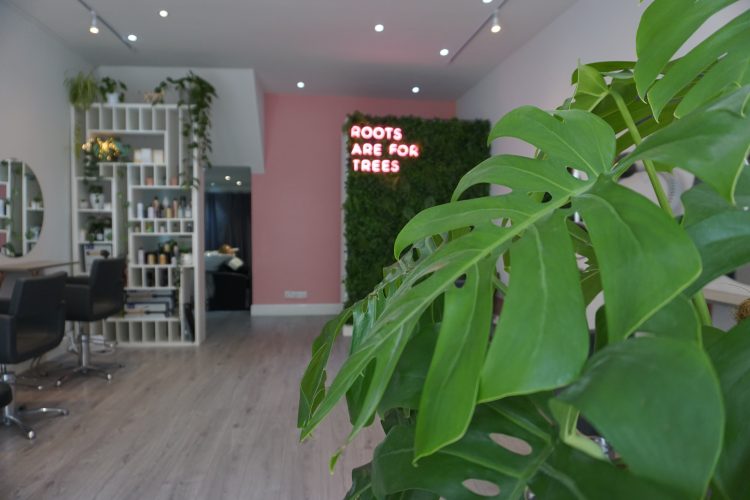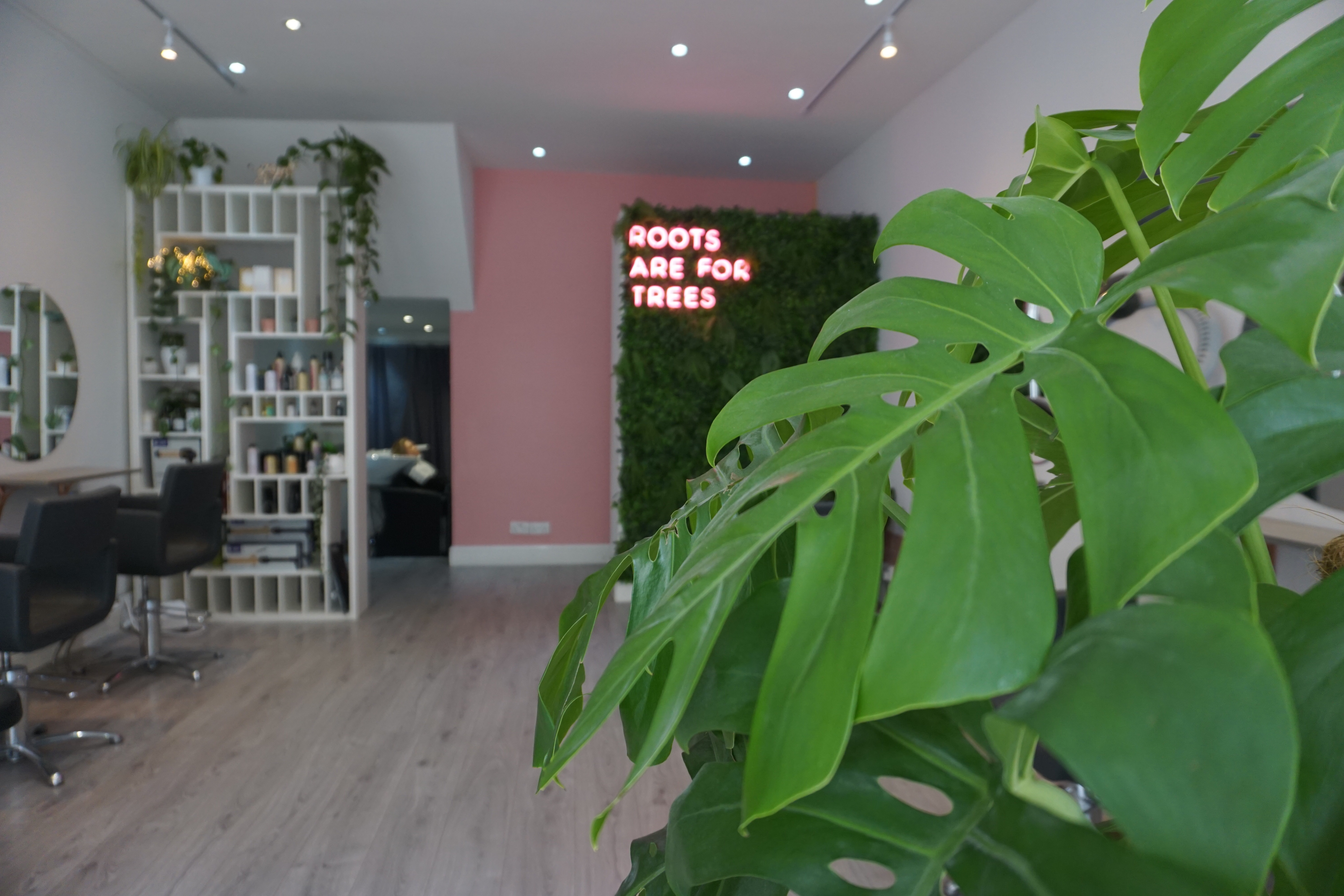 On a beautiful sunny day, I drove across London during rush hour traffic, running late for my appointment, of course. I made my way to the muted grey shop front with delicate gold lettering featuring the logo 'MAYFIVE' above and entered.
The salon opens into a serene haven with house plants dotted all over the salon, some on shelves and others hanging from the ceiling. A small feature wall covered in foliage, sunflowers and neon lights with the words 'ROOTS ARE FOR TREES' emblazoned on the wall set the warm and humorous atmosphere.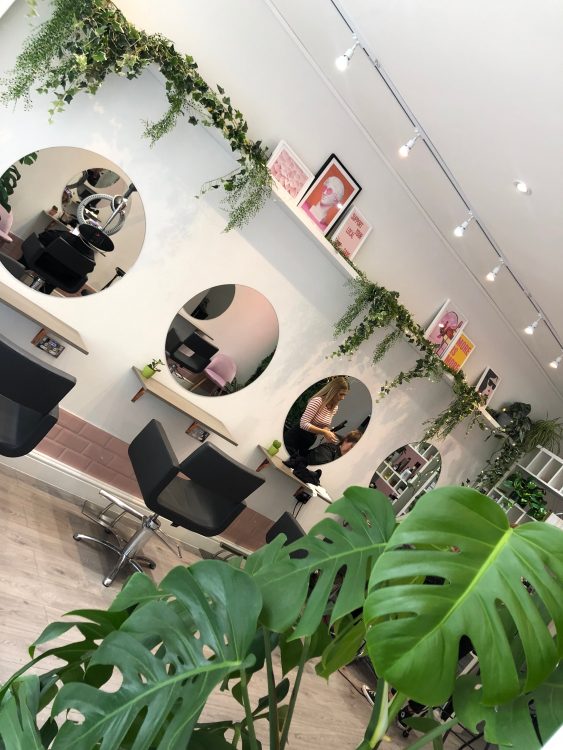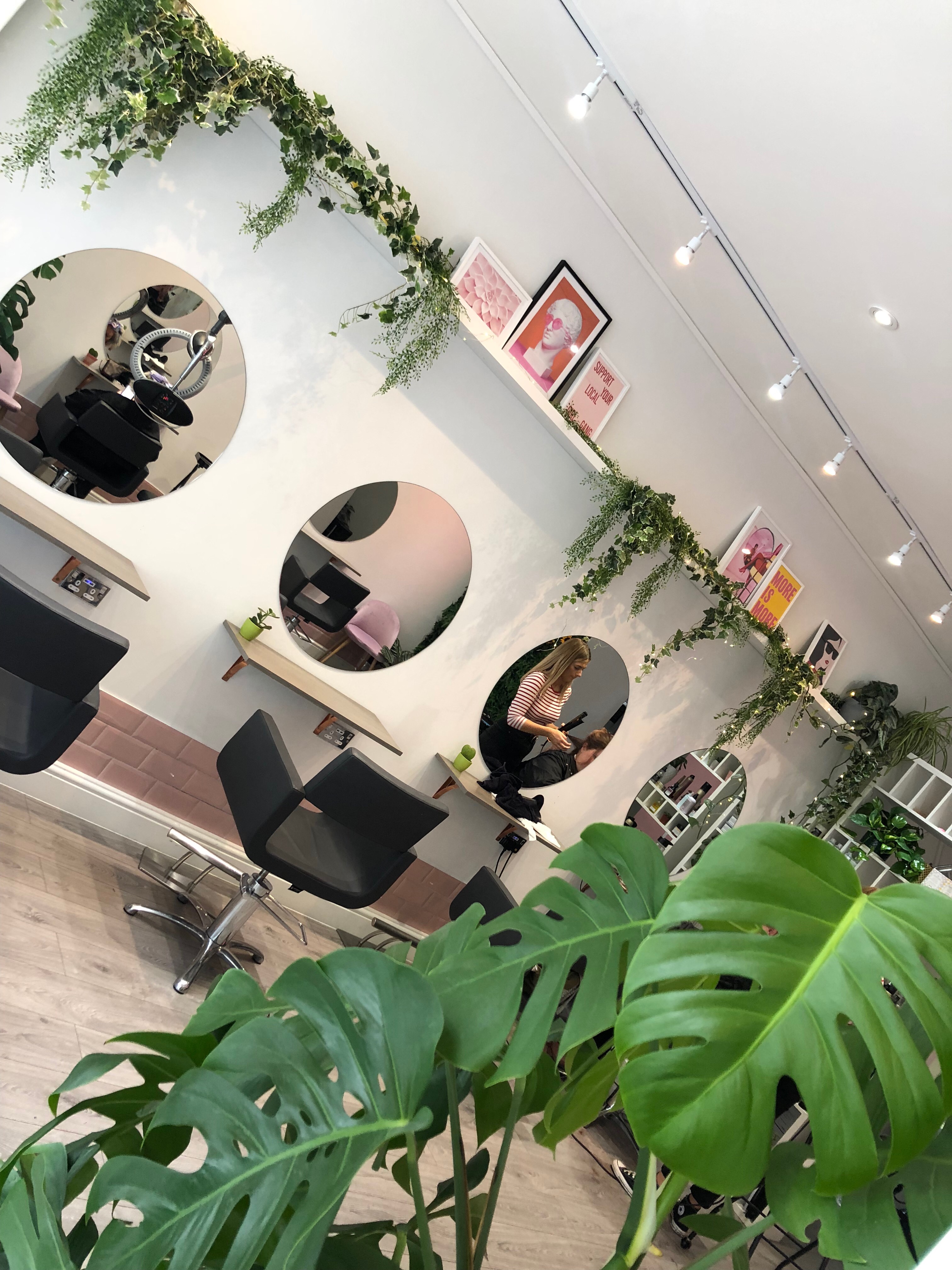 I was greeted by the receptionist and took a seat on the comfortable plush grey settee with a glass of water. A few moments later, Hannah, the Advanced Stylist and Colourist, welcomed me and led me to the backwash area where fairy lights cascaded down the wall with polaroids of MAYFIVE's beloved staff and pictures of happy clients with their stunning results. I also noticed a dog bed and toys in the corner which Hannah informed me, belonged to Ralphie, the miniature Dachshund, and sadly for me was off for the day.
I sat in one of the plush leather chairs and lowered my head into the shampoo basin whilst Hannah showered my head in soothing warm water. She shampooed my hair and applied Davine's Instant Treatment to nourish my dry and damaged hair and finished with a relaxing head massage, before wrapping my wet hair in a towel.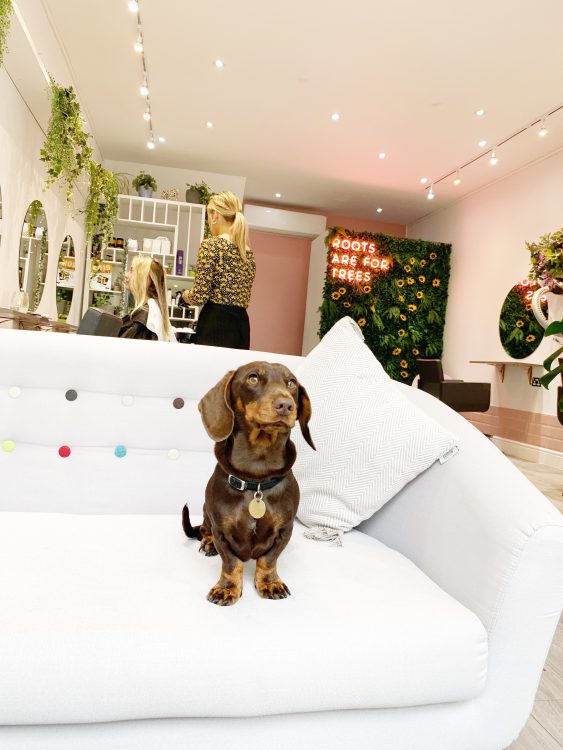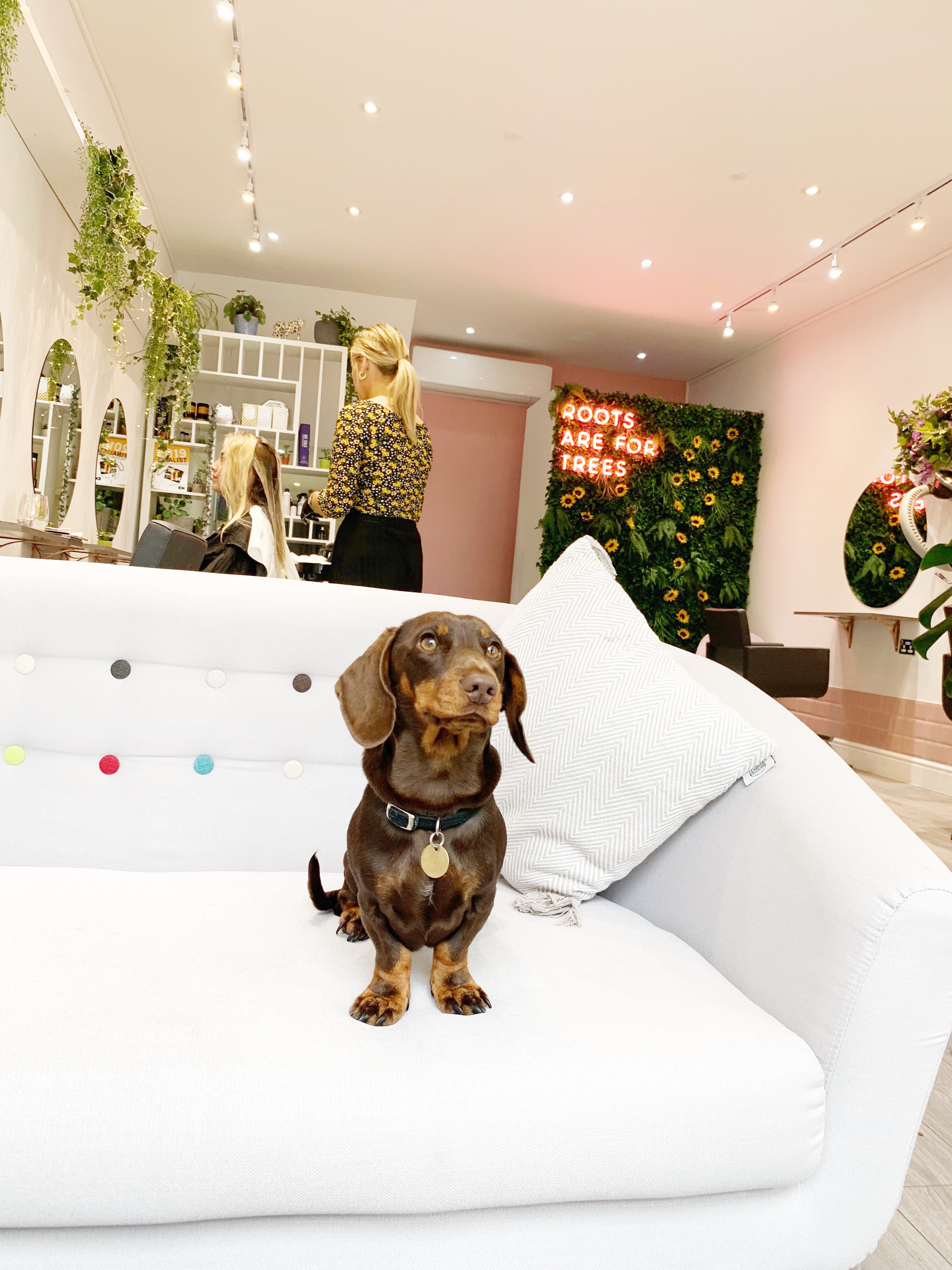 I was led to one of the stylist stations with circular mirrors and posters in frames and garlands of leaves overflowing from the shelves and seated in the black leather styling chairs. Hannah brushed through my wet tresses gently and asked me what I wanted to do have done. I stuck to my usual response of, "Take off all the dead ends and just put some shape into it or whatever you think would suit."
Hannah, one of the nicest people I have met and someone who truly wants their clients to leave happy, continued to probe me with more questions. We settled on keeping the medium length of my hair but with some layers so that I could continue with my low maintenance ways but also look as if I had made an effort with my appearance.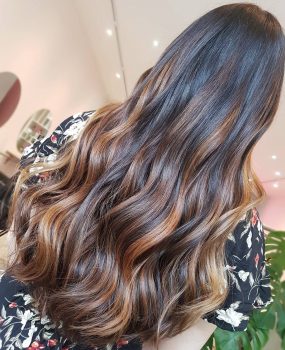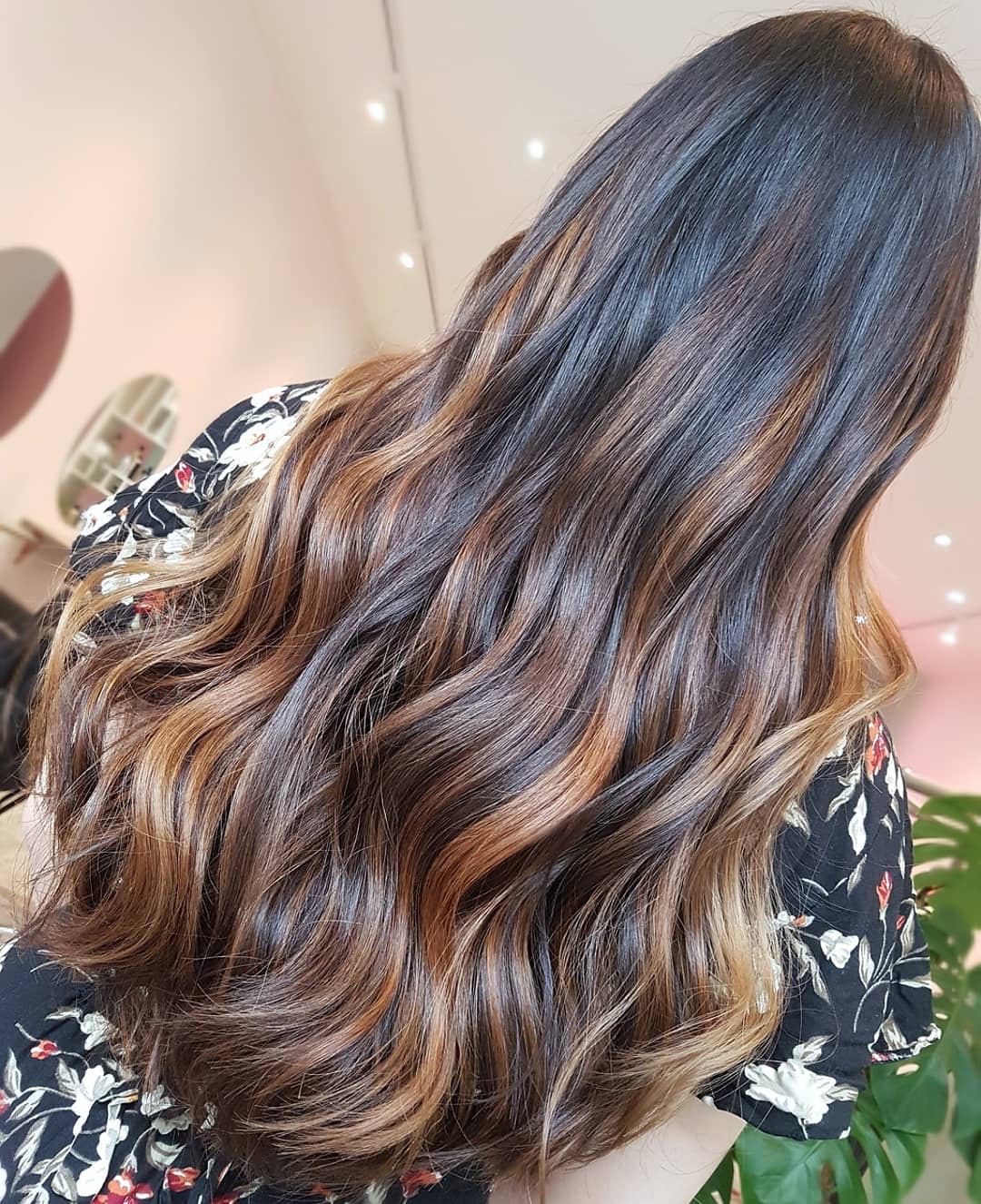 I learnt that Hannah was also working at Charles Worthington before she was poached by Katie and has been part of the MAYFIVE team from the very beginning.
With barely an inch taken off and long layers cut in at the front, I was amazed at how my hair was completely transformed. It looked so much healthier and I felt lighter and more confident in myself. I left with tousled beach waves and enjoyed the last few hours of the exceptionally warm Indian summer we were having.
The true test of a good haircut for me is how it grows out. A few months later, my hair is much longer and still looks relatively healthy and has required little maintenance throughout, which is exactly what I wanted and perfect for my lazy self.
Thank you Hannah, I look forward to seeing you soon.
44 Devonshire Rd, Chiswick, London W4 2HD
Follow Hannah at @itsamanething