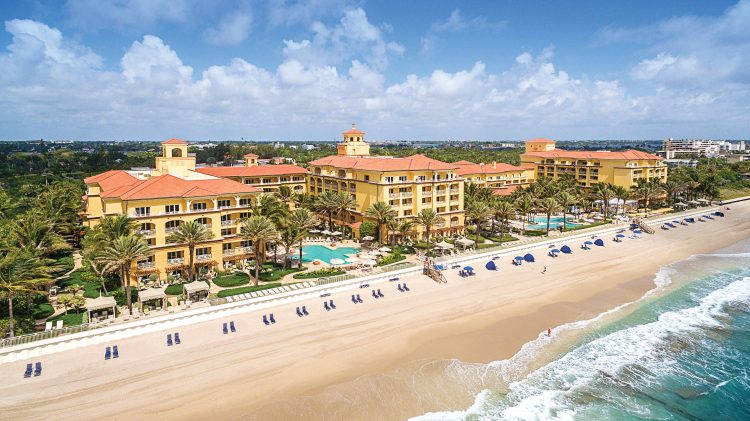 Hit with humidity, Starbucks around the corner and our favourable driver Braden, a character to say the least, perched on his black Suburban SUV in the most unperturbed manner. I knew wellness was not far away.
What are your first thoughts when you think of Florida? Mine were palm trees, Orlando and Sunny Delight. Henry Flagler known as the Farther of Florida founded the Palm Beaches. Set near the coastline surrounded by clear water and sandy beaches, clearly he didn't do a bad job! For four days I experienced health, wellness and history in the sunshine state with Discover The Palm Beaches – Florida – to the palm beaches we go!
Arriving at Eau Palm Beach Resort & Spa is truly a magical experience. As the glass doors opened I was met with a refreshing citrusy aroma. Grand yet sleek features like the declaration chandelier that hung effortlessly cascading light throughout the reception area. The suede blue chair, paired with iridescent sequin pillows situated next to a striking gold feathered plant, yes feathered. Fruit infused water on tap, literally – relaxation set in and we were shortly checked in. I could now take in the incredible sights of Eau Palm Beach Resort and Spa.
My ocean view room with a balcony certified me to sights of the clearest of waters and the bluest of skies. Shades of blue, turquoise, yellow and white interiors made for the perfect statement room. Chic gold and white touches where it mattered, a polished marble bathroom with pops of blue colour together with elegant silver – American modern glamour – an interior design of dreams! Jonathan Alder, who designed all rooms throughout Eau Palm Beach, equips you with a room style so gracious with such charisma. Allowing for the room to be rich in colour and concentrated in comfort.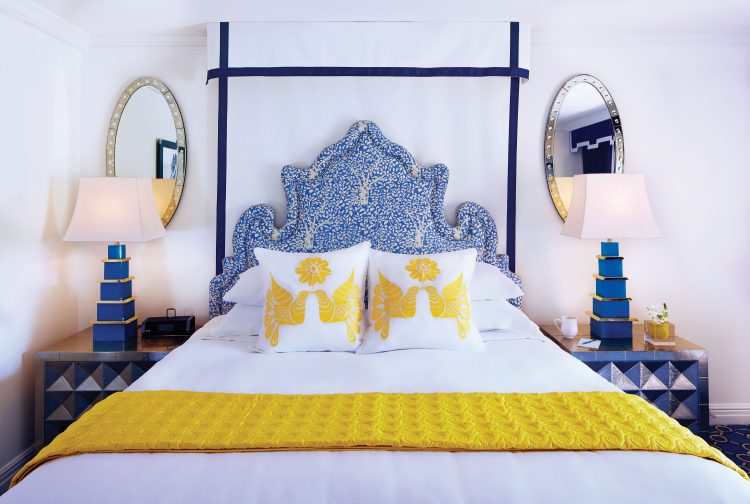 Upon our evening arrival we had Dinner at Temple Orange, a restaurant within the hotel, satisfying all your food needs – serving, breakfast, lunch and dinner. With the service of dreams and a Mediterranean inspired menu we had a gracious feast. Starters of focaccia bread with an assortment of three sweet dips, the main – a platter of pretty much everything. Fresh seafood, kale Caesar salad and a cheese board – something for everyone! Most importantly, it was delicious. Feeling light but full I was set for an early night.
First full day and a fanciful welcome to the hotel I stepped into a wonderland of wellness. A large clock projected on the floor paused, anti-clockwise? I had to enquire. It symbolized guests leaving all their worries at the door and you didn't have to tell me twice, welcome to Eau Spa! The large garden to the left will seize you into its tropical den – a botanical beauty. Perfectly manicured greenery, lux white day beds and the best bit, chairs that hung from the veranda. Cobbled ground shallowly filled with water, I couldn't resist swinging and skimming my feet just a little. Further in, a Jacuzzi area surrounded by heated stoned beds, such tranquil settings left my body weak in relaxation.
For my complimentary facial – a led light to choose from, setting my own atmosphere I went with the pinkish purple colour for the utmost leisure. Being softly narrated through my facial, conversing about all things beauty for the best skin, let me know I was in good hands. A steam, massage and an exfoliated face later, I was not shy in receiving all the complements. Wellness for the body and mind, a trip to Eau Spa is only right.
A Forbes five star rated hotel, five years in row a rate that starts from $319 per night from now until September – Eau Palm Beach is not just a resort and spa but an experience. With diverse options for great food either inside enjoying the hotel or outside basking in the heat. Like, Breeze Ocean kitchen, a tropical menu for a tropical view. So scenic that conversation subsides and the baby turtles that hatch on the beach tug at your heartstrings.
Getting out of the hotel and finding the balance of leisure and fitness seems like a hard task but in The Palm Beaches' you can get it just right. Perhaps a leisurely stroll through Worth's Avenue, a quiet suburban area where shopping can be your only sport – or a bike ride tour with Island Living Tours? We began with a wistful ride, first stop Henry Flagler's first home then a ride through the neighbour hood of the rich and famous, mesmerising architecture and getting to know the town that much more whilst burning a few calories. Between you and me I think that's a double win, to my avail fitness did not end there. Pound class at Rosemary Square – blaring music whilst coordinating weighted drums sticks, like myself you'll be drenched in sweat and feeling a few calories lighter you will be sure to have the best time.
Delray Beach epitomises the sunshine state. A cool area where graffiti makes for the best art, friendly locals, places to eat are endless and the fresh juice stores give you a new lease of life. My shot of algae at JuiceBuzz definitely did *winces*, Delray Beach was our destination. A striking sandy beach where you can relax, catch some rays or get in the sea – perfect.
To switch things up, a night of lavish dining whilst experiencing The Palm Beaches after hour's head to PB catch for dinner. Known for their fresh seafood, rich in taste and family ethics – I experienced just that and of course the most refreshing cocktails. Since you enquired, my very first Moscow mule and it was delightful, paired with a well-done beef burger and the crispest chips. A cool setting with a plethora of food on the menu whilst enjoying the memorising fish reservoir made all the difference.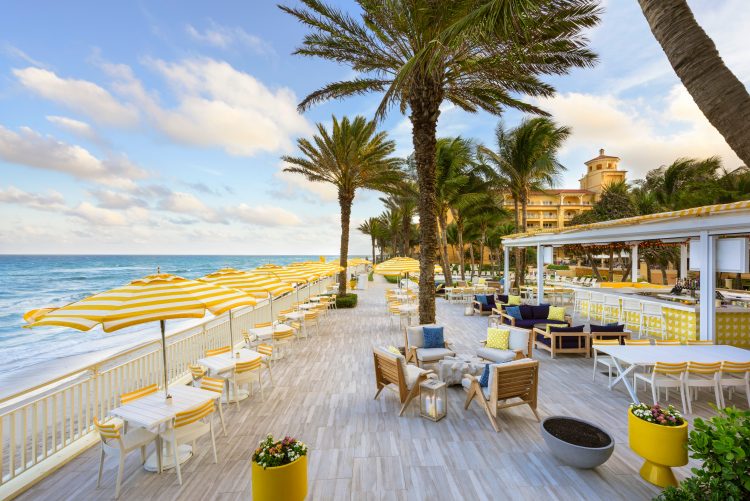 To reach your peak of relaxation and elegancy during your stay at The Palm Beaches' – The Breakers is a site every eye must meet. Mirroring the Boboli gardens in Florence, a runway detailed with bright flowers of every kind. Coining its namesake from the picturesque sea view (the breaker) that lies at the back of the hotel is one of the many reasons why it is an astounding hotel. Five hundred and thirty eight rooms, a bungalow you can rent out and the Flagler club reminding you if its history – allowing long-term members to have a private experience. Activities such as golf and tennis with a plethora of dining options and most importantly – the spa.
With not a touch out of place and everything you could possible need at your service. A designated waiting area, fresh infused water, mini pots of ice cream, Haagen-Dazs to be exact. Sun blazing a pool to cool you down on request and a changing room of dreams, equipped so greatly you need for nothing. The Breakers allows you to experience everything at a luxury level whether business or pleasure – unlocking a new level of luxury combined with wellness.
Whether you want to experience ultimate recreation/wellness at the hotel with morning Yoga and sunbathing by the beach, food downtown or simply explore the history of The Palm Beaches through art at the Norton Museum – you are bound to have the best time whilst reaching the pinnacle of relaxation and wellness.