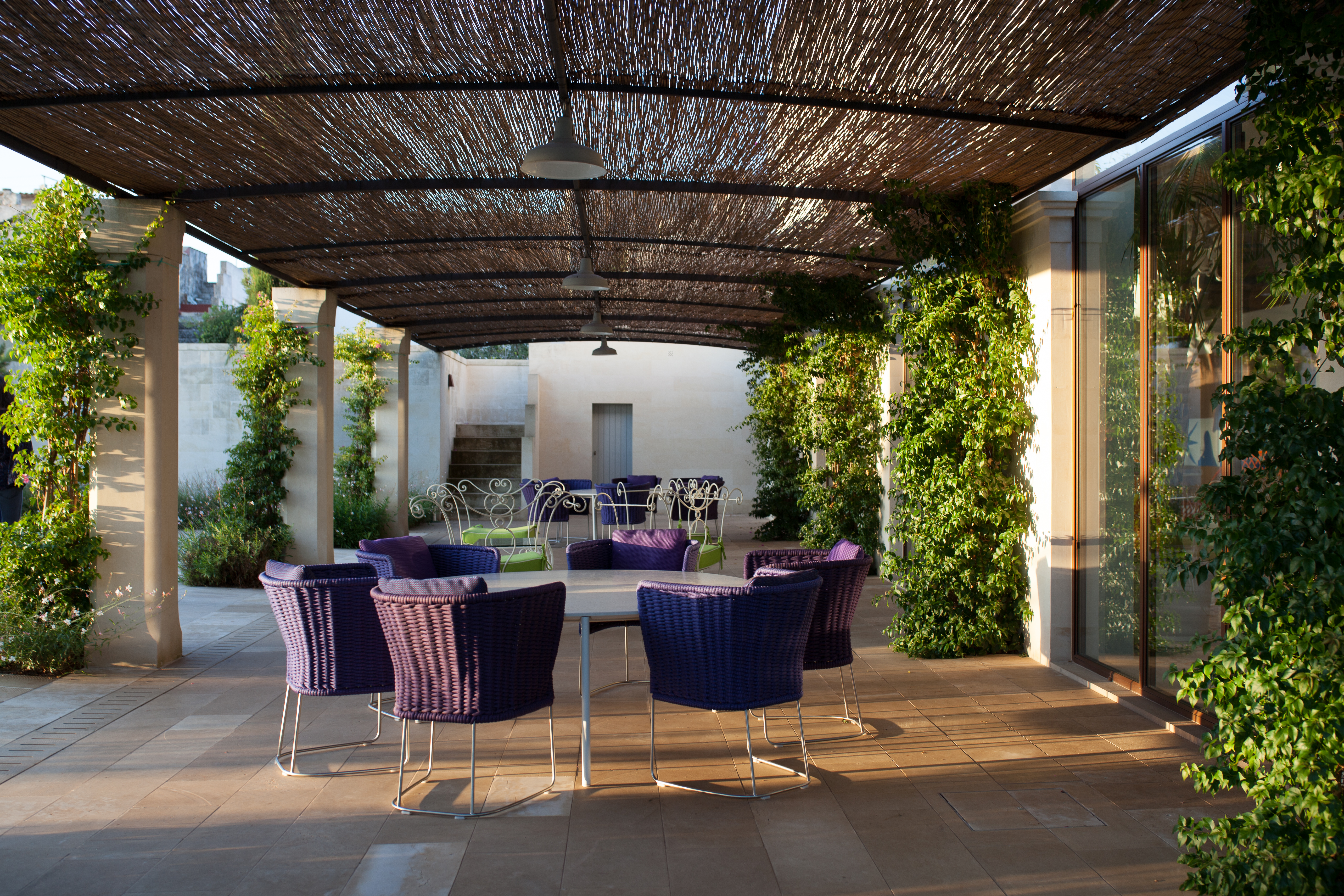 Operatic master Giuseppe Verdi once said: "You may have the universe if I may have Italy". As we took in the impressive Neoclassical architecture, driving through the narrow winding streets of quaint Italian towns, emerging into expansive communal squares, truer words had never been spoken. The small town of San Cassiano, Sorento is awash with rich history and culture, and amidst the pale yellow buildings and bright blue skies you'll find something truly magnificent: Don Totu Dimora Storica.
Many years ago the Cito family, the lords of San Cassiano, gifted land steward Don Totu  the historic house as a peaceful retreat from working in the fields. Fast forward to the present day and the retreat has been lovingly restored to provide a luxury solace to romantics and adventurers alike. Lofty vaulted ceilings proudly present impressive Art Deco chandeliers – originally housed in Miami's Biltmore Hotel – whilst natural stone walls add a warm, homely feel to the decadent building.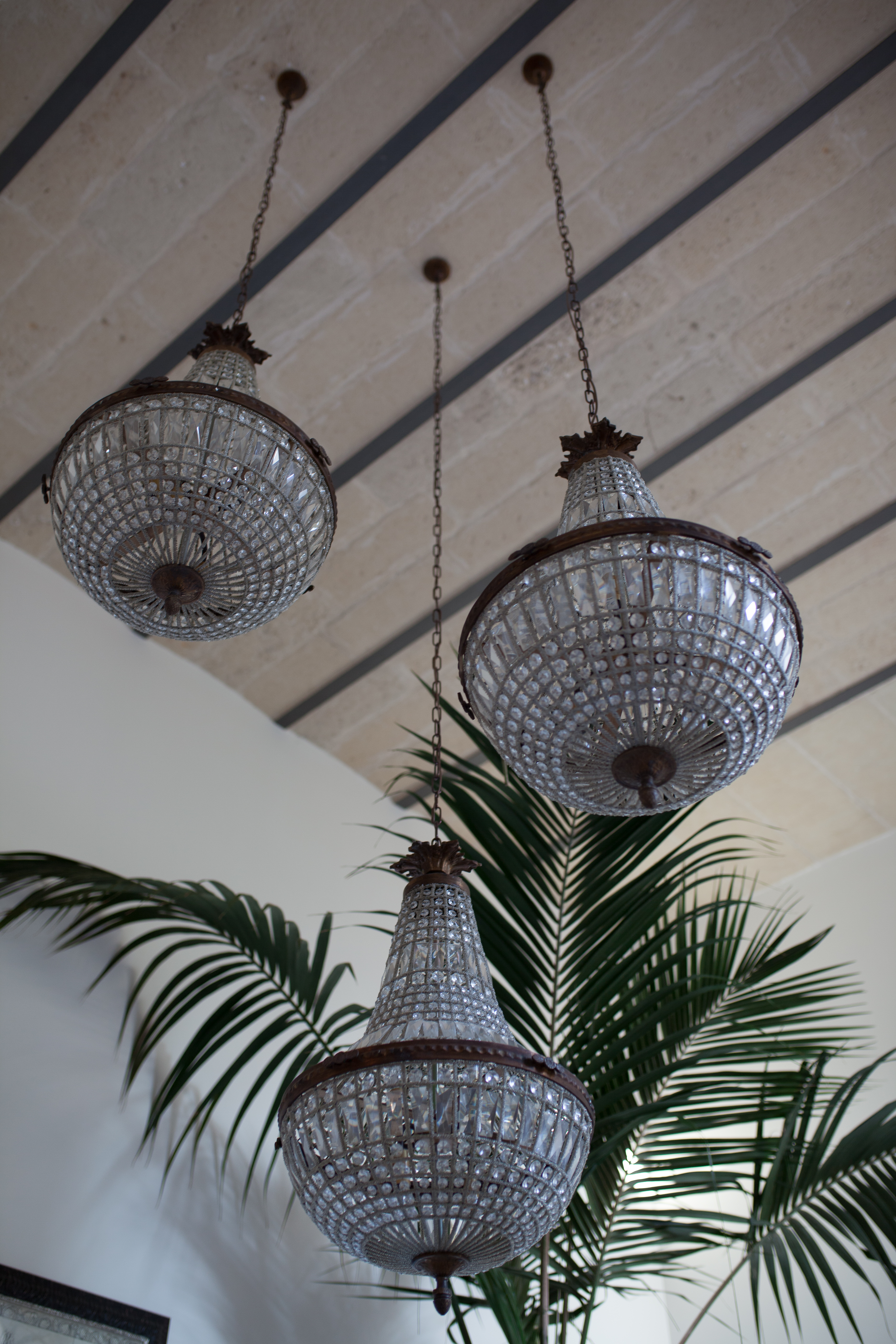 The Miami chandeliers along with the Balinese beads and large Matisse-inspired in the pool room are not there by accident. Rather, they are the result of Dimora Storica's current owners, a travel-loving couple by the names of Mauro and Chiara Bini. They had originally intended for the place to be their own private getaway but, luckily for us – and for you – the extended it to like-minding travellers in early 2014. I can't tell you how lucky we felt to experience it first hand. It is decadent, intimate, homely and everything in between, and there is truly no place like it. If heaven does exist, I'd imagine it to be quite like Don Totu Dimora Storica.
Taking a short tour through the house we discovered that each room was completely unique to the next: one had an enormous free-standing bath, another a private roof terrace that looked over the glistening pool and magnificent gardens and the other – my room – offered a four-poster bed and a sun-soaked terrace.
Speaking of the gardens, words don't quite do them justice. Perfectly landscaped, with sofas and sun loungers to relax on whilst taking in the warm sunshine, delicate birdsong and heavenly scents. The smell is so remarkable, in fact, that Italy's only female parfumier came to Totu to create a scent based on the gardens, with heavy notes of jasmine. Hers was the finest nose in Italy and to this day the scent fills the hotel through bespoke diffusers that truly bring the outside in.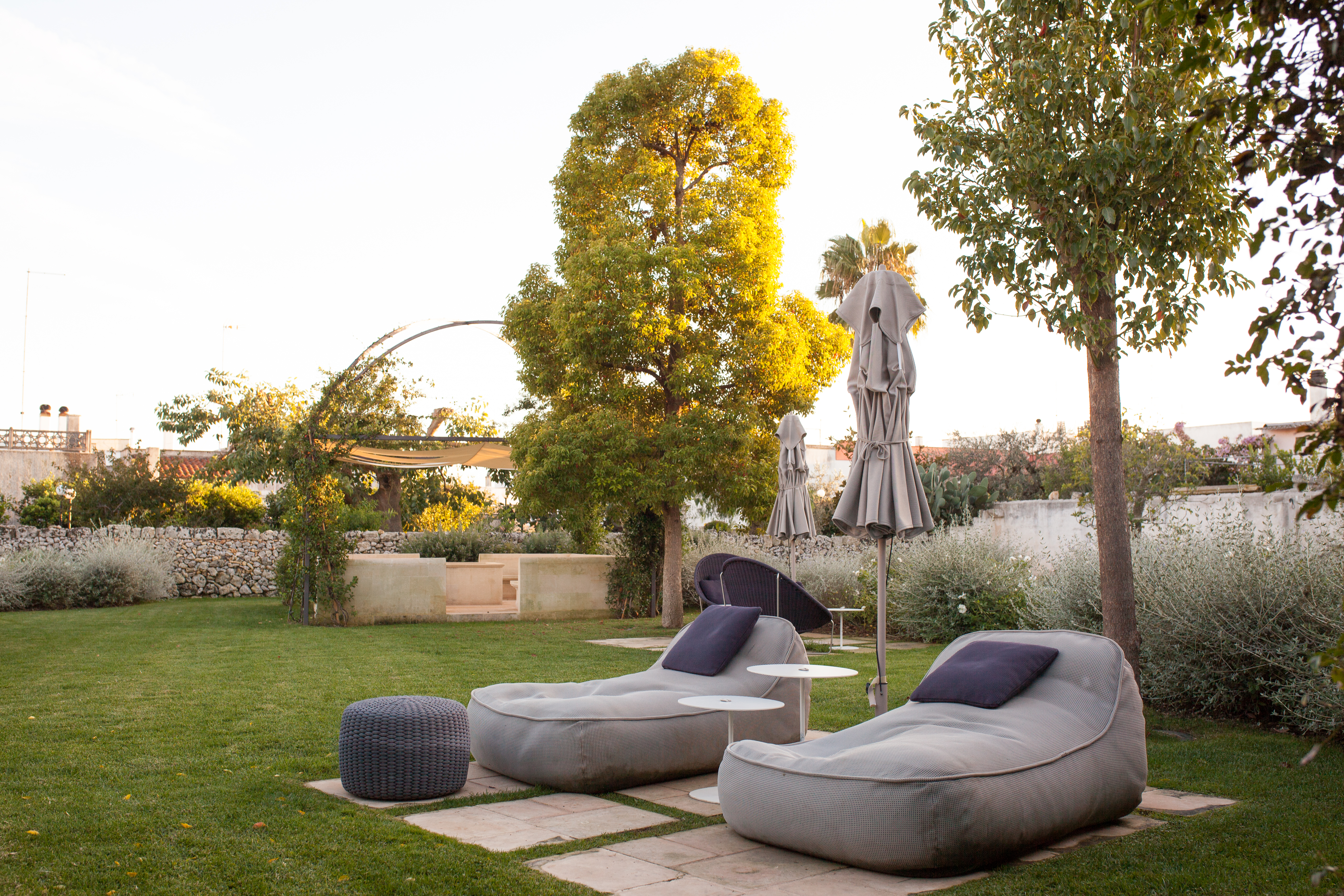 Having settled into our rooms and a quick refreshing shower, we reconvened to the communal lounge area for a wonderfully Italian pre-dinner aperitivo of strong garden-grown olives, the freshest tomatoes and the punchiest of Negronis, providing a perfect start to an even more perfect first evening.
Soon after, our driver arrived to take us to the nearby town of Surano where we would enjoy delicious food typical of the region. As we walked into Bersagliera, a cosy family-run trattoria, we were met by the rather quirky chef proprietor, Raffaele Fanciullo. Chef Raffaele, we discovered, is actually a very close friend of the hotel and he even hosts pasta-making masterclasses for guests almost every Thursday of the year. What we discovered next though, was extraordinary. As it would happen, Chef Raffaele is also a classically trained opera singer. Our host regaled us with tales of passionate pasta-led arias that fill the kitchens of Don Totu and with that, a beautiful baritone voice rose from the kitchen, sending shivers all over our bodies.
He was still articulating his mellow tones as he walked large bowls of hand-rolled, hand-cut pasta towards us, presenting it perfectly seasoned, al dente and with juicy mushrooms and tomatoes on the vine, all generously drizzled with olive oil from the very same town. What a pleasure it was to be a part of this experience.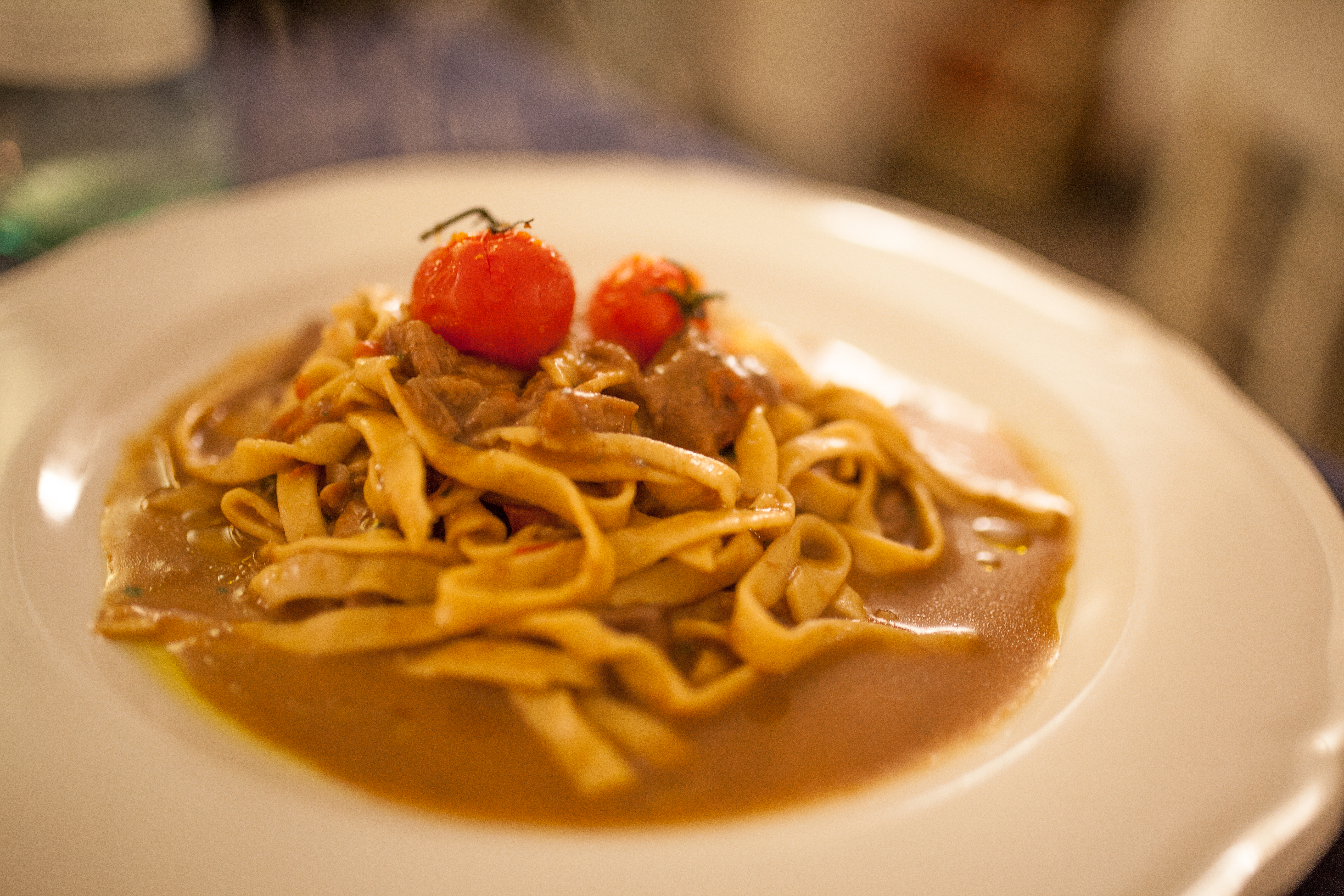 As the evening progressed and the open fire roared and crackled, the experience simply richened. We were served succulent nut-crumbed pork, bottles of light locally-produced red wine and a rich and creamy homemade tiramisu before, of course, finishing with a tarte local limoncello that imparted a gratefully received kick. After a short drive back through those narrow winding streets we retired to our rooms, quickly drifting to sleep in large beds dressed in linens – again, local.
Now we're a little while in, I should probably explain why we were at Don Totu in the first place. Of course, the local delicacies, operatic chefs and overall luxury of the place were splendid, but we were actually here to meet a rather special person, who we now consider to be a great friend.
David Hughes King has enjoyed a fantastically successful career as a personal trainer, and finds himself in demand all over the world from the States and Paris, to Puglia and London and, as part of Don Totu's new 'Fitness Weeks' he is now acting as a guardian of cardio within Don Totu's state-of-the-art fitness facilities and catering to all levels of knowledge, fitness and strength… luckily for us!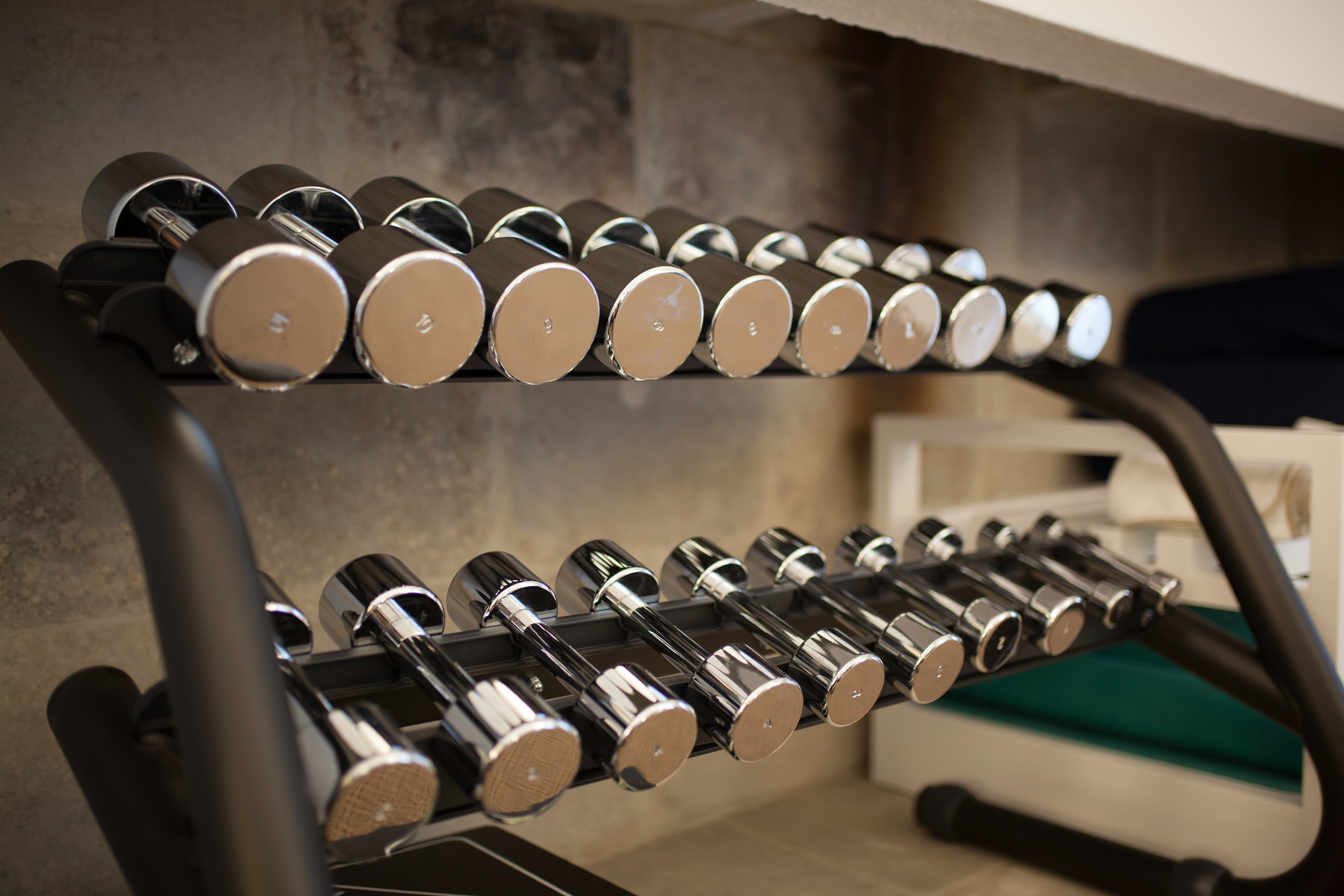 As we woke early for a 6am session, none of us were too sure what to expect. I, for one, wasn't even sure I was actually awake, but David's incredible energy spurred us to rise to the occasion, starting with a small bowl of natural yoghurt and sliced banana – after all, you can't work out on an empty stomach, can you?!
And what a workout it was. Fifty minutes of high-intensity cardio ensued, preceded and followed by a thorough stretching session. To our surprise, we left the gym fully invigorated and even brave enough to take a few lengths in the cold pool, untouched by any form of warm sunlight at that hour.
Warmed by a drenching shower, we soon reconvened down a small flight of stone stairs to the breakfast room, where miniature glass prism chandeliers cast tiny rainbows on the light stone walls. Each morning we enjoyed a fresh buffet including: quiches with cheese and meat from local farms; platters of ricotta and mozzarella; homemade cakes, meats, omelettes, fruits, jams (the pear iteration was unusual but fantastic) and a selection of healthy juices, the most refreshing of which was Lemon, Cucumber & Mint. Of course, a taste of home came in a large velvet-lined box of Twinings.
Fully nourished, we returned to our room opting for some 10am sunbathing on the secluded private terrace, quickly stopping at the kitchen for to pick up some juices and waters – all of which are complimentary during your stay. The generosity was as fantastic as the drinks selection, the highlight of this being a refreshing local lemon drink, 1904 Gassoa, which is reminiscent of a homemade Fanta Lemon…and we all know that this is the drink of holidays!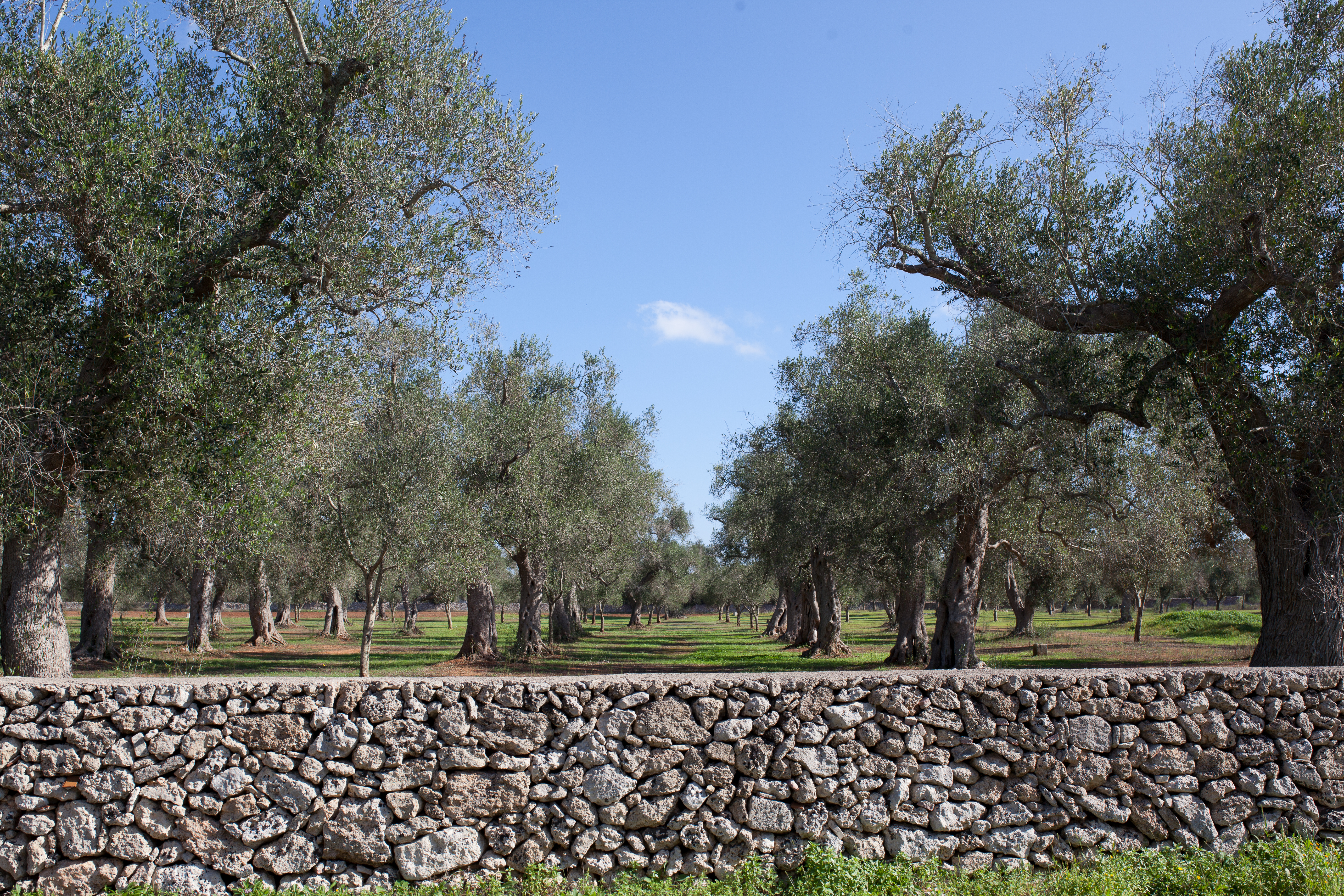 In the distance church bells tolled, briefing breaking the blissful silence to remind me that it was probably time to start getting ready for a cycle through the nearby Paduli Park with row upon row of olive groves and impressive eco-sanctuaries complete with hand woven sculptures. Walking to the bike garage – and I do mean garage – we were met by Alessandra, the hotel manager, who explained that we were welcome to take a regular mountain bike, and electric bike or even an immaculate Vespa, free of charge, to explore the nearby towns. We opted for the regular MTBs – this was, after all, a fitness retreat.
After a leisurely cycle, exploring the Pugliese countryside for over three hours, we returned for our afternoon fitness session, this time with a focus on body building, specifically upper body. Happily, cardio was off the menu… A true Italian holiday experience is one of great balance: Enough exercise to pre-empt huge bowls of pasta, but not so much as to miss out on those all important hours of taking in rays by the pool.
And that is exactly what we did.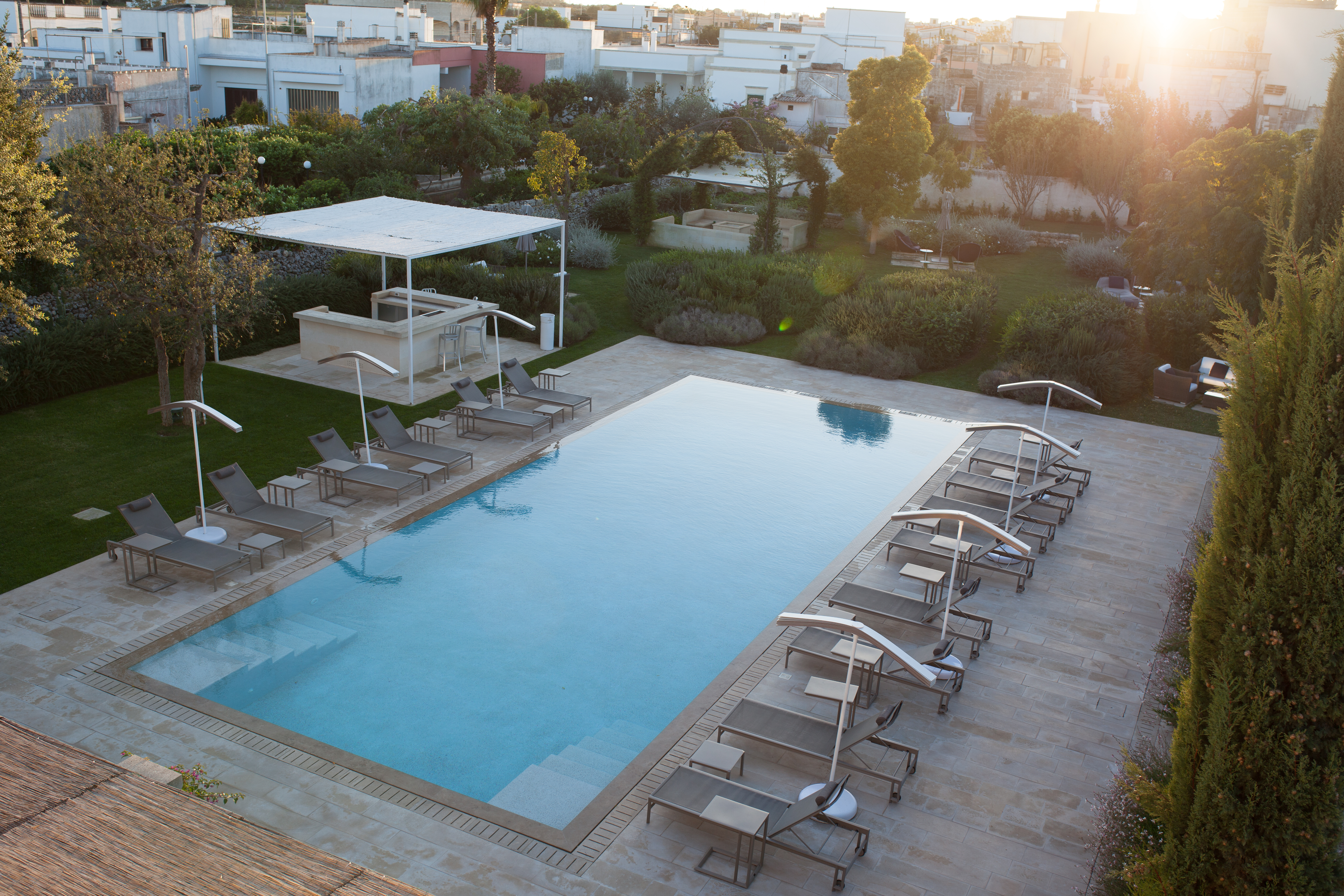 Some hours and another invigorating shower later we departed for dinner at a 14th Century farmhouse where no one spoke a word of English. We took a guided tour – with the multitalented David as translated – and saw olive presses, outdoor ovens and incredible rooms where tomatoes and chillis hung from the ceiling as they slowly dried, locking in sensational flavour. We conversed and laughed as we slowly dined on antipasti: fried bread and fava bean; aubergine parmigiana; fresh risotto & roquette; bresaola & rape; pomodoro, orecchiette and hand rolled pastas, before feasting on veal and pork, cooked outside with lemon and rosemary. We finished with a selection of mature sheep cheeses, pear jams, melon & grapes, served alongside a strangely delicious goats milk ice cream and an intense bay leaf liqueur similar to a Benedictine. It was a feast fit for a king, and the most Italian of affairs.
Rising again at 6am, the following morning's fitness session seemed far harder to get stuck into, presumably due to one too many 'stomach-settling' bay leaf liqueurs, but with David's happy-go-lucky temperament and his bellowed advice of "If I can do it, so can you!", we mustered the courage to run faster, squat lower and lift heavier than we had all week, releasing huge amounts of seratonin as we sprinted with wide smiles.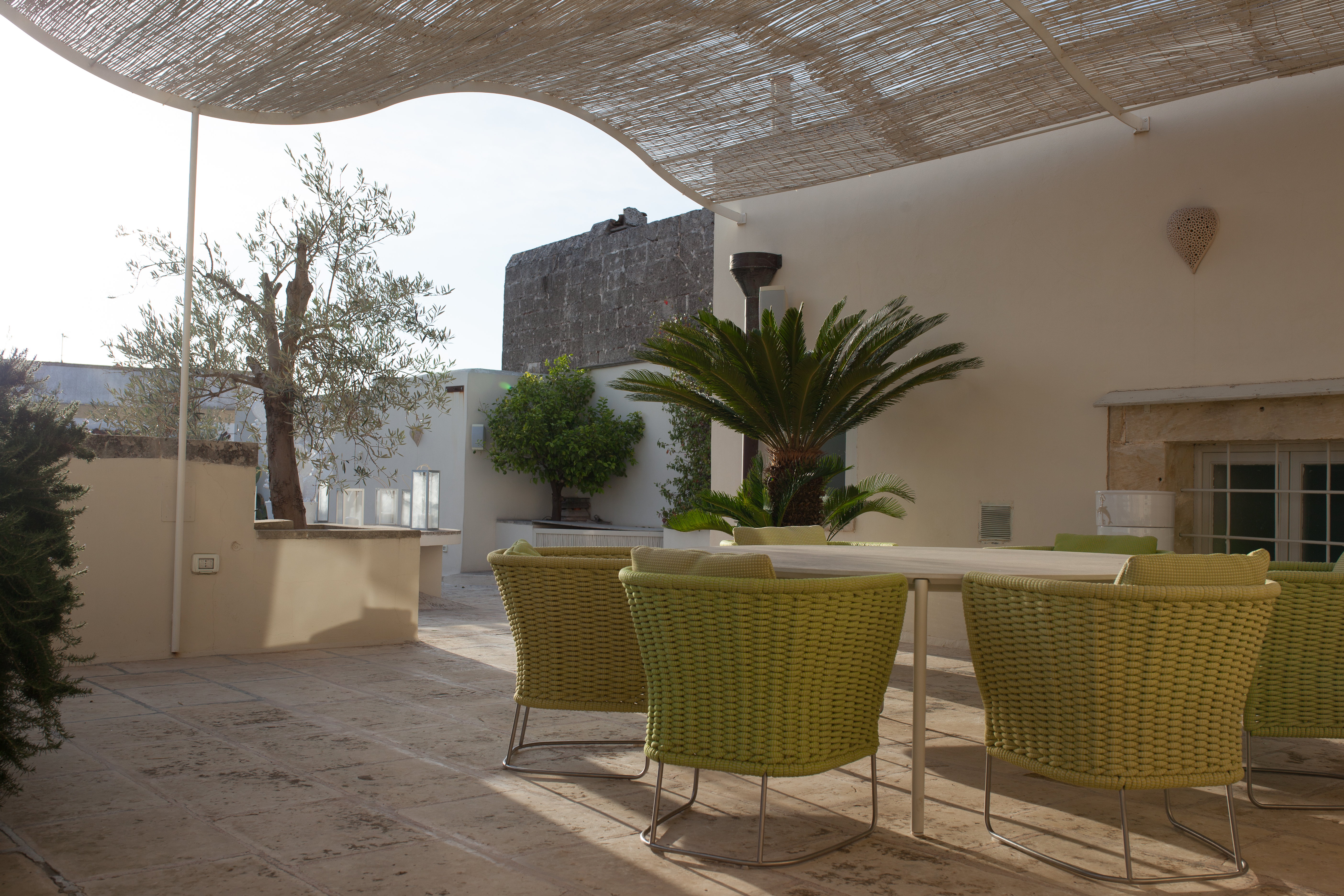 Over the following days, we tasted beautiful wines at a local vineyard, falling in love with the negromano and primitivo grapes for which the region is so highly respected; we snacked on grissini, salamis and intense Brindisian violet artichoke pate atop toasted bread that imparted a musical crunch. We explored the majestic coastline, indulged in local gelato and worked out harder that we ever thought possible.
Puglia opened our minds to new delicacies; it taught us new exercise techniques; it introduced us to friends we hope stay with us for a lifetime. But more than anything else, it introduced us to a beautiful haven: a home-from-home to which we hope to revisit time and time again. Don Totu Dimora Storica is much more than a luxury retreat. It is a place that offers you solace, culture and Italian passion and asks for nothing in return. I will never forget sitting amidst the fruit trees as that delicate jasmine scent filled my nose and my heart. For an unobtrusive luxury experience like no other, there is truly no finer place than Don Totu.
Don Totu Dimora Storica
Via Crocefisso, 10, 73020 San Cassiano LE