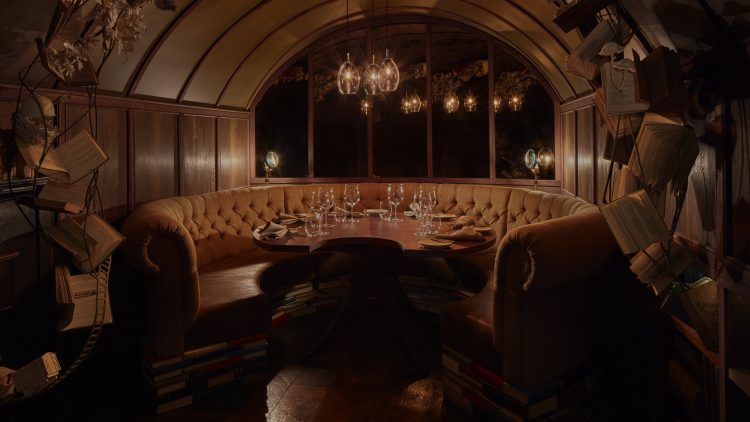 Descending into the mysterious darkness from the mania of Mayfair is a surreal experience. Entering 'Below' at The Hide is a little like being a giant raindrop rolling lazily from a leaf tip, along the surface and down inside the stem itself. The cavernous bowels of The Hide lure you in with the promise of peace, tranquility and an exceptionally well mixed cocktail.
Below's main bar hums with contented chatter come the frosty London nights, a mixture of work gossip and flirty dialogue hangs tantalisingly in midair. The lighting is soft and warm and the bar seems to emanate its own ochre-tinted ethereal glow thanks to the matt wooden surroundings. Highly polished bar staff know their Manhattan from their Old Fashioned and great pride is taken in creating the best that West 1 has to offer.
The twist in Hide's tale are its three private dining rooms, each with its own separate and engaging ethos. 'The Shadow Room', 'The Reading Room' and 'The Broken Room' all lie in the heart of this opulent subterranean den. The Shadow Room plays with strategic lighting to create an Alice In Wonderland effect for just six private diners. The Reading Room is equally intimate and every bit as clandestine and also seats six, whilst the Broken Room is cosiest of all and is for just four people in a microcosm that romanticises the imperfect. 
Below feels like the best way to take respite from the rat-race of the capital and find solace in London's slickest bar.

@hide_below
85 Piccadilly, Mayfair, London W1J 7NB