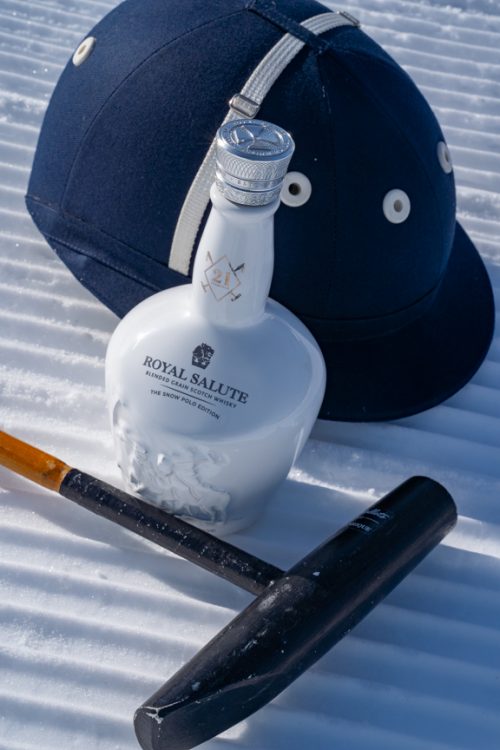 Royal Salute, the much loved luxury blended whisky company, is known for many things including its extraordinary heritage dating back to its inception in 1953 where a bottle of the 21 Year Old was given as a gift to the Queen to celebrate her ascension to the the throne. Royal Salute, also known as 'The King of Whisky', is known for its close ties to polo, 'The Sport of Kings' – all in all, a rather regal titular synergy. But the ties go far deeper than this. Royal Salute has been sponsoring international polo events for some while now and the last decade has seen this remarkable whisky brand deepen that connections still further through a strong portfolio of global partnerships in this space.
I was fortunate enough to see a little of this sporting collaboration first hand when Royal Salute sponsored the 'British Polo Day' Stateside in the summer of 2018, where GB did bloody battle with the US team at Haviland Hollow Polo Club about an hour outside New York. I confess I'm not entirely sure who was victorious, but I certainly remember the whisky…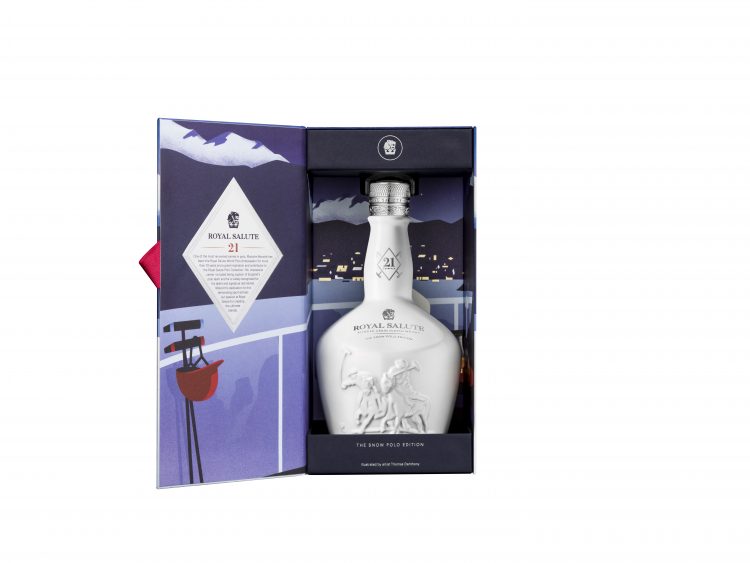 At the very centre of this extraordinary Venn diagram of heritage, shared value, well matched brand collaboration and, let's face it, exquisite luxury, is Malcolm Borwick. Malcolm is one of the chosen few Royal Salute Brand Ambassadors, and rubs shoulders in this guise with the enigmatic Barnabe Fillion the former model and perfumier, the charismatic Peter Prentice who was the Chairman of the clandestine 'Keepers of the Quaich' society, and Ian Campbell the 13th Duke of Argyll. Each of these individuals has their own sphere of influence. Malcolm's is polo. He is a professional player coming from a long and distinguished line of competitive polo pros, he is also a tremendous whisky enthusiast.
Malcolm is particularly proud of the collaboration between polo and Royal Salute on the basis that he feels the partnership is founded on a positive, supportive common ground, which is surely a recipe for mutual growth and long-term harmony. "What's really key for me I think is the genuine way that Royal Salute supports polo." He continued, "the brand truly collaborates and engages with their audience to bring to life the luxury lifestyle that polo represents, creating amazing experiences for consumers around the world, rather than being just a sponsor, and that's what makes it very real.
We discussed the burgeoning range of expressions under the Royal Salute brand. For some while this scotch company was happy to rest on its well deserved laurels and attract loyal consumers, particularly from Taiwan and South Korea, with classics like its '21 Year Old', the very same expression which had been originally created for Queen Elizabeth and the Glencairn glasses of Buckingham Palace. However, last year the maestro at the helm of the creation process, Sandy Hyslop, Master Blender, moved Royal Salute up a few dozen gears into a prolific and ambitious new era of creative vigour.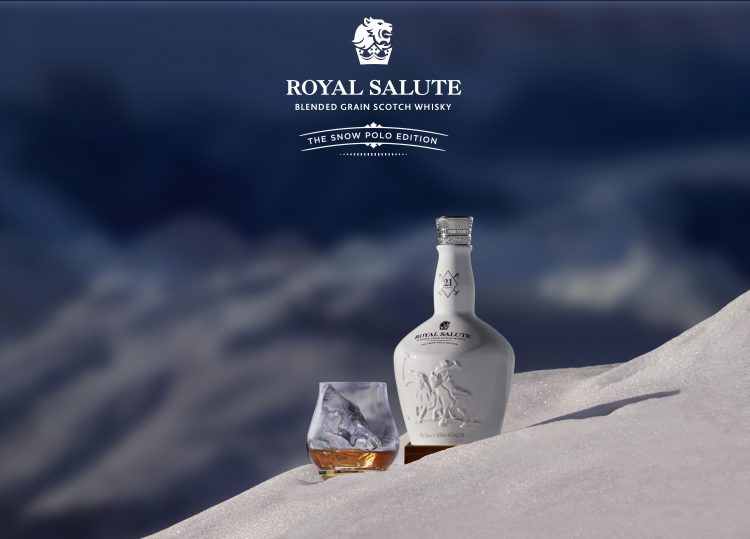 I quizzed Malcolm on his own favourite expression, given that the full range is now impressively expansive and our combined focus fell on the 'Polo Editions', or more specifically the latest 21 Year Old Snow Polo special edition. "It's my personal favourite without a doubt", Malcolm stated fervently, "it's our boldest one yet!" He continued to add "It's the first-ever blended grain whisky in the entire brand collection and has a higher ABV than most whiskies due to its careful crafting from our very own Sandy Hyslop, and rather fittingly, the ABV of the Snow Polo Edition is 46.5% which matches the latitudinal coordinates of 46.5 GPS of St Moritz – the birthplace of Snow Polo.
Snow polo was a totally novel concept for me before I started writing about Royal Salute and its popularity seems to be growing at a rate of knots. The company has spread its wings from Switzerland and has now landed amongst the salubrious, lofty heights of Aspen, Colorado. This beautiful, vertiginously blessed location hosted a Royal Salute snow polo event in December 2019, and in tandem with this the 21 Year Old Snow Polo special edition, which is so loved by Malcolm, was released. "Aspen is home to the annual St Regis World Snow Polo Championship, welcoming professional polo players and esteemed guests for a week of thrilling atmosphere and grandeur on and off the polo field. It was the perfect occasion for Royal Salute to reveal the new Snow Polo Edition, and also to introduce the wider portfolio to an American audience", Malcolm commented.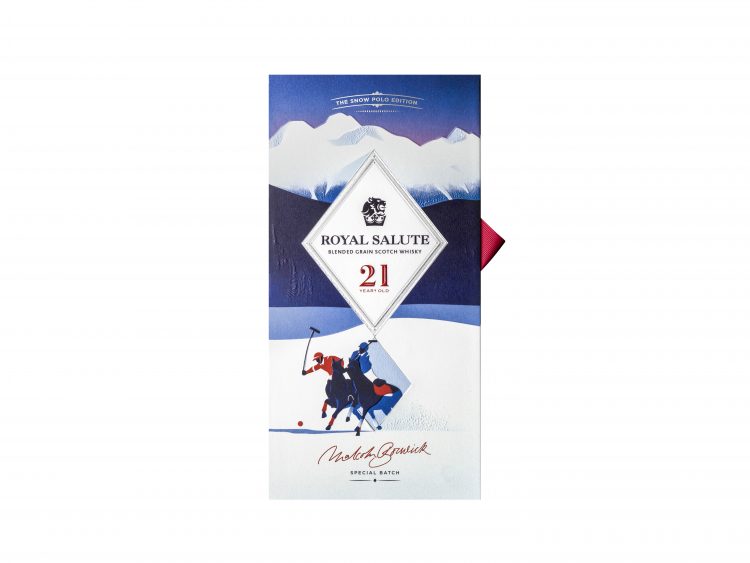 It's perfectly clear that this is not just a job for Malcolm Borwick, both of his roles as pro polo player and as a brand ambassador are true vocations, 'callings' even. Malcolm has also spoken out recently about making polo something which is a bit more welcoming and accessible and doesn't seem veiled behind an impermeable membrane of elitism, aided by rules which seem to be somewhat archaic. To this end he has started running polo workshops, or 'clinics' as he refers to them. "These shorts lessons aim to teach guests of our tournaments the basic rules and tactics of the sport and take them from zero to hero, making it even more enjoyable to show the professional match after it, with a dram of Royal Salute."
I asked Malcolm about some of the best moments during his work for Royal Salute to date, for it seems that he does live a truly gifted life and I was confident that there would be a myriad of possible occasions to choose from; "it's always tricky to pinpoint one key highlight, especially as every experience feels even more special than the previous one" he mused, but concluded "I would say an overall highlight for me is seeing how far we have grown as core collaborators of polo and its luxury lifestyle on the side-lines. It's an honour to be able to open-up the world of the sport through the Royal Salute Polo Collection and it's been an unforgettable experience every step of the way. I can't wait to see where we take it in the years to come."