The Maldives is rich with a variety of different resorts around Malé, so with big shoes to fill, global hotel brand Hilton had to establish itself as the new resort on the block and showcase something different.
The Hilton Maldives Amingiri Resort & Spa would go on to rewrite my entire understanding of the Maldives and why it continues to be such a sought after destination year after year.
Famously labelled a 'Bucket List' destination for couples, families and solo travellers, the Maldives tempts you with all the natural beauty of island life in the Indian Ocean.
This all-villa resort is located in the North Malé Atoll and is directly accessible from Velana International Airport via a scenic 20-minute premium speed boat ride.
Featuring a mix of 109 Overwater and Beach Pool Villas delivering an exclusive slice of the island's panoramic ocean views and does so at the highest level.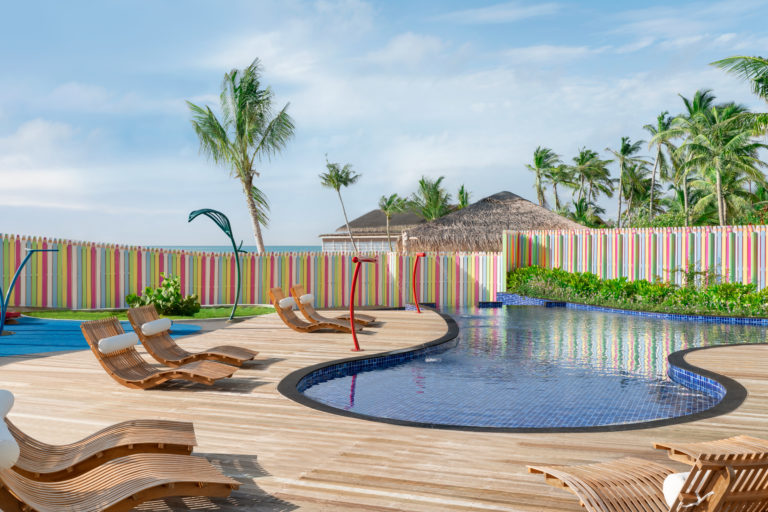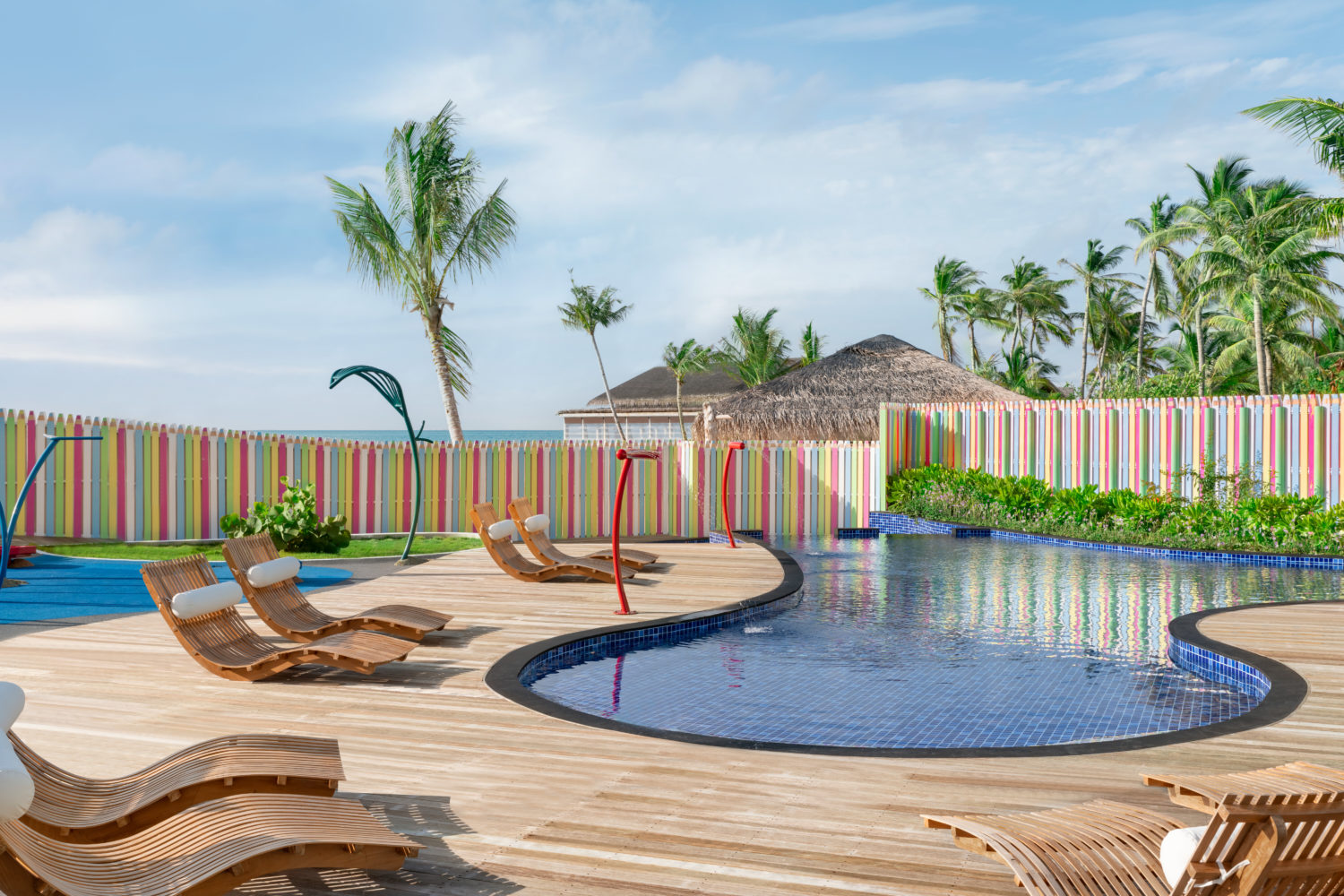 Climbing down the ladder attached to the jetty of my Overwater Villa, I am reminded why the Maldives is such a magical destination to immerse yourself in. Small shoals of fish and rays swim around me whilst I float around the villas. Guests staying in the Overwater Villas have direct access to the ocean and also have access to their own private infinity pool, making it even easier to go for a morning swim.
The bedrooms are carefully designed to maximise on privacy as soon as you enter with your room key. The indoor outdoor feel of the villa is created with floor to ceiling glass, creating a spacious oasis for guests to enjoy their time in the room, without compromising on the view.
The villa includes an inviting living area and opens out to a king sized bed placed in the centre of the room with wardrobe space lining the back walls, further amplifying the space and bringing the bed as close to the view as possible.
Attention to detail is also made with a high spec tea and coffee station, his and hers sinks and large light up mirrors making getting ready even more of a joy. A stand alone bath is also positioned by the window for guests to take in the scenery from their own bubble bath.
Beach villas are positioned on the main island and feature direct access to sparkling white sand, a deck swing and a gazebo on the shore. All villas boast generously proportioned bathrooms with ocean-facing bathtubs, as well as indoor and outdoor rain showers that create a sense of relaxation.
Each room also includes access to bikes for guests to use in place of the buggy service, to allow freedom to roam the island. This is quite possibly one of my favourite things to do with my time, as cycling around the island allows you to take in the expanse of this private island getaway.
A key highlight of Hilton Maldives Amingiri Resort & Spa is the newly opened six-bedroom Amingiri Residence, the ideal escape for larger groups of travellers looking for privacy in its truest sense. Set apart on a landscaped cove, the residence will welcome guests with its own arrival pier and a dedicated sundeck with uninterrupted 360-degree views of the Maldivian horizon.
For those who enjoy keeping active on holiday can make full use of the resort's beachfront gym that is catered for all. Offering HIIT training, Pilates and Tabata among other classes, guests have full access to this 24 hour gym.
If watersports sounds more appealing, then booking in to activities at the dive centre is a must. Guests can book guided snorkelling and scuba diving tours around the lagoon with an expert marine biologist who will educate you on all the sealife existing in the coral reefs below you.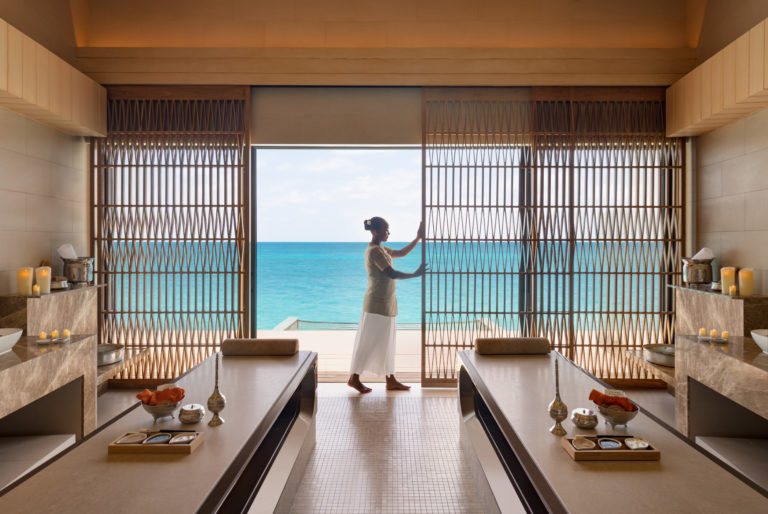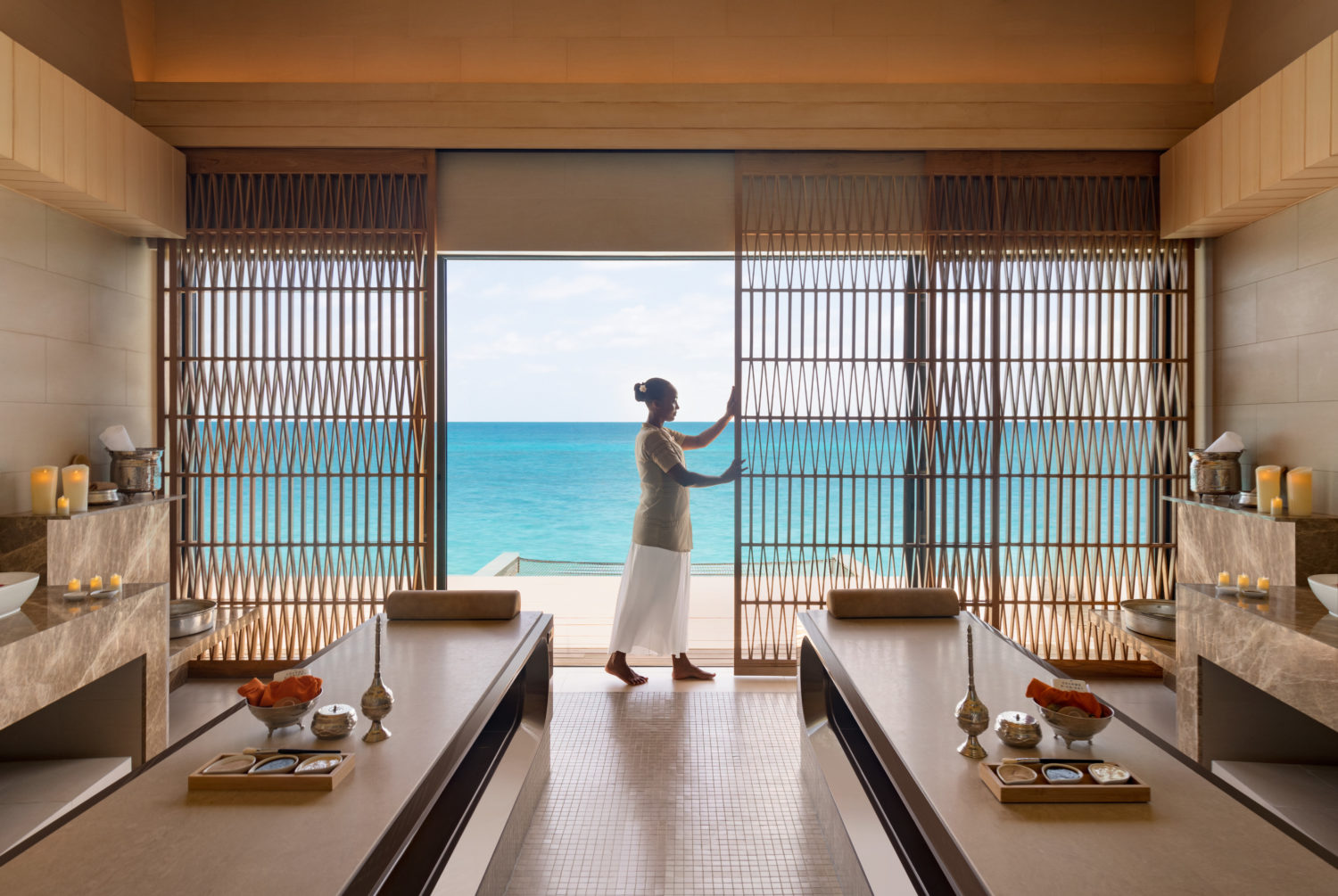 There is an array of thoughtful amenities provided during a stay here, which are new to the archipelago, setting a new benchmark in hospitality that will captivate the next generation of travellers.
Hilton Maldives Amingiri Resort & Spa is the fourth resort under the company's portfolio of brands in the country, complementing Waldorf Astoria Maldives Ithaafushi, Conrad Maldives Rangali Island and SAii Lagoon Maldives, Curio Collection by Hilton, bolstering Hilton's ability to take care of different travellers and their unique needs in one of the world's most sought-after destinations.
What also makes this resort so abundant is its culinary scene. Each restaurant and dining space has been developed to enhance every guest's requirements.
Home to six distinctive dining concepts, Hilton Maldives Amingiri Resort & Spa will take guests on a culinary sojourn. From Origin, a dining experience that celebrates sustainable seafood sourcing, ageing techniques and a food-upcycling approach, to all-day dining restaurant Habitat, a spacious restaurant space that is perfect for families, to rustic beach restaurant Beach Shack with its feet-in-the-sand dining experience.
In the daytime, post-swim bites like Reef Fish Tacos and Fritto Misto must be enjoyed at Aura, a sophisticated pool bar next to the Beach Shack has a lively atmosphere with a live DJ. Situated by the main pools, it is primely located for guests taking a moment away from swimming and sun lounging.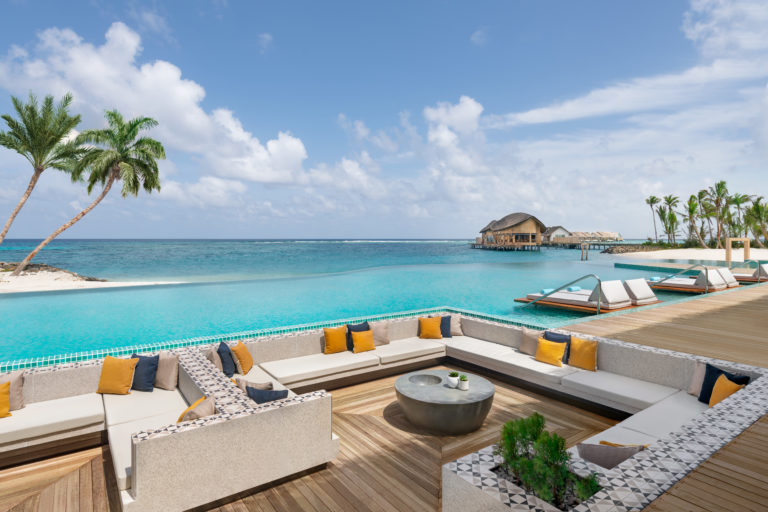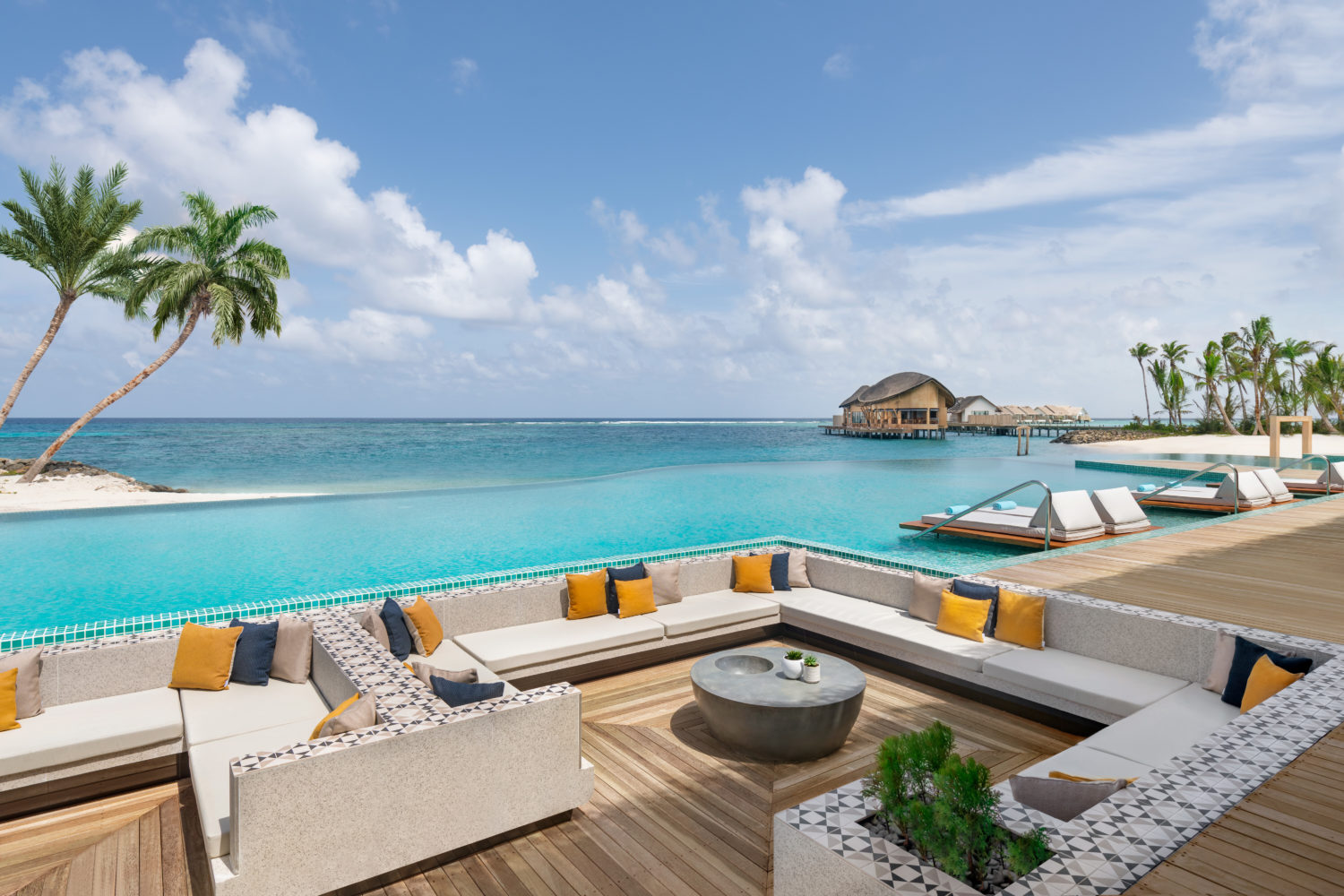 For those who like to unwind during the day and retire from the sunshine early can celebrate tea cultures from all over the world, with the modern-day tea house Sip Tea Lounge's extensive tea collection. Refresh and relax over rare flavours and perennial favourites.
Eden, a delicately lit champagne and gin bar quickly is a particular favourite spot on the island. A wonderful selection of the finest champagnes and gins, makes it a sensory drinks experience allowing guests to work their way through the menu and discover their favourites.
This adults-only overwater bar is perfect for guests wanting to enjoy starlit views and jazz tunes. The culinary delights created by Chef Praveen Shetty, have been part of a natural evolution since the resorts' opening in 2022,
"The menu and dishes of Hilton Maldives Amingiri Resort & Spa have evolved as a result of extensive brainstorming and working along the principles of each restaurant, starting with adhering to our primary initiatives for local and ethical sourcing, food waste reduction, and sustainable eating.
He continues, "It has been important to be innovative and think outside the box in order to do something different. The focus has been on providing for the different guests coming from all over the world and ensuring that they have an exceptional culinary experience, whether it be by going above and beyond and surprising them with the special of the day or through our distinctive Destination Dining experiences."
Balancing all the five elements within each and every dish to experiment with sweet, salty sour, bitter and umami flavours. Chef Praveen explains,
"While we have different ingredients that are the highlight of every dish, there are a few locally sourced ingredients that come out as heroes: Bilimbi; used in the sauce for cured grouper, Butterfly pea flowers that are grown on the island and used to make sorbet and Kanamadhu nuts; that are also abundant on the island and are used in our signature desserts at Aura Pool Bar & Cocktail Lab, Kanamadhu Warm Chocolate fudge. Lobster, too, is a major highlight ingredient, as we sustainably source live lobsters from local fishermen."
Supporting sustainable forms of fishing such as pole and line finishing, every other day local fishermen from nearby islands come and deliver their catch to the resort, which includes live lobsters, reef fish, red snapper and tuna.
Caught following sustainable fishing practices, the fish is served in all three restaurants of the resort. In addition to preserving and protecting marine biodiversity, Hilton Maldives Amingiri Resort & Spa also helps support local Maldivian communities and does not place any orders in advance, enabling fishermen to bring in all varieties of reef fish, utilising all available resources.
Sustainability also flows into the spa facilities, that are purposefully designed as an overwater sanctuary, offering an extensive menu of rejuvenating treatments and purifying hammam rituals that bring an enlightened sense of wellbeing. Massages are done over glass bottom floors so the view of the ebbing waves soothes you into deep tranquillity.
Through its undisturbed views, peaceful starlit nights and masterfully designed itineraries, Hilton Maldives Amingiri Resort & Spa goes above and beyond to ensure their guests experience the warmth of a true Maldivian holiday, with carefully thought out details that make you feel right at home in the heart of your very own tropical paradise.
Hilton Maldives Aminigiri Resort, North Malé, Atoll, 08540, Maldives