The secret to Hotel Cafe Royal's success as one of the world's leading luxury hotels is that it effortlessly represents two worlds in perfect harmony. Situated in the heart of the bustling historic Piccadilly Circus, where big red buses, handsome black taxis and a sea of wide-eyed tourists ebb and flow, Hotel Cafe Royal has become synonymous not only for its perfect destination for shopping and sightseeing but also for its marriage of the grandeur of the past and the sleekness of the contemporary.
Hidden behind the glorious Grade-II listed facade is an amalgamation of contemporary charm with a vast avant-garde spa and high-tech gym set alongside grand historic public rooms from the 1860s and 1920s.
The entrance on Regent Street famously dates back to 1865 and has attracted history's most flamboyant stars such as Brigitte Bardot, Mick Jagger, Muhammed Ali and Diana, Princess of Wales. Take Hotel Cafe Royal's crown jewel, The Oscar Wilde Lounge, originally established in 1865 and formerly known as the iconic Grill Room. Oh, if only walls could talk, these gilt masterpieces could sing of the extravagance they've witnessed. For, it was here that history was made, David Bowie partied until dawn on the night he retired his alter-ego Ziggy Stardust, The Beatles danced the night away and Oscar Wilde fell in love with Lord Alfred Douglas, which would lead to a tumultuous affair that would change the course of history and play a significant role in Wilde's fall from grace.
Today, you can sit at Wilde's favourite table with a cup of steaming 'Oscar' Lapsang Souchong tea in hand, a powerful and distinctive brew that reflects a man who was complex and sophisticated in equal measure, who was adored for his talent and wit but persecuted for his loves and lifestyle. Sit in Wilde's favourite corner, listening to a live pianist playing songs from Oliver Twist to Mary Poppins and relive a moment in the life of one of Britain's most prolific playwrights, even if just for the afternoon.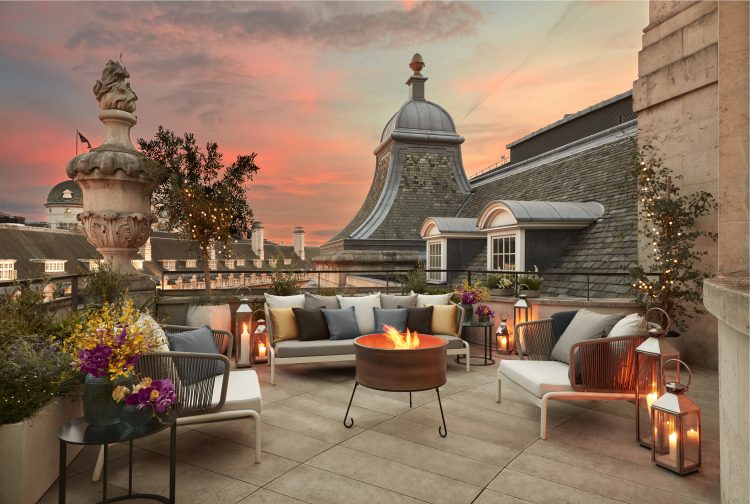 Hotel Cafe Royal has remained a place to see and be seen for over a century and is still the playground for the icon's of show business, especially when it comes to their notoriously hedonistic private parties. Recently Kanye West graced the decks and DJ'd at a private party for Frank Ocean, Kate Moss and Naomi Campbell hosted a private soiree for fashions elite which was attended by Rihanna, Cara Delevingne and Harry Styles and last but not least Lewis Hamilton and Serena Williams hosted a joint gala to celebrate the British Grand Prix and Wimbledon Championships where various stars were in attendance, from Anthony Joshua to Venus Williams.
The hotel boasts over 160 bedrooms and suites but the Regent Suites are a firm favourite. They have breathtaking views of London's most iconic landmarks, including Big Ben, Westminster, the sweep of Regent Street or the bright lights of Piccadilly Circus.
There is Central London and there is this. There are floor-to-ceiling windows that lead out to two ornate balconies. Sink into a powder pink chair with a glass of champagne in hand and watch the slow dance of traffic up towards the luxury flagship shops on Regent Street through one window and enjoy a private audience with the entrancing bright lights from the billboards of the Piccadilly Lights from another. Having a private vantage point to one of London's most iconic landmarks is a rare treat, don't be surprised if people stare aghast when you emerge onto your balcony.
However, when you retreat back into the privacy of your suite you immediately feel a world away from the charming chaos of Piccadilly Circus. The suites have whisper quiet soundproofing. Crafted in rusticated Portland stone the suites also feature a separate living room, a sun-soaked bedroom with a king-sized bed dressed in crisp Frette linens, a private safe, wireless music connectivity, Bang & Olufsen in-room entertainment system and media hub and a walk-in wardrobe. 
There is a vast Carrara marble bathroom and an additional guest bathroom stocked with luxury toiletries from Floris, the larger bathroom has a mirror TV screen, underfloor heating, rainfall showers and indulgent oversized bathtub.
You are also assigned your own butler who is available around the clock to help with anything you may need during your stay. Do enjoy breakfast in the dining area of your suite, the butler will lay the table beautifully whilst you sip your morning coffee in a fluffy robe and slippers and with the view of the Piccadilly Lights for company there isn't a better way to start the day.
In London you are truly spoilt when it comes to restaurants but you must try Laurent at Hotel Cafe Royal, a new grill and sushi bar by internationally celebrated chef Laurent Tourondel. The restaurant offers a laissez-faire approach to fine dining but serves some of the finest steak and fish dishes in the city from the open kitchen and grill. The in-house sushi masters prepare a rainbow of sushi, sashimi and raw fish at the sushi bar and you must pop into Ziggy's, the adjoining cocktail bar, for a Femme Fatale, an intoxicating concoction of vodka, Byrrh and served in an absinthe-rinsed glass.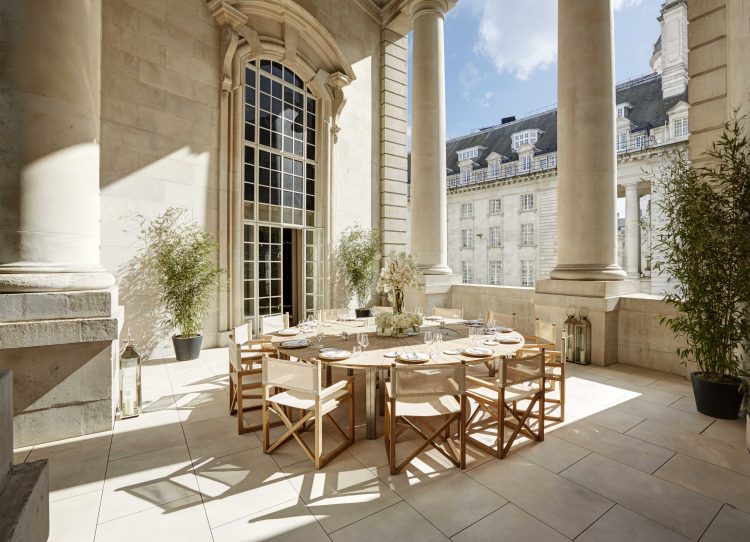 Start your feast with an aromatic White Mushroom Veloute with truffle sabayon and served with warm truffle brioche or a Grilled Peach Salad with shaved fennel, Montgomery cheese, slices of succulent grilled peach drizzled with a champagne and mustard seed dressing.
Next, opt for some of the most decadent sushi you will ever have, Crispy Wagyu Beef Nigiri, tender, pink beef on a bed of crispy rice and served with shavings of truffle, aioli, grated daikon and local wasabi. For a lighter option, the vegetarian Skinny Rolls are a delight, with creamy yam, cucumber and avocado tightly encased in rise and wrapped in shisho, served with a rich homemade hoisin sauce.
For the main course, pick the USA Creekstone Farm fillet steak served with a golden Bearnaise sauce. It is cooked to perfection, so tender that it can be sliced like butter. Accompany the steak with creamy Yukon Gold pomme puree that will quite literally melt on your tongue and a side of Hen of the Wood mushrooms bathed in garlic parsley.
For the finale, the Milk Chocolate Peanut Butter Croquant with a cool banana ice cream is a decadent treat or for something a little lighter, try the Hibiscus and Red Berry Crepe Souffle with lime frozen yoghurt.
Hotel Café Royal rings in a new era of opulence for a new generation. Far from being just another luxury London hotel, Hotel Café Royal is a London legend.
68 Regent St, Soho, London W1B 4DY, UK