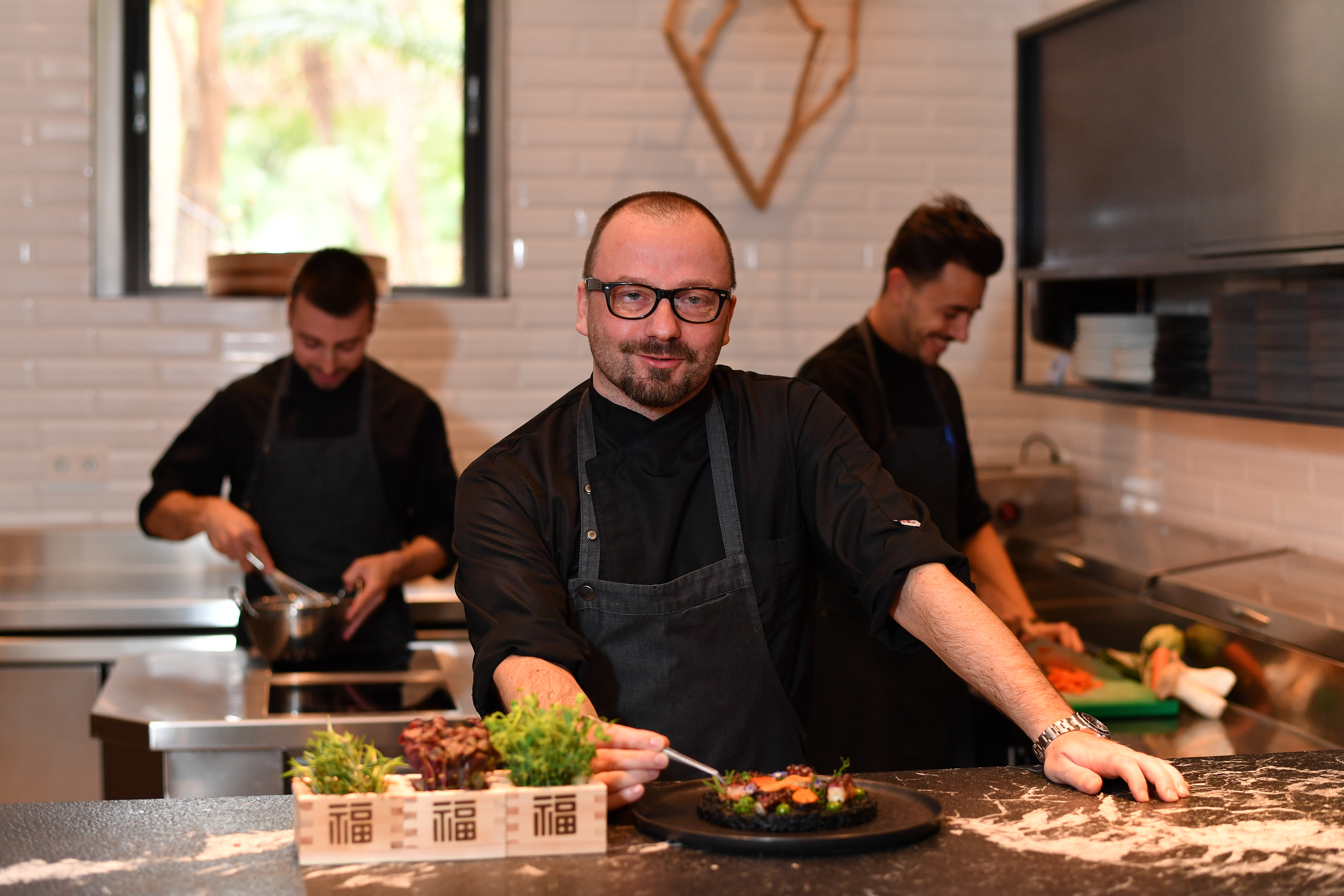 American inventor Thomas Alva Edison once said that "genius is one percent inspiration and ninety-nine percent perspiration". Ever since Simon Petutschnig discovered his passion for cooking and began to work his way up through the hierarchal environment of the kitchen, he has been on a path to success, and is now the chef proprietor of two of Palma's most talked about restaurants: the upscale international fine dining hotspot, fera, on the verge of Michelin stardom, and the exceptional Asian street food spot, The Kitchen, run in partnership with his wife.
Having grown up in Austria, Simon had two choices when it came to the end of his school career. He could either work in a laboratory or a kitchen following two end of term stases, but it was the order and hierarchy of the kitchen that really caught his attention and so his classic French training began. Over the years he has worked in 5 star hotels, ships, Michelin Star restaurants and more across Austria, France, Switzerland, Germany and Spain, and it was during time in the latter that he his passion started to take full swing: "In the markets on Barcelona, there were many new techniques to be honed, and all the different produce available really caught my attention – plenty of fresh olives, bread, cheeses, mushrooms, there were so many flavours that I had never got to cook with before, and so I set out to work in kitchens across Barcelona to experience everything I could".
After around 12 years in Barcelona, including a successful stint at one of the oldest five-star hotels in the city, the younger son of the third generation of aforementioned hoteliers brought Simon to Palma where he would pre-open and open the multi-award-winning Hotel San Francesc as Executive Chef. Here they came up with all the branding and concepts together: breakfast, fine dining, the bar menu, and definite piece of Simon's passion, the pool restaurant and sushi bar. With the huge success here, being number one on TripAdvisor, winning Best Boutique Hotel in Spain and always being full, lots of people came to visit him, two of which being regular guests – his now close friends and business partners Sheela & Ivan. After a while, they decided that they should work together, and fera was born. "We really made it exactly how we wanted it to be and what we wanted it to do".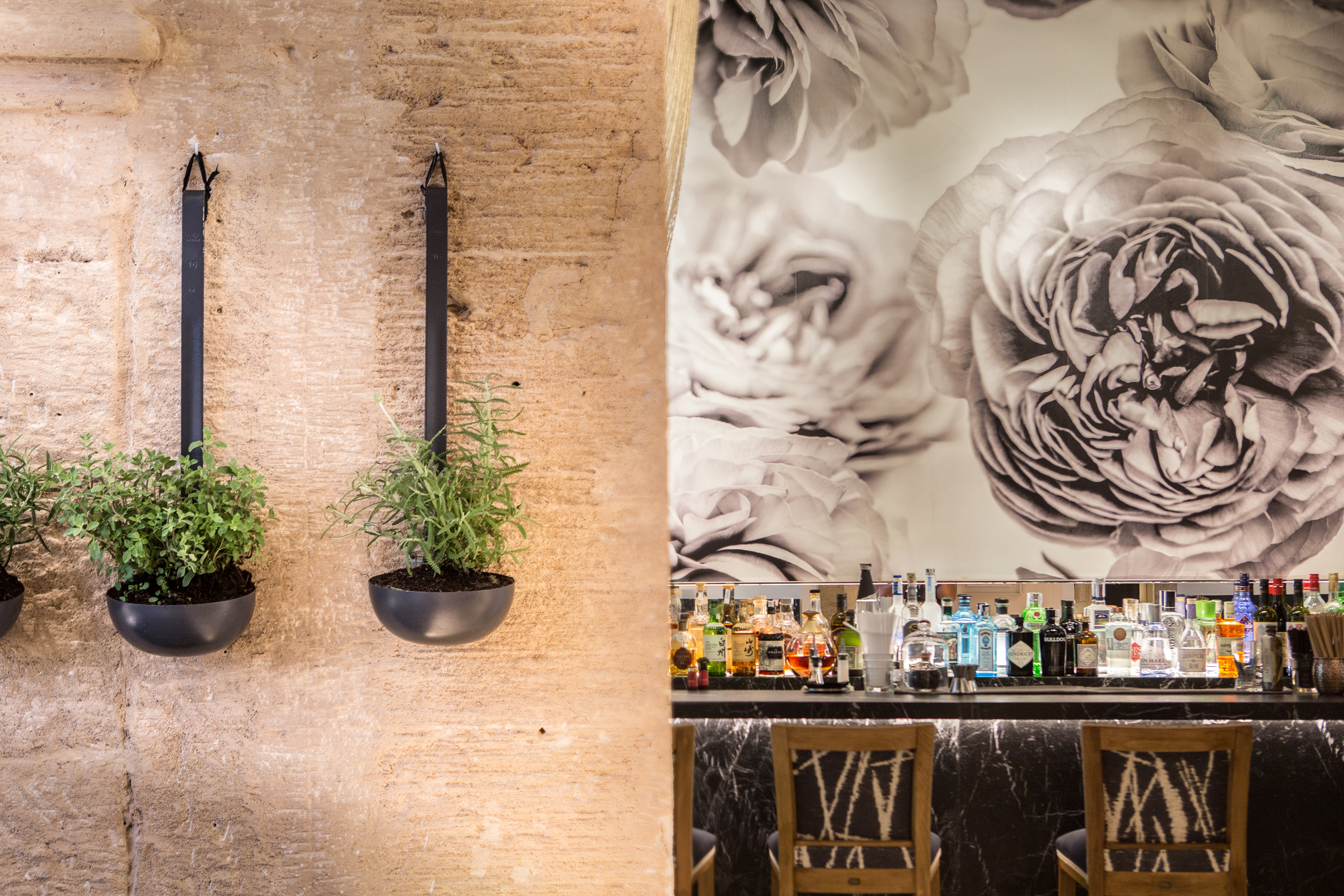 At fera, you'll find a restaurant unlike any other in Palma or, indeed, Mallorca. "Primarily, it's the partnership", Simon told me. "It's a combination of Sheela with her beautiful decoration and interior design skills, it's the businessman Ivan, and it's me coming in with my own way of cooking. These three components are something you won't find anywhere else in Palma or on the island. It's a restaurant that stands on its own, whereas most other of the best restaurants have to go to a hotel, purely because its very difficult to finance on your own – it's very expensive to have good staff, high end products" and even more difficult to execute the dishes and experiences to the standard that fera does.
Starting up, inspiration came from all over. "Most of my life", Simon reflected, "I was cooking French. My background is truly mediterranean but I also fell in love with Japanese cuisine early in Barcelona. I have enjoyed lots of contact with Japanese people and with people who work in Japanese restaurants so I started to do a lot of sushi and sashimi back in the day and never really stopped – I always enjoyed this so wherever I went, I used these techniques… For fera, I call my style 'Borderless Mediterranean' because I don't really want to be inside any box. For me, cooking is a sort of self-expression, a freedom where you don't have to think too much about what you want to do; with whom; why – it's more a feeling from the gut".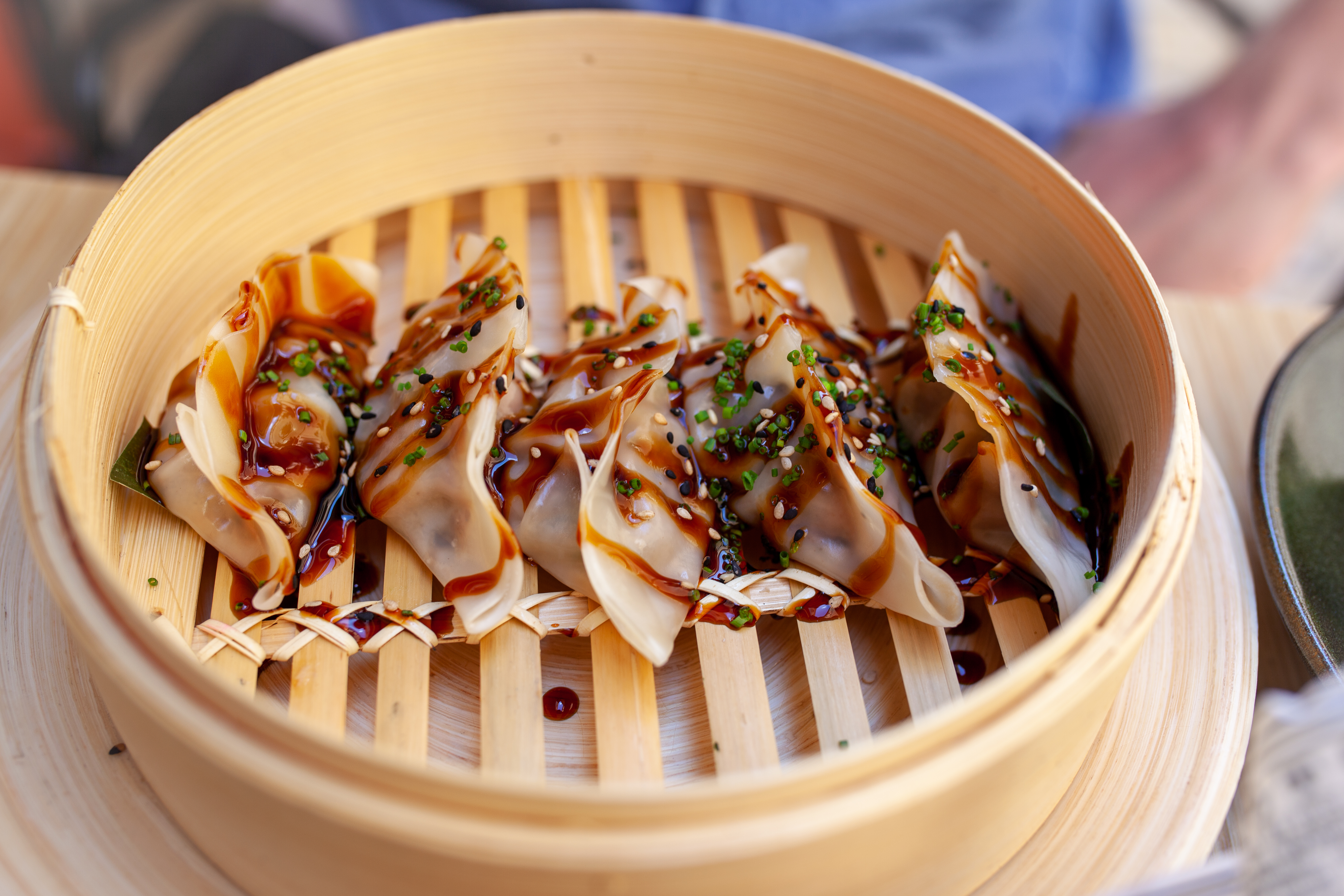 A testament to Mallorquian life – and to Simon's background – fera has an truly international team. There are staff from Peru who have inspired such dishes a Mallorcan fish ceviche, staff from Asia have brought about the signature wagyu with textures of potato, apple and parsnip at fera and the insanely tasty dish that is the Mallorcan Suckling Pig Gyoza at The Kitchen.
"Everything is connected to something else but as I said, I don't want to be inside any box. If you're doing Mediterranean at this level, you can't just add in wasabi or soy when you want to because you should be staying true to that statement. Being outside the box allows for great creativity. I don't really believe in 'only local', 'only 0-kilometre', 'only bio/eco-logical' – in many cases that's not perfect or it's just not true. It's just blah blah so I don't even want to go there. I don't want to have to think about if I use a certain ingredient or not, or if I can use a certain preparation or technique or style. The most important thing for me is the taste. If I think it tastes delicious then I do it and I don't really care where the ingredients come from: Japan, a local village in Palma, the next island, Austria… It's really not that important for me as long as it tastes fantastic, tells its own story and puts a smile on my customers' faces".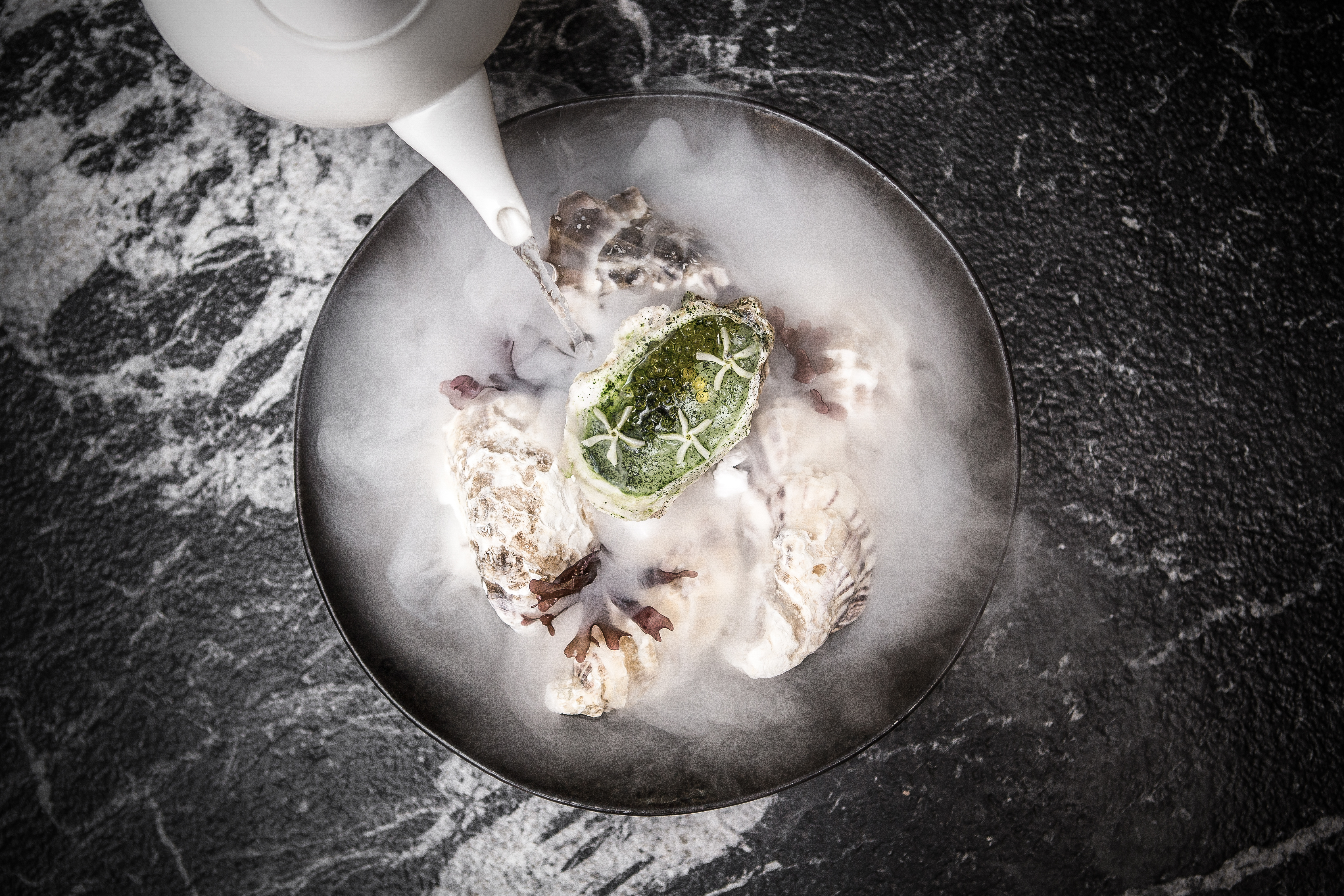 And what a story his dishes tell… take 'The Sea', for example – a beautiful, textural, spectacular experience of a dish, but one that would probably not exist on Simon's menu if he hadn't felt it necessary to tell the story of a personal experience, and one that is familiar to almost every person on the island.
"Often I work very long days, so when it comes to having a break, all I want to do is spend time with my family ', he told me, smiling to himself. "I like to go with my wife on Sundays or Mondays to the small rocky coves and just hang out, relax, think – just to chill out and charge the batteries. You look at the surroundings at those coves and you see the pine, the rocks, the seaweed, the shells and I really wanted to bring that to the table. We used these elements to create an 'environment' for the dish, and then it was important for me to have something fresh inside the shell. The dish changes all the time because with seafood you have seasonality too so what goes inside that shell depends on what is good at that time. At the moment we do an oyster with mussels, clams and plankton aioli".
The latter, a beautifully balanced garlic-y cream was just as fantastic as it sounds, an odd preparation that sits perfectly within the dish, cooled by the 'waves' of dry ice poured table-side.
"It's a little bit of a story as well, it's not just that you put it there without any reason, you know? I try to go more that way, that you really have some thought behind the dish. I'll never put something on the plate just because it looks nice".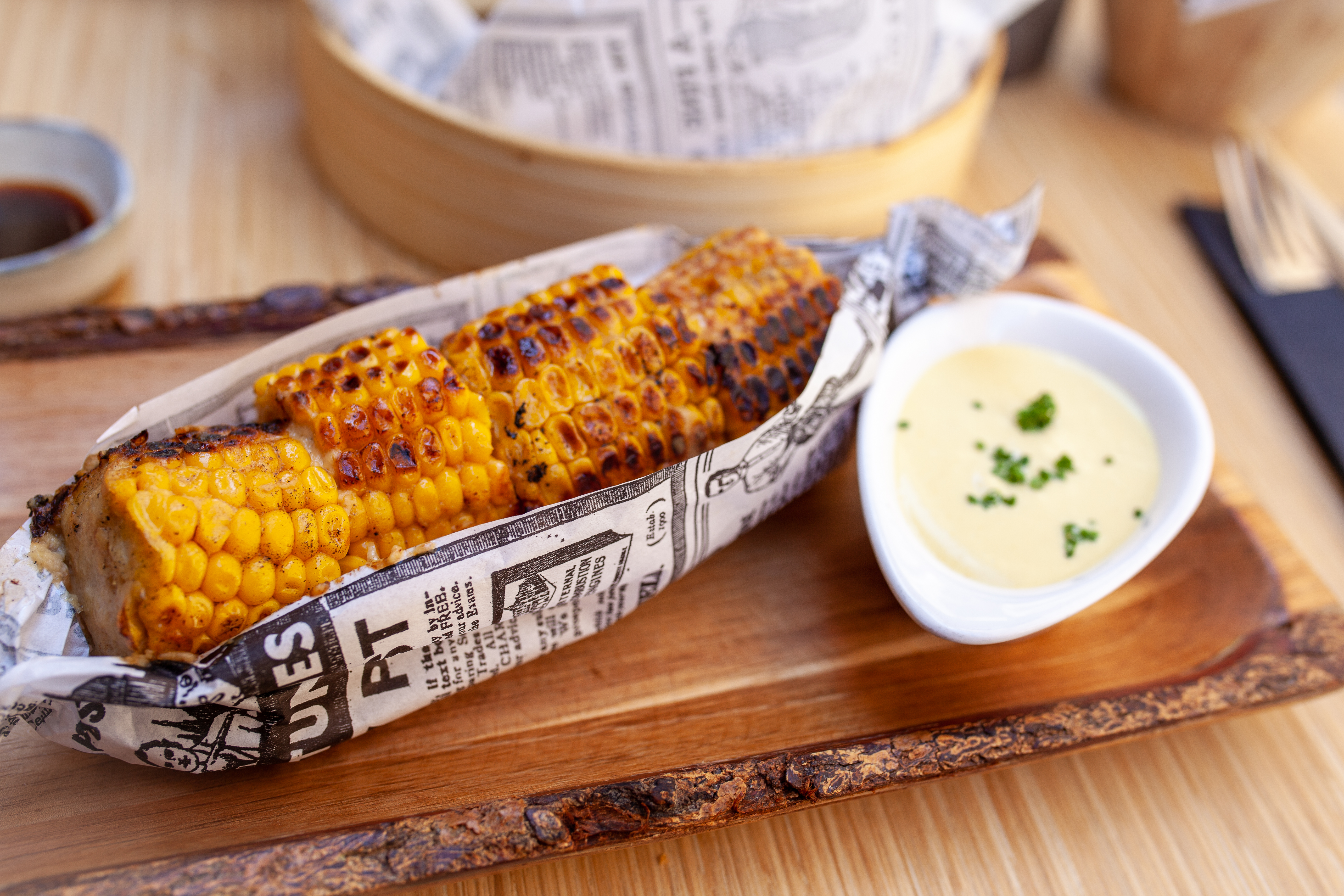 Both The Kitchen and fera are open all year round and very busy all year, demonstrating the depths of Simon's knowledge, creativity and culinary prowess. The Kitchen serves up this very simple style of Asian cooking that is not unlike street food in style – plenty pot bao, dim sum and wonton dishes in a very relaxed and simple environment, right in the centre of Palma's Old Town about a five minute walk from fera.
Upon our visit, we thoroughly enjoyed a wide variety of Asian 'tapas': edamame picante provided moreish spice; mango sushi let of a big kick of wasabi; juicy, sweet tempura langostines and mouth coating pork bao provided the most incredible flavour; and a miso-glazed corn knocked the ball out of the park, hands down the most impressive-yet-simple side I've had in a while, and probably the most impressive Asian food I've enjoyed my whole life.
The sign on the wall sums The Kitchen up better than I ever could: a simple slogan of 'Sushi is Therapy'. We certainly left happy and full as can be!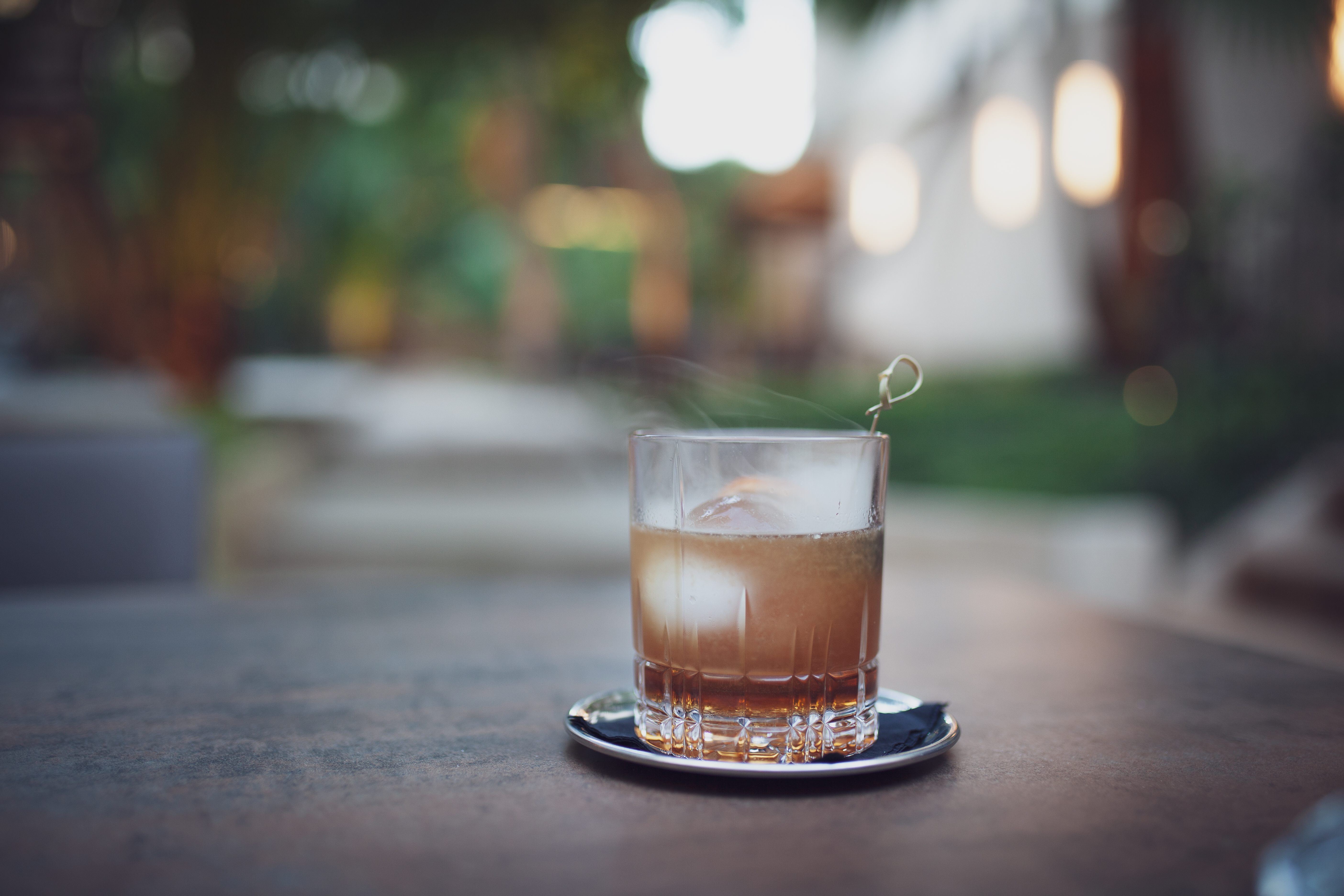 At fera, they offer what I can only describe as an upscale relaxation. Floor-to-ceiling glass doors swing open to welcome you as you approach, rope chandeliers adorn the ceilings and slow jazz exudes from the Bose speakers.
Sheela has designed a beautiful black and white rose graphic behind the bar and an expansive landscaped garden courtyard to the left of it, allowing for al fresco dining and the perfect place to enjoy one of head bartender Claudio's negronis, margaritas or an intense Smoked Fashion, with an end note of bacon fat and beautiful smokey presentation table-side.
Throughout the Tasting Menu, we enjoyed steak tartar with crispy nori seaweed and sensational truffle emulsion; an exquisitely different eel macaroon, sweet and creamy with a hint of the sea; an outstanding clarified olive with its standout flavour, and almond and orange crumb; and a seductively smoky tuna nigiri with its intense perfumed flavour, and a crispy seaweed that adds crunch and texture. And don't even get me started on the desserts.
A palate-cleanser of watermelon, passionfruit, yuzu granita and avocado cream was fresh and fruity, whilst textures of chocolate included mouth-coating bites of brownie, basic and chocolate mousse, citrus peel, chocolate crumb and chocolate flake, two dishes that I want to eat over and over again – serious dessert island dishes.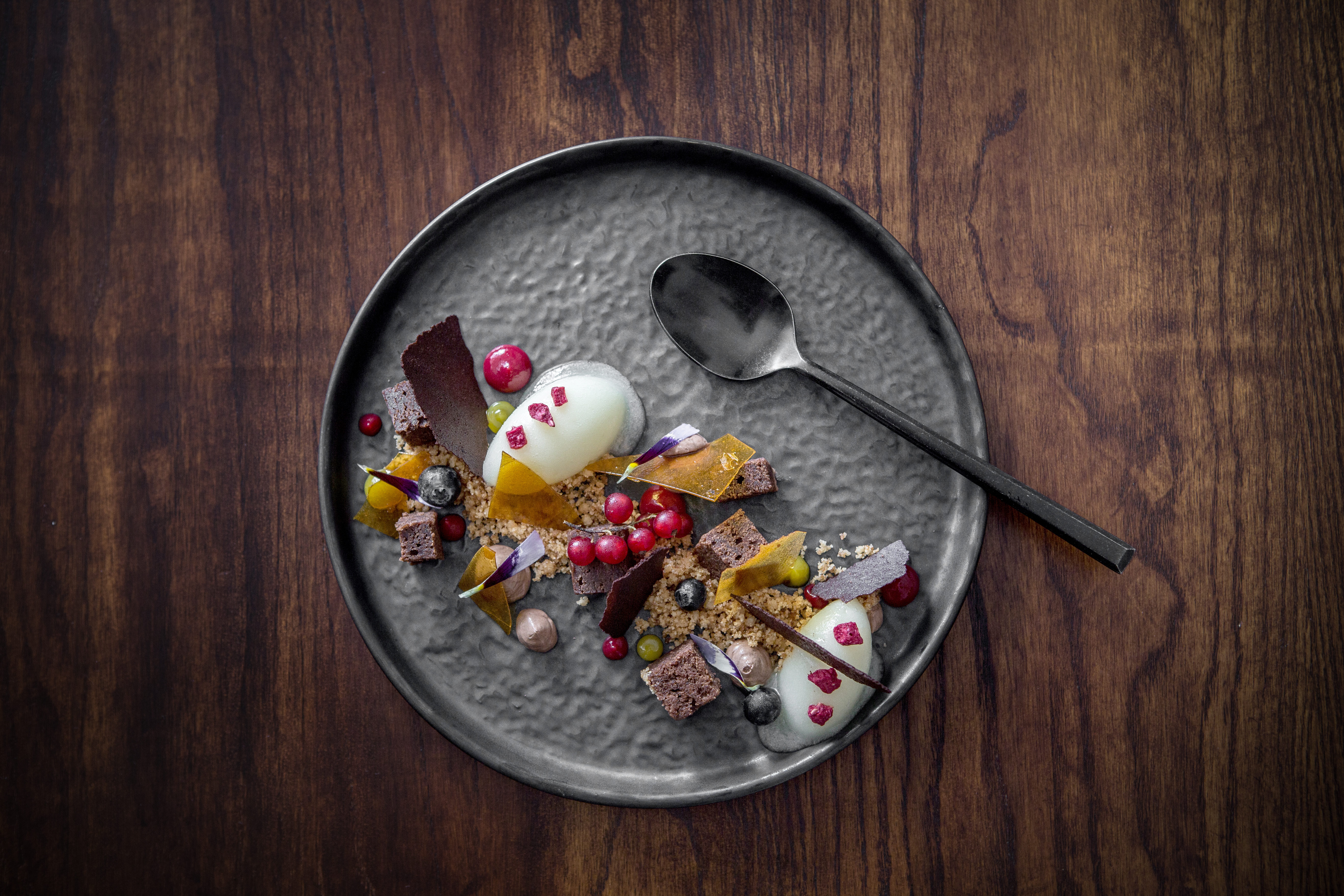 Since fera opened in November last year, it is no surprise that there have been a lot of days that the team has had the turn people away as there wasn't a single available table – a huge achievement for your first year of service, yet Simon is in no way content: "From opening it takes a really long time to grow, and you're never going to be exactly where you want to go. You're always thinking 'how can we improve?', 'how can we do this better?'. It's a constant evolution in the end".
Whilst he has a huge hunger and drive to keep improving, Simon is not at all obsessed with getting a Michelin Star.
"It's not what gets me out of bed and I don't really think it matters in terms of success or what you really do… I don't wake up wanting a star, I wake up wanting to do exciting things, work with my team to create a good working environment and great opportunities for them, helping them grow and learn. I want to have a full restaurant of satisfied guests who come back several days a week even if you don't change the menu, or if they're celebrating their birthday or their wedding or another important occasion".
He continued: "We definitely work with that mindset, direction and standard but there are a lot of Michelin Star restaurants which are empty, you know? It's all about the balance… I want to have my freedom and creativity, and if a Michelin Star will come that would obviously be great. There's no question! It's not like I'd say I don't care about it, but I'm definitely not obsessed with it. I wouldn't be unhappy if it didn't happen. For me, the most important thing is my guests and the team I have around me. Seeing people come to work and how they grow? That for me is the most satisfying thing of all. That's what keeps me pushing on and what I love".
Simon Petutschnig is a fantastic talent and someone whose restaurants you simply have to visit. He balanced a busy, demanding professional life with quiet mornings of long breakfasts, listening to music and cruising around the island on his Harley Davidson before enjoying one of Palma's many beautiful sunsets with a good glass of wine in hand.
As he puts it, he's "really just a quiet, relaxed family guy, as my job is really intense, but it is never boring and that's what I love about it. I don't like monotony and that's the cool thing in this job. It really depends on you and you can change it – there are so many problems to solve, techniques to learn, things you can do. Cooking is like a language: you learn something new every day, even something small and if you're not satisfied at the end of the day, that's okay – you just push yourself harder the next".