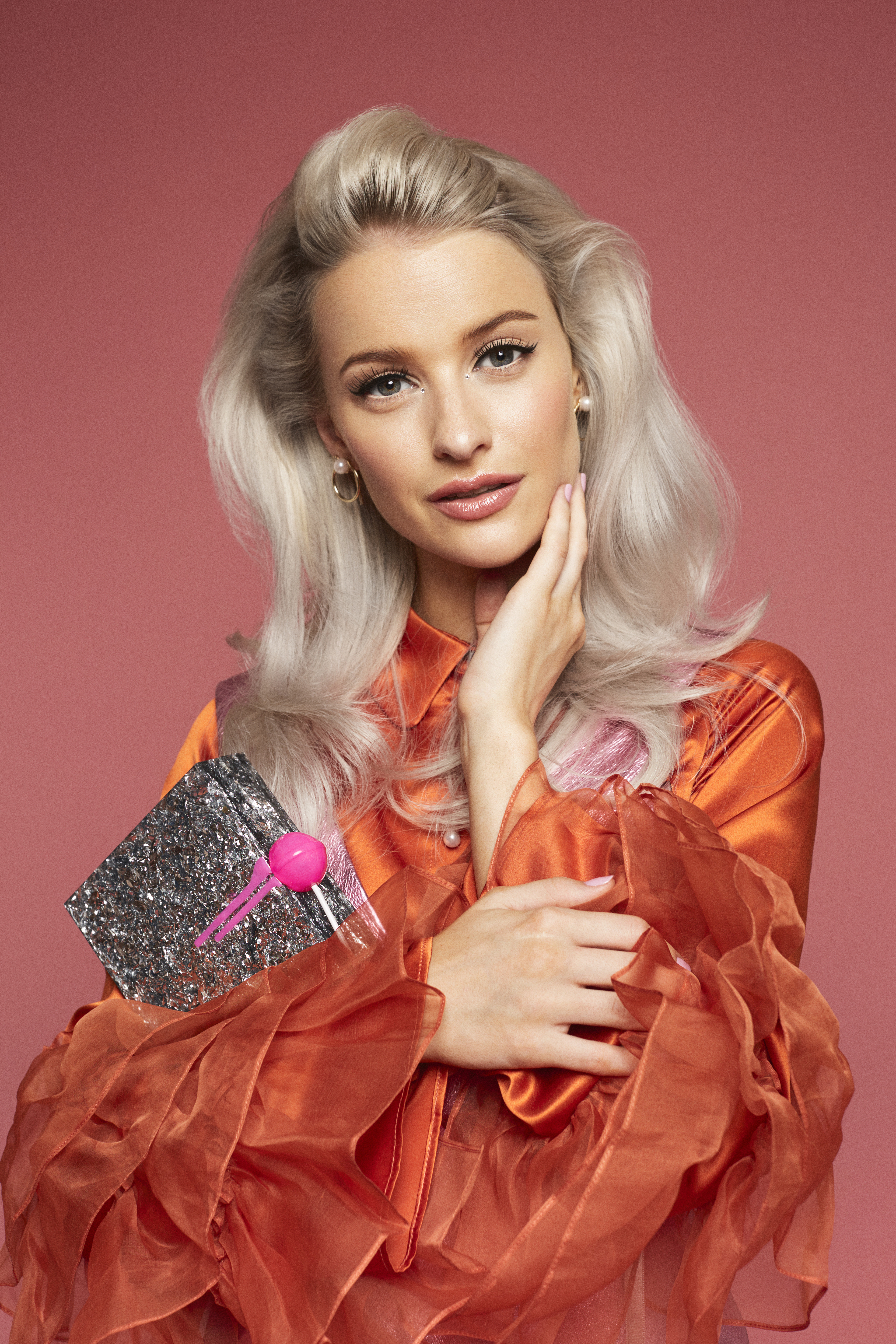 Blouse: Kelly Simpkin Dress:G F Hawthorne Clutch Bag: Lalingi Earrings: Mayu
Early mornings, late nights. Breakfast on the go and lunch eaten hastily at the desk. Back to back meetings and witching hour emails; full-time work is challenging. However, what has just been described isn't the life of an investment banker or a lawyer, but of In The Frow; a triple-threat, blogger, Youtuber and Instagram extraordinaire.
Behind the perfect Instagram shots, seamless vlogs, lavish brand dinners and red carpet parties, there is a monumental effort required to keep a blog ticking over, never mind to make it a huge success. What people seem to forget is that a blog is a business and Victoria Magrath of In The Frow is here to remind us what it's like to be a successful businesswoman.
Wearing a relaxed, yet incredibly stylish outfit comprised of jeans, a white tee and colourfully patterned Dolce & Gabbana heels, her face was fresh, her gorgeous silver hair was swept back, and she commanded the room with her soft, Northern accent as soon as she entered.
Victoria is gracious, warming and most of all, humble. People forget that, if you're a blogger, you need to have the likeability factor, as you are your business. She is nothing short of inspiring. Her dedication to her dream, her business, but most importantly, her readers is palpable in her every word.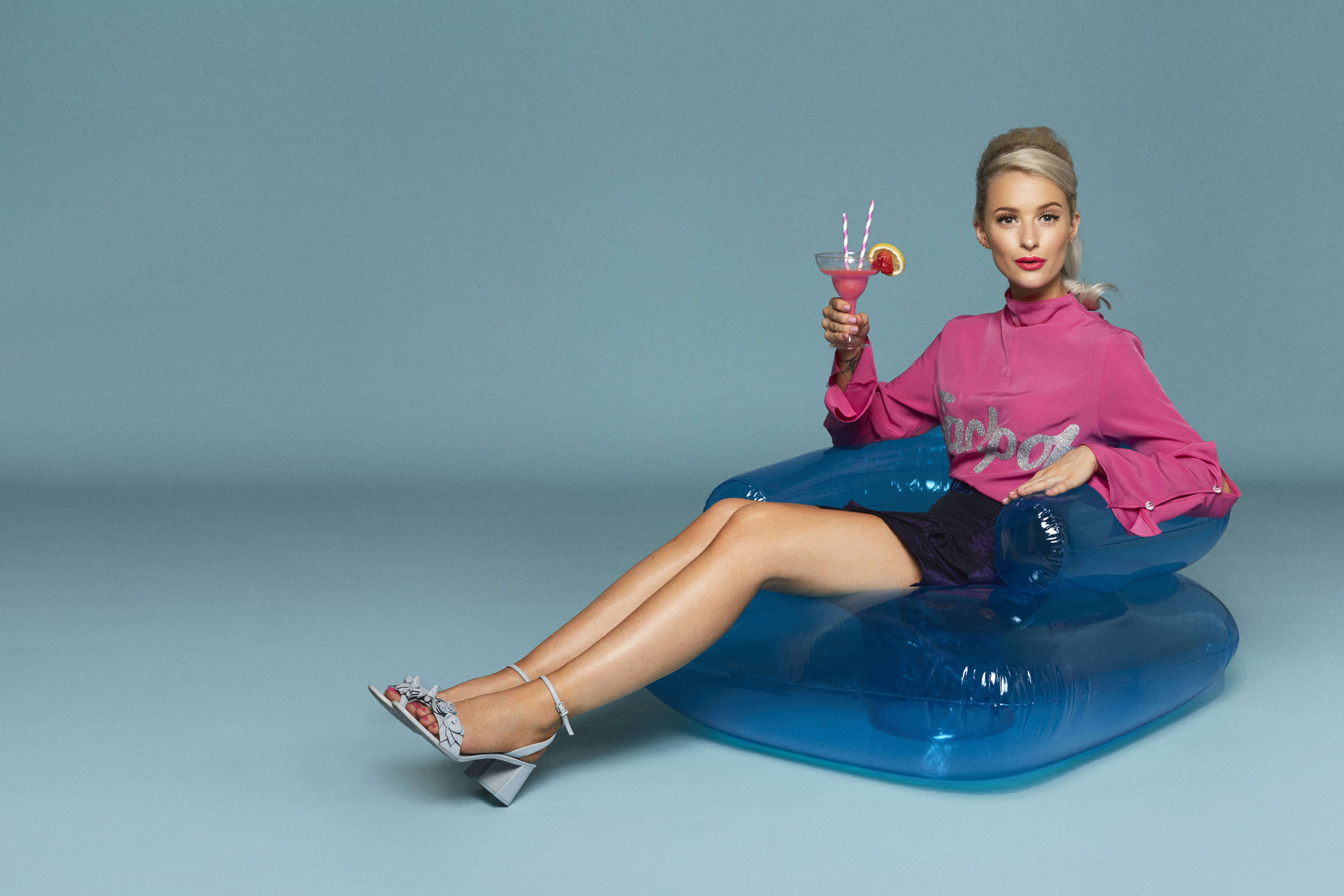 Blouse: Nicola Brindle Skirt:Urban Outfitters Shoes: Sophia Webster
"I want my blog to be a source of information on travel, fashion and beauty, but I also love writing about confidence issues, life's challenges, personal struggles. Spilling my heart about a topic is important because it makes me relatable to my readers. I want to show that I am also this normal person from Wigan and I have had heartbreak, trust issues and confidence issues. I find that it helps people and I like to see that people get something from my posts other than lifestyle advice."
Victoria's voice is powerful, and it's due to her relatability; she offers something that many bloggers don't – substance.
Having studied a fashion degree in Manchester, she later went on to start a PhD in Consumer Behaviour for Mobile Fashion. At this time, she began her blog as a way to relieve stress, seeing the platform as an outlet rather than an extra workload. She swiftly became obsessed with bloggers and YouTubers, as this was a time when the industry was on the cusp of the boom.
Although it was not part of her teaching curriculum, Victoria recognised the role that blogs could potentially have in the fashion and digital sphere, so she incorporated this into her teaching. No longer a teacher, she remains a source of advice, education and inspiration for thousands, and in some ways, still, mirrors the role she had for her students during her PhD years.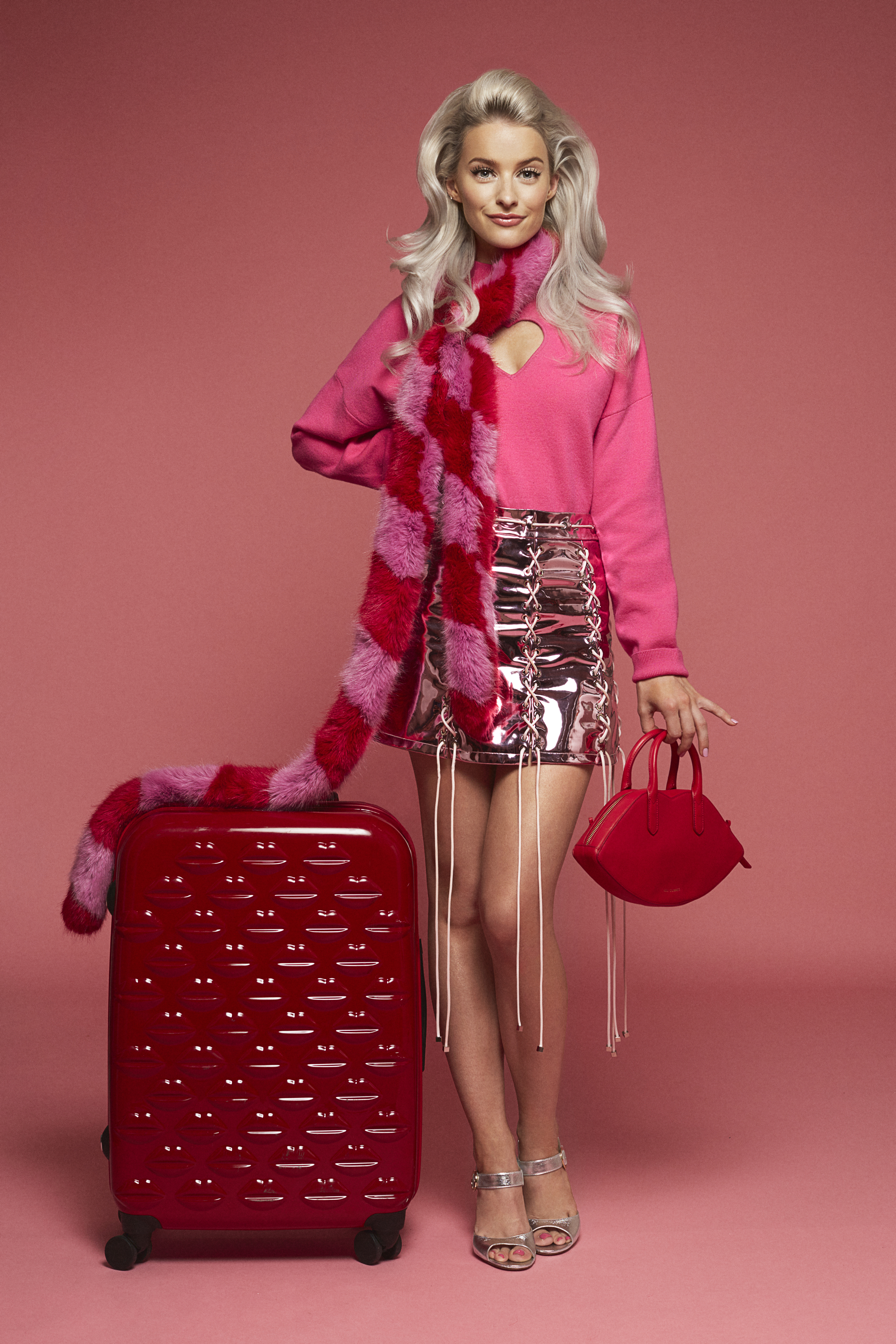 Jumper: Warehouse Skirt: Angel Chen Faux Fur Scarf: Charlotte Simone Shoes: Camilla Elphie
Handbag and Suitcase: LULU Guinness
Victoria has achieved so much at just 28-years-old, yet she's not about to slow down now. There are thousands of bloggers in the world, many of whom neglect their blog for Instagram fame. It was refreshing to hear that the In The Frow blog, Victoria's original and longest standing platform, is still the heartbeat of her business.
She says, "My blog is my most prized possession. I feel disheartened by bloggers who let their blog go by the wayside and prioritise Instagram because it's instantly more rewarding. But I love writing, and I love visuals, so putting the two together is a joy for me."
Victoria has poured everything that she has into making her brand a success both in the digital sphere and outside of that. She's an ambassador for L'Oreal; she's modelled for some of the world's leading clothing brands; she's won numerous awards.
Her almost 1M following has brought global brands to her doorstep for collaborations, but she has not lost focus, her sincerity or her Northern charm for clicks of fame. She is still proud of those old, 'cringe' posts from when she first began, and while her fashion choices then, may not be the calibre that they are now, she knows that each post has played its part in getting her to red carpet events, draped in couture fashion. In an ever-changing environment, the only constant that she solely has is herself.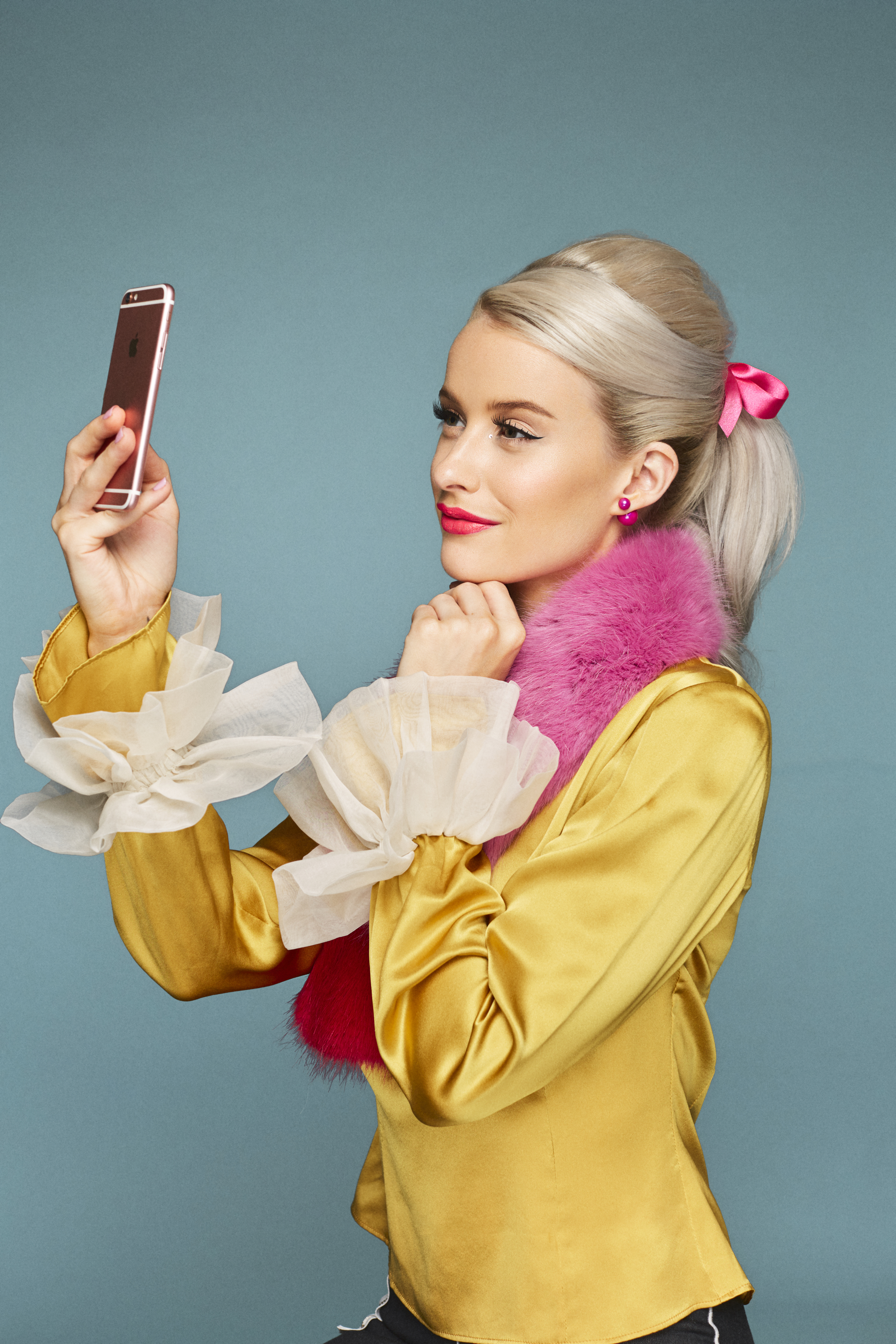 Blouse: Kelly Simpkin Faux Fur Scarf: Charlotte Simone Earrings: Mayu
Working every day of the week and only taking a break when forced to put her phone on airplane mode when flying between international destination's, Victoria is 'always on'. However, it's not a case of always being on her phone, like her parents may complain about – Victoria's livelihood lives online. She connects with her audience via the cybersphere, and it's how she keeps the In The Frow conversation alive. Knowing that this could all be gone with a click of a button is a very real and frightening prospect.
She mused, "Look at Vine; I had friends who were globally huge on the platform and then one day it ceased to exist. Instagram, Facebook and all other channels that we use to build our online personas could be deleted with the touch of a button, and it would be completely out of our control. We need to use our voice when we have the chance to do so and have such an easy way to reach a global audience."
Victoria is savvy, and if someone were to flick a switch in Silicon Valley, she would have a backup plan. "I hope to keep In The Frow going for the rest of my life, but I want to have some diverse routes off of it to add more colour to my experience. I always wanted to be the Head of Marketing for a huge company like Net-a-Porter. Doing a PhD gave me the opportunity to start a blog and it boomed beyond what I could have ever imagined," she said humbly.
The UK has become saturated with bloggers and there have been whispers of there being 'no more space in the industry', but Victoria does not believe that it should discourage you from being part of the conversation.
She said: "Most people have a digital profile, but we need to learn how to talk about our feelings and express ourselves more. The blogging and social media sphere has given a voice to people who may have never had the courage to speak before, so I welcome everyone to find their online diary."
When asked what she would tell her followers if the plug was pulled on internet today, she thought for a moment, then said, "I'd want to thank my readers and followers for making my life so exciting and different from day-to-day. Keep doing what you're doing and reach for your dreams, as you helped me grab mine."
Victoria Magrath; mega-influencer, ambassador for global brands, the most modest person I've ever met.
Instagram: @inthefrow
Photographer
Sarah Brown
Stylist
Rachel Williams
Make Up
Jessica Hunte using Loreal Paris Cosmetics
Hair Stylist
Yoko Setoyama using Bumble and Bumble
Stylists Assistant
Abbie Schmid