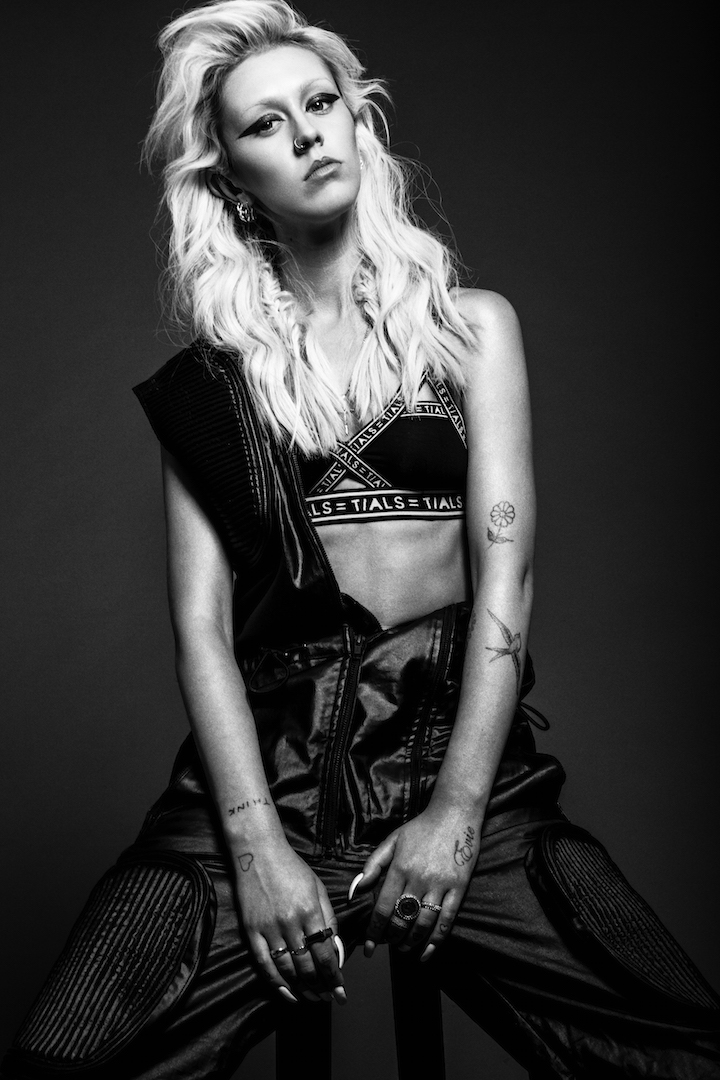 All in one – Bodybound
Bra – This Is A Love Song
Rings – Vitaly Design
Rudimental's debut album "Home" was one of the biggest albums of 2013. The infectious jungle beats, complimented by strong soulful vocals kept me listening for months and I never grew tired of it. The record has helped a number of UK artists launch their careers including John Newman, Ella Eyre, MNEK and Becky Hill. Now, it's time to introduce Syron.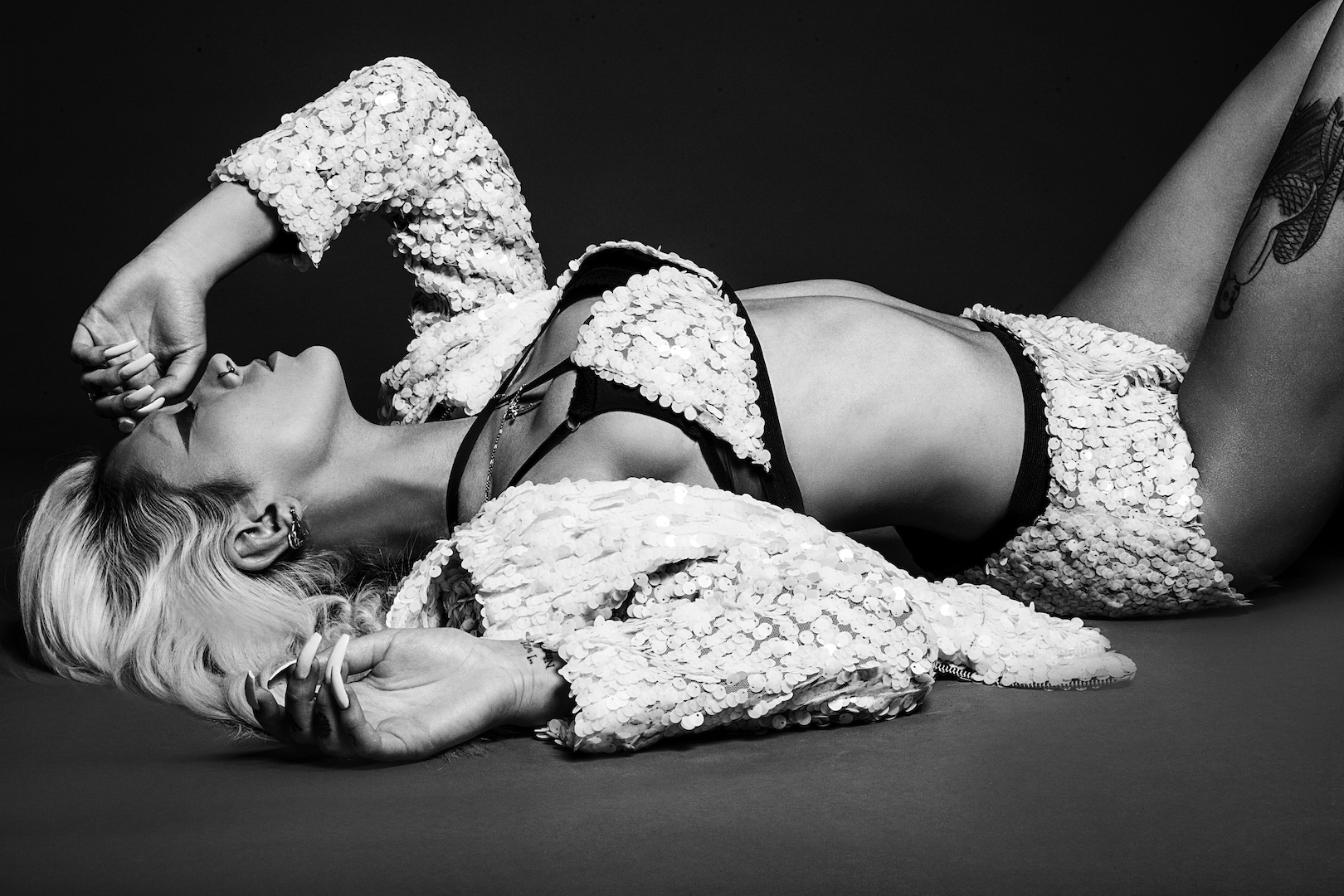 Full Look – Isolated Heroes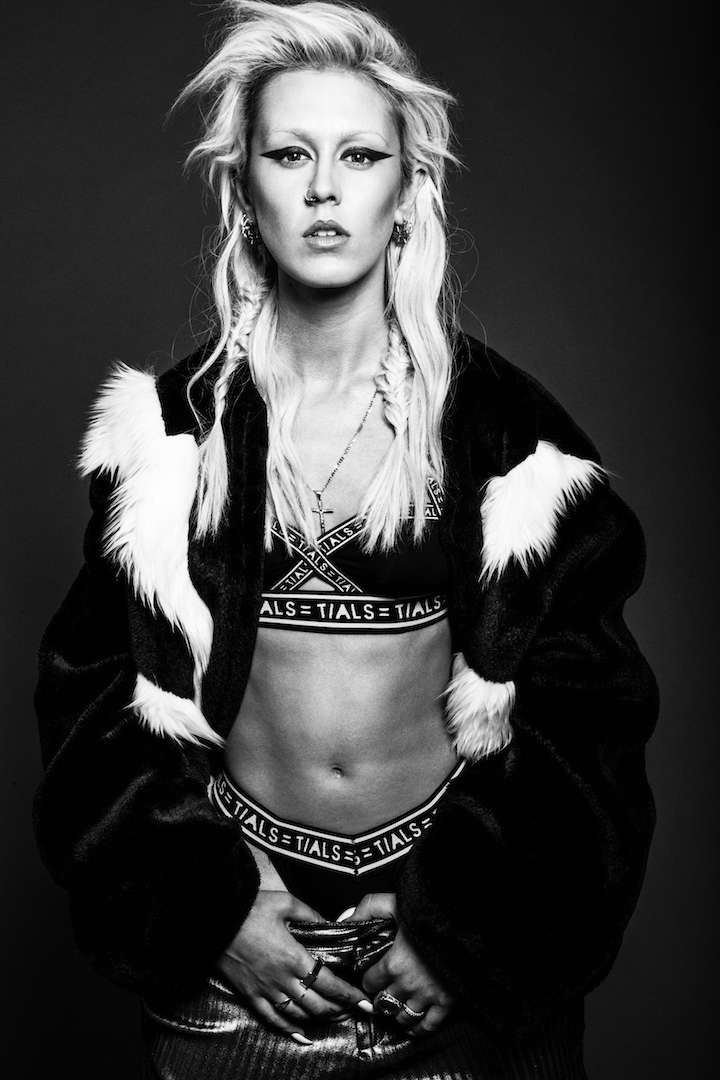 Faux Fur & Trousers – Nika Tang
Underwear – This Is A Love Song
I first heard Syron on the Rudimental track 'Spoons' with MNEK, the video features Syron with a short blonde crop, big gold hoops and her beautiful soulful voice. Three years later, Syron, every bit the South London girl, is back with long, blonde platinum hair, her signature gold hoops, big acrylic nails and an even bigger voice. Her latest single 'Talkin' Crazy' pays tribute to the 90's dance scene and was produced by North London's very own legendary Garage MC, Majestic.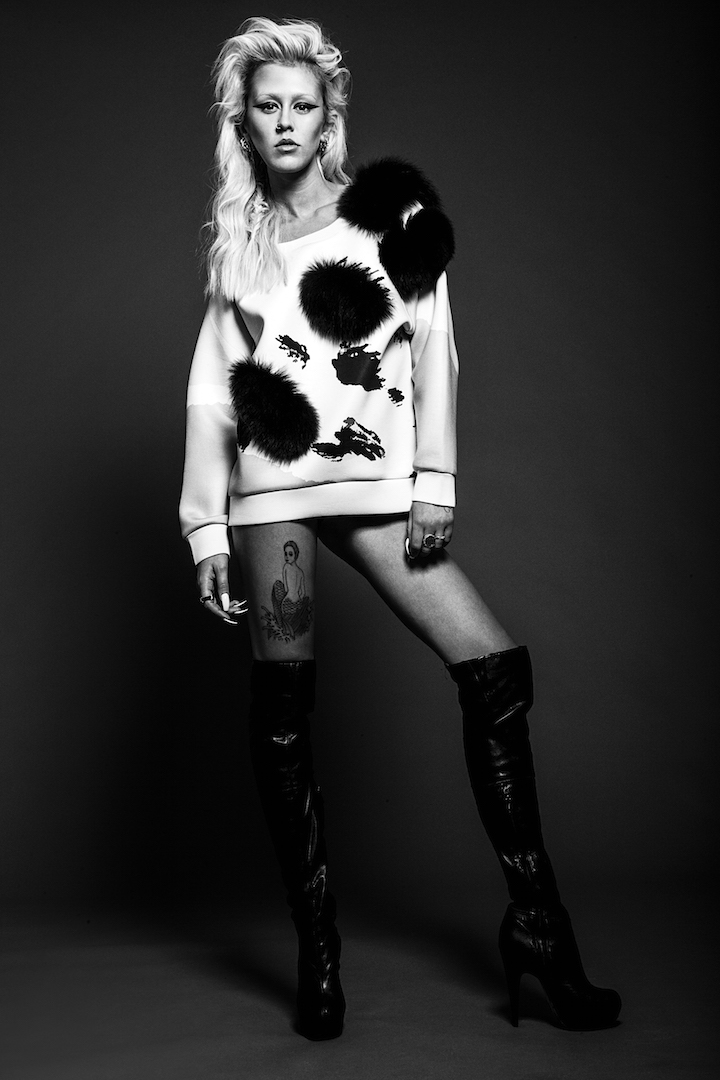 Crewneck – Nika Tang
Boots – Topshop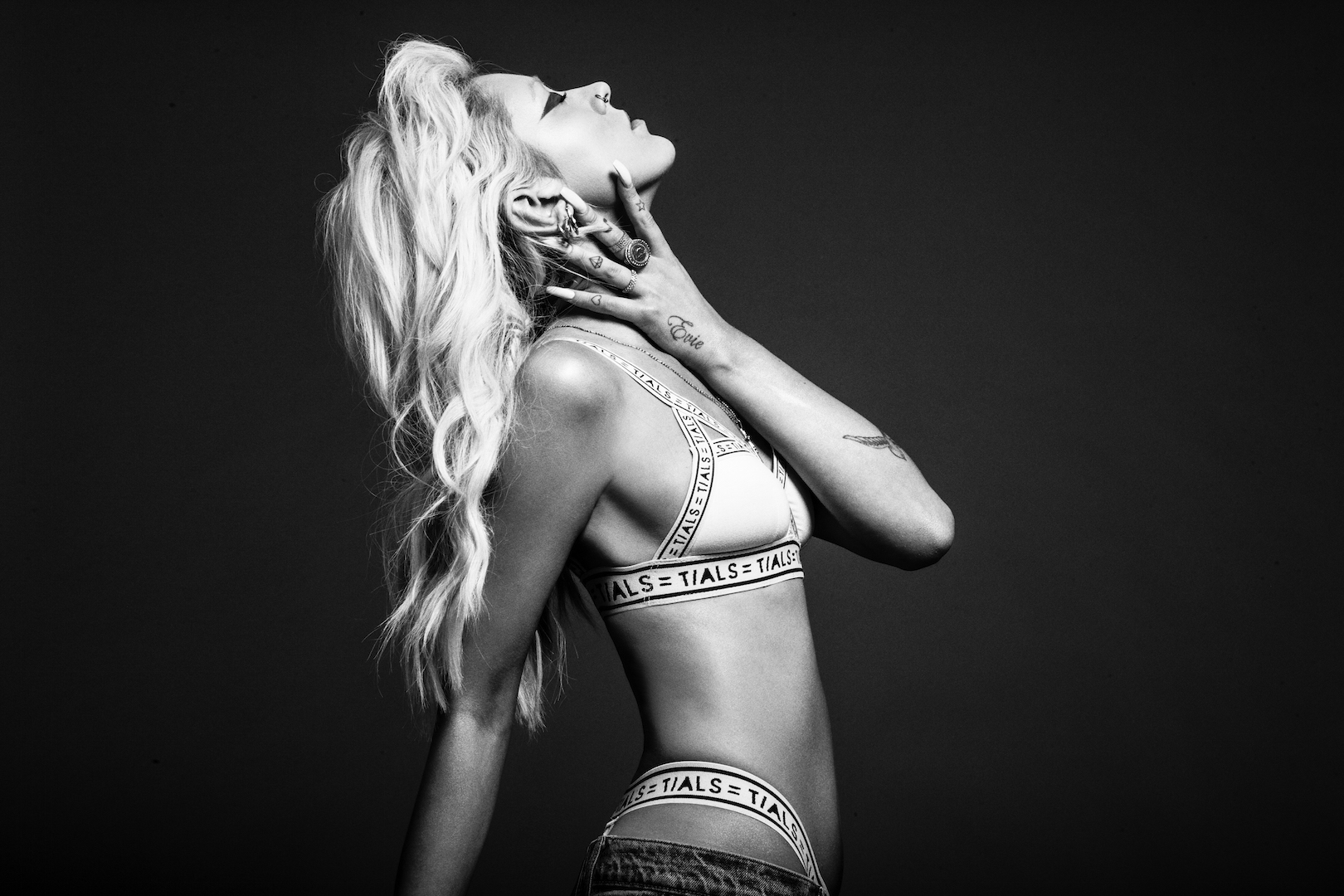 Underwear – This Is A Love Song
Denim – Levi's
Syron cites the 90's as being a big influence in her music, she loves the mix of dance music with raw emotional lyrics like Massive Attack and Everything But the Girl. She tells me, "I want to make music like that with a more-nowadays pop feel, that you can dance and cry too." You hear the effect this era had on Syron again in 'All I Need', easily my favourite track of hers. The twangy, electronic R 'n' B intro is enough to make me nostalgic of my teenage years.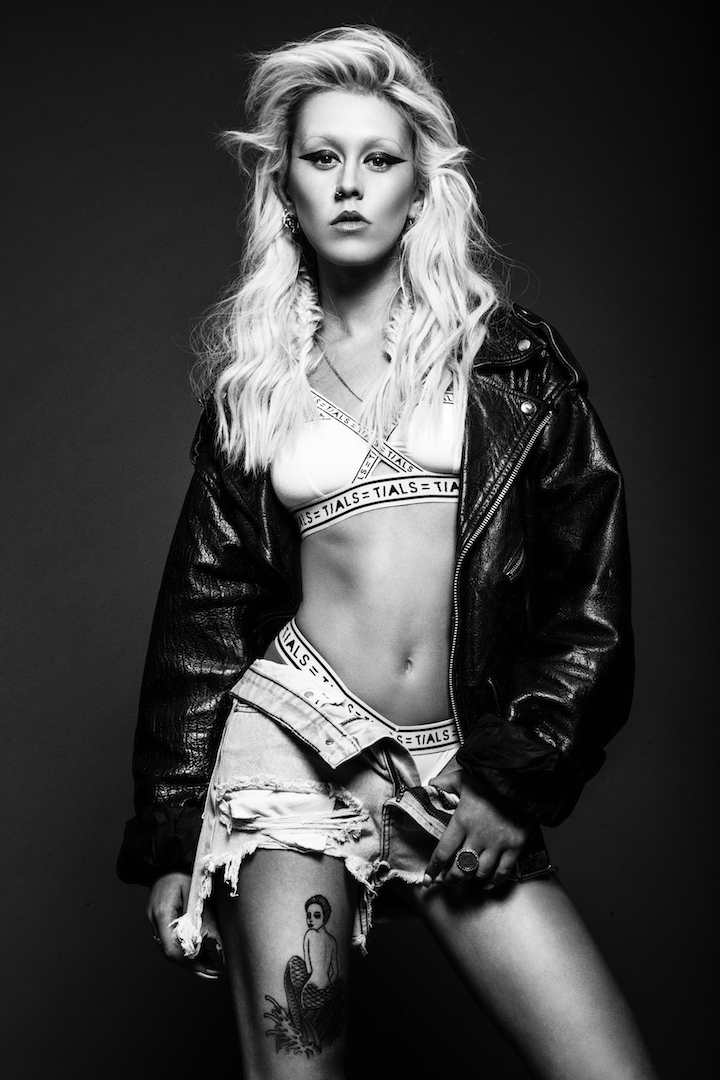 Jacket – Vintage Boy London
Underwear – This Is A Love Song
Shorts – UNIF
Ten questions we ask everyone:
1. What did you want to be when you were younger?
Sounds boring but I've literally only ever wanted to be a singer/songwriter, since I was like 5!
2. If you could offer advice to your twelve-year-old self, what would it be?
That mahogany coloured fake tan is never gonna be a good look.
3. You have 24 hours with no travel restrictions, how would you spend it?
I've never been to Vegas. So I'd take a load of friends and a load of different outfit changes for the 24 hours and just party.
4. What is the most exciting thing that has happened to you this year?
I had a show in Lithuania which was to 25,000 people (the biggest audience I've played to) so that was really exciting. Also the video coming out for my latest single 'Talkin' Crazy' that was exciting!
5. The film you can watch over and over yet never tire of?
There's a few actually, number one though is 'Moulin Rouge' I have watched that film soooo many times!
6. The song that always makes you emotional?
There're loads of these as well. 'Open' by Ryhe and 'Only You' by Alison Moyet, they win.
7. If you could spend an entire day with anyone uninterrupted, who would it be?  
This is hard, maybe Sia or Max Martin cause I really, really want them to write with me. Or maybe my best friend Samson cause he's recently moved to Frankfurt and I miss him.
8. It is Friday night at midnight, where are you most likely to be?
Most likely somewhere in Peckham having drinks with my friends.
9. What is your biggest vice?
Burgers, boys and late nights.
10. How would you like to be remembered?
As an artist. Not just a singer or a writer. But as an artist.
Follow Syron on Instagram: @SyronOfficial
Follow Syron on Twitter: @SyronOfficial
Photographer
Danny Baldwin
Stylist
Callum Vincent
Hair
Brady Lea @ Stella Creative Artists
Make up
Hadeel El-Tal using Mac Cosmetics & Shiseido Skin Care
Talent
Syron