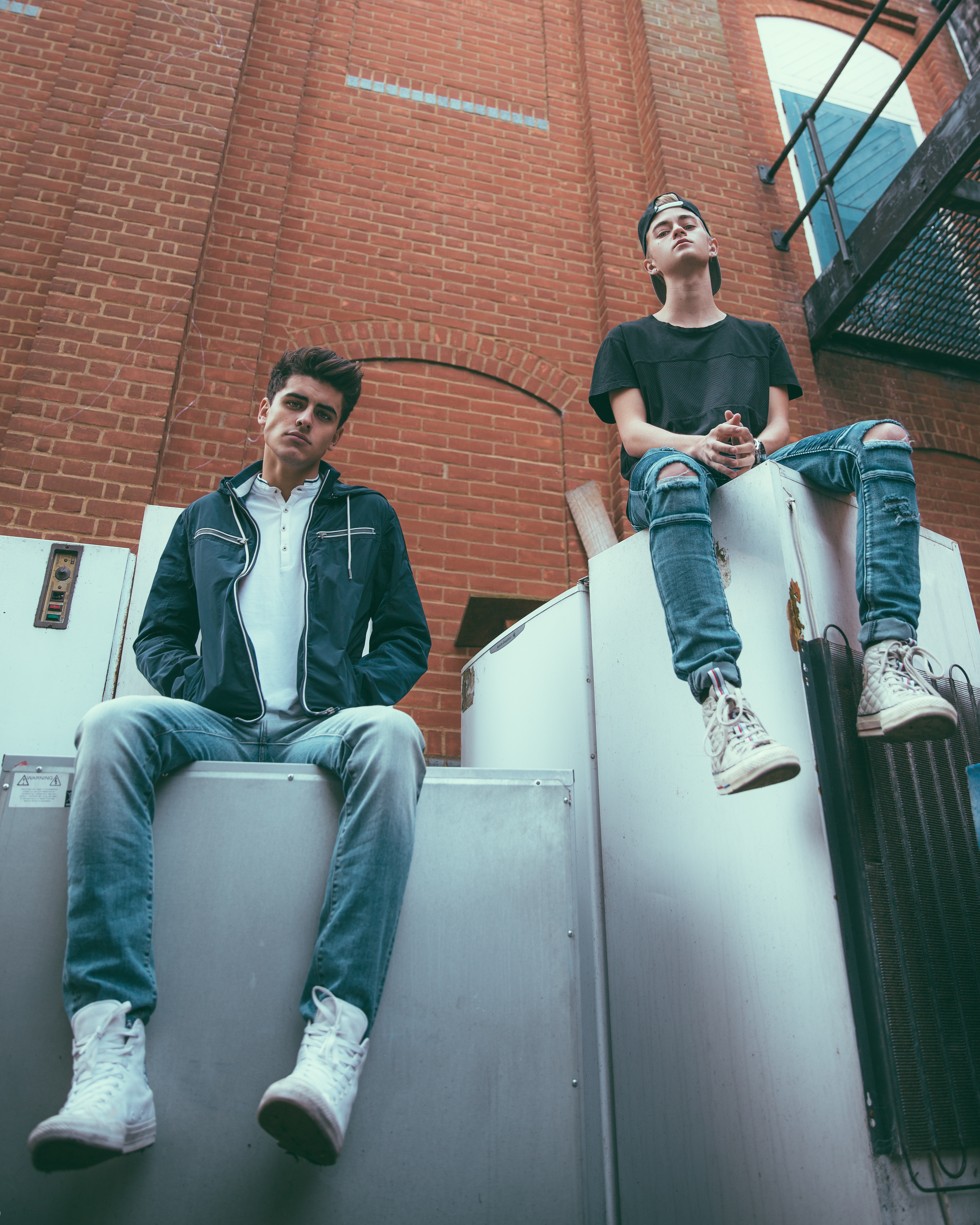 Most 17-years-old don't know what they want to do with the rest of their lives. However, rapper Jack Johnson and singer Jack Gilinsky were already on the path to success. Now, just 20-years-old they are known as Jack & Jack, social media superstars and musicians with 2 billion loops on Vine, 26 million social media followers and over 1.3 million singles sold in the last year.
We were invited to join Jack & Jack on the UK leg of their European tour. We arrived 10 hours before the show was due to start but we already had to weave through the hoards of fans that were waiting outside, hoping to catch a glimpse of the boys.
We bumped into a topless Gilinsky who had emerged from his dressing room. He was fresh from the shower, with one hand running through his dark mane and his damp golden skin glistening in the late-spring sunlight.
He was magnetic, with an undeniable charm. He enveloped us in a warm hug, his eyes squinting from the bright sunlight.
Moments later, a baby-faced Johnson appeared, his blonde hair hidden under a baseball cap and his big blue eyes, crinkled at the edges as he smiled. He was full of apologies. He said courteously: "So sorry guys, I was last in the shower!""
Jack & Jack's rise to fame on social media was stratospheric. During the break before their senior year of High School, they began making comedy skits on Vine. They had 100 followers on Vine at the beginning of the summer and 25,000 by the end. The Huffington Post even crowned their famous Nerd skit 'the perfect vine'. Today, they have collectively amassed over 26 million social media followers.
Johnson revealed his tips for increasing your social following. He advised: "Be as authentic as you can, people see through the bullshit. Make sure you steadily supply content to your followers and always interact with them."
Social media can be an all-consuming and precarious place, Johnson warned: "Don't let social media take over your life, you need to live to have compelling content. Always think before you speak, be aware of who follows you."
Gilinsky suggested: "Be yourself, stay consistent and don't do a million paid advertisements. Always show love to your followers and don't say mean things to anyone."
He continued: "We have been very lucky to have amassed this huge following so quickly because it gave us a bunch of people to share our music with. It was a very natural progression from hobby to business, which is why it has worked out so well for us."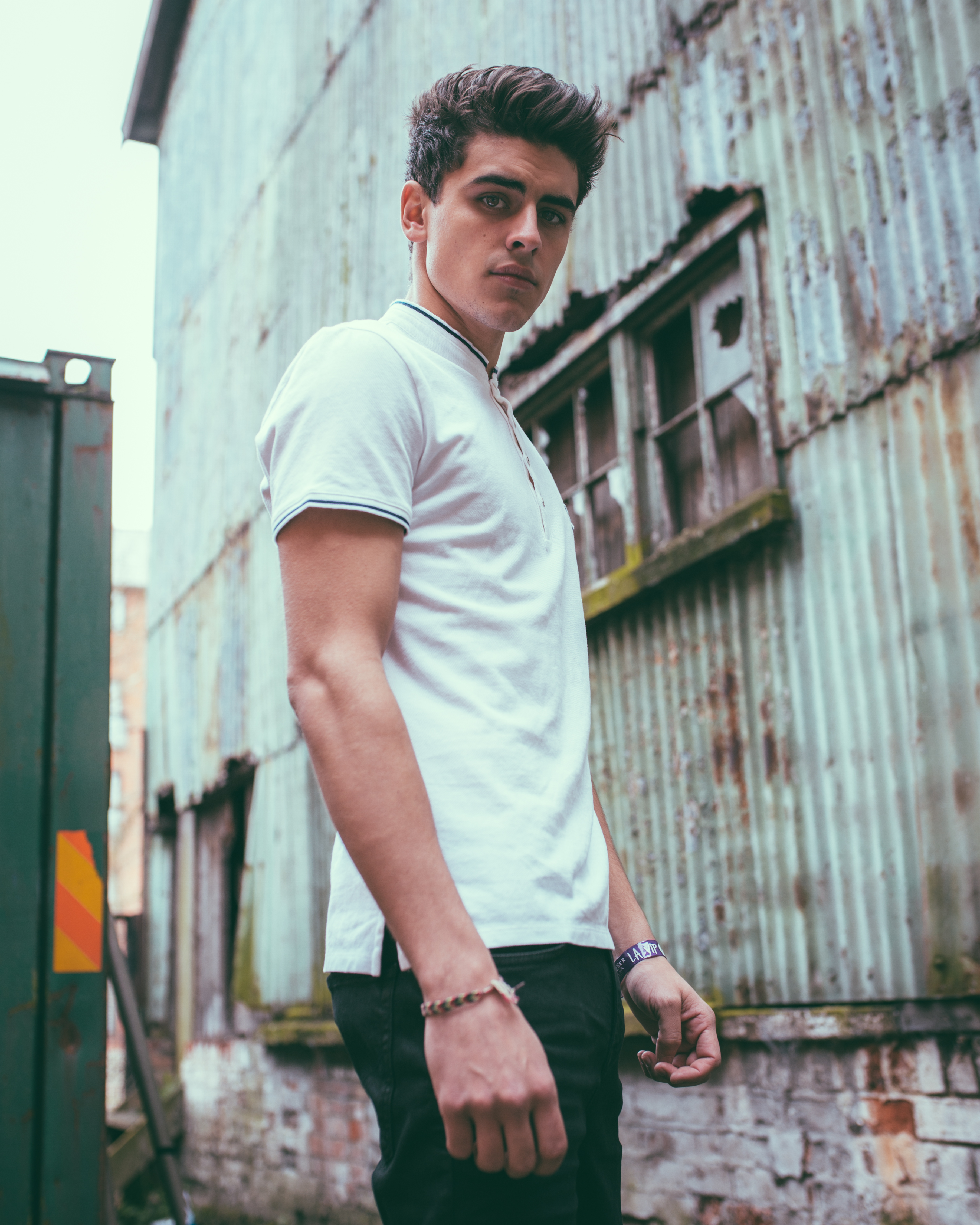 Jack & Jack had the foresight to release music independently from the off, unlike many other aspiring musicians they didn't wait around to be discovered by a label. They took their destiny into their own hands and it paid off.
They used platforms that allow artists to release music independently and got their work on iTunes, Spotify, Amazon, Google Play, it enabled them to keep 100% of their profits.
Jack & Jack soon relocated to LA from their native Nebraska and last year; they released their first highly-anticipated EP, Calibraska. The record went straight to number #1 on the iTunes chart and was trending worldwide on Twitter, with over 500,000 tweets using the hashtag #CalibraskaEP.
To date, they have sold over 1.3 million songs, independently released 11 singles, with each single charting on iTunes. They've had over 115 million views on YouTube alone and this success has enabled them to tour the world.
Johnson confessed that although touring is one of the biggest perks of the job, it can be gruelling. He revealed: "I love life on the road but it can be tricky. It's hard to get into a schedule so it feels like all of your days are jumbled together."
Gilinsky added:  "It's crazy that the fans show love in all these different countries. The biggest disadvantage is that I'm away from my girlfriend for months at a time, that's no fun at all."
Gilinsky has been in a relationship with Justin Bieber's protégé, Madison Beer for over two years. She is a singer and social media superstar in her own right, with over 11 million followers on social media. The pair have achieved power couple status online.
With much power comes much responsibility and Jack & Jack don't take their status as role models lightly.
Johnson said passionately: "It is a big responsibility. A lot of our fans are still young and very impressionable as most teenagers are, so we need to make sure we always put out as much positivity as possible."
Gilinsky agreed, he said: "We never share anything that could isolate someone. We want to encourage our fans to be as happy and as confident as they can be. I don't want a mom looking at my social media account and telling her daughter she can't go to a Jack & Jack show because we are bad influences."
He added: "At the same time, I don't want someone my age to look at my social media and not want to attend our concert because we are only cool to 10-year-olds. It's hard, but I think our new music will help bridge the gap between the different demographics."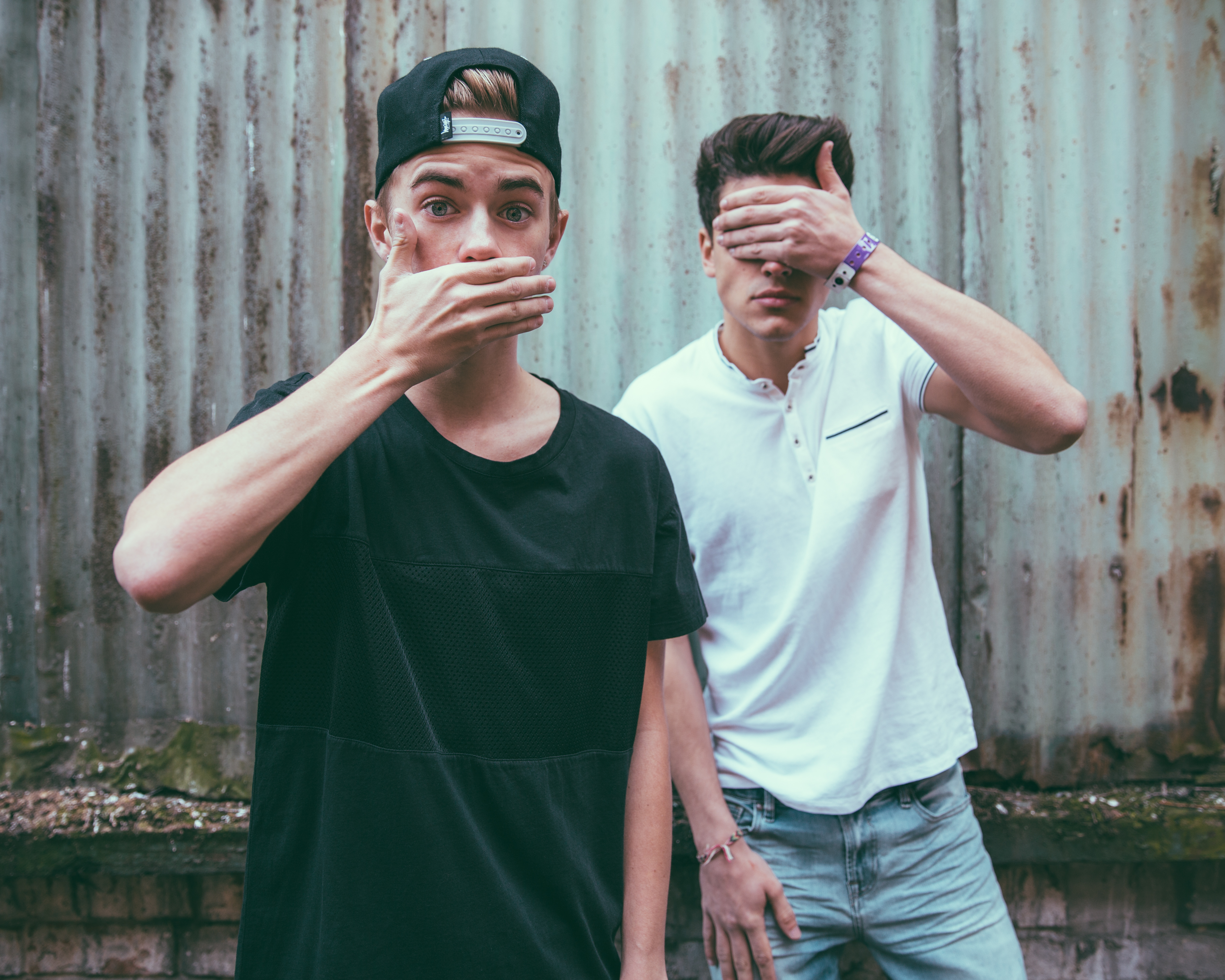 Their highly anticipated album is scheduled to be released at the end of 2016. Johnson revealed excitedly: "It's very versatile and will have over 20 songs. The production and lyrics are ridiculous, it is a new wave of its own."
Jack & Jack teamed up with legendary hip-hop producer Timbaland on the new album. Timbaland even declared his respect for the duo online, he wrote on instagram 'Jack & Jack are the future'.
Gilinsky said: "Timbaland was amazing, we had the best time in the studio together. He heard about us coming up in the music game and he loves working with undiscovered artists who just love making music. I feel so honoured to be able to say we worked with such a legend who is now our good friend."
Johnson agreed: "Timbo is the man, one of the most talented people I've ever seen work. He knows how to make hits and that's a fact. It was a crazy honour when he told us we got what it takes to be next up. Wait til you see what we made with him!"
Jack & Jack's entrepreneurial spirit, unwavering vision and impressive work ethic have allowed them to set the world to rights, on their own terms.
Photographer
Marc Hayden
Stylist
Jay Best
Jack and Jack wear Guess.