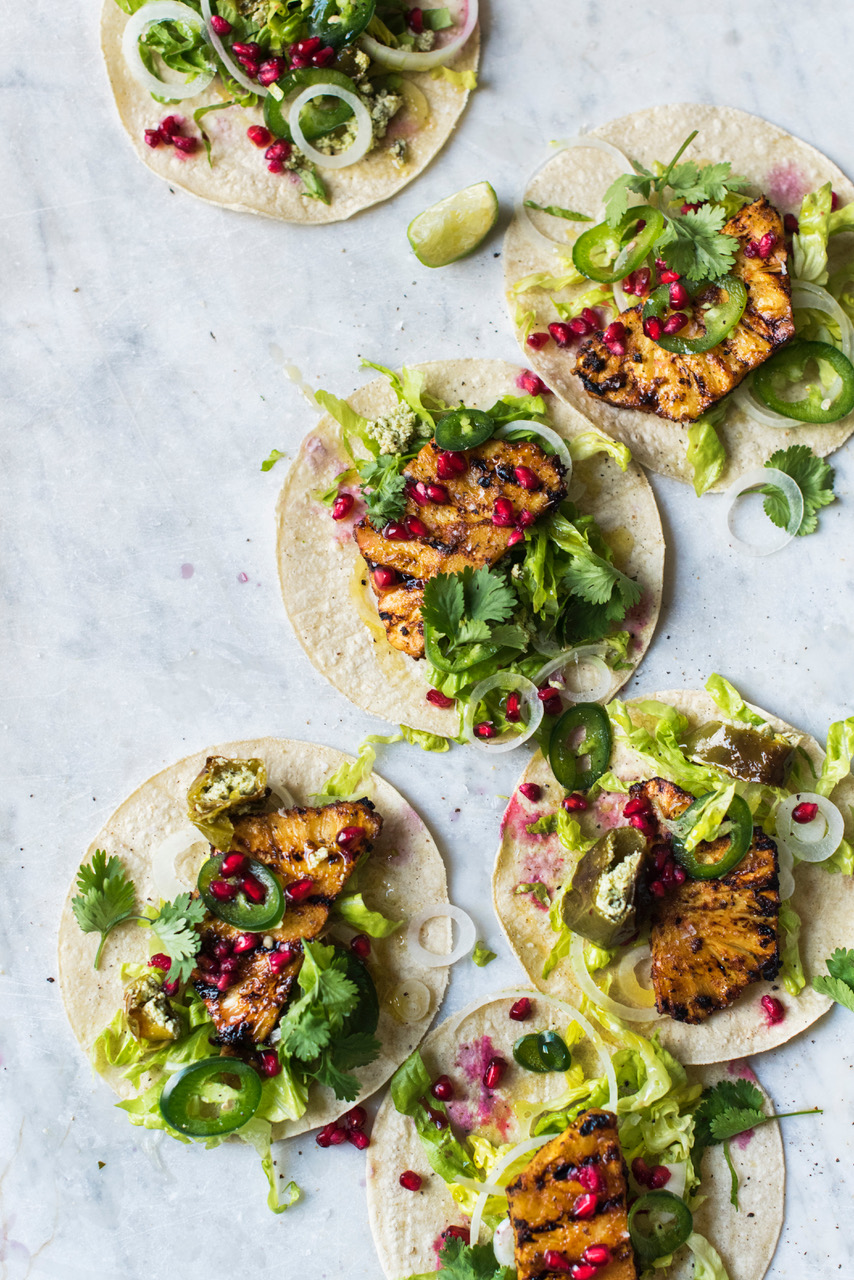 Preparation Time  10 minutes
Marinating Time  30 minutes – 2hrs
Cooking Time  5 minutes
Serves 4-6
Ingredients 
1 pineapple – Trimmed of the outer layer and cut into half moons
Jerk Sauce
2 tbsp all spice berries – ground
½ tsp freshly ground nutmeg
½ tsp cinnamon
3 sprigs of thyme – leaves removed
5 cloves of garlic – peeled
2 inches of ginger – peeled
4 scotch bonnet chillies – stalk removed
2 spring onions – ends trimmed
3 tbsp brown sugar
3 generous glugs of dark soy sauce
glug of olive oil
generous sprinkle of sea salt flakes
Garnishes 
1 pomegranate – pearls removed
2 gem lettuces – finely shredded
2 spring onions – finely sliced
2 green chillis – finely sliced
2 limes – quartered
150ml crème fraîche
Small bunch of coriander – stalks trimmed
Small soft tacos – allow 2 per person
Method
Begin by preparing the pineapple then set to one side. In a food processor or blender blitz together all jerk ingredients then pour over pineapple segments and place in the fridge to marinate.
Once you've made your jerk sauce, blitz together half of your coriander with your crème fraiche, add half a lime plus zest and a sprinkle of sea salt flakes. Keep refrigerated until ready to serve.
Prepare all remaining ingredients, I like to place everything in bowls and allow everyone to help themselves.
Once you've marinated your pineapple heat a griddle pan until almost smoking. It needs to be super, super hot (or use a bbq). Add your pineapple segments and flip them over using tongs after about a minute and a half, long enough to make sure you get lovely dark charring. Allow to cook for the same again on the other side.
Wrap your tortillas in foil and place in an oven on 170 degrees Celsius for ten minutes just until warmed through then serve alongside all garnishes and charred jerk pineapple.
Follow Anna Barnett on Twitter: @AnnaBarnettCook
Follow Anna Barnett on Instagram:  @AnnaBarnettCooks