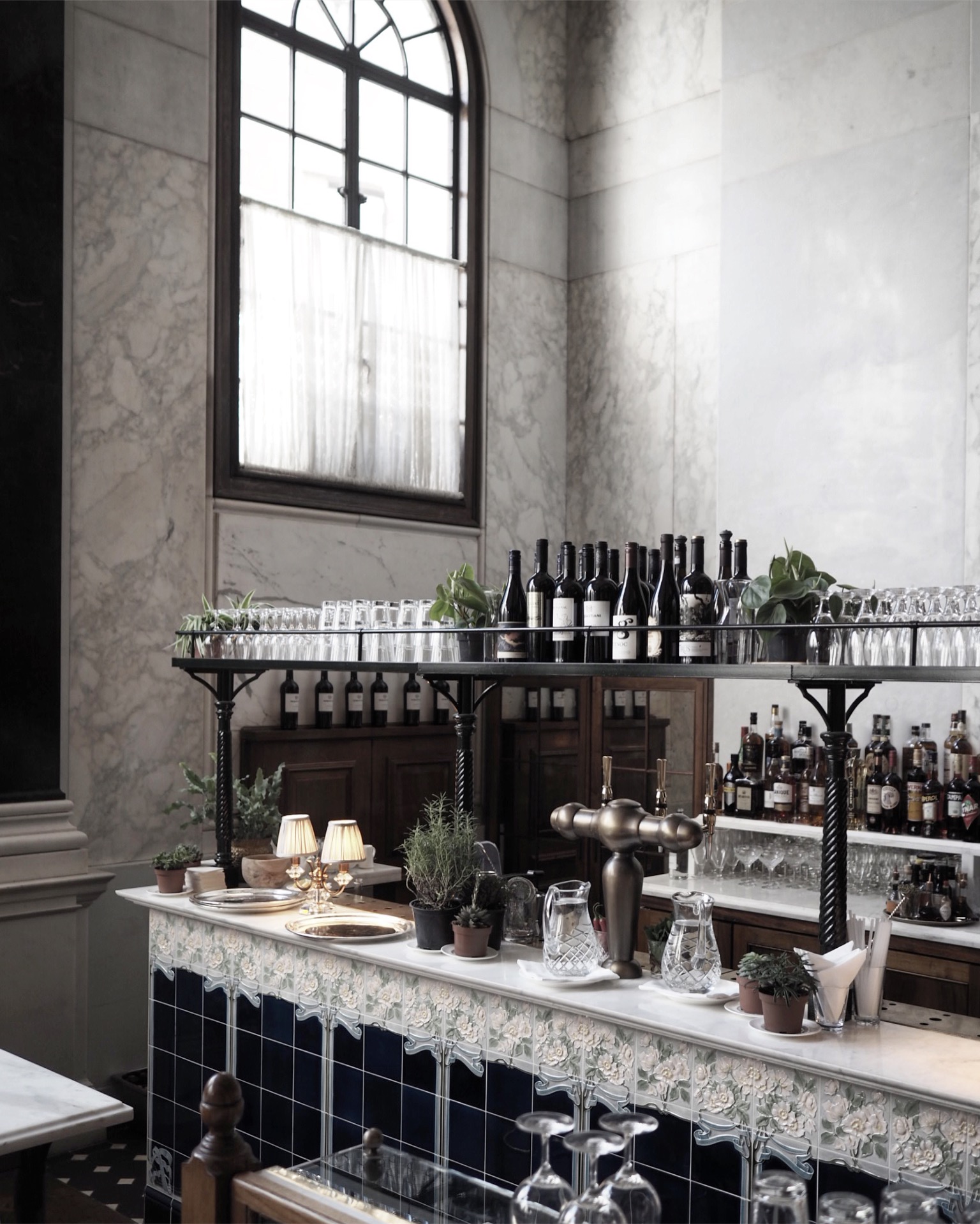 Despite my excitement for Malibu Kitchen, I cannot bypass The Ned itself which houses this understated health conscious corner restaurant. The Ned, so gargantuan and dominating with the enormous presence physically and across the press, will have you convinced it may well be the largest addition to London's social landscape that there has been for a while.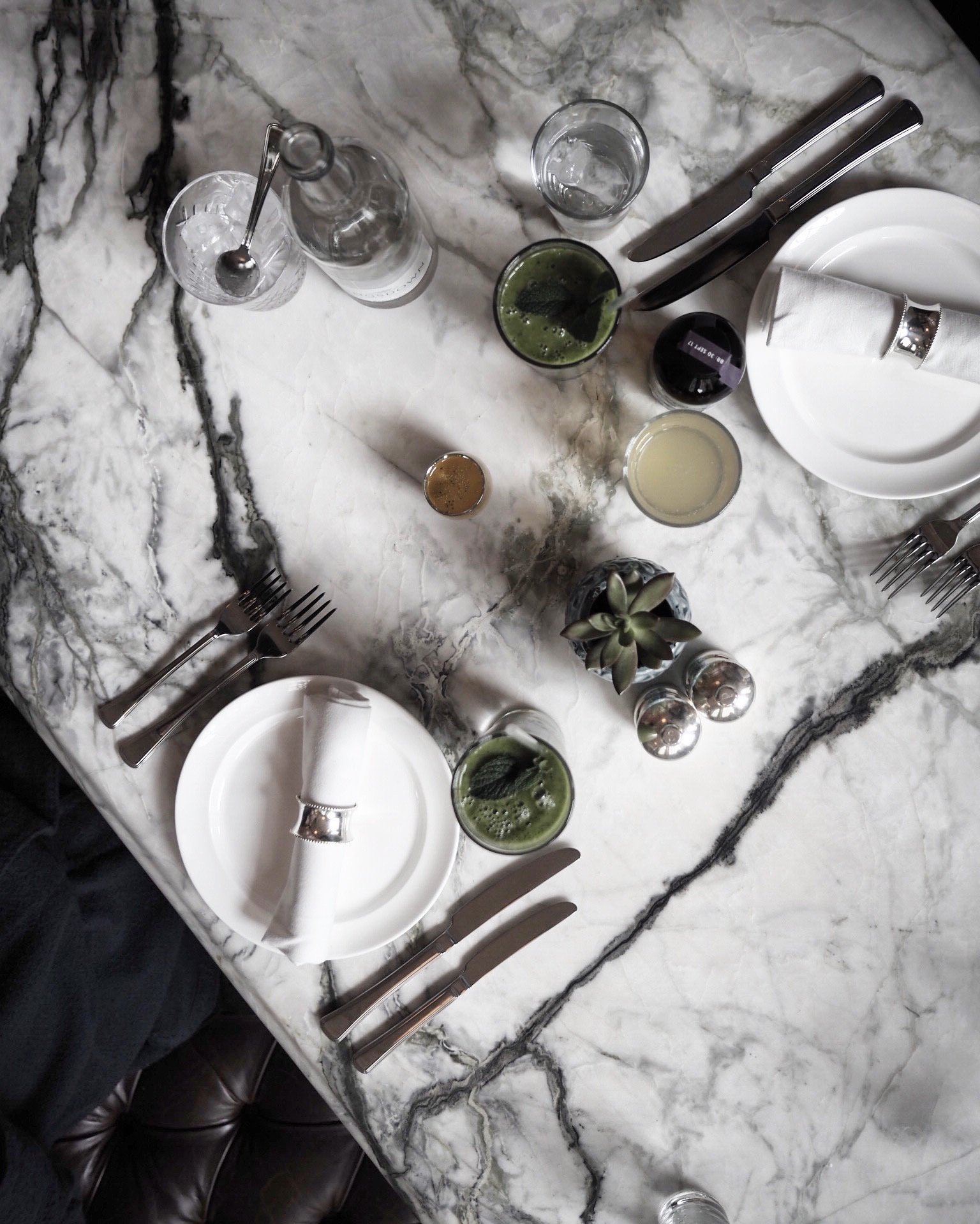 Although located in the much less saturated bank quarter of London, the hotel is not short of visitors. The coming together of both the well established Soho House & Co and US Sydell Group (which has a number of hotels across the US) means that aside from the 252 rooms there's nothing that hasn't been thought of. The grade I listed, eleven story former Midlands bank flexes it's muscles from the moment you enter. There's a members-only area with an assortment of facilities but the ground floor restaurants are free for all to visit.
It's here that they've tactfully restored the building's impressive central hall which houses the 92 African verdite (rich emerald green) columns that assist in dividing up the vast open space where eight of the hotel's restaurants are. Covering Italian, French, British, Asian, Jewish, American, and specifically Californian (which is where we head) there's something for everyone. I should also note that these restaurants gather round a central bandstand style centre point where you can absolutely expect to be serenaded by all manner of live music sets. There's a constant buzz to this place and after the longest lunch possible, we found ourselves wandering on to another bar area and pitching up for another bottle of wine and losing another couple of hours. So be warned…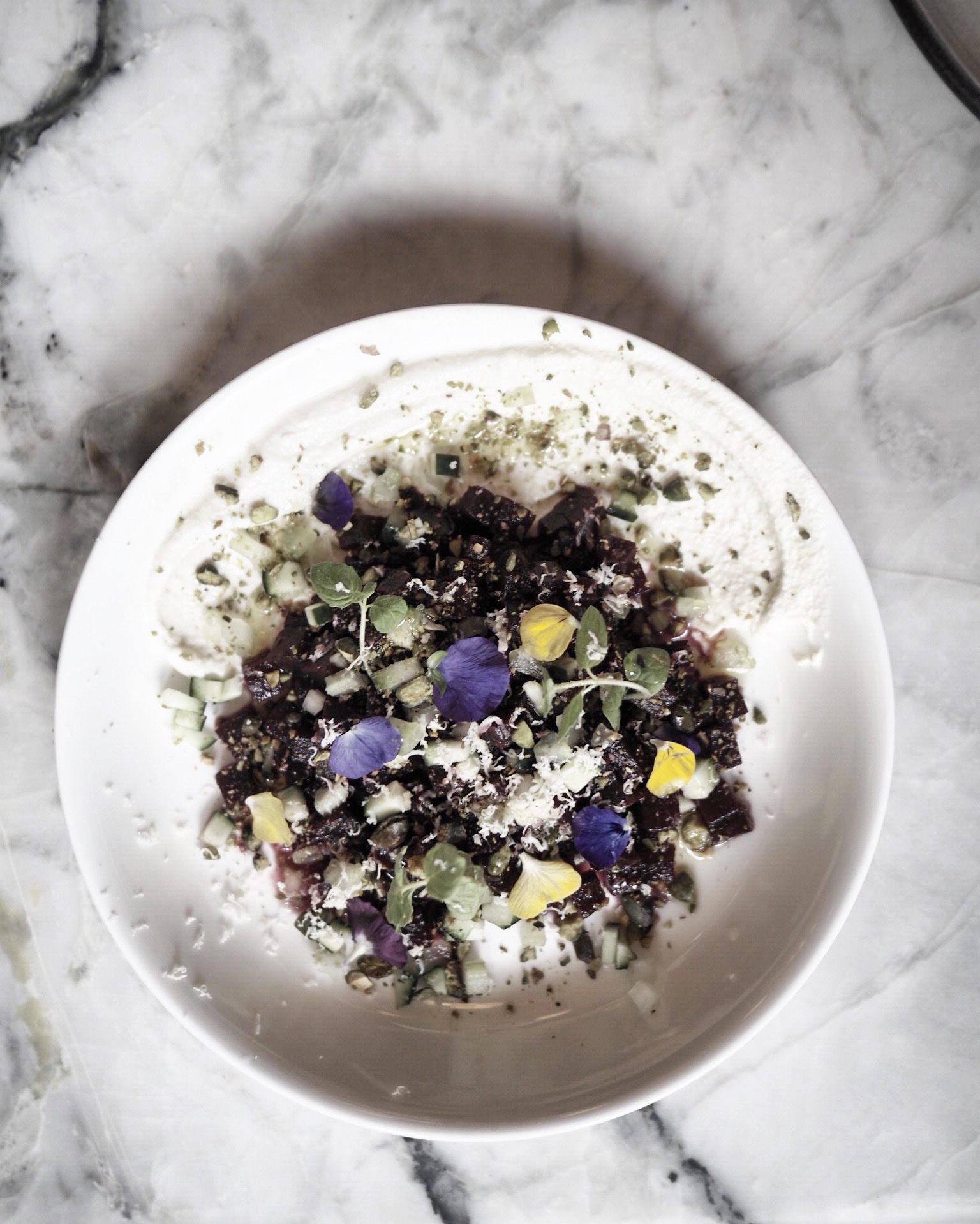 Finally onto the Malibu Kitchen and we couldn't have been more happy to kick-start our weekend on the periphery of the main hall, where we sat in a sunlit spot beneath the enormous windows that surround the space, a calm and bright booth that felt apt for our early lunch. We started with some shots of goodness, turmeric and black pepper to be precise followed by two of The Alchemists; Kale, cucumber, spinach, mint, fennel, ginger and lemon before going on to sample close to the whole menu, which does still include wine.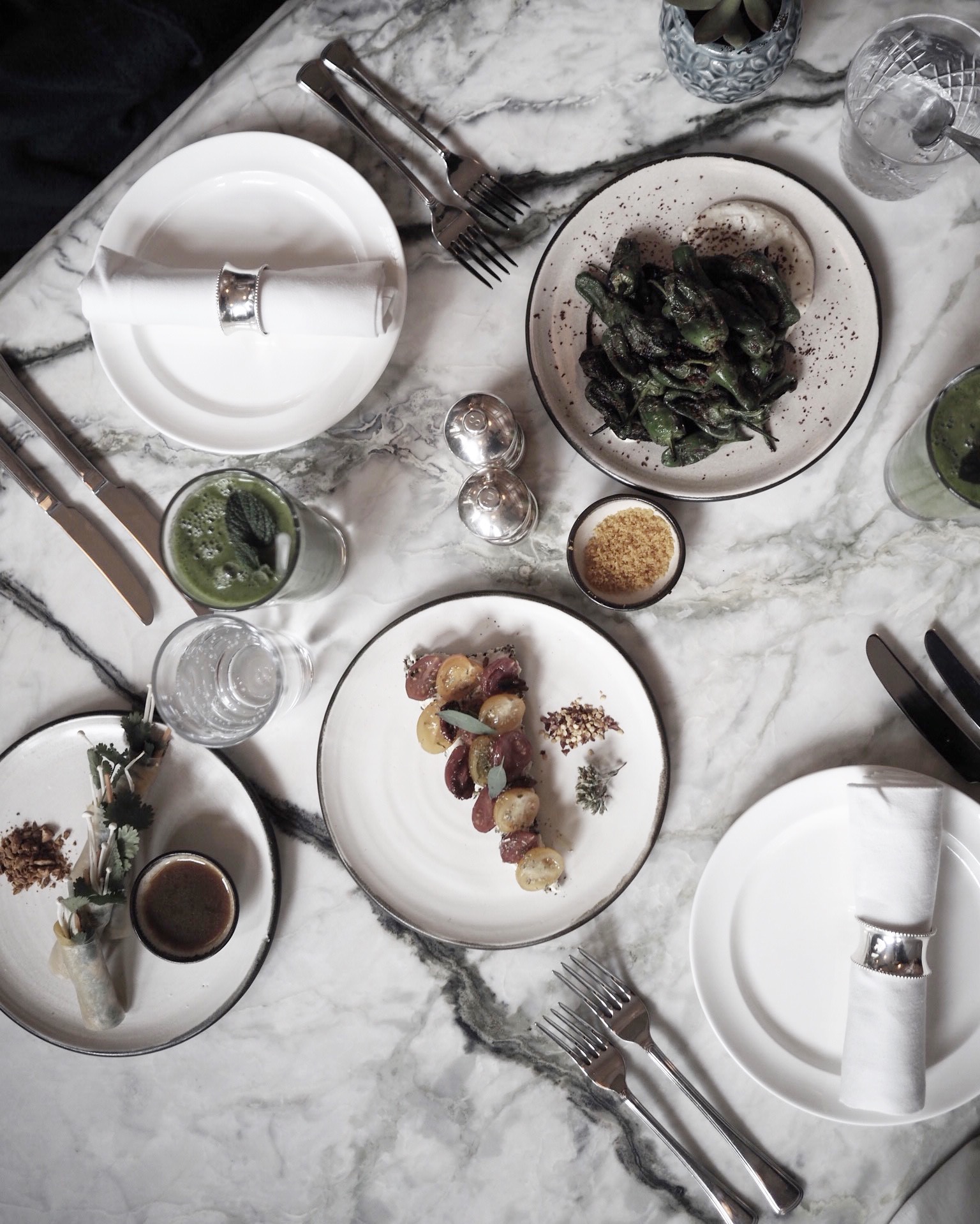 Plates are for sharing and arrive generously portioned. The Vegetarian (Husband) is well and truly in his element here as would any vegan or health conscious person be.  The menu is full of flavoursome, filling and unique dishes. This really is a menu to be excited about, having visited LA earlier this year it was so apparent how far behind London's plant based efforts are but this definitely feels like more than a step in the right direction. It's spot on! Drawing from a plethora of cuisines the menu is exciting and rich in flavour. We start with raw vegetable summer style rolls, packed full of herbs, raw mushroom, with a generous sweet and spicy dipping sauce. Courgette and almond flatbread topped with cherry tomatoes, basil and oregano which offered a unique twist. The flatbread isn't made of bread but dehydrated courgettes, a rather brilliant alternative to your every day stodge.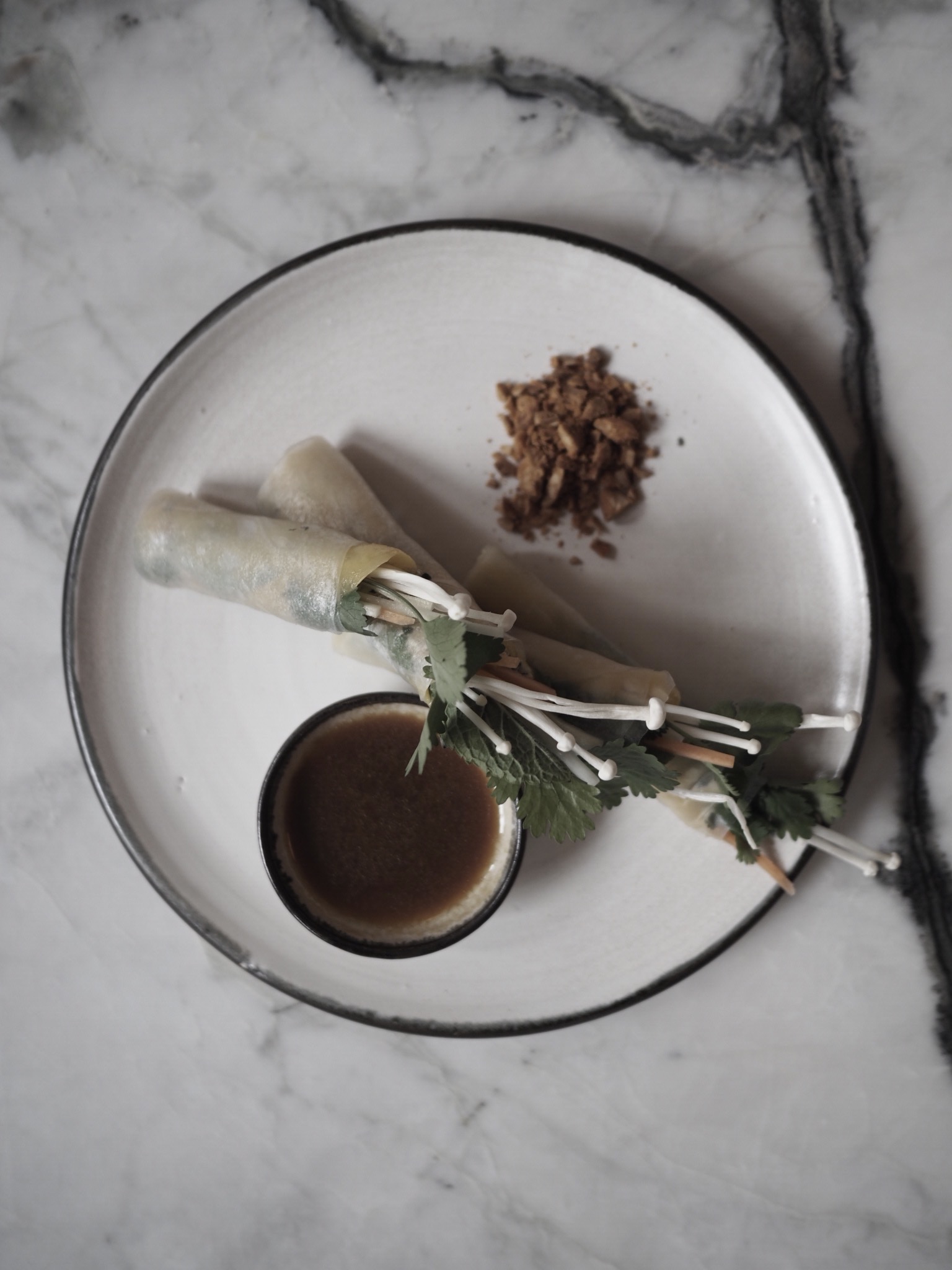 There's a raw and cured section which has me interested from the get go, cured ham, melon, bee pollen, chilli, ceviche, octopus, shrimp, lime, coriander, plantain chips are all tempting options. I end up ordering the Ahi tuna poke, avocado, sesame, jalapeño and brown rice in my quest to keep it healthy but fail a little further down the line when I see the sea bream tacos with green papaya and pico de gallo which are incidentally delicious and every bit reminiscent of the many I consumed in sunny California. There's also a whole bass and Cornish beef fillet on the menu.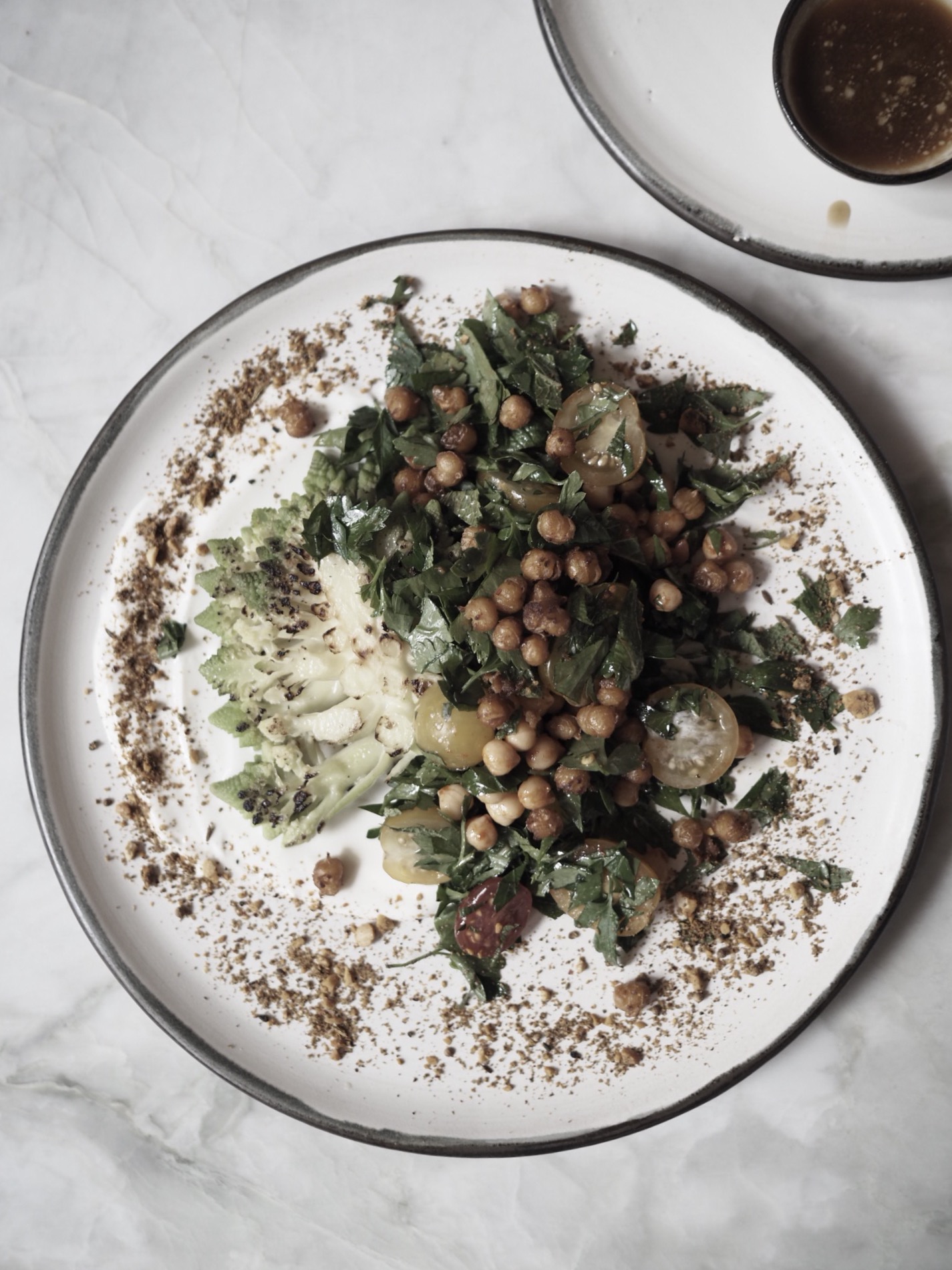 For The Vegetarian, the options are endless and this doesn't happen often! Aside from the egg white omelette, avocado on toast, grain bowl, lemon ricotta pancake and acai bowl there are some interesting options to choose from; curly kale, red pecan nuts, radish, sprouts, ginger and miso or the young coconut, green papaya, raw vegetables, heart of palm, spicy nuts. We try the beetroot tartare, cucumber, champagne vinaigrette, pistachios, almond aioli and what a delicious well-balanced creation it is. The roasted (Chinese) cauliflower steaks with spiced chickpeas, parsley and garlic yoghurt have him more than full.
This is worth a try for anyone in need of some healthy summer inspiration. I'm already rebooking for the husband's birthday and we'll be taking all our vegetarian and vegan friends too. Finally!
The Ned
27 Poultry, London EC2R 8AJ
Follow Anna Barnett on Twitter: @AnnaBarnettCook
Follow Anna Barnett on Instagram:  @AnnaBarnettCooks