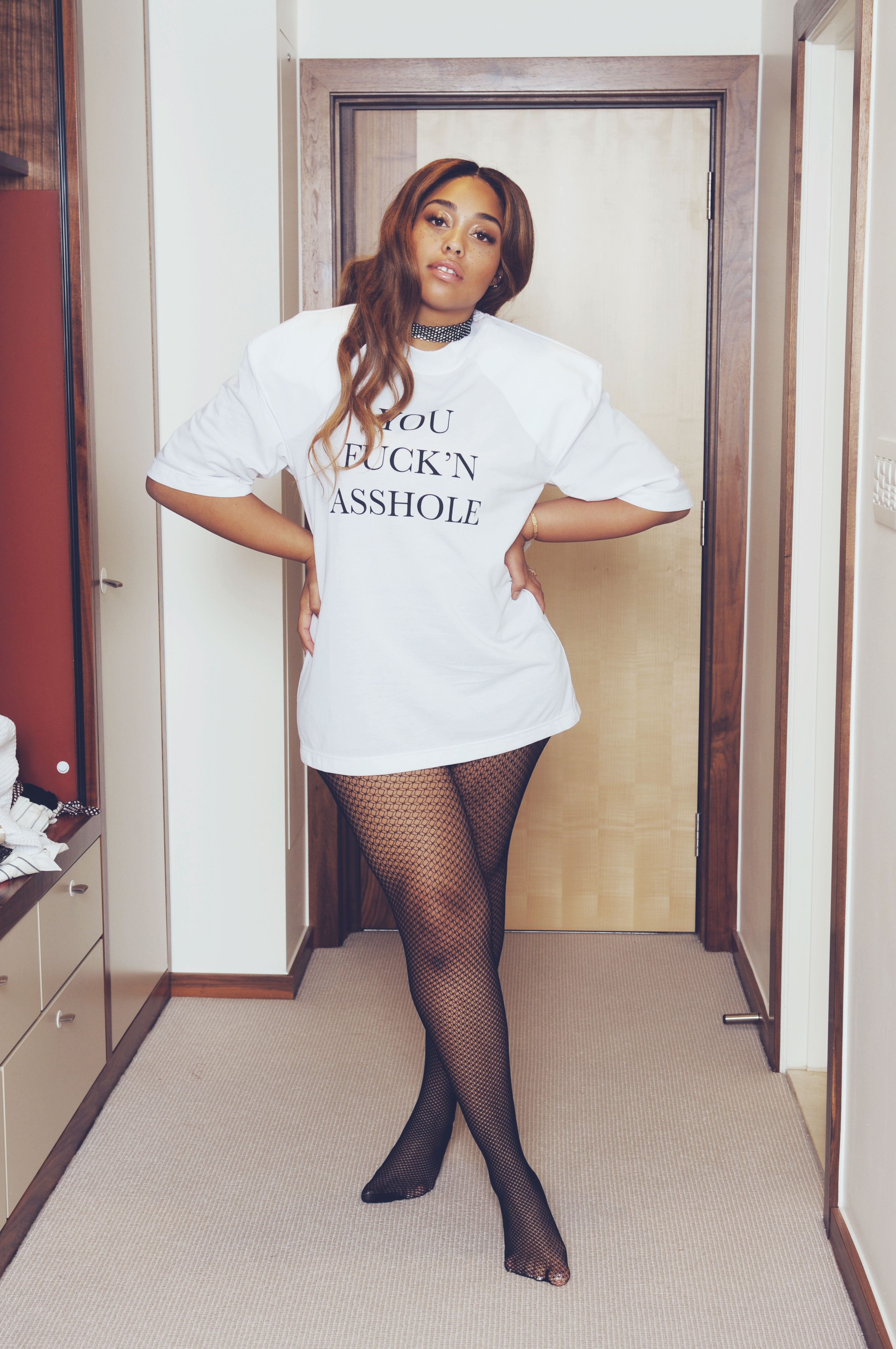 T-Shirt: Vetements  Choker: Topshop  Tights: Wolford
Model, socialite, social media star and best friend of Kylie Jenner, Jordyn Woods is part of the new wave of influencers that are using their digital power not for the benefit of a brand but to promote body-positivity to a new generation.
The piercing ringtone of FaceTime blared through the office as I sat fussing over my appearance while Jordyn answered half-naked as she tried on a dress for her friend Kendall Jenner's 21st birthday party.
She said excitedly: "Sorry, I'm naked… but who cares. It's like I'm FaceTiming one of my best friends. I guess we are friends now, so what do you think of this dress?"
Jordyn Woods is at the forefront of the new wave of plus-sized dominating the fashion industry. With over 2.6 million followers on Instagram alone, including; Drake, Chrissy Teigen and Bella Hadid, Jordyn uses her platform as a way of encouraging young women to embrace their bodies.
She revealed: "Fame is definitely not the goal but has happened organically with what I am doing and the people that I am around, so I'm trying to use it to benefit others, especially young women. I'm not trying to be a cookie cutter girl as we all make mistakes, it's just trial and error, but I want to empower people through my social media."
In her determination to show young women that all bodies are beautiful, Jordyn has become the brand ambassador for Lovesick Clothing – a clothing brand for curvy girls – and she has recently started modelling for the ASOS Curve range. Becoming a household name for brands that recognise the importance of offering a full range of clothing options for different body shapes is a dream come true.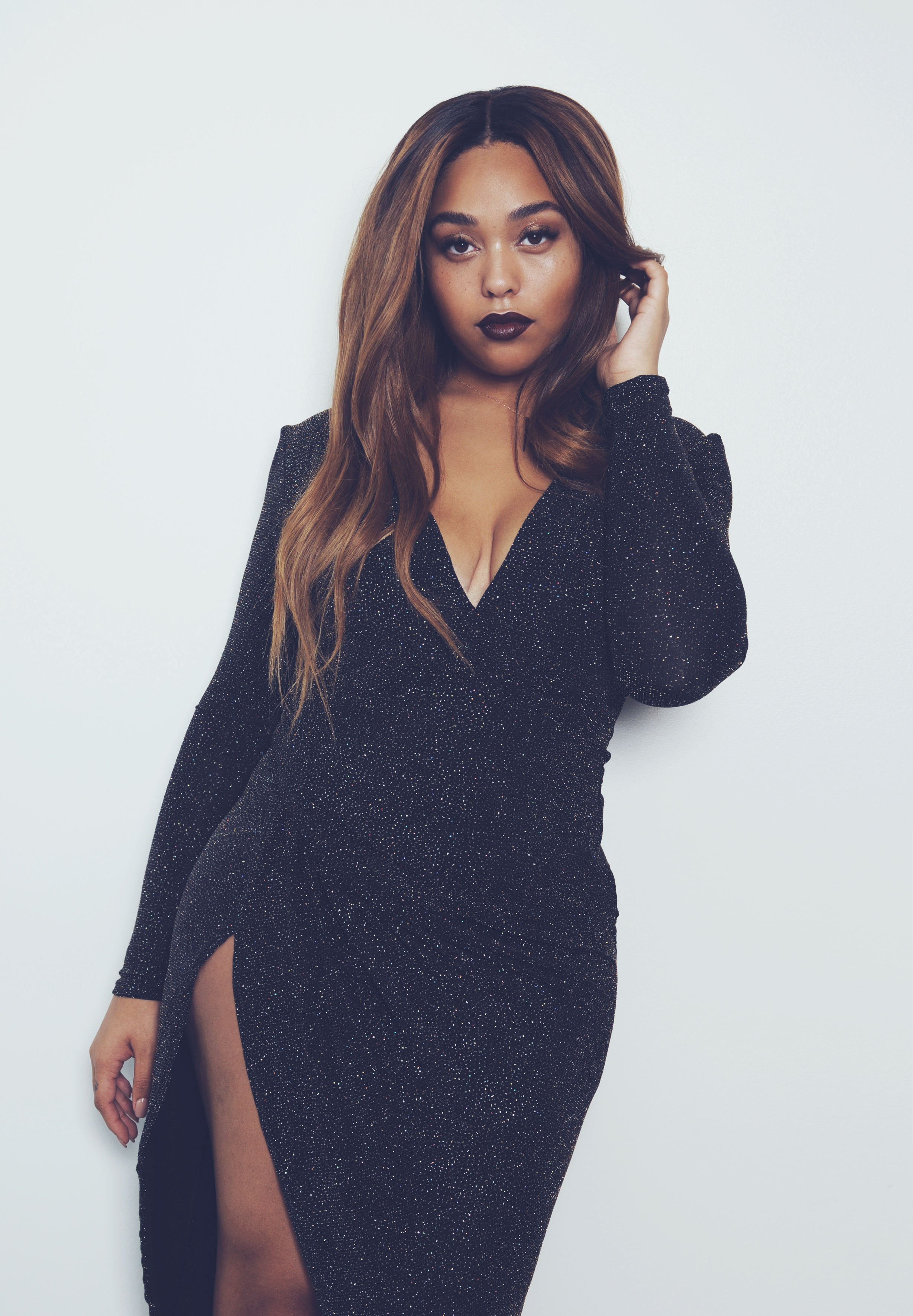 Dress: Forever Unique
Jordyn said: "When I was growing up it was difficult for me to find clothes that were cute, like was available for other girls. For this reason, I think that it's really important for brands to have all size ranges in a collection."
She elaborated: "I think that every girl should feel confident and feel like they have options. Brands should appeal to all girls, especially plus size girls like me, so that they can look as beautiful as they truly are."
Jordyn took her hair down and pulled on a hoodie and sweatpants. Her home is a hub of activity; new mirrors are being fitted by handymen in the background yet Jordyn seems unfazed by the chaos. She even politely helps the handymen whilst conducting the interview. At only 19-years-old, it is clear to see that contrary to some opinions on social media, Jordyn is a down-to-earth-girl with her head securely on her shoulders.
Jordyn confessed that although her hometown of Los Angeles has her heart, she has fallen in love with London. She explained: "There's a fresh energy in London that is so different to the U.S. The first thing people in L.A. ask you is 'what do you do?' They only care about how you can benefit their life; if you can't then, they don't want anything to do with you."
Jordyn revealed what it was like growing up in Tinsel Town, where superficiality seems to spread like a disease.
She confessed: "People in L.A. think that you need to look a certain way, but I always knew that I wasn't going to be able to achieve that and I didn't want to either. Why would you want to look like someone else?"
You do not need a filter to be perfect, but when we scroll through our Instagram feeds, we are assaulted with images of perfect faces, bodies and lives. Is it a surprise that people are aspiring to this impossible ideal?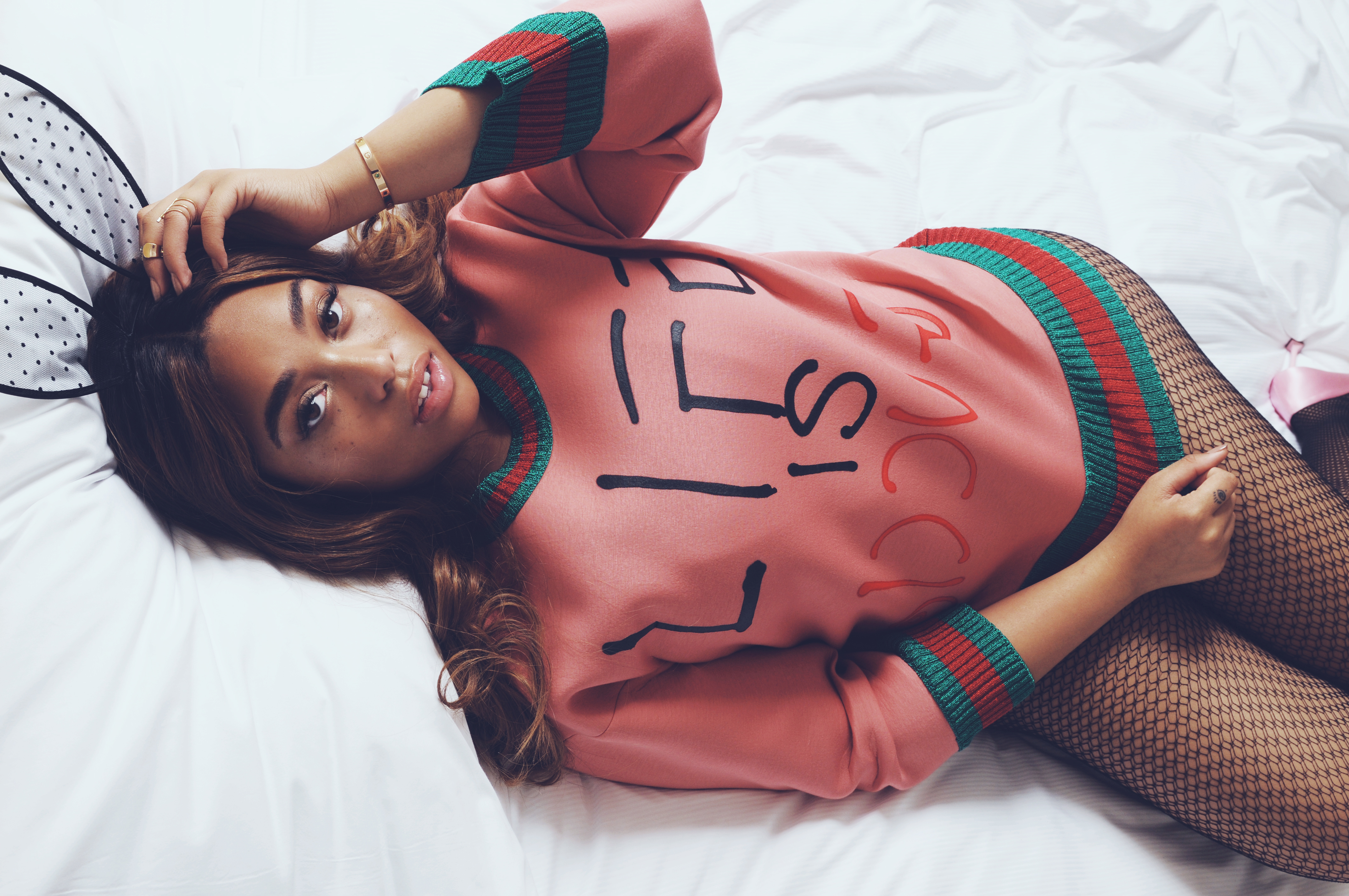 Jumper: Gucci  Tights: Wolford  Rings: Jezebel London
Bracelet: Jordyn's own  Headpiece: Topshop Shoes: Miu Miu
Jordyn advised: "It gets better, I was not always as confident as I am now and the thing that you have to understand is that your individuality is your greatest gift. No one is you and you are given your body for a reason, and you have to own it."
She added: "If you don't love yourself then nobody else will. You just have to focus on being the best that you can be. Love yourself, once you've mastered that, no one can tell you otherwise."
Jordyn made her New York Fashion Week debut, walking alongside curvy supermodel Ashley Graham. Together, they showed fashion's biggest names that beauty comes in all shapes and sizes.
She lay back on her couch and laughed: "I had so many visions of myself falling on the runway that I had convinced myself that I had. I was proud of myself, but I continuously strive to be better, so I watched my first show over and over to pick out parts that I could improve on for the next one."
Jordyn confessed that her friends have contributed to her confidence with their unrelenting support. The criticism that Jordyn and her well-known squad come under is unimaginable, so it's heart-warming to know that they support one another through the darker sides of fame.
She said frankly: "People think if you're famous you don't have to worry about anything 'oh you're famous, why are you sad?' or 'oh you're famous, why do you have no makeup on'. Once you're viewed as a public figure you don't have the right to privacy, people can follow you, stalk you, harass you; but because you're a public figure, it's not illegal."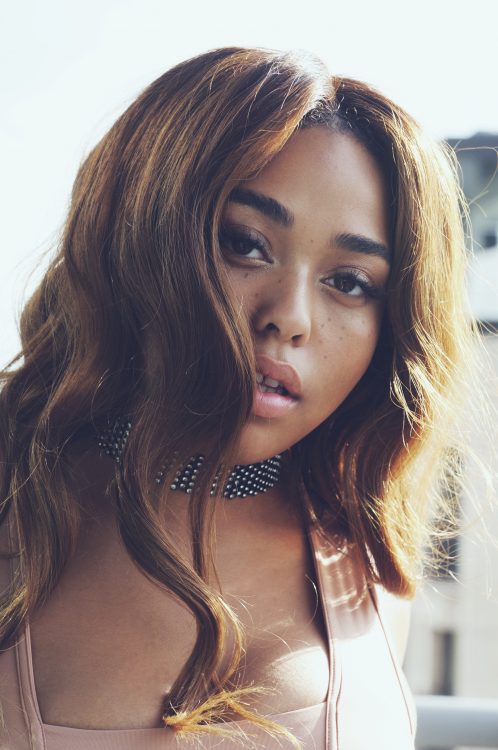 Bodysuit: Forever Unique  Choker: Topshop
Jordyn is part of the first generation that doesn't know what life was like before the Internet. Perhaps this has given her a better insight into how to handle her online presence and the barrage of negativity that floods cyberspace.
She confessed: "Social media makes trying to be body-positive even harder. People try to focus on the negative because it's so easy to grasp onto. It has more of a following."
She added: "As humans, we want what we don't have, but we have to learn to love the things that we do have in life. Waking up healthy and happy and being able to live this beautiful life day by day is a wonderful gift, we just have to be open to accepting it."
Jordyn indubitably embraces life by grasping every opportunity that comes her way as she strives to build her empire by the time she turns 25. It's inspiring to see that a young woman, continuously in the limelight is firmly rooted in her beliefs and uses her position to ensure that those who lack confidence can see the invigorating results of stepping outside your comfort zone and personifying confidence.
Feeling utterly moved and even proud of this L.A. sweetheart who so genuinely wants to instil self-love in her generation, I asked Jordyn for some words of wisdom. To my complete shock and admiration, she unknowingly quoted my mother: "If you put out good intentions and speak things into existence, it really works."
Instagram: @jordynwoods
Photographer
Hanna Hillier
Stylist
Ozzy Shah
Stylist Assistant
Gabriel Love
Hair
Danny Defreitas using Oribe, Cloud Nine and Kent Brushes
Make Up
Megumi Matsuna using Tom Ford
Assistant
Kristie Smith
Talent
Jordyn Woods at Wilhelmina Curve
Location
The Penthouse, COMO Metropolitan London, 19 Old Park Ln, Mayfair, London W1K 1LB, UK