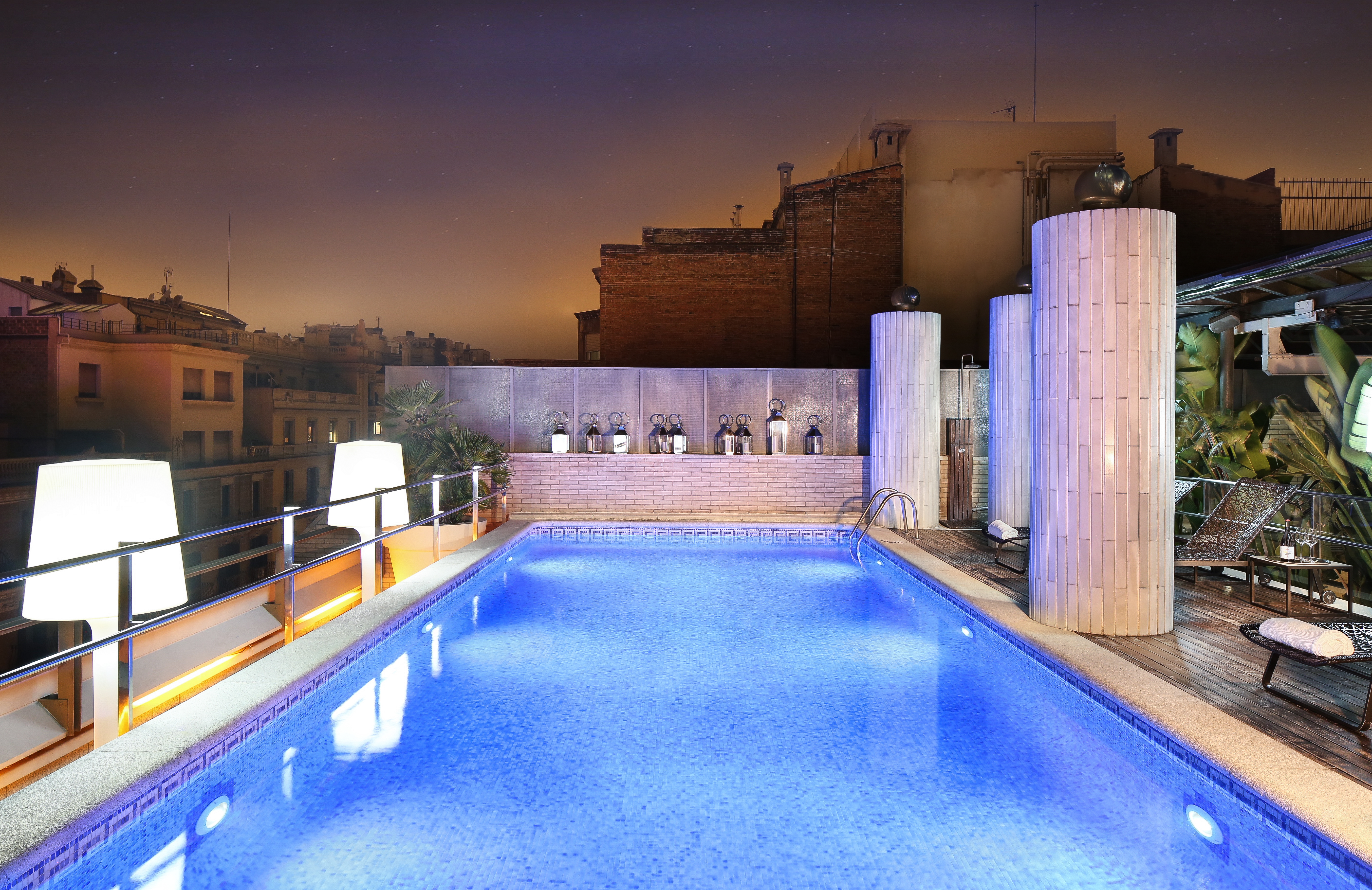 La Terraza del Claris has been somewhat of an institution throughout its impressively lengthy reign as one of Barcelona's most sought after dining destinations. Set atop the impressive 'Hotel Claris' in the ultra luxurious end of town, this restaurant certainly doesn't pull any punches. Hotel Claris stands imposingly at 150 Carrer de Pau Claris, an unmissable and iconic city landmark which demands attention and respect. Make your way across the confidently decorated hotel lobby with its sand coloured, highly polished marble flooring and Greco-Roman style columns and up to the hotel's rooftop. As the lift doors open and you step out onto the chestnut stained wooden decking the atmosphere changes completely. Your entry through the hotel lobby may have felt imposing, almost austere, but the terrace is sun drenched and the sound that the pool water makes as it laps softly against the jay's egg blue tiles is instantly soothing.
The restaurant, La Terraza del Claris, is just besides the pool, this adds a further layer to the blissfully relaxed atmosphere as from your table you can see through to the rooftop bar where occasionally a guest who is nearly comatose with relaxation will wander in to collect a couple of aperol spritzes, or a bottle of white wine nestled in an ice filled cooler and then amble back towards the sun loungers clustered around the pool like silent, inanimate sun worshipers.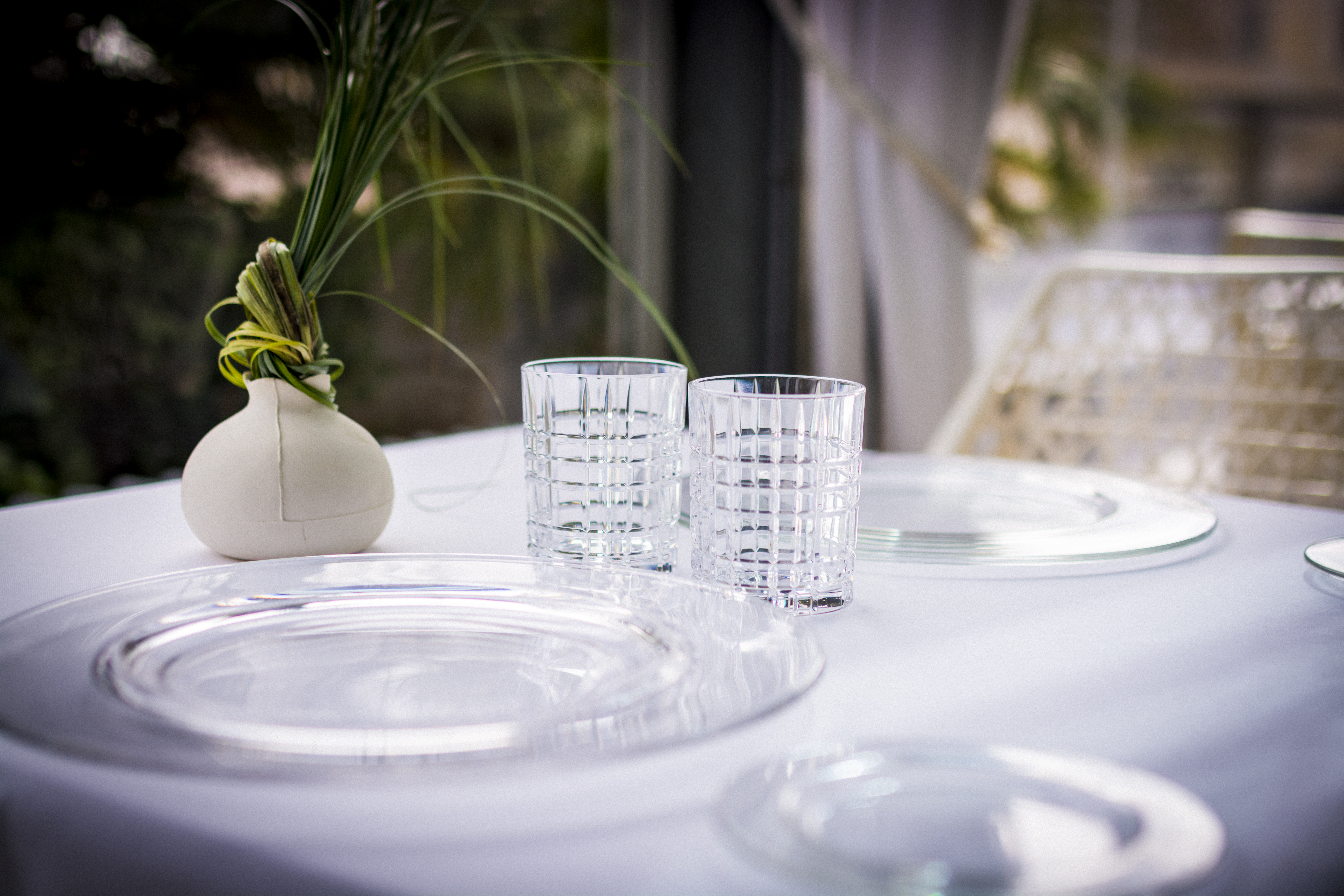 The decoration of La Terraza del Claris is just phenomenal and the restaurant boasts a glorious panoramic view out over Barcelona's ornate horizon with our old friend, La Sagrada Familia, beckoning you in the distance. The dining tables, covered in flawless, crisp white linen are shielded from the persistent spanish midday sun by loose hung white canvas awnings above. During the night these can be drawn back to reveal a breath-taking star studded sky. Upon arrival at your table your cream coloured wicker chair is pulled back from the table for you across emerald blue charmingly worn rugs which are strewn across the terrace floor. The back walls furthest in from the ledge of the terrace are a living tropical forest. The whole effect is like the sexed up love child of a high end moroccan shisha den and a crisp white Spanish beach front lounge, and it just works.
The service at La Terraza del Claris is every bit as slick as you'd expect, but the real magic is that it never trespasses into a formulaic, one-size-fits-all feeling. It represents the perfect hybrid of friendly attentiveness and highly experienced efficiency.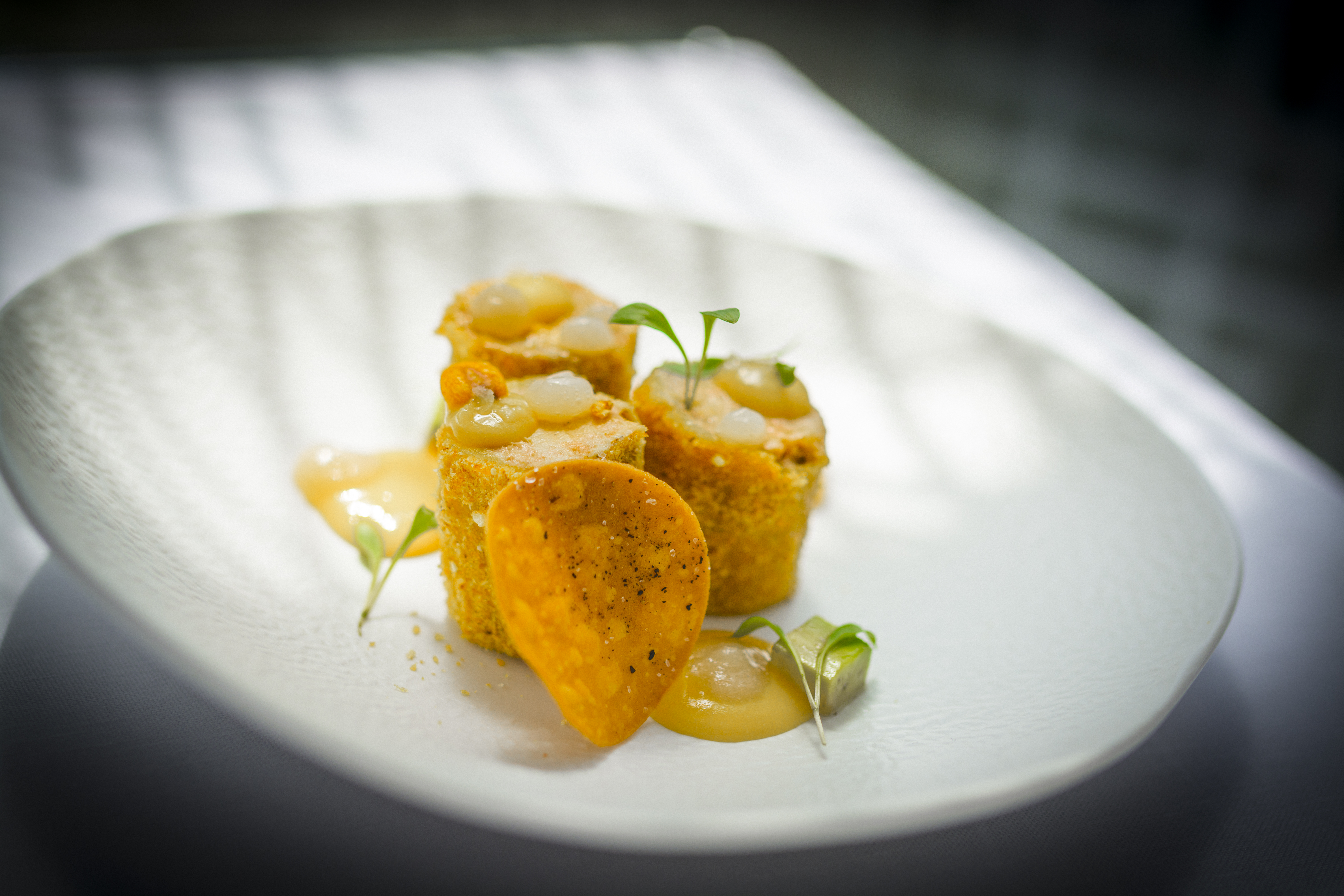 The drinks run liberally at the restaurant and the bar is well known for mixing a wide range of superbly morish and, sometimes, fairly lethal cocktails. You can even dip your metaphorical toes in the bar's own concoction 'The Claris Spritz' which uses a giddy combination of Martini Ambrato, codorniu rosé and soda. I was not a hard sell when it came to choosing to dabble in a Terraza del Claris tasting menu, in fact I fixed my waiter with an eager and determined stare and announced 'venga', a demotic term which roughly translates as 'bring it'. The meal which unfolded from that moment on was breathtakingly good and left me near speechless afterwards, of course an element of this may also be attributed to reckless indulgence some spectacular wines chosen for me by the restaurant's sommelier as part of a generous pairing.
The real standouts from this ten course extravaganza were hard to choose, purely because the standard was so spectacularly high. Despite the feeling that my knees were a hair's breadth from giving way beneath me I managed to heave myself to the edge of the kitchen to hazily announce that I was blown away by the veritable banquet that I had just inhaled. Particularly unforgettable moments were the whole crispy pig's ear served 'brava style', the black Andalusian baby squid and the exquisitely rich and creamy risotto rice with a giant king prawn from off the coast of Palamós.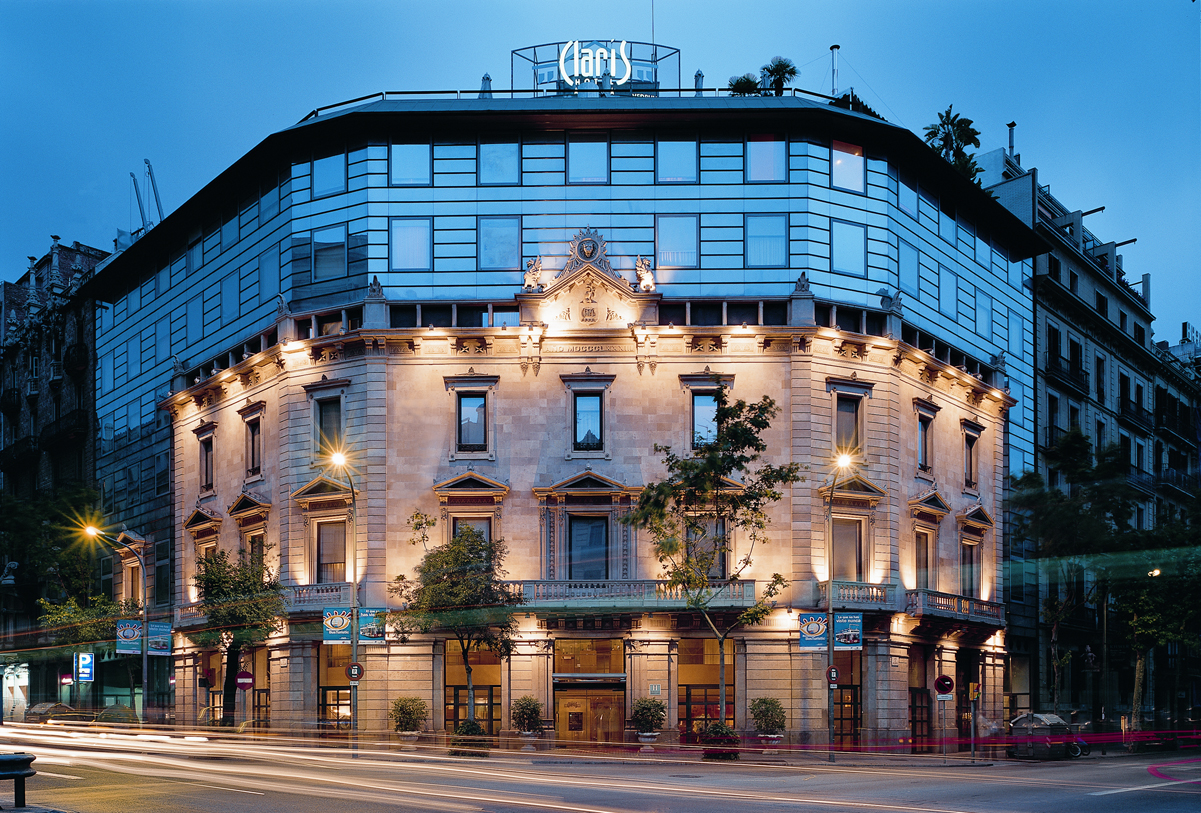 La Terraza del Claris is most certainly a culinary force to be reckoned with, I would highly recommend some self affirmation in the mirror before mountaineering to such giddy heights of gastronomic excellence. It's mediterranean themed offering is really very special indeed.
La Terraza del Claris
Carrer de Pau Claris, 150, 08009 Barcelona, Spain