Oscar Wilde once wrote "I can resist everything except temptation", and it is unlikely he would be able to put up much of a fight if he was dining at Laurent at Hotel Café Royal.
Just above the romantically opulent Oscar Wilde Lounge – the very room where Wilde met his partner and fell in love – is the newly renovated grill and sushi bar which internationally renowned chef Laurent Tourondel has recently taken full-time residency in. This marks the start of a self-proclaimed 'new culinary era' for Hotel Café Royal.
The building itself is steeped in history. Anybody who's anybody has dined here over the last 150 years. If walls could talk, those at 68 Regent Street would be telling the stories of Elizabeth Taylor, Winston Churchill, Princess Diana and Virginia Woolf, to name just a few.
I entered via the Air Street entrance, through a grand lobby featuring a magnificent chandelier made from Murano glass. The double-height piece takes centre stage in one of the restaurant's two dining areas, situated on the first floor. Re-designed by contemporary Italian architect and designer Piero Lissoni, the Grade II listed space is masculine and sophisticated with wooden floors and walls, and warm shades of bronze, browns and greys; contemporary yet classic.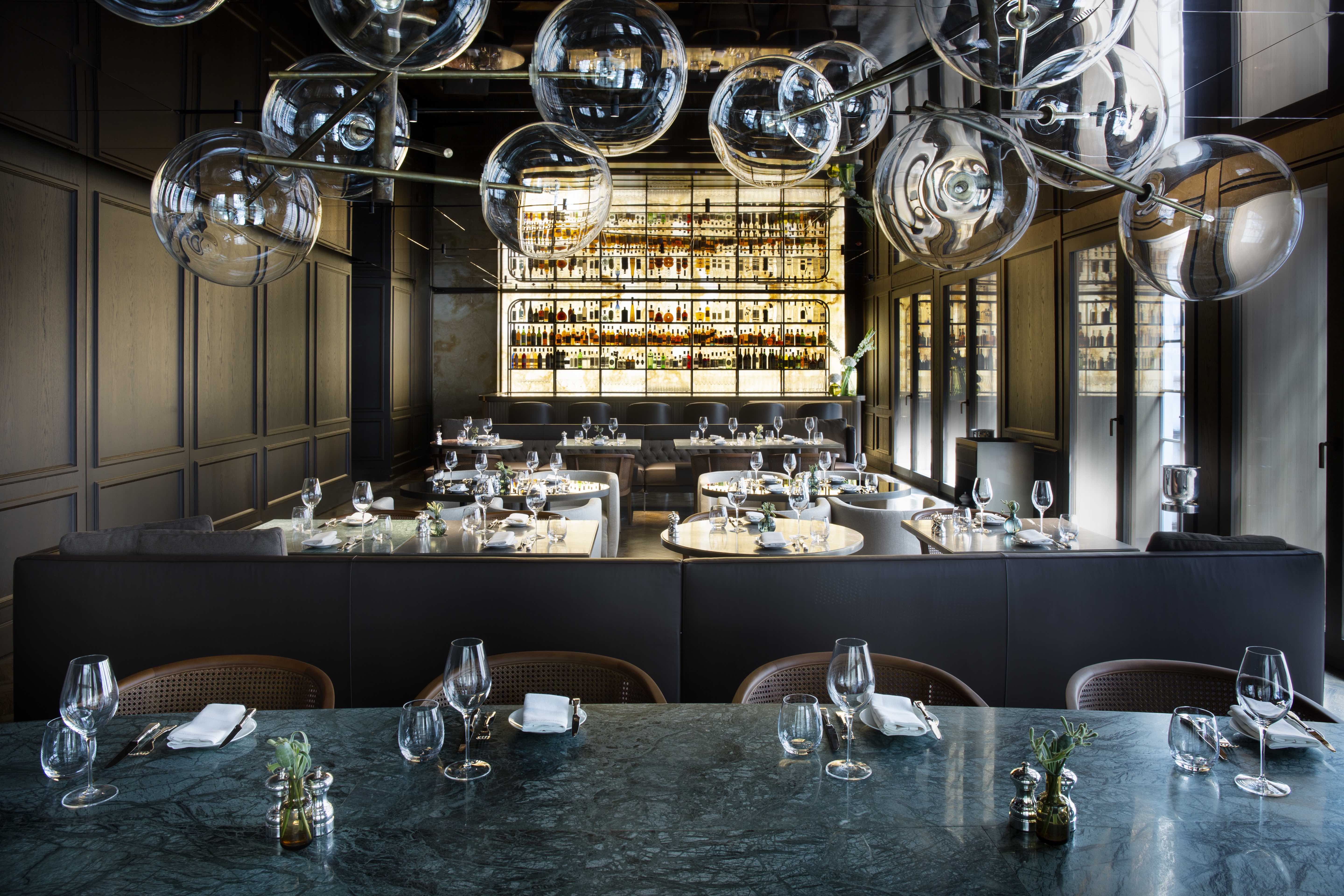 My guest and I were greeted by Shahid, our wonderful host for the evening, and shown to our seats in the Regent Room, overlooking the bustle of Regent Street. My gaze was immediately drawn to the bar at one end. Lit from behind, the marble-effect wall gives off a soft amber glow, lighting up dozens of spirit bottles sitting on the open shelves. The atmosphere was relaxed but an excited buzz filled the air.
My first temptation presented itself in the shape of a tall cocktail glass filled with inviting pink liquid, a Russian Spring Punch. The Vodka, Crème de cassis, raspberry liqueur, fresh berries and Champagne mix is both sweet and refreshing. My guest opted for a Pear and Hibiscus Bellini, with pear puree, Campari, hibiscus essence and prosecco, which arrived in a glass beautifully decorated with dried hibiscus flower powder.
The menu is simple and unfussy; a wonderful fusion of culinary delights from around the world. The steak menu alone features cuts of meat from Japan, the USA, Aberdeen and Somerset.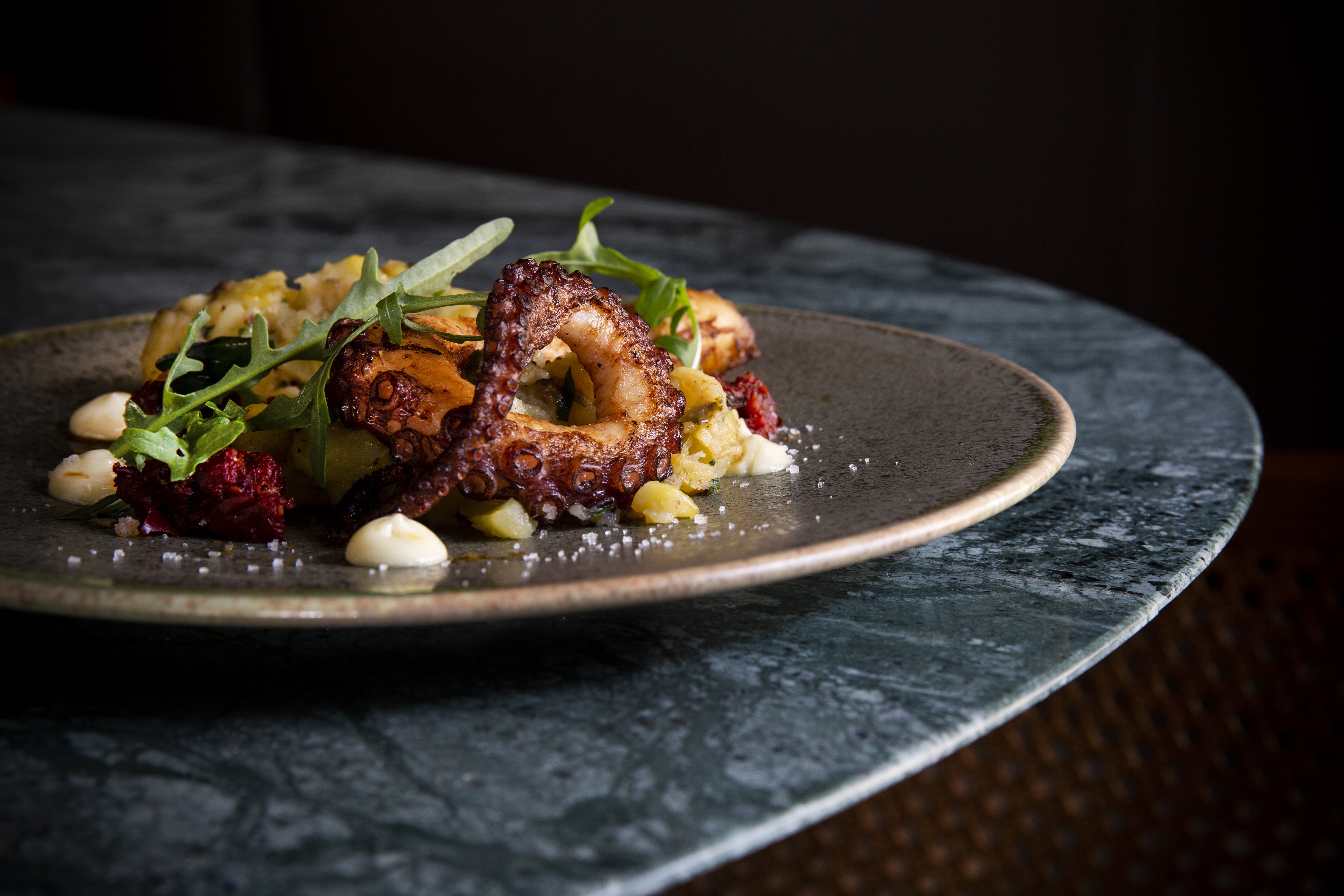 To start we were served a plate of Popovers. These are a favourite in Chef Tourondel's New York restaurants, and I can see why. Fluffy on the inside and crispy outside, like a ginormous Yorkshire pudding, the Popovers are made with mouthwatering Gouda, Cheddar and black pepper and served with salted butter. I am in food heaven.
Next, plates of delectable sushi arrived. On Shahid's recommendation, we ordered Crispy Wagyu Beef Nigiri; tender, pink beef sitting upon crispy rice and served with shavings of truffle, aioli, dashi, grated daikon and local wasabi. The flavours are complex and beautiful; each bite an explosion of different tastes and textures. We also sampled the vegetarian Skinny Rolls with yam, cucumber and avocado encased in rice and wrapped in shiso, accompanied with a delicious homemade hoisin sauce, and a generous portion of Spicy Tuna on puffed rice.
Our salad appetisers arrived, mine a multicoloured Heritage Tomato Salad with green beans, creamy Stilton, sweet and crispy Cipollini onion rings and a ginger vinaigrette. And for my guest, a Grilled Peach Salad with shaved fennel, Montgomery cheese, grilled peach and a champagne and mustard seed dressing.
Next for the main show. I selected the USA Creek Stone Farm fillet steak (220gr) and a Bearnaise sauce with a secret Café Royal twist. It is quite possibly the best steak I have ever had; cooked to perfection, you could cut the succulent pink beef with a butter knife. Sides of spinach, crispy salt and vinegar chips and creamy Yukon gold mashed potato complemented the melt-in-your-mouth meat.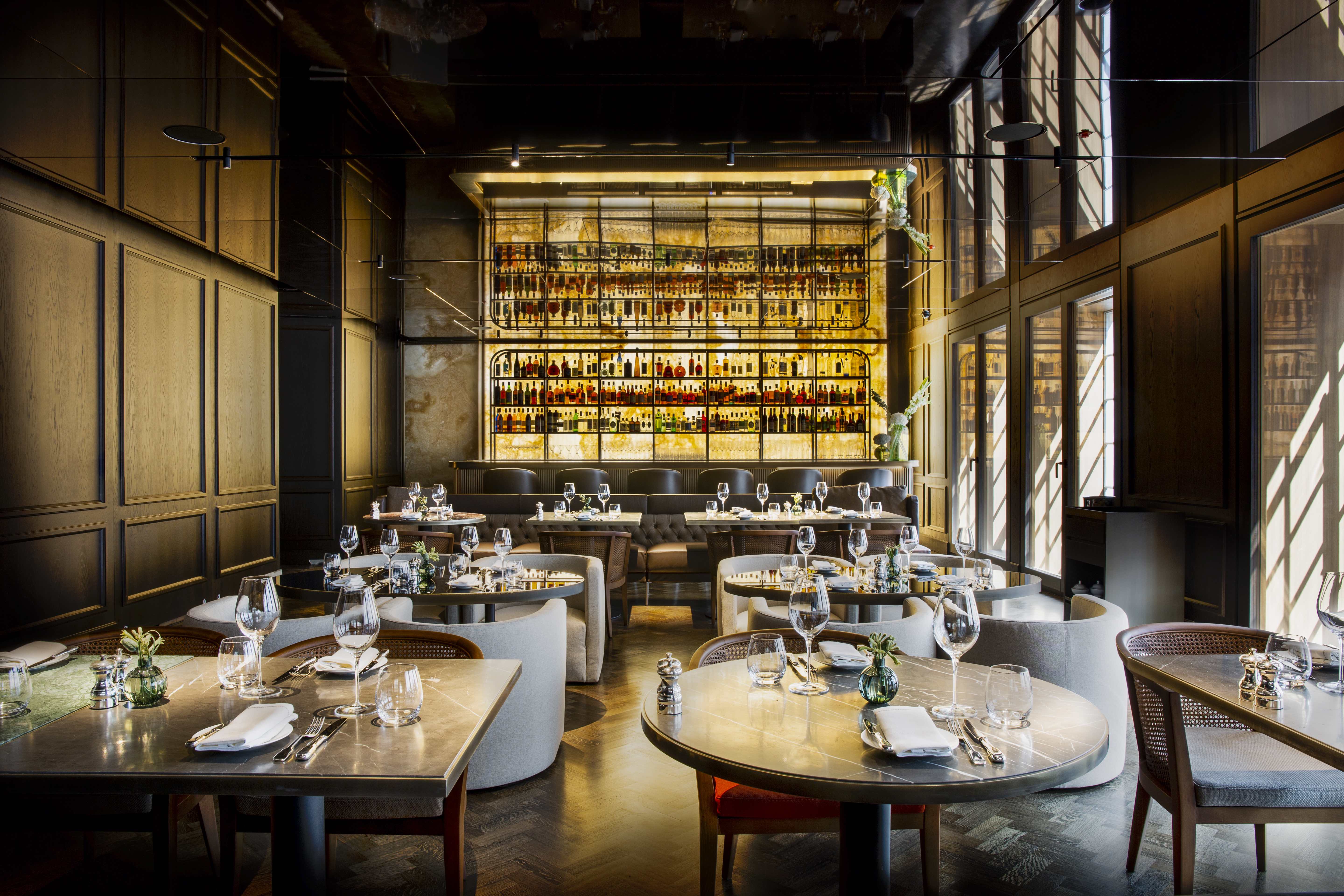 We were extremely content by the time the dessert menu was presented to us, but it was too tempting to resist. We chose a light, fluffy coconut meringue with orange butter, wild strawberries and passion fruit drizzle and Laurent's innovative take on the humble fruit salad; a colourful plate of frozen orange, grapefruit and Campari. Both offerings are refreshing and the perfect end to the evening.
I wholeheartedly recommend that any food enthusiast pays Laurent at Hotel Café Royal a visit. The wonderfully attentive staff, impressive cocktail list and exquisitely cooked sushi and meats prove Wilde's theory correct, that temptation really is irresistible.
Laurent at Café Royal
68 Regent St, Soho, London W1B 4DY