From embracing our pandemic roots to finally embracing our hair colourists once again, it is no surprise the impact lockdown locks has had on the haircare industry and the products we are so desperately stocking up on. Whilst we waited patiently for our luscious babylights and money pieces back, taking matters into our own hands became the norm for the many who wanted to keep their hair in check when no one else could. With a considerable shift in our hands-on approach to hair care, brands like L'Oréal Paris were gearing up to answer our haircare prayers. Gone are the days of lack-lustre locks now that the Elvive Colour Protect Wonder Water is available to save the day.
Making waves already globally, this colour treatment is now available in the UK and promises to refresh your salon colour from home. With 60 percent of UK women colouring their hair, research found that their first priority was a need for shine and vitality. L'Oréal Paris Elvive Colour Protect Wonder Water has been formulated specifically to revive and replenish dull, fading coloured hair.
The L'Oréal Paris Elvive Colour Protect Wonder Water has hit the UK haircare market with resounding success. As part of the Colour Protect collection, a haircare range so loved and trusted that it's the world's number one colour care routine, it works in the same way as the original formula, utilising the power of lamellar technology and working in just eight seconds flat. A new development on the original formula has enabled the product to be perfectly pH-optimised for coloured hair, promising to make it five times shinier, and nine times more hydrated and nourished and 97 percent more reinforced.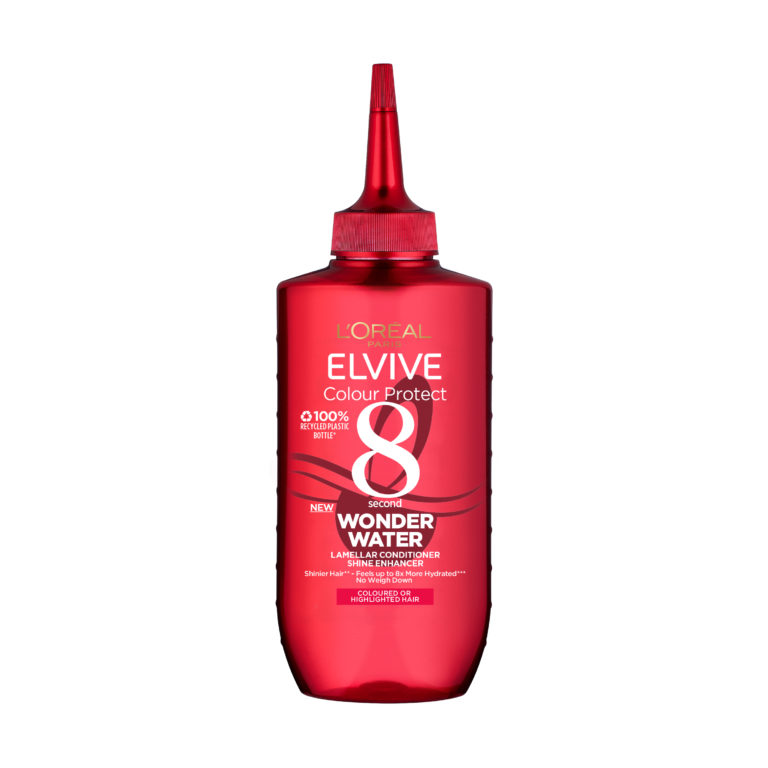 The breakthrough pH perfecting ingredient targets only the damaged areas of your hair without over-coating or over-treating the hair that is already healthy. It's lamellar technology is a liquid hair treatment that looks and feels like water. On contact with wet hair, it transforms into a light, frothy texture that can easily be massaged in. Made up of a blend of super lightweight molecules – around 10 times smaller than the ones found in traditional conditioner and hair masks – which are activated when they come into contact with water, and then work to form an ultra-fine topcoat on the surface of hair. Elvive Colour Protect Wonder Water works for all hair types, colours and textures conditioning the hair without weighing it down.
It works in three steps: first it transforms the hair cuticle by 100 percent, resurfacing and smoothing the hair fibres. It then seals in colour for intense vibrancy, before finally infusing hydration and care, similar to that of a salon treatment. The result? Coloured hair that stays looking and feeling intensely nourished and more manageable. Use it alone or in addition to your conditioning treatment, for salon quality hair at home.
You can purchase the Wonder Water here is £4.99.