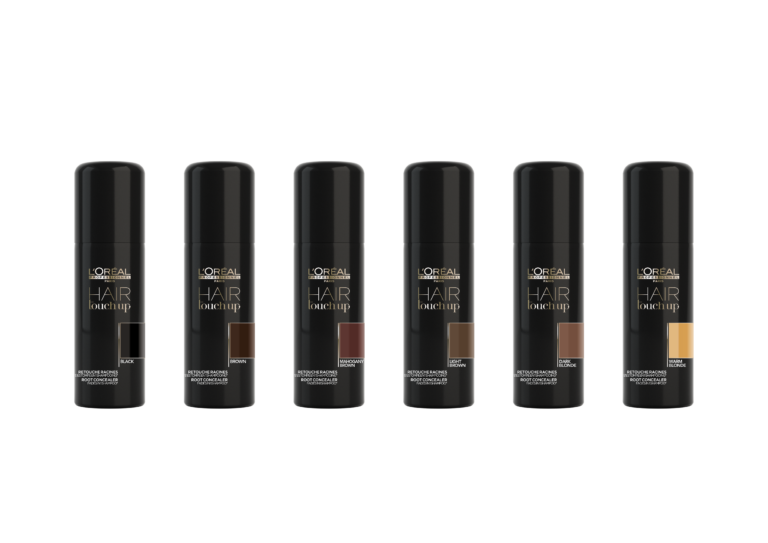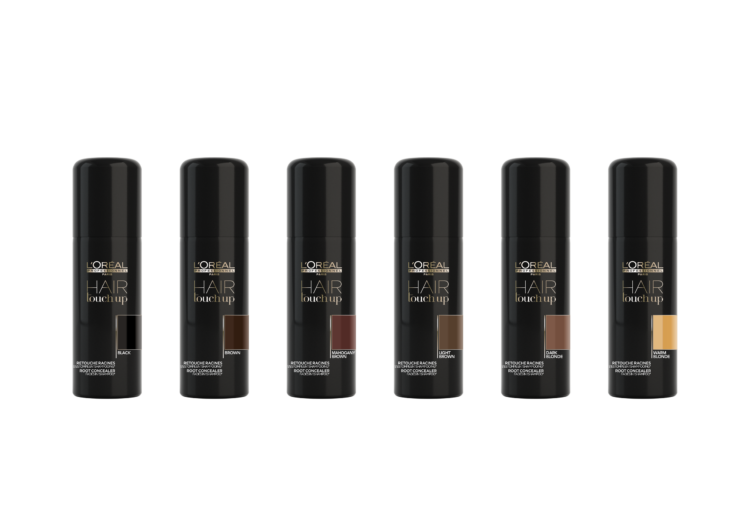 Revive your hair colour with L'Oréal Professionnel Hair touch up. This coloured spray is designed to blend away the appearance of grey hairs and conceal roots, giving hair the fresh breath of life it deserves.
The arrival of products like these means bleach and box dye battles are no longer a necessary part of 2021, as there is the much easier solution of concealing roots until salons reopen. This means more time can be spent on more essential activities such as relaxing. L'Oréal Professionnel hair touch up has a fine spray nozzle making it easy to apply to the desired areas and is available in 6 shades.
The shades available range from black and move across the brown spectrum of colour from a warm toned brown called Mahogany Brown to the much cooler toned Light Brown. The range also delves lightly into 2 blonde shades with Dark Blonde and Warm Blonde. Whilst the colour range could potentially offer more blonde options perhaps a cool blonde shade, the warm and cool shades that are available is a perfect example of the attention to detail that is an important part of how brand's like L'Oreal Professionnel maintain brand loyalty.
To answer some questions about using the product, Adam Reed, UK Editorial Ambassador for L'Oréal Professionnel was happy to help.
Is L'Oréal Professionnel Hair Touch Up suitable for use alongside dry shampoo?
"Of course, it is totally fine to use L'Oréal Professionnel Hair Touch Up spray on top of dry shampoo or other styling products, the formula is designed to easily grip so you shouldn't have any issues applying with other products at all! If you are looking for a great dry shampoo, I cannot recommend L'Oréal Professionnel Morning After Dust enough, it freshens up hair in an instant while adding a little texture and edge too."
Is this product suitable for use on all hair types?
"Absolutely, L'Oréal Professionnel Hair Touch Up Spray is suitable for all hair types and can be built up depending on the hair type and your desired coverage. I also love that you can use a combination of shades to find the perfect match for you, the product can be super bespoke and a perfect solution while salons are closed."
The shades are crafted with make up pigments, specifically formulated for an effortless blend into the hair. It sits lightly and adds colour without challenging the hairs natural texture. This makes it a simple and straightforward alternative to tackling roots at home, especially whilst waiting for appointments with hairdressers and colourists, as trusting the professionals with colour is the safest way to ensure you achieve your desired look.
The spray works immediately, perfect to add vibrancy to hair colour for a pre-zoom confidence boost.