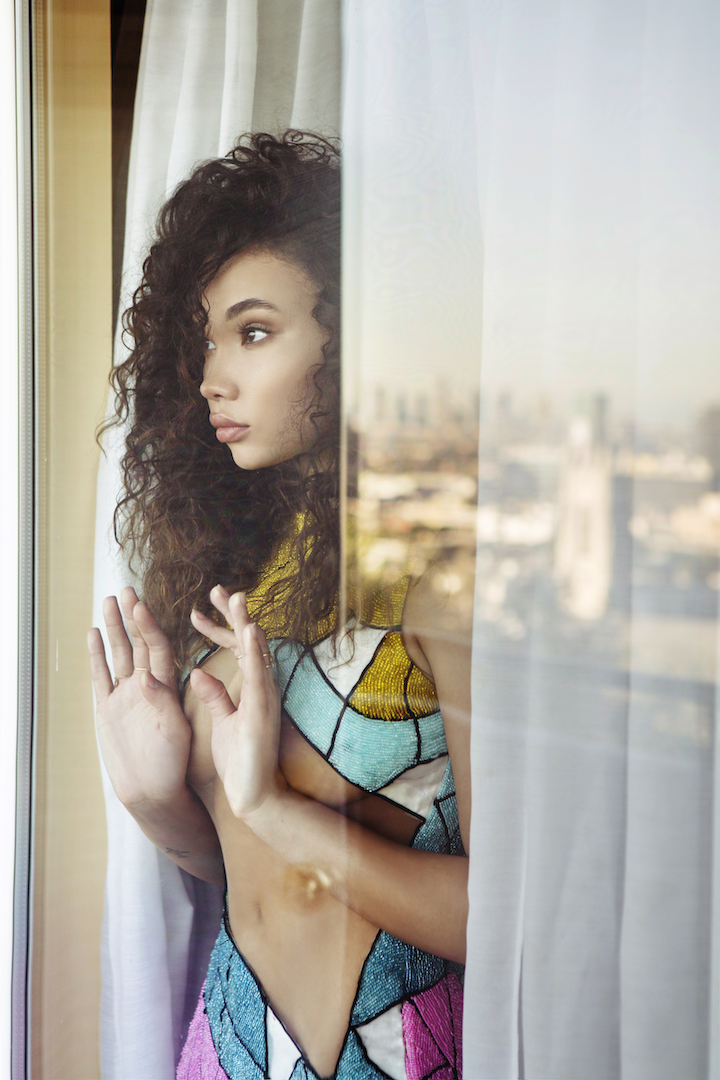 Jumpsuit: Dodo Dez     Rings: Amarilo
This year is set to be Ashley Moore's biggest yet, with her face on billboards around the world and a Hollywood movie produced by comedy legend Judd Apatow due to be released. She has a following of 800,000 online, including none other than Justin Bieber and Drake that is growing stratospherically. This is just the beginning for Ashley Moore.
It is just after midnight and the roads of Los Angeles are mercilessly empty. I stop at the traffic lights and I am drawn to a mischievous brunette beauty. Ashley Moore is larger than life, her 50 ft. face illuminated on the Target campaign emblazoned on the side of a building overlooking the deserted streets below.
In real-life 22-year-old Ashley is even more magnetic. We meet on a sunny afternoon in a coffee shop in West Hollywood. She was dressed in a black faded The Who t-shirt under a black vintage leather jacket. A pair of mirrored aviator sunglasses were embedded in her beautiful mane. She was engrossed in her phone, completely unaware of the dozens of eyes that were stealing glances at her, including my own.
Ashley is the kind of girl that attracts attention without even trying. Her exotic looks have led to her being featured on billboards around the world but none of them do her justice. Her beauty in real-life is delicate and devastating. In person, she looks airbrushed, her skin is almost porcelain and flawless. Her hair is her signature feature, a mass of dark curls that frame her doll-like face.
Top: Whitney Eve     Shorts: Finders Keepers
It's hard to imagine that Ashley ever felt ashamed of her incredible hair, which has led to her fronting multiple campaigns for international haircare brand Redken.
She tucked a loose curl behind her ear, then said: "There were times when I was in the 6th grade, I felt uncomfortable with it because it was different. I used to straighten it all the time or tie it back in a ponytail."
She shrugged her shoulders, then added: "In High-school I had had enough. I was sick of hiding who I really was, why should I?"
Ashley sipped her tea slowly, and we locked eyes. She said: "My ethnicity has always been an issue in my hometown of North Carolina. When I was in school I struggled because I was too white for the black girls and too black for the white girls."
Ashley sighed deeply as she ran her finger around the rim of her cup. Her voice lowered significantly, she said: "Discrimination doesn't go away. People often racially abusing me online, they assume that I am Asian because of my eyes, fair skin and cheekbones."
She smiled sadly, then continued: "It's ridiculous because I'm not even Asian. I'm black, white and Cherokee but they don't care, they only see what they want to see."
She added: "It makes me question what their parents are teaching them. They write 'Go back to China' or 'You're a ting tong'. They say these things with such conviction, it's sad and it is ignorant. They want to ruin someone else's day because they are miserable inside."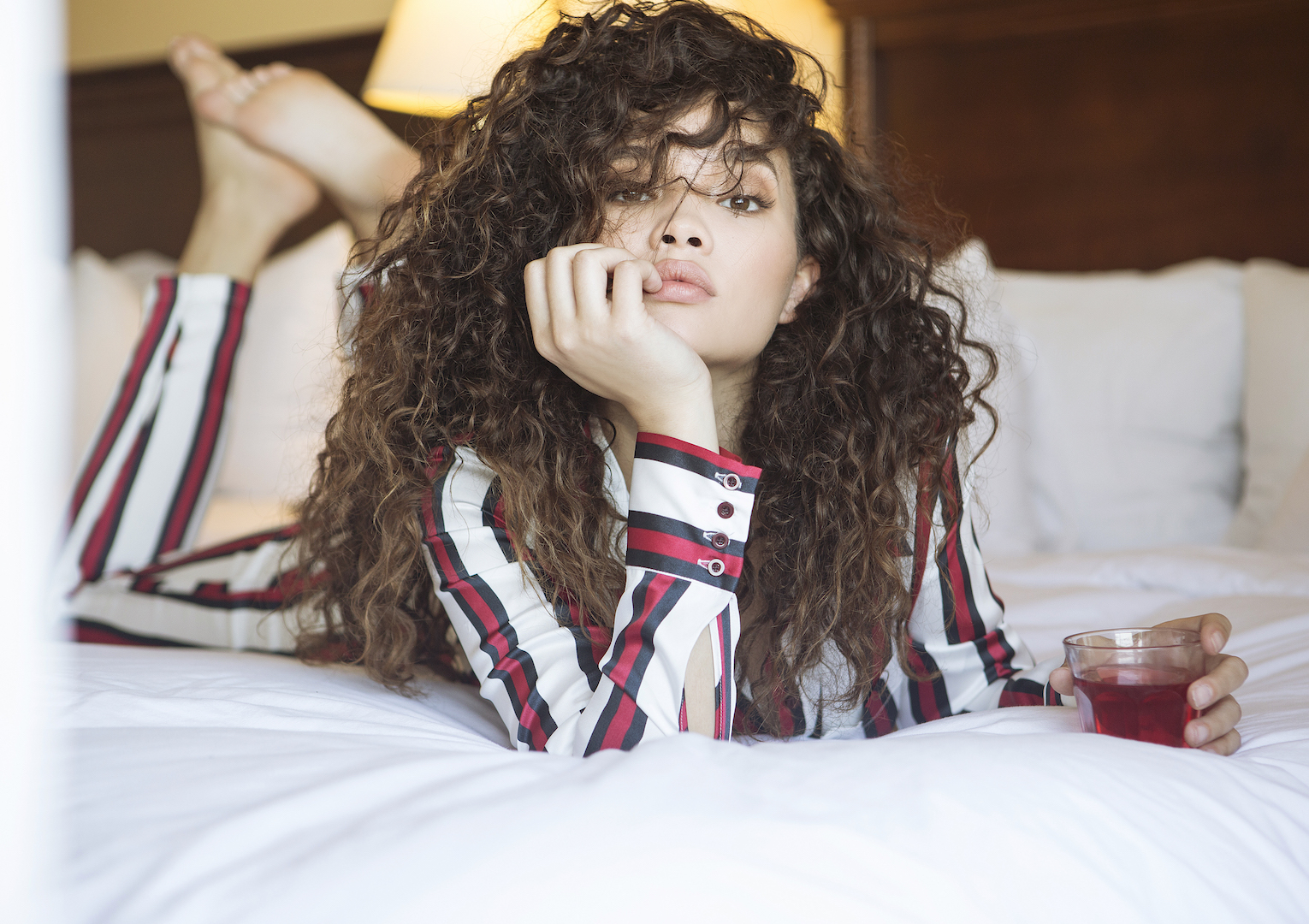 Top and Bottom: Finders Keepers
It was Ashley's pursuit of modelling and acting that drove her to relocate to Los Angeles as soon as she turned 18-years-old. She was snapped up by Nous models and has worked consistently ever since, booking high-profile campaigns, as well as shooting for Guess and GQ with ASAP Rocky.
Ashley recently collaborated with LA-based apparel giant Joyrich on her own collection. Ashley was in prestigious company as Joyrich have only teamed up with the most illustrious brands, such as; Coca-Cola, Disney and Playboy. The collection had a vintage editorial theme and featured her face on an array of sweatshirts and t-shirts.
Acting is a natural transition from modelling but Ashley harmoniously manages successful acting and modelling careers. She played the female lead in Drake's short film for 'Just Hold On We're Going Home', one of the biggest songs of 2015, which has been viewed 100m times on YouTube alone.
Ashley's bambi-like eyes widened, she confessed: "Drake is hands down one of the most intelligent and humble people I have ever met. It is incredible to watch the way he works."
Ashley's big break could be imminent as she just wrapped the highly anticipated 'Top Secret Untitled Lonely Island Movie' produced by comedy legend Judd Apatow. Not much is known about the storyline but it's likely to be in the style of comedy trio Lonely Island's skits that have amassed 1 billion views on YouTube. The film has an all-star cast, including; Andy Samberg, Sarah Silverman and Justin Timberlake.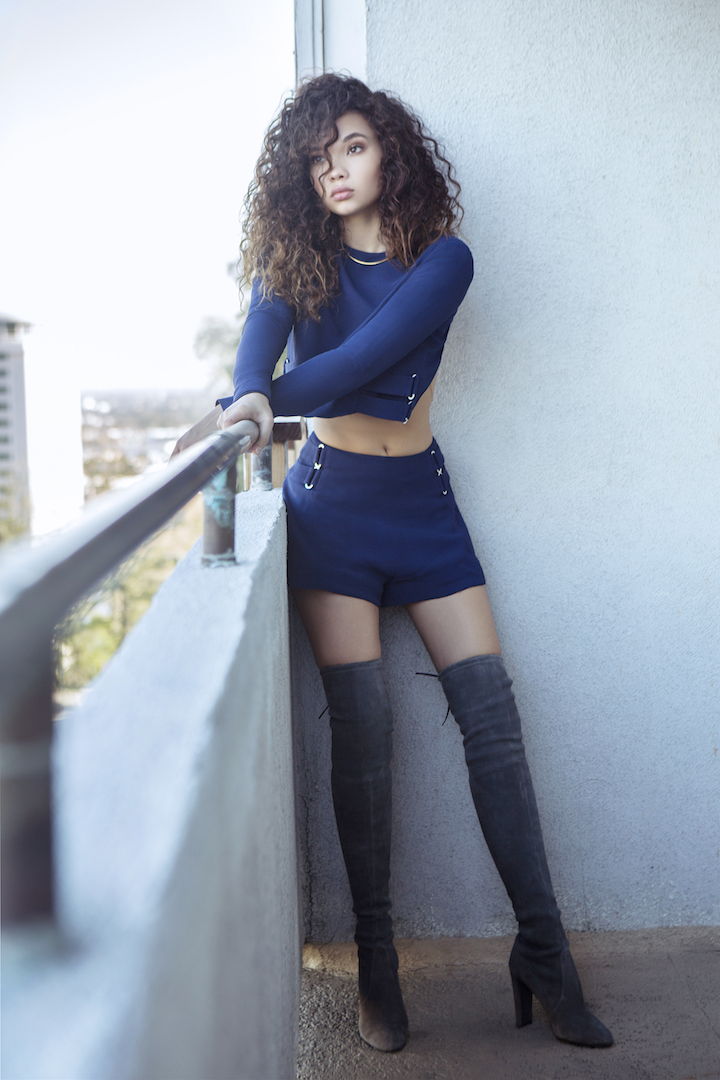 Full Look: Style Stalker    Boots: Stuart Weitzman   Necklace: Amarilo
Ashley revealed: "I grew up watching Saturday Night Live, and pretty much all of Judd Apatow's movies so it was quite literally a dream come true. I learned so much just from being around them, let alone reciting lines with them."

She added: "The cast were all such humble and genuine people. I felt really comfortable around them. There are few words to explain the kind of surreal feeling that comes with being part of a talented team like that."
Ashley confessed that filming the movie was one of the most incredible times of her life.
She said: "Working with such amazing comedic talent was mind blowing. Without giving away too much, I play a kind of cliché character that I've been around and seen a thousand times living and working in Los Angeles, so it was really fun to be able to act that out. The movie is going to be hilarious and I can't wait for you all to see it."
She added: "I remember being in my kitchen and my agent calling me saying. "Are you sitting down? I need you to be sitting down for this." It was such a special moment for me. Even though this is a supporting role, it's just the start. I had only been on a few auditions before I booked this role."
Life for aspiring young actors and actresses is notorious in Los Angeles and Ashley has certainly felt the pressures.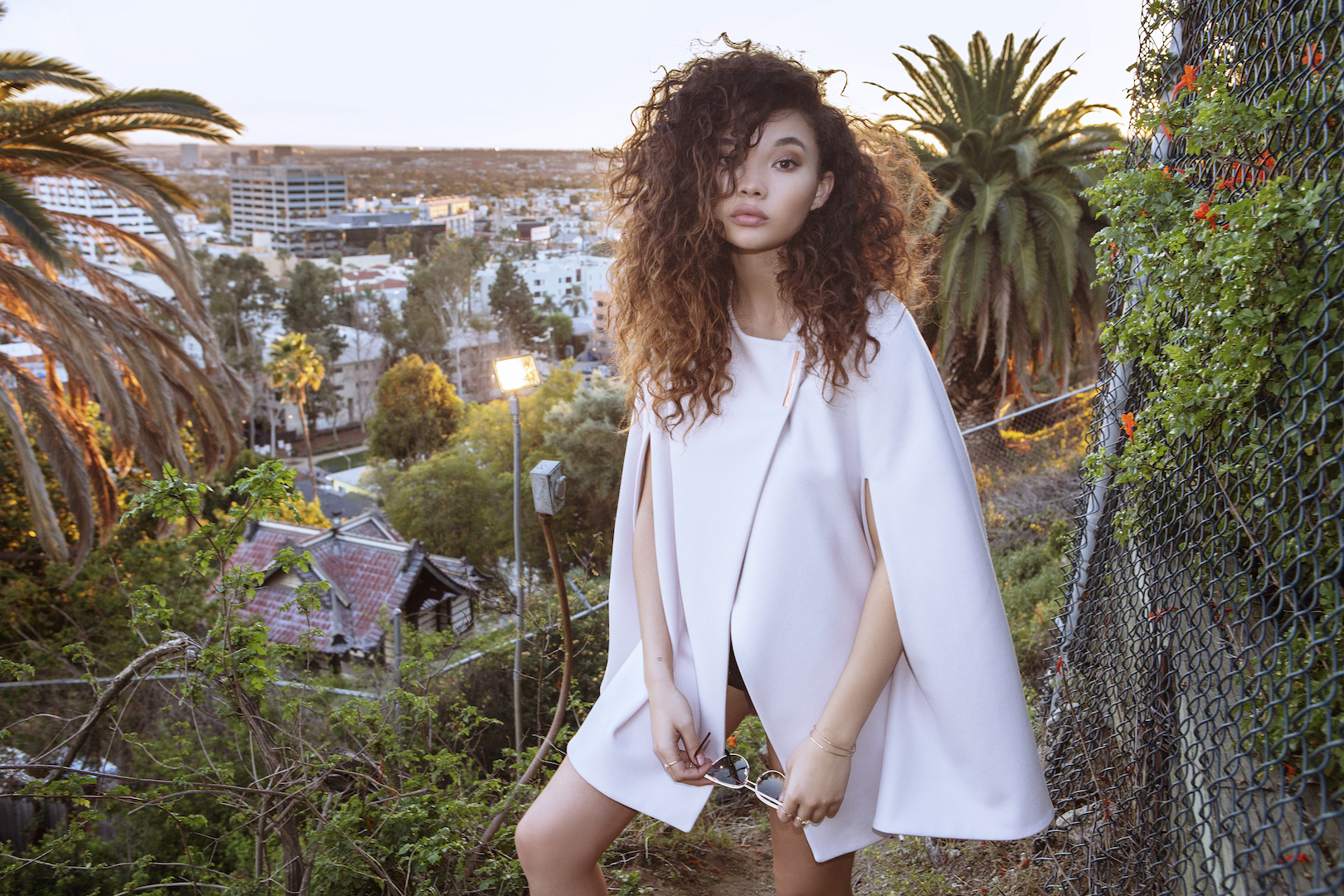 Cape: Ted Baker  Shorts: Vintage  Rings/Cuffs Amarilo
She sighed softly and ran a hand through her mass of curls. She said frankly: "It is a very competitive industry, there are a lot of people out here who will quite literally do anything to get a part. My method is a little different; I have been attending acting classes religiously and really putting the time and effort in. I want my hard work to be celebrated, I'm not looking to take the easy route, I'm in it for the long haul."
She added: "Of course, there are always the underlying expectations that I should be a certain size or look a certain way. I'm very aware of this but I can't complain, I have chosen this life and I'm never happier than when I am acting or modelling."  
Ashley has experienced life under the spotlight with her personal life being splashed across the tabloids due to her friendship with Justin Bieber. We live in a visual world where a picture paints a thousand words. One scene in particular whipped the media into a frenzy. Justin has been pictured snuggled up in her lap at an LA Clippers basketball game, planting a kiss on her forehead.

Justin has also displayed his affections in public by naming Ashley his Woman Crush to his 60 million followers on instagram, although the pair have always maintained that they are just very close friends.
Ashley is happily settled in a relationship with Young and Reckless apparel entrepreneur Christopher "Drama" Pfaff.
Ashley prides herself on not paying attention to speculation. She shrugged her shoulders and said: "Celebrity is a strange thing, especially in Los Angeles of all places. You are tricked into this warped sense of really knowing famous people but in reality you know nothing at all."
She added frankly: "Particularly in the music industry, I know so many artists that depict a certain image through their music but it is completely different to how they really are when you get to know them."
Ashley thought for a moment, then said: "The most attractive parts of someone can't be bought; it is their spirit, their soul. The kind of people that will give the shirt off of their backs. Someone that doesn't judge others and isn't afraid to be themselves."
She added: "I pride myself on being an open minded person. I want to look back and know that I was someone who was there to listen and understand, not to judge others."
Last year has been a transformative year for Ashley, securing her first movie role and fronting campaigns for some of fashion's biggest powerhouses. However, Ashley is convinced that this is just the beginning.
She said frankly: "2015 was great but this is the year for me. I'm up for more than a few new roles, just wrapped a campaign for Ulta, and have meetings with dream clients like Maybelline and Victoria's Secret in New York."
She added: "There is no lull in sight- so keep your eyes peeled. You're going to be seeing a lot from me in 2016."
Follow Ashley Moore on Instagram: @Ashley_Moore_
Photographer
Andrew Kuykendall
Stylist
Kaycee Kuna
Make Up
Gabriella Solana using Smashbox and Anastasia Beverly Hills
Hair
Crystal Liz using Oribe