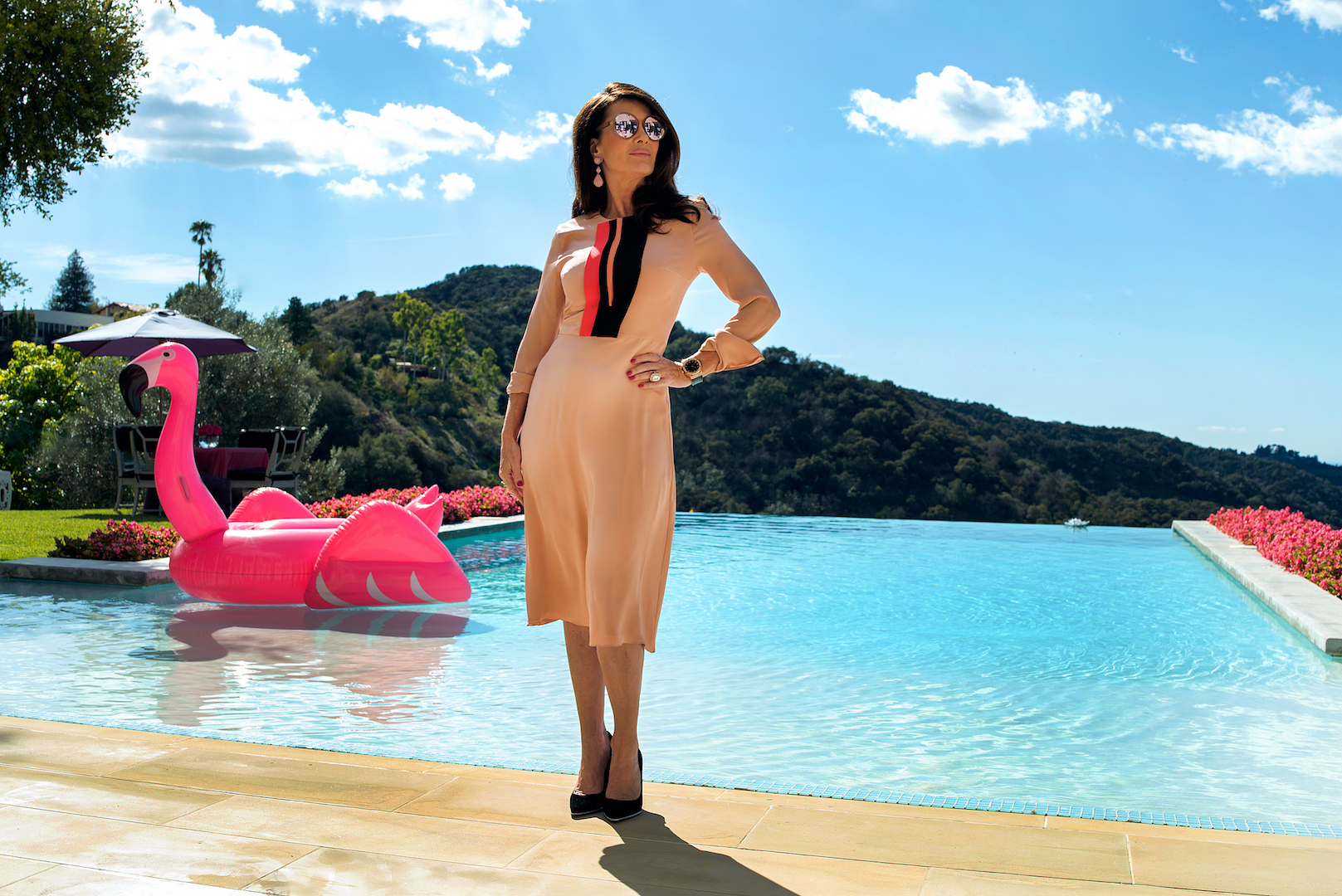 Clothes: Lisa's own
Being thrust under the spotlight attracts adoration and notoriety in equal measure. No one understands this better than Lisa Vanderpump, multi-millionaire businesswoman, philanthropist and television personality. We were invited into her home to find out what goes on behind closed doors.
To gain access to Lisa's Beverly Hills compound 'Villa Rosa', you must go through a series of security checks. It is located down a winding road that is shrouded with lush greenery. Sprawling views of Los Angeles can be seen in the gaps between the mansions that are secluded by imposing security gates.
Lisa's home was the personification of Barbie's Dream House, a sprawling mansion that resembled the love child of classical grandeur and contemporary architecture with a touch of flamboyance.
The interiors were eclectic to say the least; crystal chandeliers hung from impossibly high ceilings, powder pink French rococo armchairs were decorated with pink silk pillows and an imposing 18th century statue of a naked man stood proudly against a wall. Hundreds of vases of flowers graced every available surface; the air was heavy with the scent of the blooms and classical music that wafted from the surround sound speaker system.
The housekeeper led me to Lisa's bedroom where she was still changing. Lisa was stood in a vast walk-in wardrobe, one hand on her hip scanning the seemingly endless racks of colour-coordinated clothes.
She turned as we entered and greeted us with a warm smile and a firm handshake. She kept direct eye contact the entire time; this woman was a force to be reckoned with.
She was dressed casually in pink tracksuit bottoms and a simple white t-shirt. She was a vision of natural beauty; her face portrayed no makeup and her hair was still wet from the shower. This was a far cry from the impeccably groomed Lisa Vanderpump that millions were used to seeing on their television screens.  
She gave me a brief tour of her extensive wardrobe, there were Chanel 2.55's in a rainbow of colours, luxurious white fur coats and table tops glistening with exquisite jewellery all laid out in uniform.
I sat on her perfectly made bed whilst she chose her outfit, holding items up for approval. I went to explore the house some more, leaving her to get dressed.
I looked through the floor-to-ceiling windows at the garden, which was like a scene from a fairy tale. The azure waters of the infinity pool glittered in the sunlight, a lone pink flamingo inflatable did a solitary dance across the still surface.
To the left a pink swing decorated in pink flowers rocked slowly back and forth in the morning breeze. Next to it was a large paddock where two miniature horses with pink bridles nibbled at a basket of hay. Beyond the pool was a pond with two black swans swimming in slow elegant circles around one another.
A sudden movement caught my attention. Four small Pomeranians including the famous Giggy, who was dressed in a formal tux and drinking from a Chanel water bowl.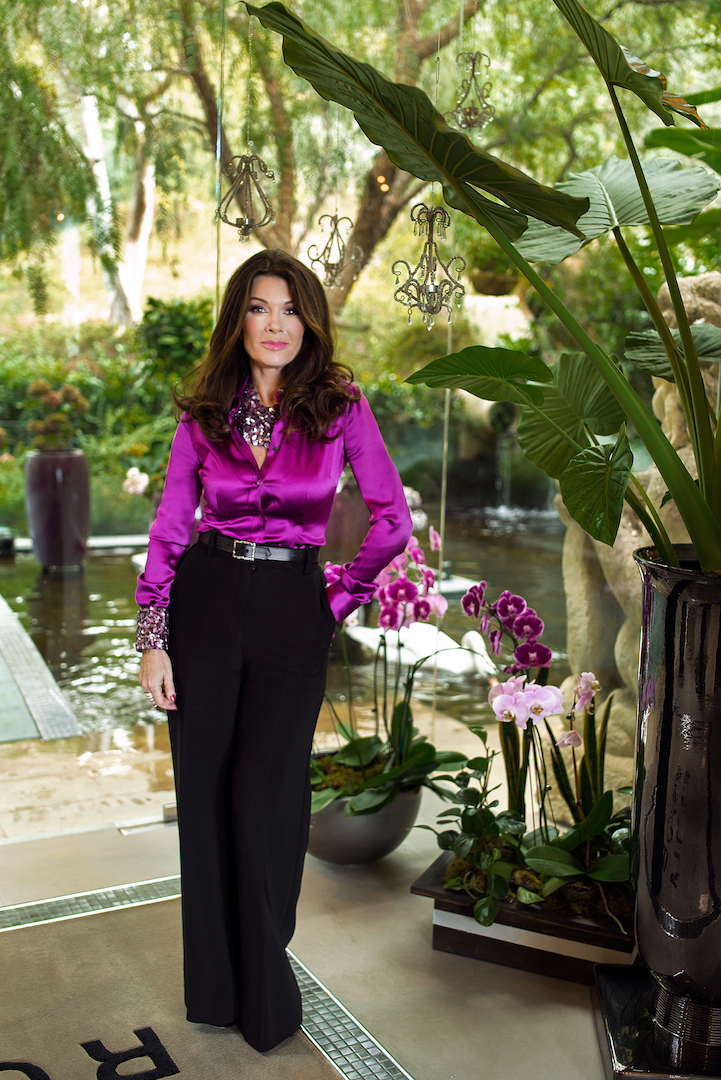 Clothes: Lisa's own
Lisa appeared, a vision in purple silk. Her blue eyes were framed with thick dark lashes and her chestnut brown hair was styled into loose waves.
She sat elegantly on a white leather Chesterfield sofa, the sheer definition of grace. The housekeeper re-emerged carrying a tray laden with an exquisite silver tea set. She handed me a white cup with a pink diamanté trim and we got down to business.
To many, Lisa made a name for herself as the most loved cast member of The Real Housewives of Beverly Hills. Prior to finding fame on the small screen, Lisa and her husband Ken Todd were famous restaurateurs in their hometown of London. They have owned 26 restaurants, bars and nightclubs and currently run Beverly Hills' Villa Blanca and West Hollywood's Pump and Sur.
Lisa admitted that moving to Los Angeles was a culture shock. In her crisp cut-glass accent, she said: "I really miss the humour of the English people, I always get misinterpreted here. I remember making a joke once that Ken and I have sex twice a year; on Christmas and birthdays; his not mine; mine is another day off."
She laughed long and hard, then said: "Suddenly the 11 o'clock news are discussing my sex life and it's like, fucking hell, can't you take a joke?"
Lisa took a sip of her tea and laughed again, shaking her head as she did so. She said: "Ken and I just ran with it. When people mentioned it to him, he told them he got it three times per year if he really begged."
The Real Housewives has been an international sensation and Lisa has appeared in 200 episodes of the show; 70 of them she has produced. She has accomplished so much outside of her home; I was keen to discover whether she resonated with the term 'housewife' in any way.
Without a moment's hesitation, she said: "I have always been a housewife, even when I was a business partner. I take a great deal of pride in cooking, decorating my home and raising our children. Being a mother and a wife is one of the hardest jobs in the world and deserves the same respect as someone working in an office."
She added: "I am lucky to have married an incredible person for 33 years. Ken always fights my corner, when I am wrong he thinks I am right. I couldn't have achieved a fraction of what I have without him."
When Lisa isn't running her successful business empire or in front of the camera, she is a humanitarian and activist, campaigning for causes that are close to her heart.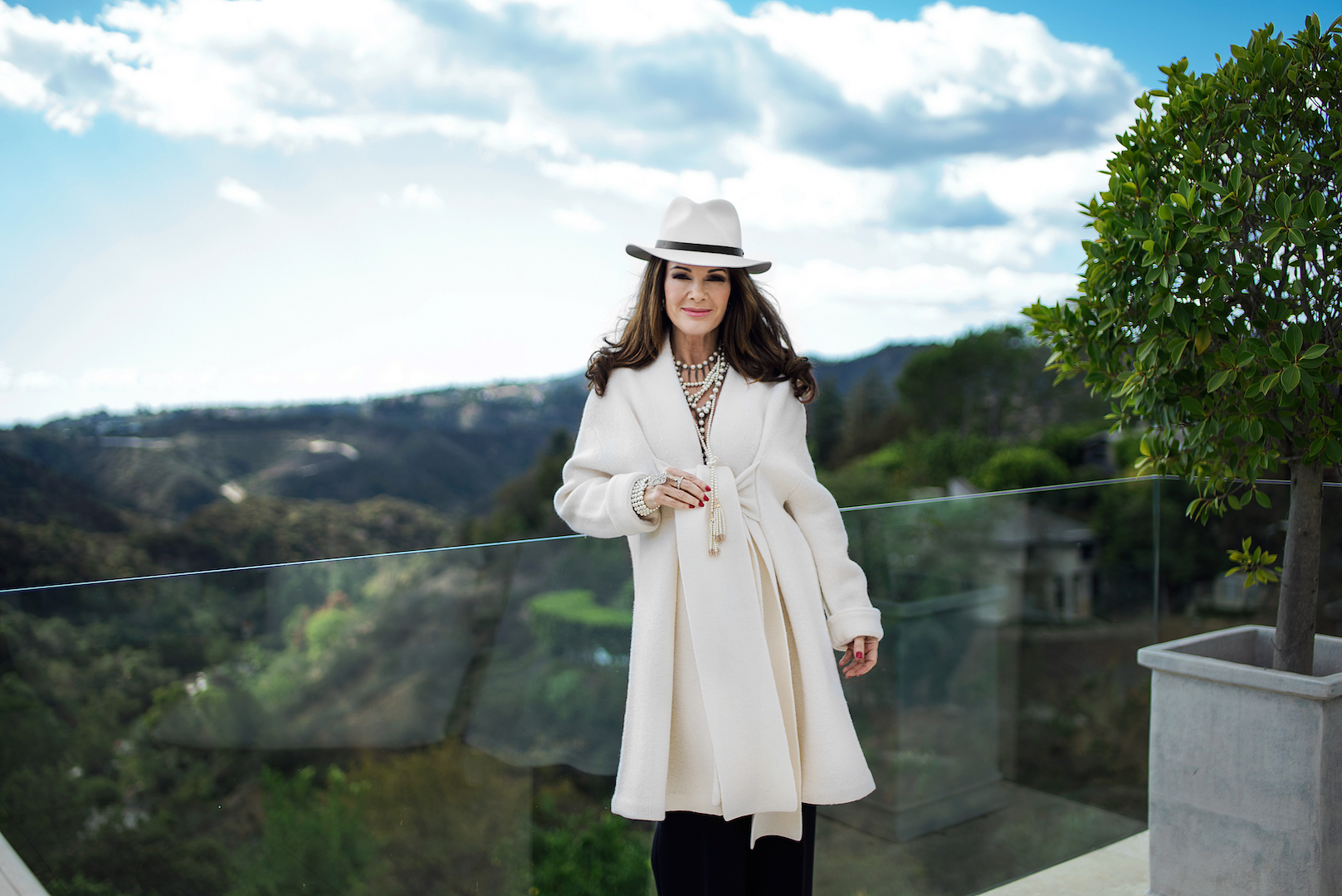 Clothes: Lisa's own
Lisa furrowed her eyebrows in frustration, she said passionately: "Have you seen the fucking horrendous torture of dogs that is going on in China? I just organised the biggest march in Los Angeles against the Chinese Yulin Dog Festival. They have this annual barbaric festival where they skin dogs alive, break their legs and dump them into boiling hot fat and eat them."
She added: "Stop Yulin Forever" and "We Love Dogs" are two organisations that I am very involved in. The thought of these poor animals suffering keeps Ken and I awake at night."
Lisa is also a tireless advocator of LGBT rights. She was recently honoured 'Woman of the Year' by the State of Assembly for her substantial charity work and was anointed Queen of the WeHo Halloween Carnaval.
Speaking of her accolades, Lisa said graciously: "If you judge people on the colour of their skin, sexual preference or gender, you miss out on so many people that could potentially bring so much joy to your life. By judging others you are essentially depriving yourself of love and that is so sad."
Lisa had the distinguished honour of speaking at the United Nation's 'Stop Ebola and Build for the Future' event.
She sighed deeply and said: "I cut the ribbon every year on the aids march because let us not forget how the government dealt with the aids epidemic. In my speech at the United Nations I discussed how we dropped the ball on the aids crisis. Lets not let that be our legacy on the war on Ebola because it was always someone else's disease."
Lisa's voiced cracked with emotion, she continued: "Aids was seen as the gay disease, then 25 million people died and it became everyone's problem. Wouldn't it be a beautiful thing if we stopped blowing people up and came together to make the earth a better place? It makes me really fucking sad."
She added defiantly: "If you stand for nothing, you will fall for anything. I want it on my epitaph that I stood for something."
The Real Housewives of Beverly Hills has garnered millions of fans from all over the world, including none other than Michelle Obama and Lady Gaga.
Lisa laughed softly, her voice filled with adoration. She said: "Gaga is a very intelligent and wonderful woman, I am proud to call her a friend. In this industry, the media try to rip us apart so it is imperative that us women stick together."
Lisa pursed her full pink lips and thought for a moment. She said thoughtfully: "You can't make everybody happy. You don't just fall out of your mother's vagina and then get buried in a box 100 years later. There's always going to be bumps in the road."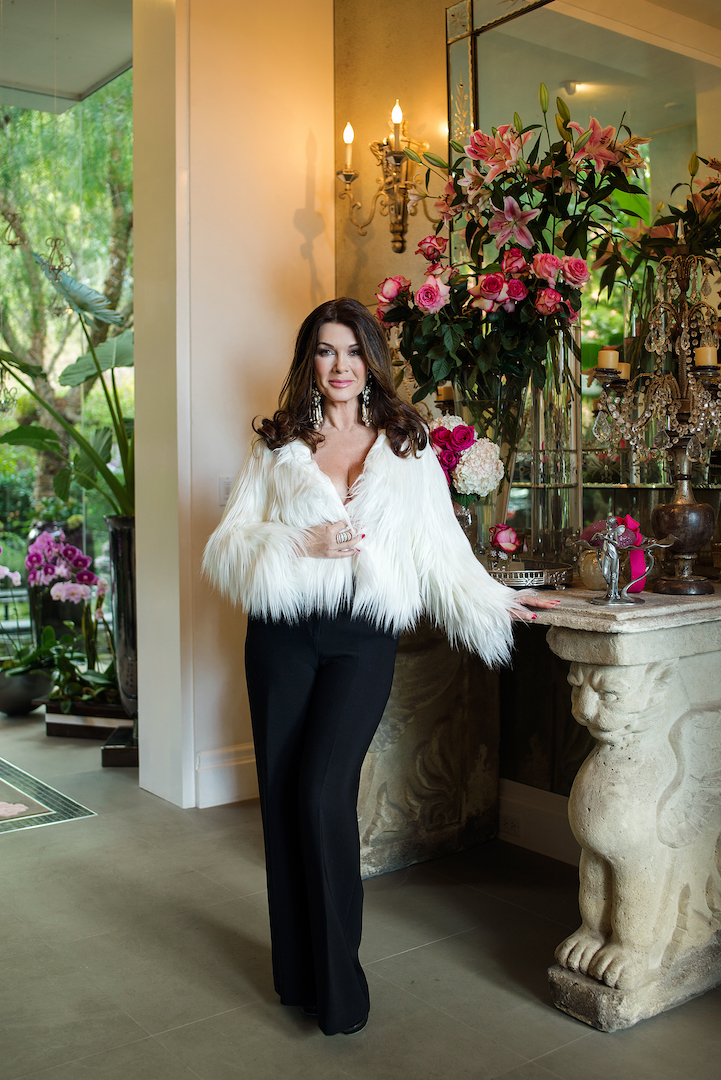 Clothes: Lisa's own
Lisa has been hailed as the 'Queen of Beverly Hills', a surprising feat considering that she is British. She admitted that this term is probably a backhanded compliment.
She said frankly: "I'm driven and work hard. I don't fuck about. I don't buy into Hollywood bullshit. I don't have an assistant, designers or stylists. I do everything I can myself."
She added: "By calling me the Queen of Beverly Hills, it is tongue-in-cheek and does provoke jealousy. I've endured a lot of that in the last few years but I accept that it comes with the territory."
Lisa and I locked eyes, her lips curled into a wide smile.
She shrugged her shoulders and said nonchalantly: "I've never been jealous of anyone because there is always going to be somebody younger, richer and prettier than me. Fuck it, I'm the best Lisa Vanderpump there is."
Instagram: @LisaVanderpump
Photographer
Aris Jerome