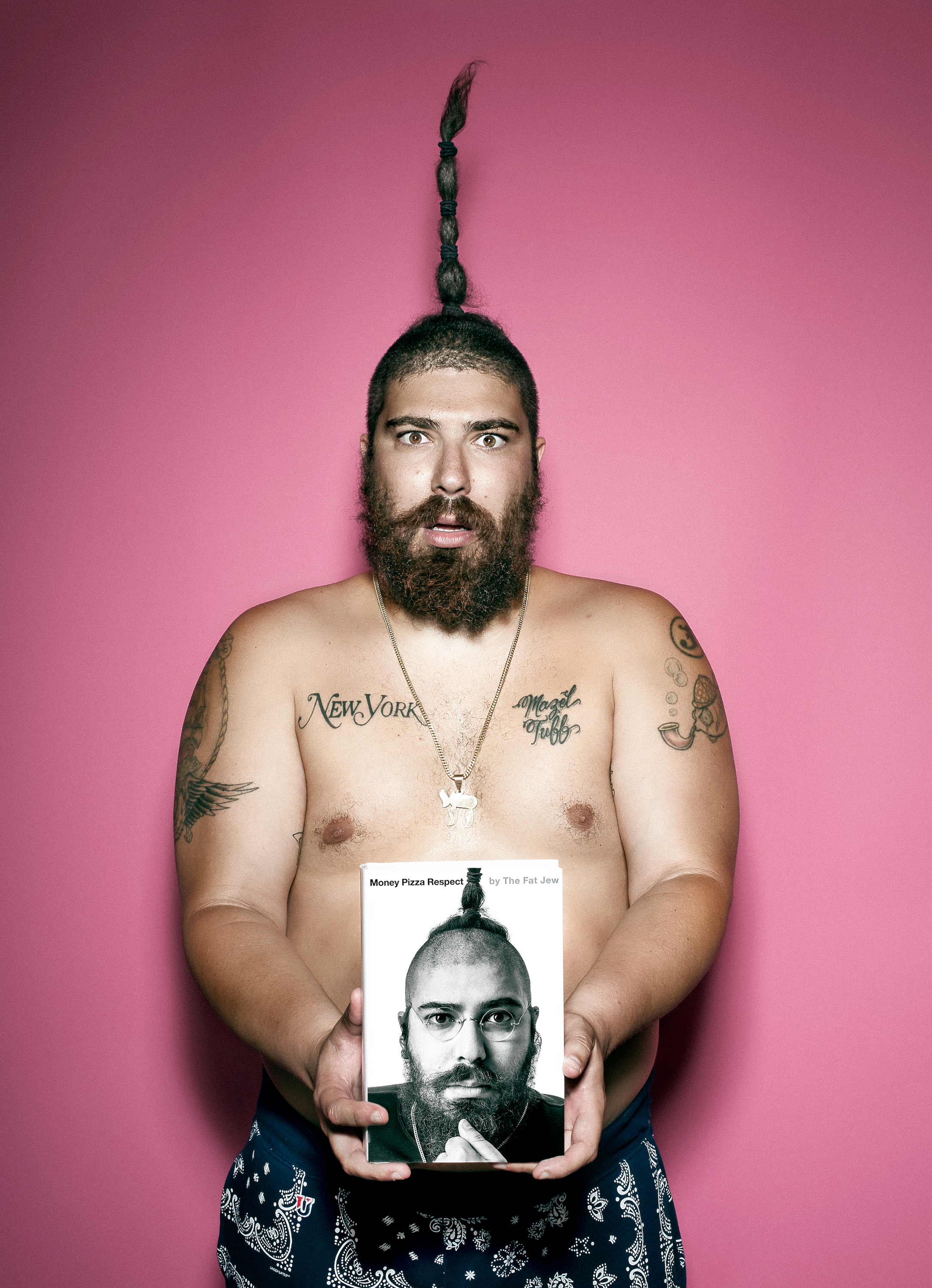 This article was written by Stephanie Pak and originally featured in Issue 02 of Arcadia magazine. Buy the magazine here.
The Fat Jew has been crowned 'Instagram's First Comedy Superstar'. He has become an unlikely cult phenomenon with over 9 million followers, including; Katy Perry, Justin Bieber and Kim Kardashian.
He is more than just his Instagram handle. The Fat Jew is infamous for his outrageous signature aesthetic; nothing but hotpants and sunglasses with his hair styled in a vertical ponytail which he refers to as his "Jew unicorn".
The Fat Jew saw the internet as a pandora's box and for a self-confessed "weirdo with no boundaries," the possibilities were endless.
His fame was immediate and stratospheric. His influential online status led to contracts with Virgin, Burger King and Apple. The Fat Jew hosts his own radio station on Beats1, launched his own wine collection 'White Girl Wine' and secured a book deal reportedly worth six-figures.
The book is titled, Money, Pizza, Respect and is one ludicrous story after another from The Fat Jew's glorious life, from hiring prostitutes for the sole purpose of reenacting scenes from Braveheart to vomiting on his grandfather after a debaucherous night out.
In a thick New York accent, which could only come from a native, he said: "I want people to get the full picture of who I am. At 10-years-old I was super mature and awkward and now, at 34-years-old I am a giant baby. I'm Benjamin Button."
He refuses to conform to society's expectations, especially when it comes to his image. This has led to notoriety for The Fat Jew's 'zero fucks given' attitude, and becoming a spokesperson for self-confidence. He is the world's first official plus size male model and is signed to the prestigious One Management Celebrity division, alongside supermodel Iman and Nicki Minaj.
He said candidly: "I genuinely don't give a fuck; I am proud of who I am. I live by my own standards of beauty and it's called whatever the fuck I want."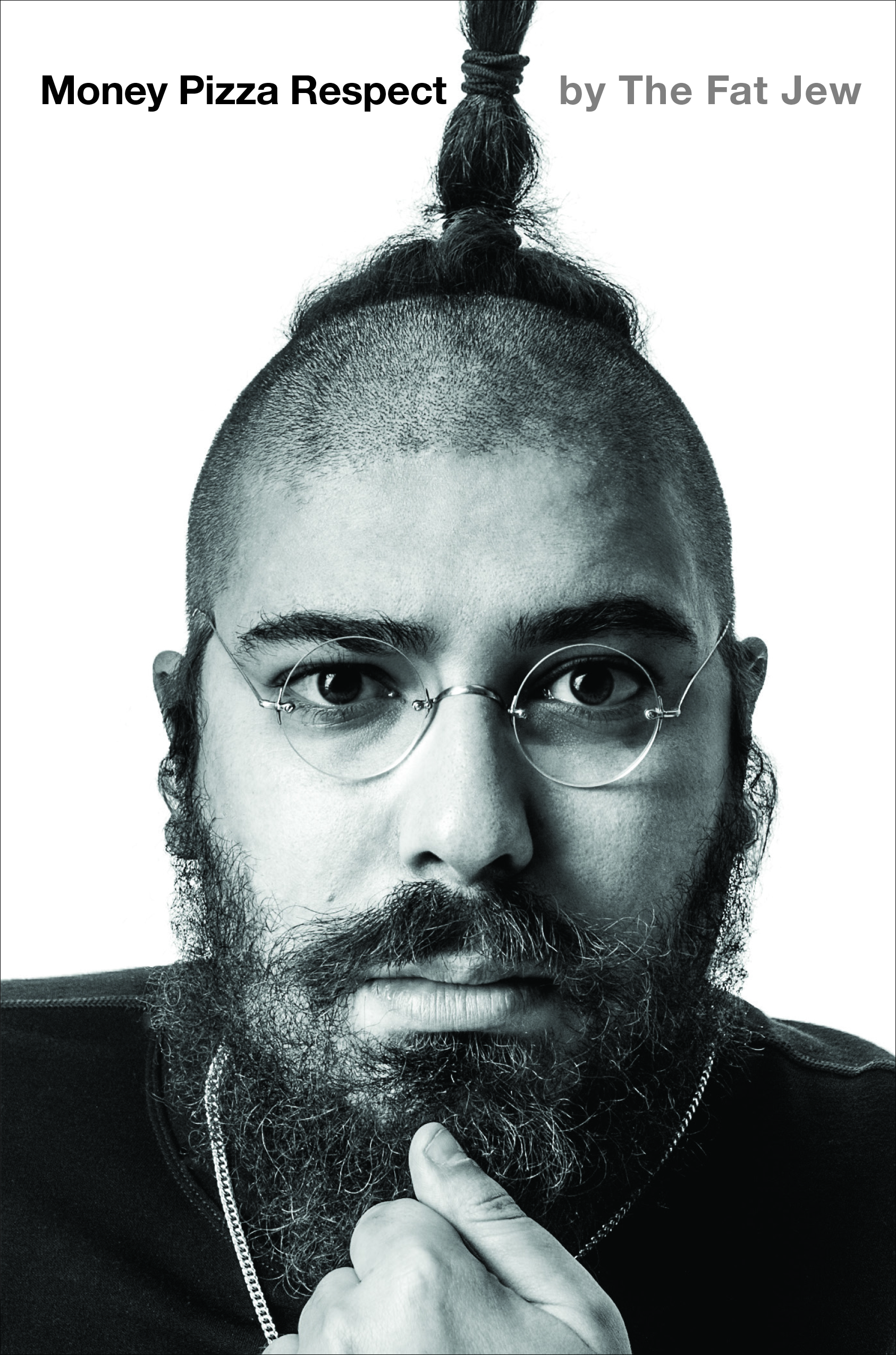 Time magazine named The Fat Jew one of the 30 most influential people on the internet and they aren't the only ones. The self-confessed "Z-lister" received floods of emails from kids thanking him for inspiring them to be themselves.
He confessed: "My role is to bring a little ridiculous to your day to make you laugh because life is fucking unbearable sometimes."
He added proudly: "It was really cool to hear from the Jewish kids that were struggling with their ethnicity. Apparently, Drake and I are making it cool to be Jewish again, I'm an accidental hero."
Another of his famous fans is none other than Kanye West.
The Fat Jew laughed heartily, then revealed: "He emailed me in all caps like 'Yo, we gotta connect man. Your mind is crazy, you know what I'm saying. Lets meet'."
He continued: "Then I received a text from him that was green, and I thought ew does Kanye have a Droid? The text read 'come to this hotel restaurant in 25 minutes'."
The Fat Jew headed down to the hotel and spent an hour and a half with Kanye discussing longevity in the entertainment industry over wasabi peas.
The Fat Jew revealed that he has a soft spot for Kanye's wife, Kim Kardashian and her surprising sense of humour.
He laughed knowingly, then said: "The more I poke fun at Kim, the more she loves it. She thinks it's hilarious when I say that the Kardashians love black penis."
The Fat Jew suddenly went quiet, then said thoughtfully: "Hold on, I just remembered that Drake is half African American. He doesn't accurately represent the suffering of Jews with small penises; he probably has a pretty normal penis."
Instagram: @TheFatJewish