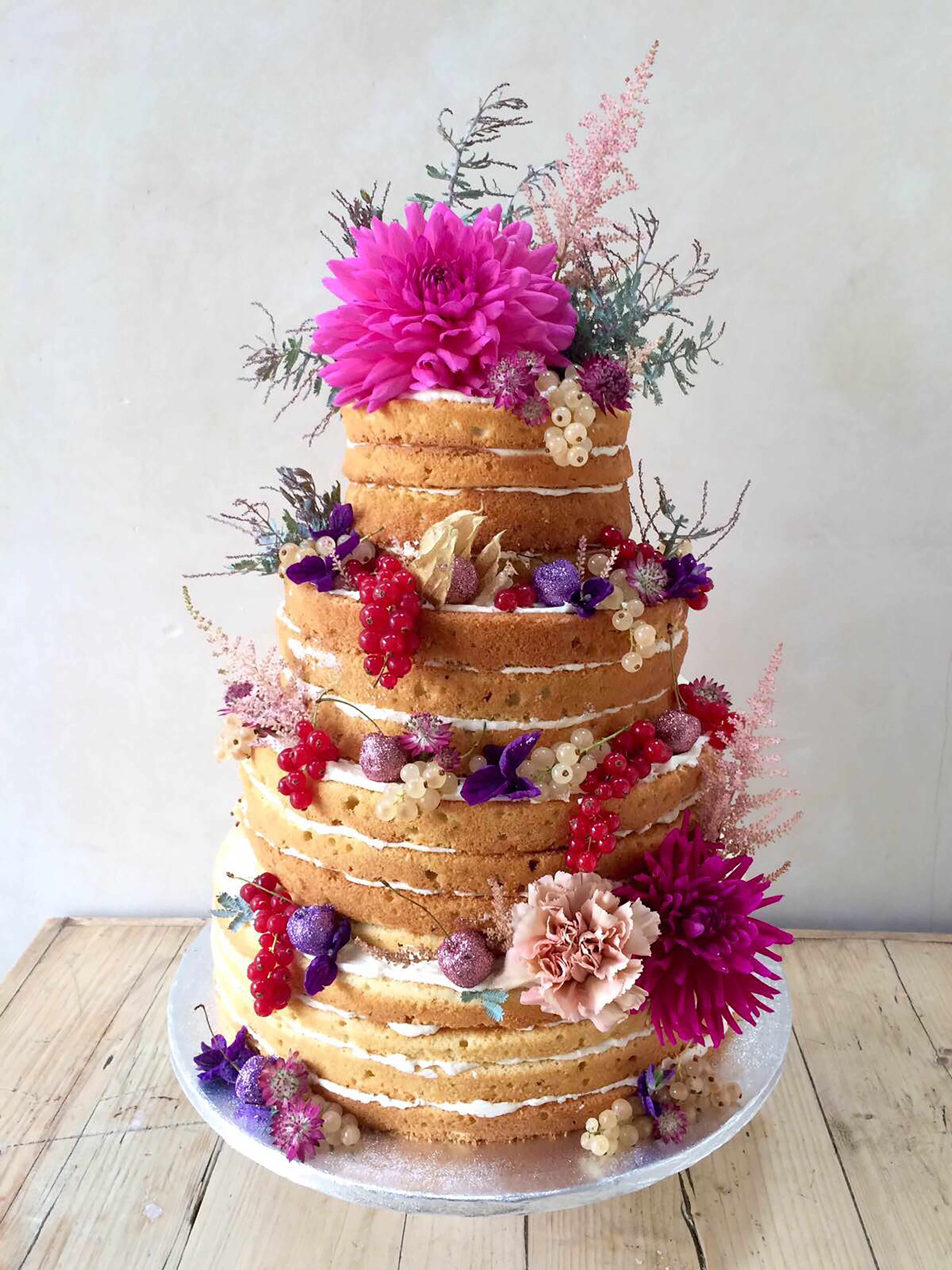 This article was originally featured in Issue 02 of Arcadia magazine. Buy the magazine here.
Lily Jones, better known, as Lily Vanilli has become London's most sought after artisan baker. She began baking as a way to earn some extra cash during the recession but this hobby has become a thriving business that is taking the city by storm.
Lily has published two best-selling recipe books and is the proud owner of the Lily Vanilli bakery, situated in a quaint cobbled courtyard by London's famous Columbia Road. Her talent for creating extraordinary edibles has caught the attention of the fashion industry, celebrities and world leaders. Lily has created masterpieces for high-profile clients such as; Alexander McQueen, V&A and 10 Downing Street.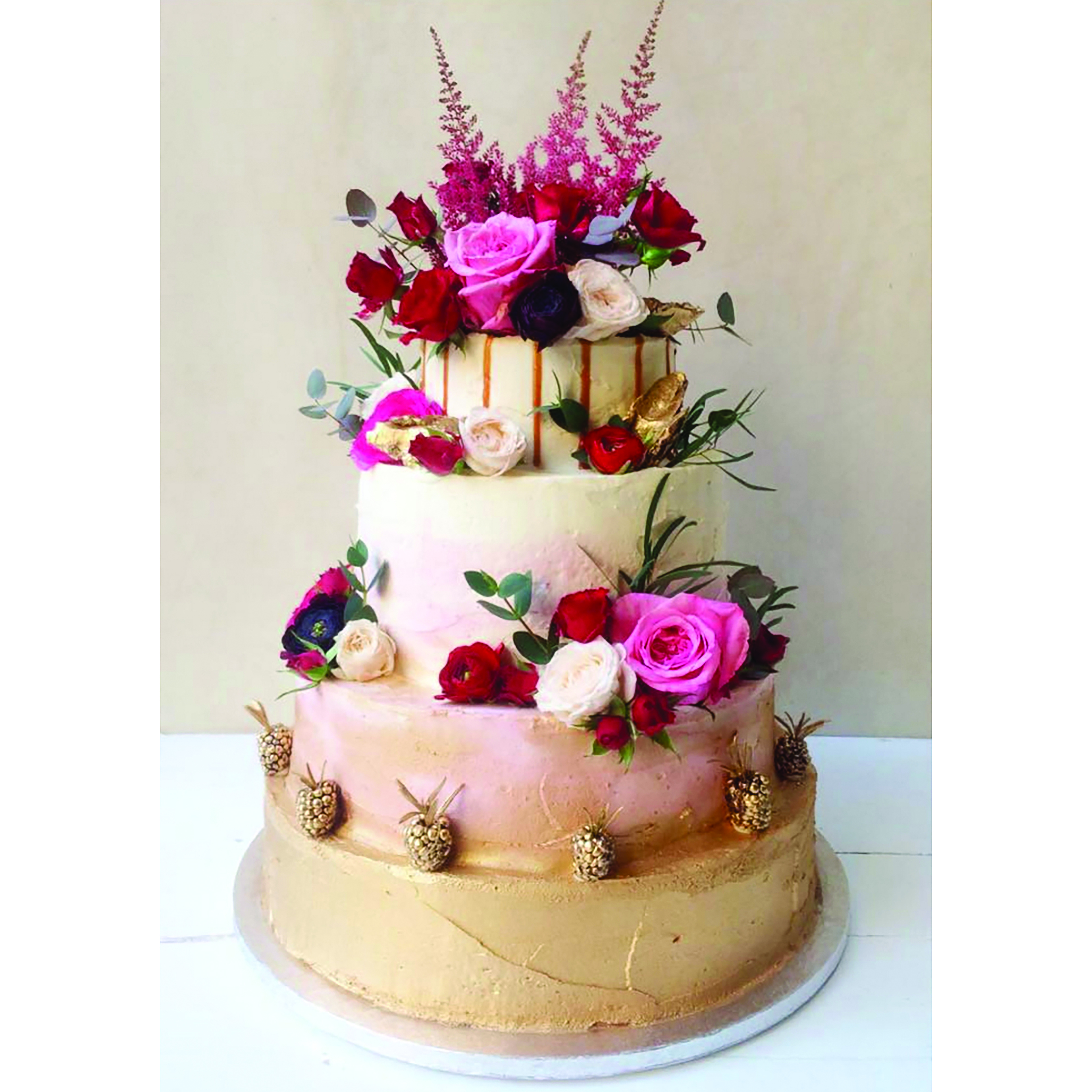 Gold Ombré Celebration Cake
Preparation time: 25 minutes
Cooking time: 35 minutes
Serves: 30
Recipe
Decadent Chocolate Cake
Ingredients:
690g unsalted butter at room temperature
1650g caster sugar
12 eggs
6 tsp. vanilla extract
1260g sifted plain flour
270g sifted cocoa powder
3 tsp. salt
3 tsp. bicarbonate of soda
1140ml soured cream
750ml strong brewed coffee, cooled
Sainsbury's Edible Gold
Fresh fruit and flowers to decorate
Two 8" round cake tins, greased and lined
Two 6" cake tins, greased and lined
Method
Preheat the oven to 180˚C fan assisted/gas mark 6.
Cream together the butter and sugar until light and fluffy. Add the eggs and vanilla and beat on a slow speed, gradually increasing until just evenly incorporated.
Whisk the dry ingredients. Add half to the batter, and then add the soured cream. Add the remaining dry ingredients, keeping beating to a minimum.
Once you have a smooth batter, gradually add the coffee. The mixture will be wet, so beat slowly to incorporate.
Divide the mixture between the prepared cake tins and level out to the edges. Bake for 25-30 minutes, or until a cocktail stick inserted in the centre comes out clean. Leave to cool in the tins for 20 minutes before turning out on to a wire rack to cool completely.
Vanilla Buttercream
300g unsalted butter, softened
900g icing sugar, sifted
3 tsp. vanilla extract
225ml double cream
Method
Beat the butter alone for 5 minutes on high speed.
Add the sugar, vanilla and cream and beat on a low speed to bring it together, then turn up and beat on high for another 3 minutes.
To achieve the ombré effect, split 1/5 of the buttercream and beat it alone in a mixer, adding a few raspberries, one at a time for colour.
To Ice
Once your cake has cooled completely, spread a dab of buttercream in the centre of the plate. Place the first 8" layer on the board, then spread some buttercream on top. Repeat with each layer until all cakes are sandwiched together.
With a piping bag and palette knife, cover the outside of the cake with a thin layer of buttercream. Set this in the fridge and then repeat to finish the cake with smooth icing.
To Decorate
Using a palette knife, carefully blend some of the raspberry buttercream onto the middle layer so you have a nice smooth finish.
Drizzle caramel on the top layer so it falls down the sides.
Gently apply a layer of gold finish to the base layer of your cake. Add fresh fruit painted in edible gold and fresh flowers of your choice to make a glorious display.
Follow Lily Vanilli on Instagram: @Lily_Vanilli_Cake
6 The Courtyard, Ezra Street, London E2 7RH (bakery only open on Sundays)