The 'Method and Madness' range, which was launched in 2017 by Irish Distillers, is designed to think outside the box. The whiskey industry as a whole provides an unfathomably vast range of drams which die-hard spirit sippers can always reliably turn to, like meeting up at your favourite pub with an old friend. However, what the world of whiskey does sometimes lack is a little innovation and gutsiness perhaps. This is where the Method and Madness range comes into its own.
Method and Madness is crafted at the revered Midleton distillery near Cork, southern Ireland and whilst the underlying methodology behind the range might be to create something a little more sexy, the commitment to exemplary quality is unquestionably fierce. Put simply, this range has been cooked up to offer something a little eccentric and avant-garde whilst simultaneously honouring Ireland's rich whiskey heritage.

Two new limited editions were added to this burgeoning range this summer. One of the two is an all-time first for Irish whiskey, meaning that Method and Madness can wave their flag of accomplishment with even more gusto. This is a single pot whiskey finished in first fill…(wait for it) Hungarian oak. I learned that the oak itself has been gleaned from the north of Hungary where the soil is volcanic and therefore yields an oak of spectacularly high quality with a tight grain which means that flavour and aroma is imparted slowly into the spirit sleeping inside barrels made from this wood varietal.
The end result is a highly sophisticated flavour profile. Before this Hungarian chapter the whiskey spends the majority of its maturation in good ol' American first and re-fill oak which gives it that customary bourbon-esque sweetness, like a toffee apple with a cinnamon dusting.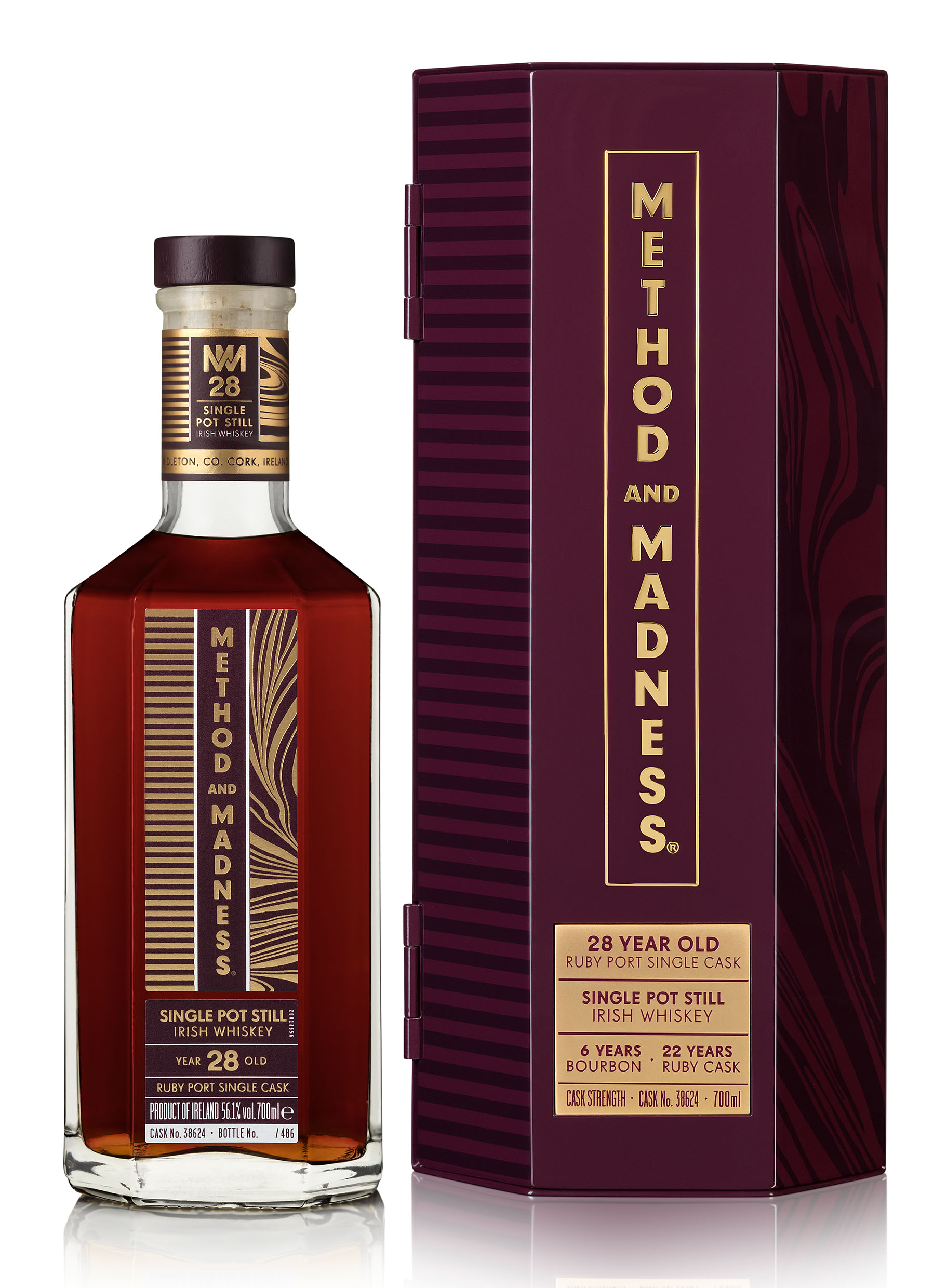 The second of the two new additions is a 28 year old Ruby Port Pipe. What this means in layman's terms is that this is an Irish whisky matured initially in American white oak barrels for six years, before being transferred to kip for a further 22 years into a Ruby Port Pipe. The end result is a highly complex dram with fresh Autumn fruits on the nose, vanilla sweetness like demerara covered popcorn melded with deep, seductive port notes, and finally a devastatingly long finish on the palate.
Kevin O'Gorman, the 'Master of Maturation' (try saying that ten times after a few of these drams), commented upon the release of these two new whiskies that he was "incredibly proud" to have finally mastered the tremendous trial and error that went into the creation of these two show-stopping new additions, and I can see why.