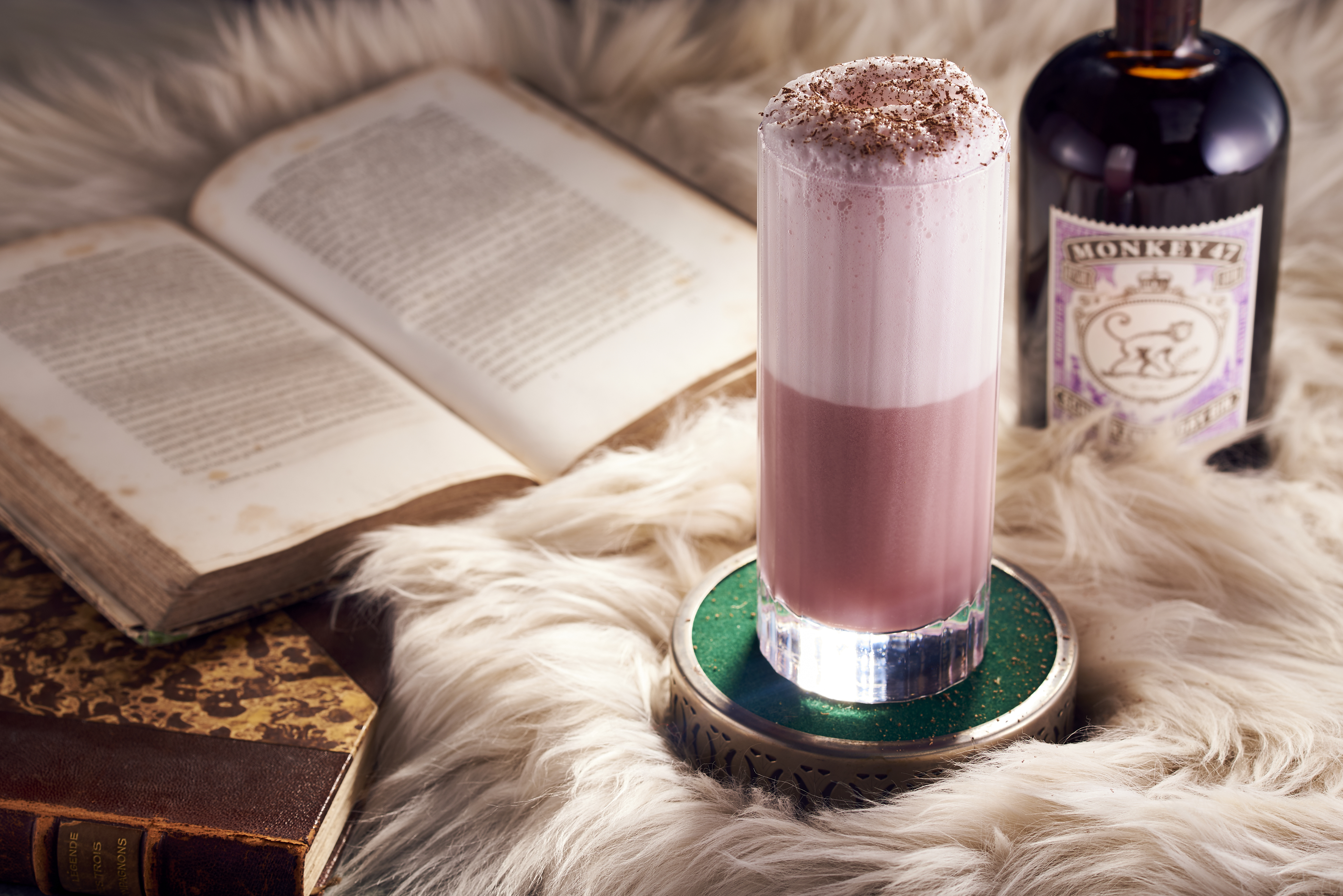 In the heart of Rosewood London's courtyard, in the shadows of the hotels opulent Grade-II listed façade, artisanal German Gin brand Monkey 47 has transformed The Terrace into a luxurious winter wonderland.
The romantic Monkey 47 Winter Lodge is illuminated by fairy lights, candles and naked flames. There are heated wooden benches, draped in decadent fur throws to stave out the cold and there is no ceiling so guests are encouraged to gaze at the stars as they dine on delicious hearty cuisine by Holborn Dining Room Executive Chef Calum Franklin and an array of hot and cold gin cocktails inspired by German desserts.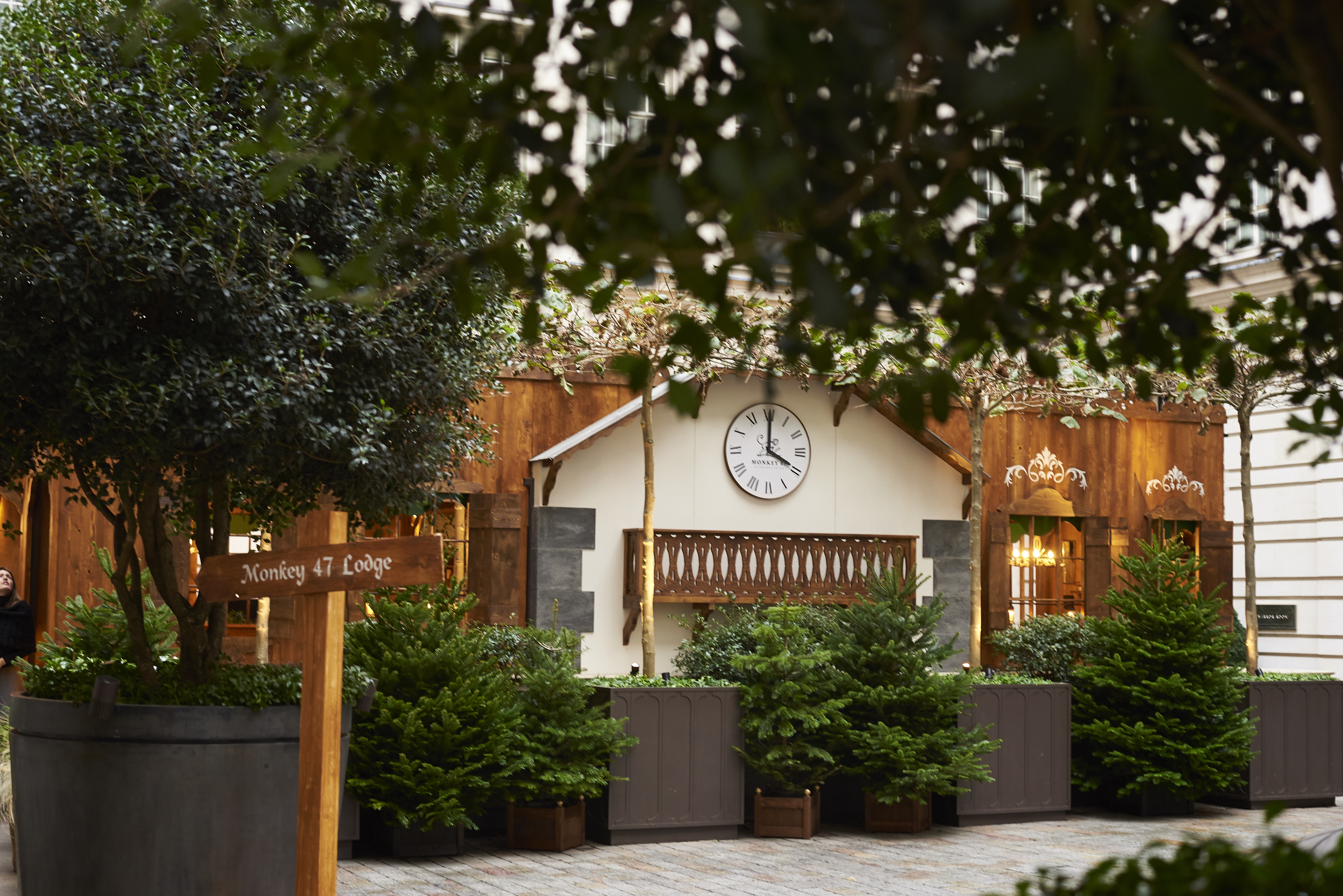 The enchanting Winter Lodge was inspired by the verdant trees and mystical charm of the famous Black Forest and from British Commander Montgomery "Monty" Collins, and his Schwarzwald dry Gin brand, 'Max the Monkey' Gin, which was named after a monkey that Collins sponsored at Berlin Zoo. Collins moved to the Black Forest after World War II and opened a country guesthouse in an effort to retain his British roots, began to produce his own Gin.
The forest was rich in juniper, bramble leaves, lingonberries and many other vital botanicals that led to the creation of Collin's famed Black Forest gin recipe. Many years later, the discovery of Collin's fun led to the current owner Alexander Stein to create Monkey 47 using 47 different botanicals, over a third come from the Black Forest.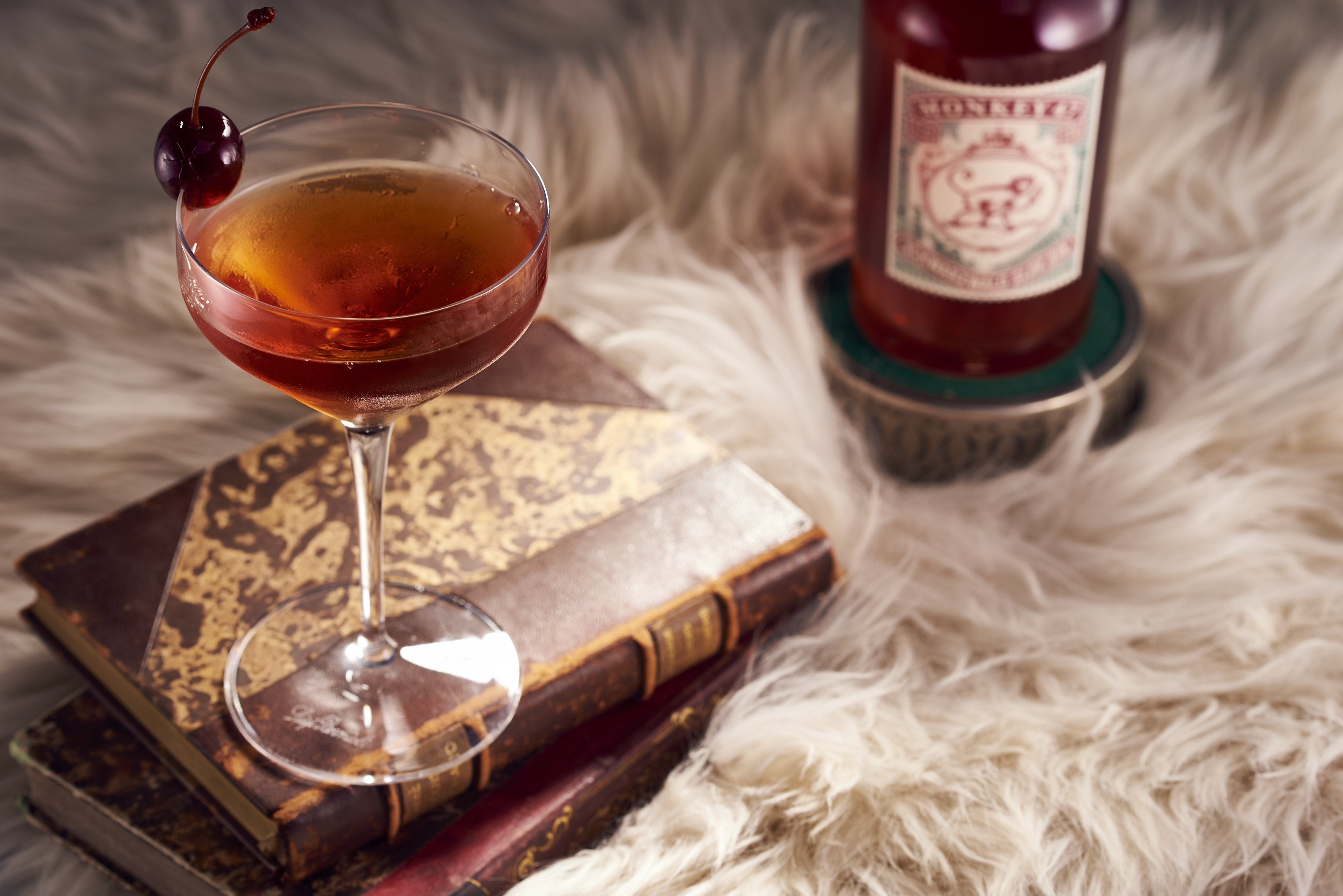 Rosewood London was an apt destination to host the Monkey 47 Winter Lodge as its Holborn Dining Room has a long-standing reputation for celebrating Gin and boasts London's largest collection of Gin with over 500 Gins and 30 tonics. There are over 14,000 possible Gin and tonic pairings from international super brands to local distillers.
The Monkey 47 Winter Lodge has a solid variety of innovative cocktails, our favourites (without a shadow of a doubt) were the Monkey 47 signature's; Sloe Negroni, with Monkey Sloe Gin, Vermouth Beslsazar rosé and Suze genitan bitter and the Max Fizz, with Monkey 47, Mure liquer, lemon juice, egg white, Port LBV, syrup and soda.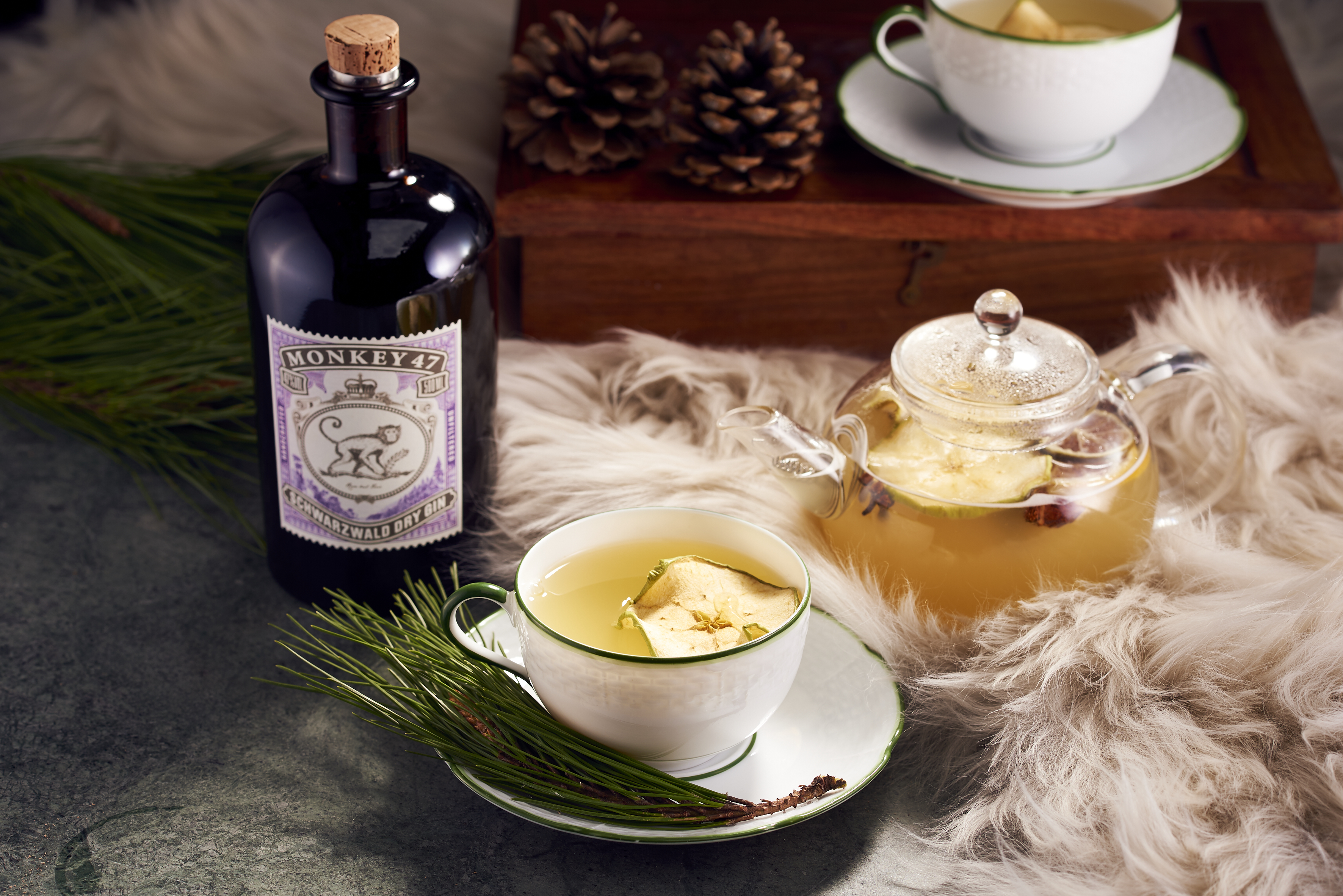 To eat, we dined on a few tasty 'Monkey Bites', including; rich Monkshill Farm Scotch Egg's, truffle and parmesan fries and juicy griddled prawns slicked in lemon and garlic butter.
Last but not least, was the truly unforgettable Chocolate Crème Brulee, served cold with sugary shortbread and fresh Chantilly cream. After the satisfyingly signature crack on the top with the back of the spoon, the sugary crown gloriously caved in to reveal a rich, smooth, chocolatey cream.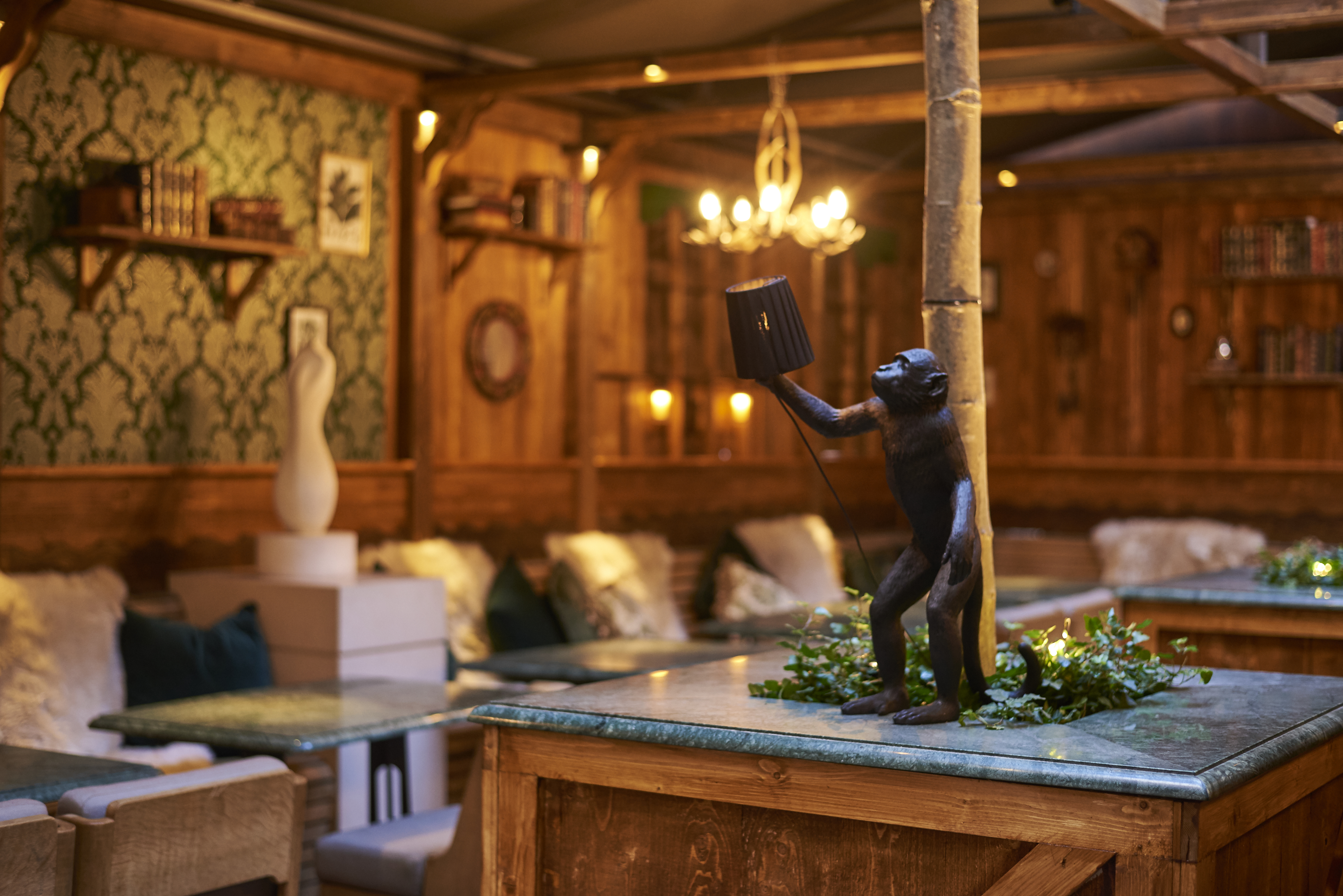 With the joys of Christmas behind us and Spring still a long way off, there is nowhere better to celebrate the last days of Winter than cosied up under the stars at the Monkey 47 Winter Lodge, in front of the roaring flames with a Max Fizz in hand.
The Monkey 47 Winter Lodge is open, Wednesday – Saturday: 4pm – 10.30pm and Sunday 4pm – 10.15pm until 28th February 2018.
Monkey 47 Winter Lodge
252 High Holborn, London WC1V 7EN