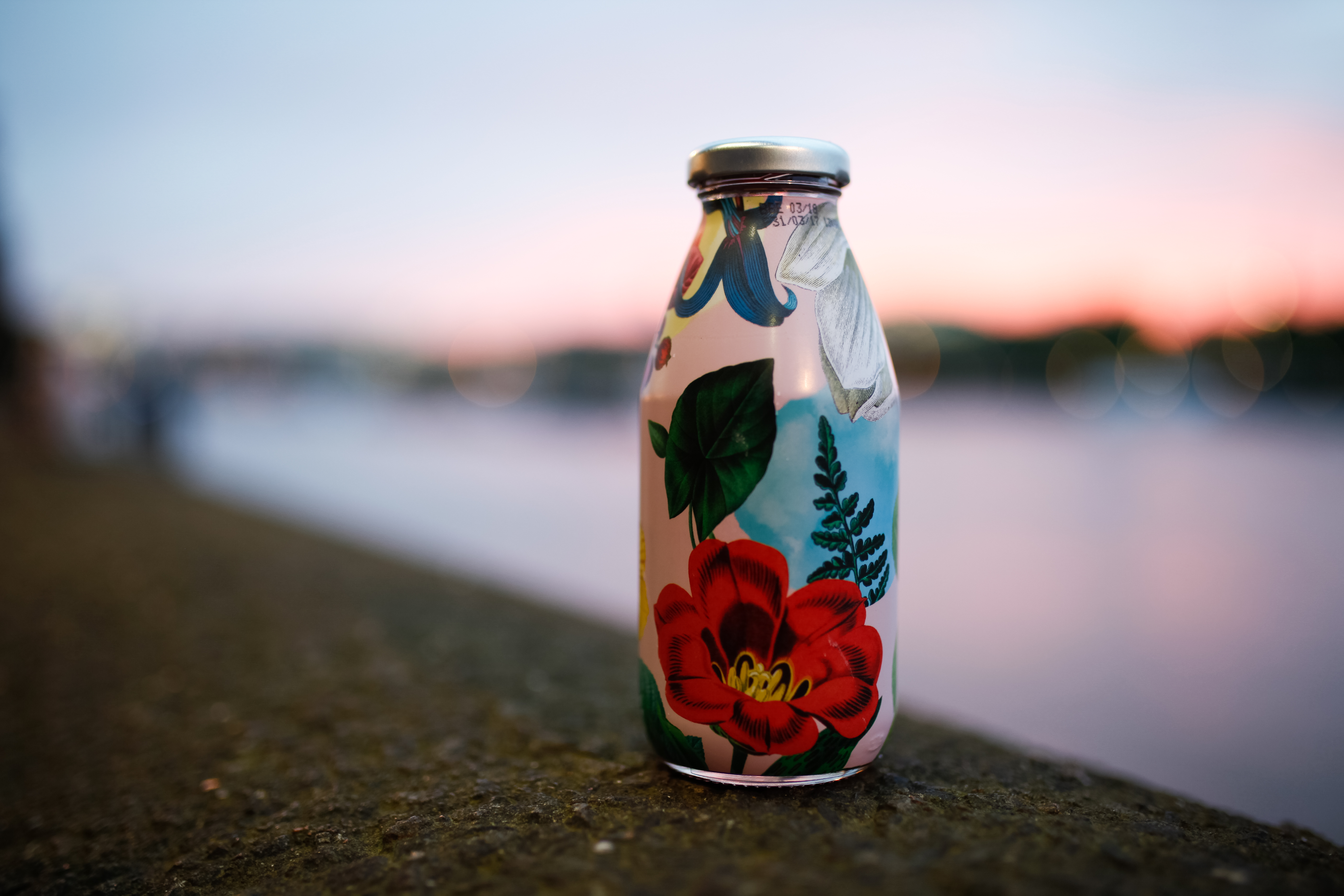 For far too many years, the beloved designated driver has been confined to unexciting, uninspired and often heavily calorific, high-sugar drinks. They have been an angel to us all, but we have rewarded them with Coca Cola, Red Bull or – even worse – Tap Water.
For Ryan Chetiyawardana – better known as Mr Lyan, with accolades including World's Best Bartender 2015 and World's Best New Bar 2015 for Dandelyan – this was absolutely unacceptable. We headed down to Dandelyan to find out why from the man himself and, more importantly, what he was planning to do about it. Throughout the evening, we enjoyed mouthwatering canapés and bar snacks such as Truffled Garlic Bread and Padron Peppers as we connected with one another through a new drinking (or non-drinking) experience: Superfly, a collaboration between Mr Lyan and Firefly Botanical Drinks.
For a Tuesday evening, the bar was very busy and our low table was one of the few still available, with people flocking to Dandelyan for after work drinks. Having worked in the industry for almost all his life, Mr Lyan had noticed that not all of these people came for his ultra-creative alcohol-infused offerings but that, rather, many had just come to socialise with those around them, often opting for a Softail or other non-alcoholic beverage. Watching and experiencing this gave Mr Lyan an idea…
"We've always had a soft section on the menus at Dandelyan and SuperLyan and, recently, we've seen an increasing in interest for these non-alcoholic serves. Over the last few years there have been some amazing innovations and we've seen lots of new products coming through. We've noticed that it doesn't have to be booze as the mechanism to bring people together. Rather, it could just be the concept of bar as a social space – somewhere people can come to connect, and this is regardless of if their drink contains alcohol or not". He continued: "We've always looked at food and drink & how they can bring people together, but our focus has always been on the booze – the alcohol in the drink. We've made our own spirits, our own beer and indeed, our own cocktails, and it's been a really nice journey and experience of using lots of these foods and drinks to bring people together in that way".
Now, Mr Lyan has decided to turn his attention to improving the drinking experience of his sober clientele and has collaborated with the Botanical Drinks giant, Firefly to make a drink that is nothing short of complex.
Ryan told us: "Botanicals is a big part of what we do at Dandelyan and a big part of what we explore anyway. We've always looked to the world of flavours to find new ways of creating drinks. We've picked up different fruits, herbs and spices along the way and we've had a lot of fun exploring the effect of some of those herbs too. And that was really the realm where Firefly had these amazing expertise in: Juice based drinks with uplifting effects".
Simply, Firefly works within the idea of being at a bar – the idea of socialising and connecting with new and interesting people, and the drink certainly presents a new and interesting way to do so, focussing on what people look for in a bar scenario: "We looked at a blend of different flavours and botanicals that really tap into that idea. We looked at aphrodisiacs. Aphrodisiacs are designed to break down barriers, make you a little bit more sociable. They relax you and encourage you to have a conversation with someone you perhaps wouldn't have before".
However this drink, Superfly, doesn't stop giving there. It also adds energy and focus to the drinking experience – an aspect that Mr Lyan finds great importance in: "One of my favourite examples of the importance of focus is when I get home at the end of a long day and sit with a simple, classic Martini". He continued: "It settles the stomach, is great to drink before dinner and it also centres you in a really nice way… We wanted to create something that gave that element of focus but also made you that bit more energised at the same time".
Superfly doesn't rely on the obvious energisers like guarana or chilli, but instead looks to the cultural, historical and botanical association of certain flavours: "Rum and Tequila, for me, have that certain aura of energy to them and I hope you can taste the flavour associations in this Firefly drink… That's where we used our experience with the alcoholic side of things… We looked at things like Absinthe and Vermouth – things that had that bitter end note to them, something that was crisp and that you felt that you could have several of in the evening. That was actually quite a hard thing to get right".
Although, as we've come to expect from Mr Lyan, get it right he certainly did and this success was encapsulated by one of the final things he said that evening: "For me, a great drink is something that doesn't need all that sugar but is still memorable and you'll enjoy time and time again. It's gratuitous. We didn't want this to be a kid's drink. We want it to be adult, and I think this is one of the areas that's been really missing in the world of non-alcoholic drinks". He explained: "For a long time they were just kids drinks – Coca Cola is delicious, it's sugary, sweet. But it doesn't have any balance to it. We're very passionate about the journey of a drink, whether that's alcoholic or non-alcoholic and balance is something that truly matters".
Mr Lyan has created a drink that is healthy, exciting, inspired and versatile (which also really mixes well with Tanqueray Gin or Chivas Regal Whisky). As the message reads on the bespoke, unbranded bottle designed by B&B Studio and adorned with Mr Lyan's hand-drawn doodles: "Superfly is a remedy to long days and all-too-brief evenings. Crafted with stimulating botanicals of wormwood, green coffee and kola nut, this (booze free) cocktail is best served long with a sprig of mint or combined with your favourite spirit".
Pick up a bottle today at Ocado.com, Harvey Nichols, Selfridges or in one of Mr Lyan's outstanding venues across London. Thank you Mr Lyan – the role of designated driver just became a lot more rewarding.
Mr Lyan