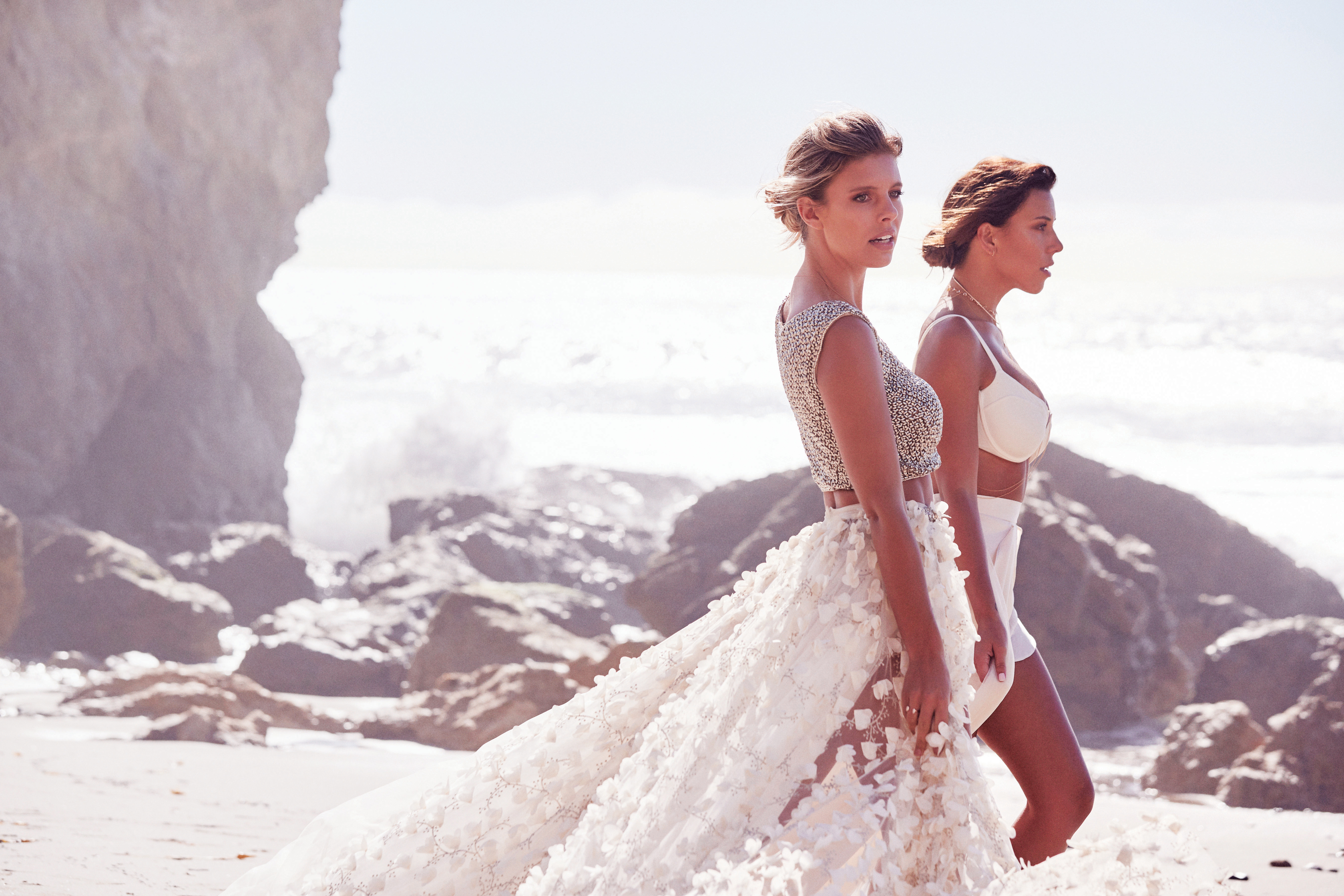 Natasha: Top by Mac Duggal @MacDuggal, Skirt by Olia Zavozina, Necklace & Ring by Carbon & Hyde
Devin: Top by Monday Swimwear, Shorts by C/MEO Collective, Skirt by Idan Cohen, Choker & Body Chain by Haati Chai, Earrings; Devin's own
Best friends and millennial entrepreneurs, Natasha Oakley and Devin Brugman have turned their love for swimwear into a multi-platform empire. With two clothing lines, a thriving luxury lifestyle brand and over 4 million social media followers, Natasha and Devin are at the forefront of a new generation of digital moguls.
Social media has played a powerful role in 26-year-old Natasha and Devin's stratospheric success, so it is fitting that the pair met on Facebook and have been inseparable ever since. Both girls grew up on the beach, Natasha in Sydney, Australia and Devin in Maui, Hawaii and bonded over a mutual love for swimwear.
Devin made the first move and sent Natasha a friend request on Facebook after noticing that they had a lot of mutual friends. The chemistry between the pair was instant and undeniable.
Natasha said adoringly: "The minute I met Devin I knew we were going to be the best of friends. We have the same sense of humor and passion for life."
In 2012, the swimwear connoisseurs founded A Bikini A Day, a digital destination where they showcase a different bikini 365 days a year. Since then it has become a globally renowned powerhouse and one of the world's largest swimwear platforms.
Natasha revealed: "The last few years have been tremendously successful for us and a lot of hard work. Devin and I have created our own clothing labels, Monday Swimwear and Monday Active, designed collections for several international brands and travelled the world for up to 9 months of the year shooting content."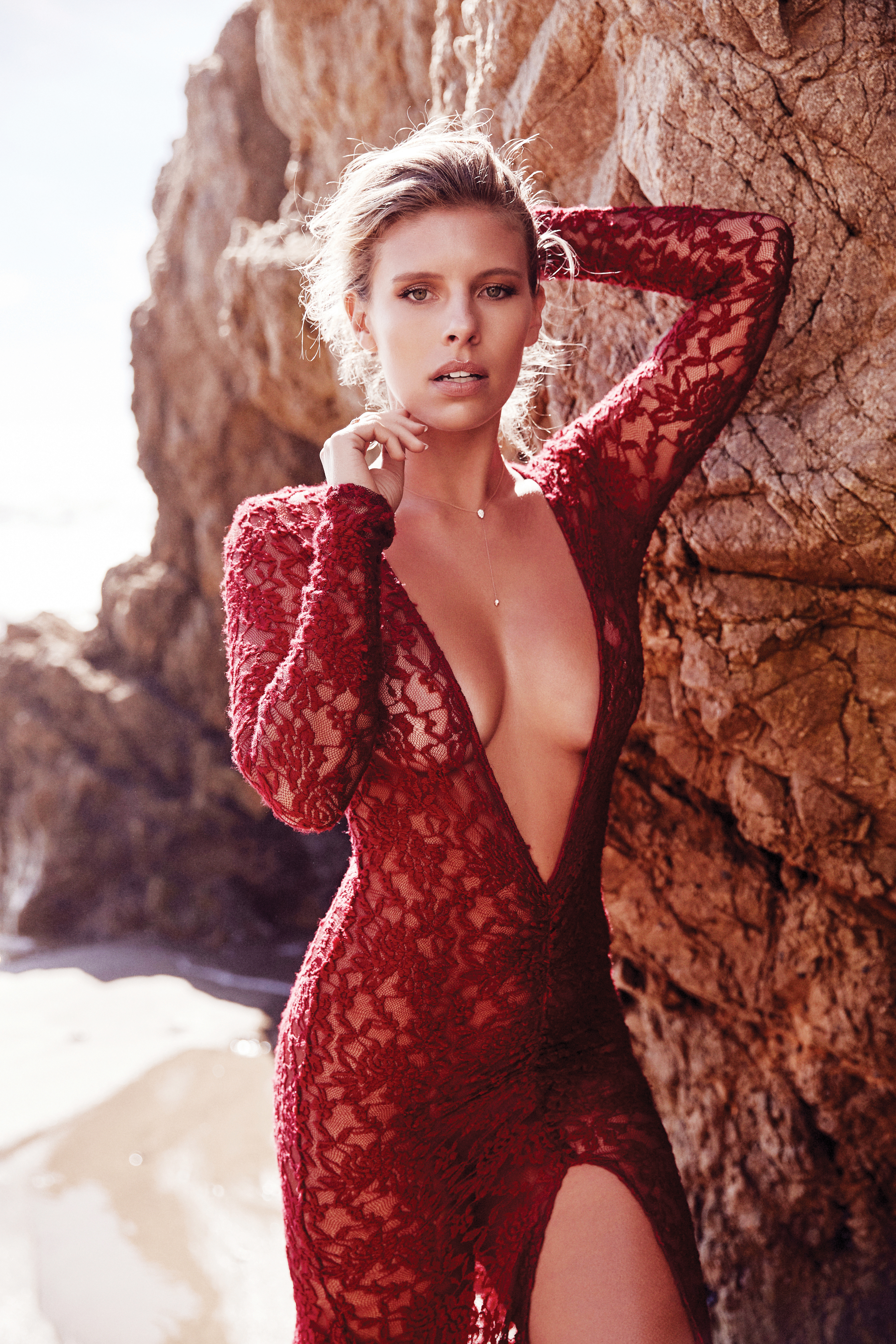 Dress by Stello, Necklace and Ring by Carbon and Hyde
She added: "In the beginning, our following was based on women relating to the concept of A Bikini A Day and its message of empowerment and freedom. Our brand is constantly evolving; through strategic partnerships, a consistent creation of high-quality content and the expansion into retail. However, what we love the most is that everything comes back to why it began; to inspire others to follow their dreams."
Devin said proudly: "Not only do we, most likely, have the world's largest collection of swimwear, but we are best friends who celebrate and uplift one another. We travel to some of the most beautiful locations in the world and have created a successful brand without management or investors."
From the outside, it looks as though Natasha and Devin are living the dream. They make a living from travelling to the most exotic locations in the world. However, nothing is ever as simple as it seems.
Natasha laughed knowingly, then said: "A lot of people would get a pretty rude shock to see what a day in the life of A Bikini A Day is really like. We don't have an agent to take care of us and do all of the not so fancy behind the scenes work – we do it all. Monday Swimwear, Monday Active, A Bikini A Day, our personal accounts, all the admin, emails, interviews, appearances and shooting 50 bikinis in a day at beaches we don't even have time to swim at. Surprise, that is all us.""
She continued: "We try not to put too much pressure on ourselves when it comes to shooting. Most of our shoots are actually shot by one another. It can be exhausting, toward the end of the shoot we can become delusional and a lot of laughs are had as we struggle through."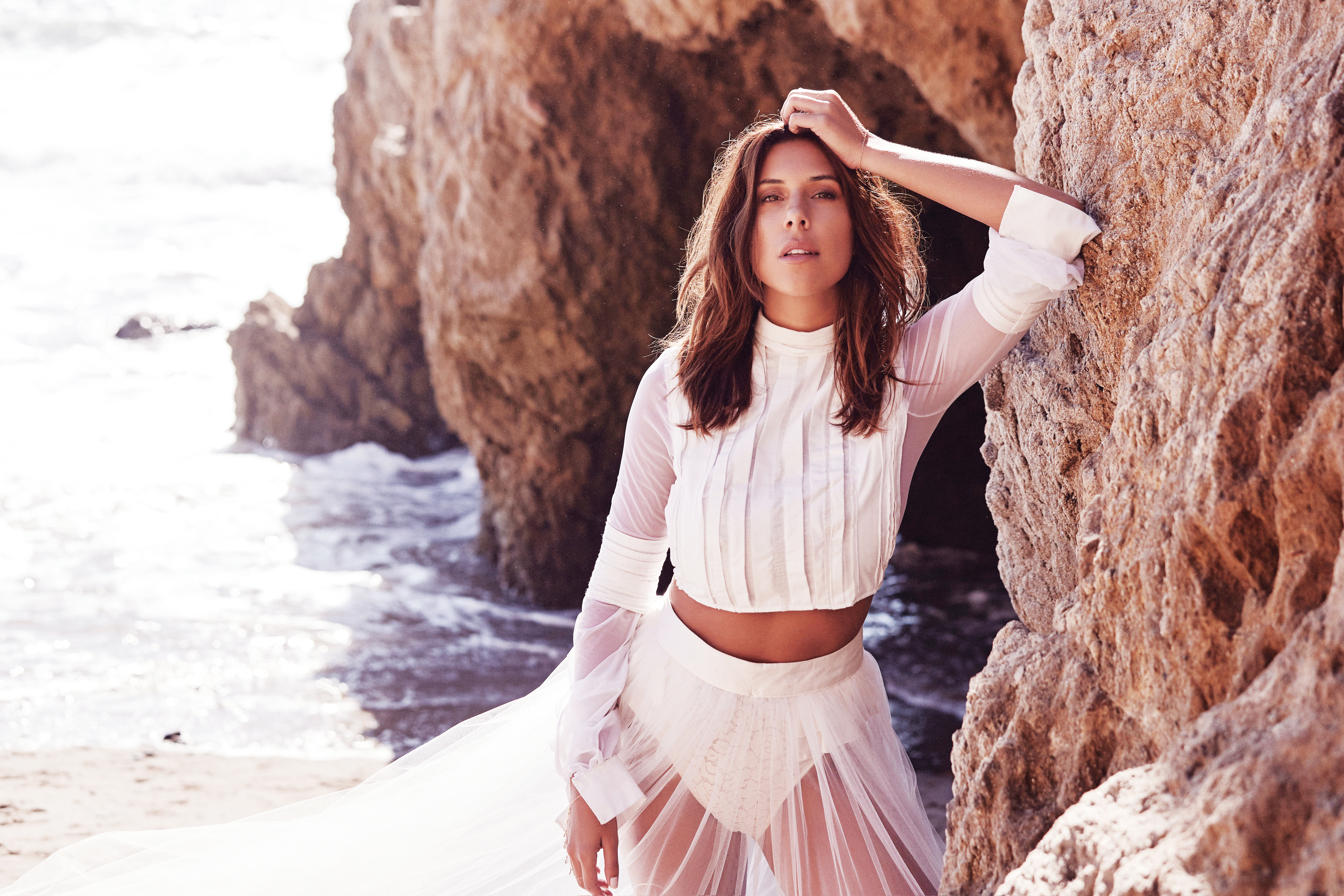 Top by Foxbait, Bottoms by Liviara, Skirt by Anglo Couture
She added: "We wouldn't change it, though. We're extremely fortunate to see parts of the world we once never knew existed. It's what makes working until 1am and constantly travelling easy. It's the passion for what we do that makes it a dream job."
Natasha and Devin have always had a global mindset. Devin was raised in Hawaii and Natasha has lived in Sydney, Hawaii, London and Miami. They have both relocated to Los Angeles, and for the time being, it is where they call home.
In the past six months alone, Natasha and Devin have travelled the globe together, including; Fiji, Australia, Bora Bora, Peru and Anguilla. However, the pair fell completely in love with The Bahamas on a recent trip.
Devin explained: "The crystal clear water and white sandy beaches are so stunning and make for the perfect photo backdrop. It's an aqua playground as you can travel by boat or Jet Ski to the neighbouring islands that are filled with exciting creatures. Swimming pigs, sharks, stingrays, dolphins and iguanas are just a few of the amazing animals that you can interact with in their natural environment."
She recalled: "One day we were having so much fun on a neighbouring island that we lost track of time and the sun went down. We had to Jet Ski in the pitch black back to our island, which was about 40 minutes away. It was very scary, but luckily we were with one of the locals who knew the islands like the back of his hand."
They say that you shouldn't mix business with pleasure, but for Natasha and Devin their friendship is their biggest strength and has been instrumental to their success.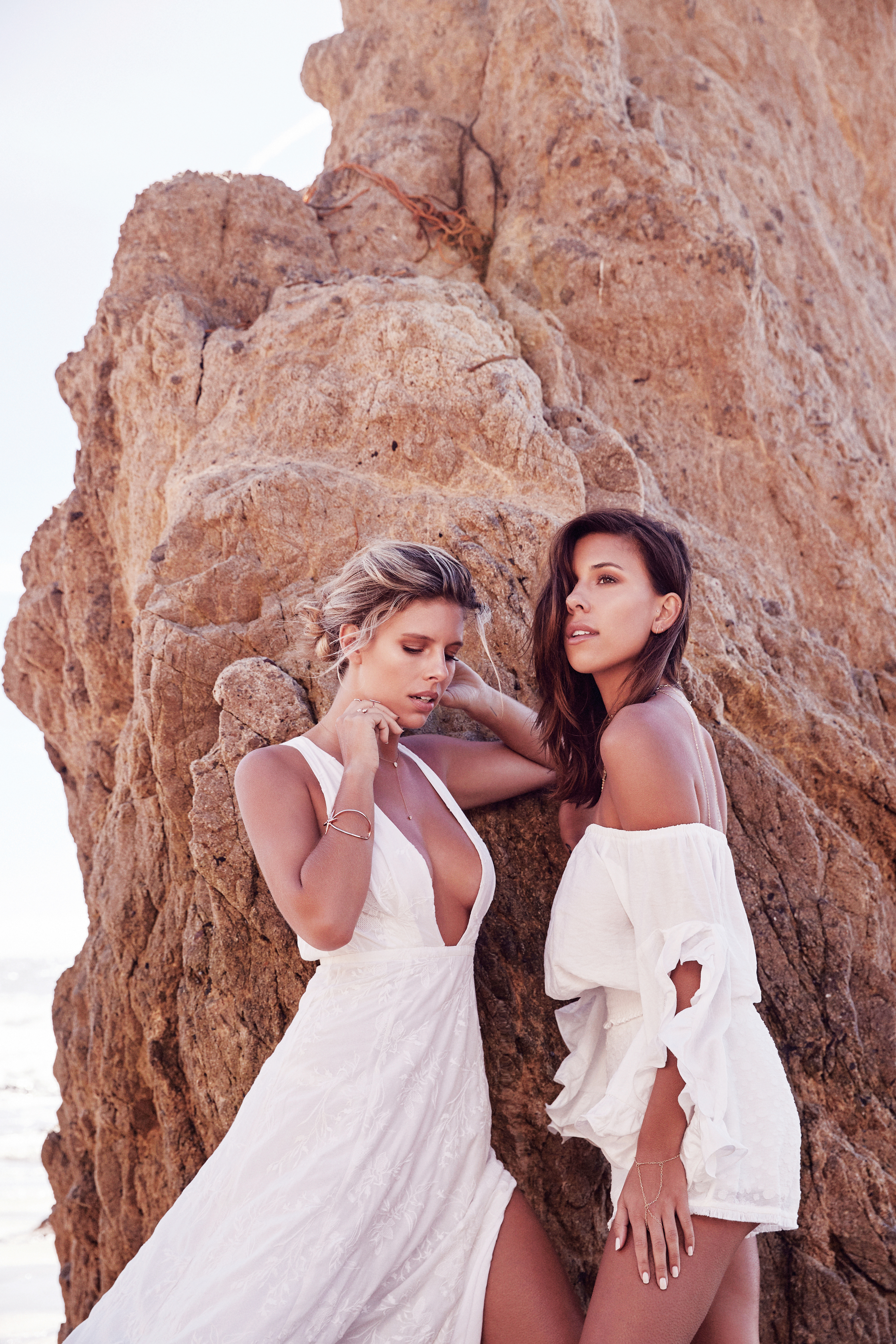 Natasha: Dress by The Jetset Diaries, Necklace and Ring Finger Ring by Carbon & Hyde, Midi Rings and Bracelet by LuvAJ
Devin: Top by Tea & Cup, Shorts by C/MEO Collective, Hand Chain by Briwok, Body Chain by Haati Chai
Devin confessed: "We are so lucky to be able to have an amazing working relationship but it all comes down to our open and caring friendship. What's mine is Natasha's, and what's Natasha's is mine, we always have each other's best interests at heart."
She added: "We have also both been great at honing in on our strengths, so our roles within the business are clear. Natasha manages brands, collaborations and strategies and I manage content creation and social media."
Both, Natasha and Devin have entrepreneurship in their blood. They credit the strong female role models in their lives for instilling an admirable work ethic and preparing them with the foundations to create a thriving business.
Natasha said affectionately: "We were extremely lucky to grow up surrounded by inspiring women. The 'glass ceiling' was never something that existed in our minds, our mothers were so driven and passionate that we grew up with the belief that as long as you are willing to work for it, you can have anything you want."
She added: "Thinking back to the afternoons I spent in my mother's office, I was getting an insider's perspective of how a business works. There was no need for an internship, I grew up watching the ins and outs of a business.I knew what it meant to own your own company, a lot of hard work, a forward-thinking mind and the ability to take control of your own destiny. 
 I was so inspired by my mother that the minute I was old enough to run my own business, I did."
To their millions of dedicated followers, Natasha and Devin have become role models. Their audience is their biggest motivation, and they take great pride in setting the best example they can to their followers.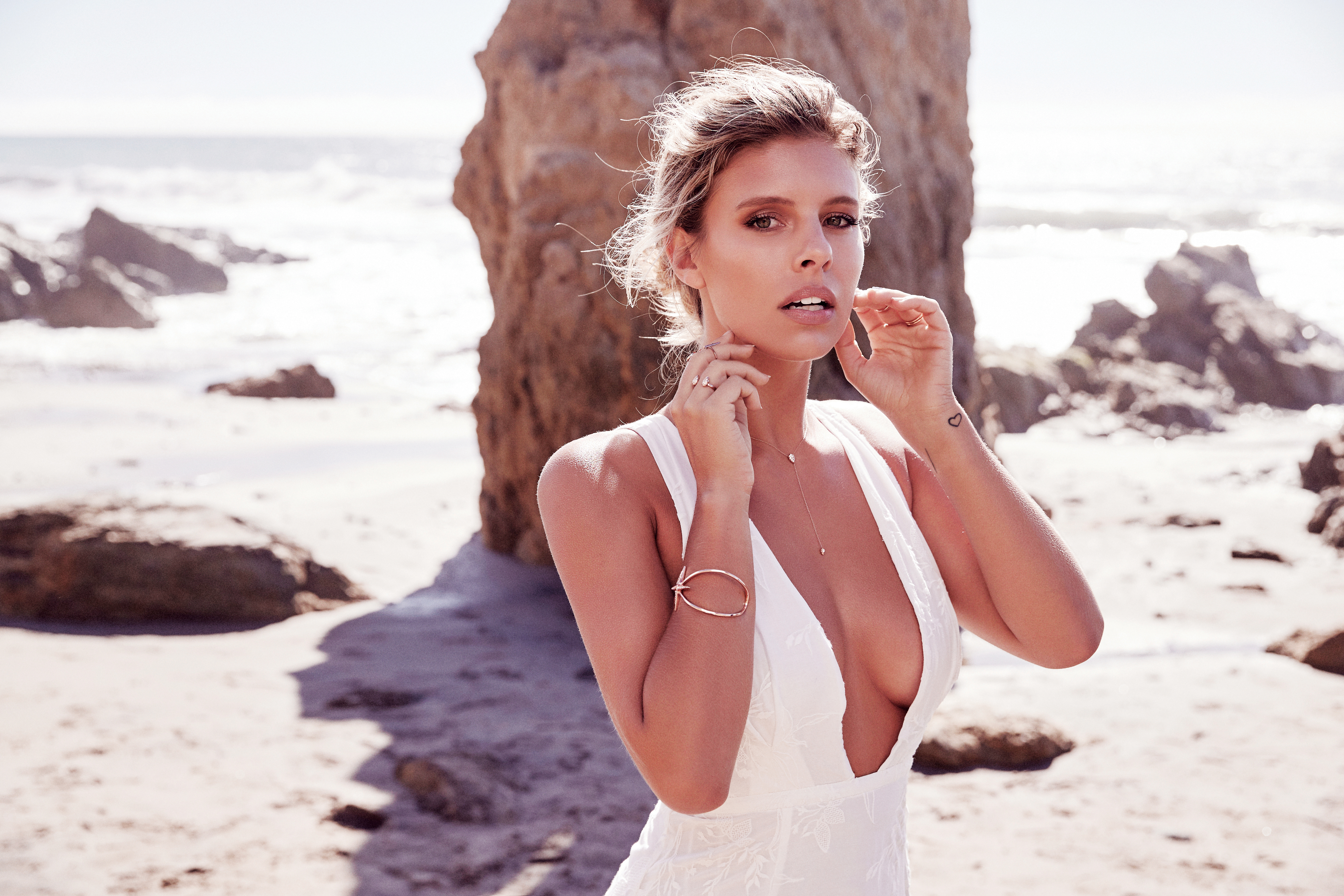 Dress by The Jetset Diaries, Necklace and Ring Finger Ring by Carbon & Hyde, Midi Rings and Bracelet by LuvAJ
Devin said frankly: "From day one our message has been very clear, it has never changed. We have gained the trust of our existing and new followers through that fact that we are genuine people and are genuinely in love with what we do."
She added: "We know how important it is to have strong female role models in your life, especially in this day and age. Our favourite part of our work is having the opportunity to meet the young women that follow us. It sounds corny, but they inspire us as much, if not more, than what we do them. The feeling you get when someone tells you that you inspired them to get fit, work harder or travel more sparks a pretty indelible change inside yourself."
Natasha and Devin have gained and maintained a loyal following due to their promotion of a healthy, physical and mental outlook on life. This has elevated them to a level of consciousness above many other influencers.
They have maintained dignity and grace, even when their personal lives and physical appearances have been scrutinised online and in the media, They have never allowed the pressures from society or the media to distract them from their happy and healthy ethos.
Natasha revealed: "We have been extremely lucky to have a supportive and inspiring audience who we rarely receive negative comments from. Of course, there have been times where people have made mean comments, including the media, but we take it with a grain of salt. We are who we are, we are healthy, happy women and feel lucky for every day that passes."
After being inundated with requests, Devin wrote 'The Big Bust 101' on A Bikini A Day, an inspirational guide for women on how to dress their voluptuous curves. The article spread across the Internet like wildfire, demonstrating the importance of promoting body confidence for women of all shapes and sizes.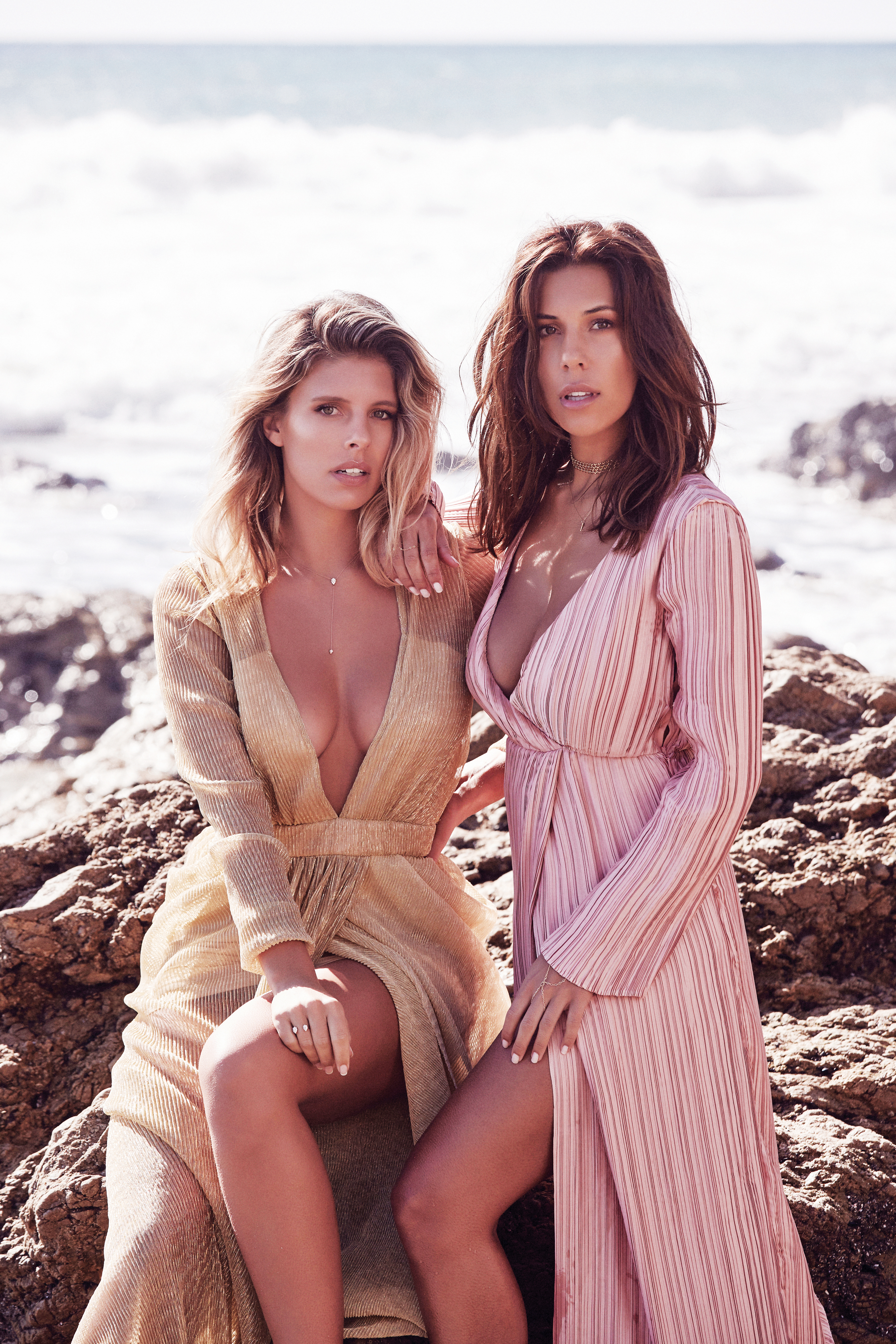 Natasha: Dress by SheIn, Necklace and Ring by Carbon and Hyde
Devin: Dress by The Jetset Diaries, Hand Chain by Briwok, Choker by Haati Chai, Necklace; Devin's own
Devin confessed: "A lot of girls look to me for guidance when it comes to body confidence, especially when they're self-conscious about having a bigger bust. I've gone through personal issues with body confidence as well, so I know how much of a struggle it can be."
She added: "One of the main things that Natasha and I preach about is confidence in your natural body. With the pressures of the media and the promotion of plastic surgery, it's very tempting to want to change yourself to what society perceives as 'beautiful'. We believe that a woman who's confident in who she is is the most beautiful. Be kind to yourself, don't look in the mirror and point out everything you hate, learn to be gentle with your words and practice self-love."
Natasha and Devin have worked tirelessly to create a global brand that has cemented their reputation as two of the most innovative digital influencers in the fashion and travel industries. This has enabled creative, financial and personal freedom that has allowed them to set the world to rights on their terms.
Photographer
Trevor King
Styling
Gianni Catalina
Hair
Travisean Haynes using Oribe
Makeup
Gabrielle Solana using Bobbi Brown, Anastasia Beverly Hills, Bali Body, Becca, Too Faced, Makeup Forever and Iconic London.
Styling Assistant
Jes Lopez