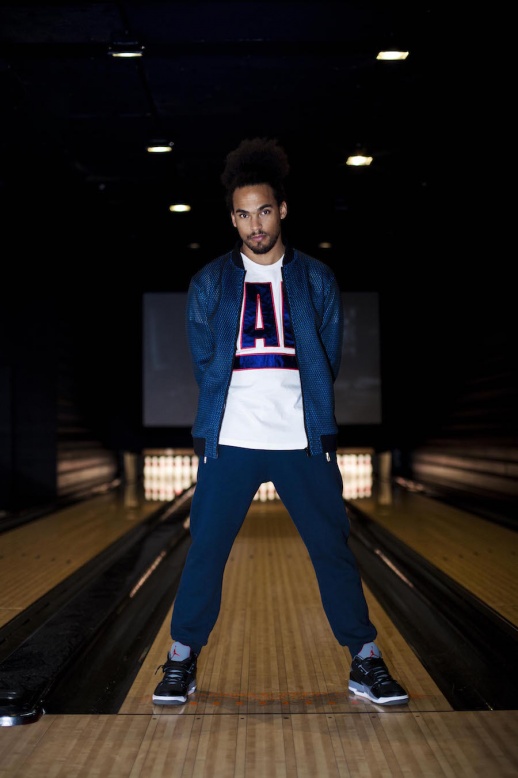 Jacket: Villain     T-shirt: Ashley Marc Hovelle      Joggers: Energie       Trainers: Nike
DJ's are often an enigma; you can know their voice as well as your own, but what do you really know about them? Dev has carved a phenomenal Djing career, which spans over a decade. He currently hosts his own show on BBC Radio 1 and attracts millions of listeners. I wanted to learn more about the man behind the voice I knew so well, so I took Dev off air and into the real world.
It was so early on a Saturday morning that even the streets of Central London were almost deserted. As my Uber flew through the city, I asked the driver to tune in to Dev's show. I found myself smiling uncontrollably; he was witty without being crude, charming and effortlessly funny.
Later, as we drove through the security gate at the O2, I listened to Dev discussing a secret 'million pound idea' that he had formulated with Matt Edmondson. He promised to reveal it to his listeners the following day. I made a mental note to try and squeeze it out of him during the interview.
Brooklyn Bowl was due to open in a few hours and it was surreal to see such a vibrant place so vacant. A rainbow of disco strobe lights illuminated a perfect line of bowling balls, waiting to be picked up. The sound of Elvis' hypnotic voice oozed out of the speakers and neon signs flashed in a multitude of colours above a cluster of large leather chesterfield sofas. With its bold colours, retro energy and eclectic interior, Brooklyn Bowl was an aesthetic playground.
The team and I were led to the green room on the top floor, where we would be based for the duration of the day. It was a vast room with wood-panelled walls that were adorned with rock posters. There was an old Hollywood-style dressing room table, complete with vintage mirror with white luminous lightbulbs.
I had barely sat down on the chocolate brown Chesterfield sofa when Dev strolled into the room, his face illuminated by a dazzling smile.
Dev had come straight from the Radio 1 studios, where he had been on air just an hour before. He was dressed casually in jeans and a black hoodie, his hair was tied up in its signature style. Although he looked understated, there was something undeniably magnetic about him. The entire team stopped what they were doing to greet him.
I immediately brought up the 'million pound idea' that I had heard him discussing on air with Matt Edmonson earlier that morning. An infectious smile, that I couldn't help but return crept across his lips.
In comically hushed tones, he said: "So, we had this idea to open a restaurant where the staff are all celebrities that used to be on television. We would change it up every week so it would always be a surprise."
He added excitedly: "It would be like a restaurant version of Celebrity Big Brother. Dave Benson Phillips, Chesney Hawkes and Jet from Gladiators could be the waitstaff and Chico could perform. I think it would take off, we would be millionaires within 6 months."
We both laughed at the absurdity of it, but it crossed my mind that this was actually an incredible idea, definitely something that people would pay to experience.
Dev has a particularly close relationship with Matt. He said frankly: "I have a lot of respect for him. He is not afraid to challenge people. Sometimes on the radio, someone will say something that is a little near the knuckle, most presenters would panic and try to change the subject but Matt would nudge even further."
He added: "I love that, we are both experienced enough not to cause offence on air but Matt has banter that toes the line. He always keeps it fun and real."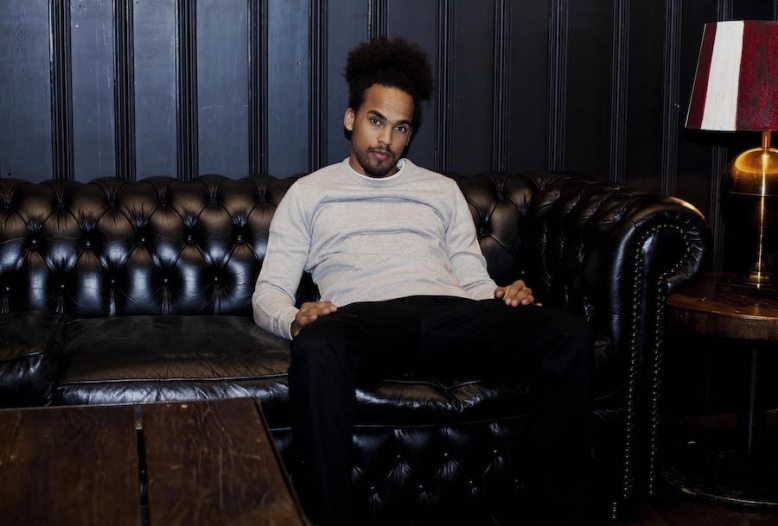 Jumper: Samsoe and Samsoe   Jeans:  Alpinestars
Djing has played a fundamental part in Dev's life since he was just six-years-old and would spend his free time recording his own radio shows on his mum's hi-fi.
He said: "I ruined my mum's record collection with my sticky fingers. When I was a bit older she suggested that I buy my own records, so I got a paper round and spent the money on records."
When Dev was 13-years-old, he moved to a housing estate in North London, it was there that he discovered Garage music.
He smiled softly at the memory, then said: "I made this new circle of friends and they were all MC's or DJ's. This was a time when Garage music was very much still underground but it was definitely making waves with the youth at the time.
He added: "Some kids wanted to be footballers or basketball players but for me DJing was always what I was going to do."
At just 15-years-old, he hired a manager who organised gigs in West London clubs where Dev would play to large adult audiences.
Dev smiled mischievously, and then rubbed his chin thoughtfully. He said: "It was a crazy time, garage culture was in full swing. There was so much opportunity and a lot of money to be made for a young boy like me that knew Garage."
Dev was yet to turn 16-years-old and he was already making a name for himself as a DJ on both pirate radio and the London club scene. If this wasn't enough, he and his childhood friend Reggie Yates had secured a spot on CBBC television show 'Smile' alongside Fearne Cotton.
It was whilst Dev and Reggie were presenting on CBBC that they were picked up to present the 'Reggie and Dev' show on BBC Radio 1xtra. After a successful stint on 1xtra, Ray Paul, a Head Executive of Specialist Music on 1Xtra at the time approached Dev about his goals.
Ray Paul has been credited with launching the careers of a number of DJ's and artists. He has played an instrumental part in securing commercial airplay for a number of underground artists.
Dev recalled nostalgically: "I told Ray that I wanted to be on 1Xtra five days per week and he told me that I could achieve that within 18 months. Then he asked what my next goal was, I told him I wanted to do the breakfast show on 1Xtra."
He laughed and shook his head gently, then said: "This wasn't enough for Ray. He told me that I could be on Radio 1 within 18 months. He encouraged me to aim higher and once he had planted that seed in my head, it was all I could think of. Ray is a big mentor of mine; if Ray hadn't believed in me who knows where I would be right now."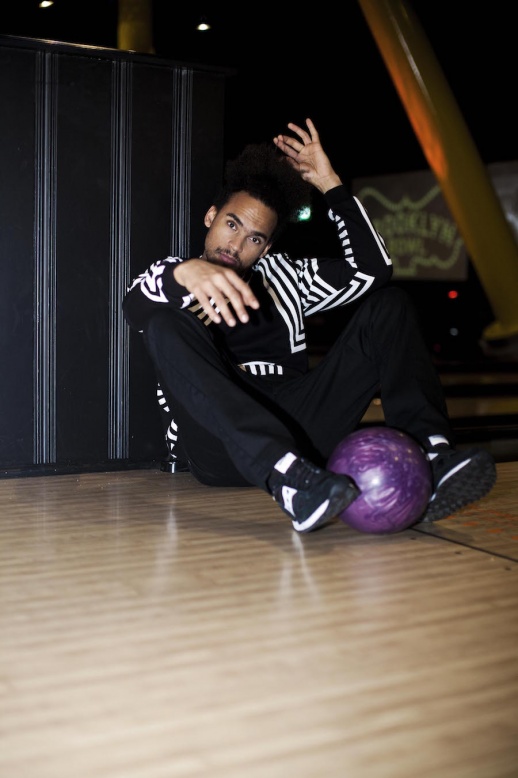 Jumper: Ashley Marc Hovelle   Jeans: Alpinestars   Trainers: Saucony Originals
Dev revealed that he initially struggled with the culture shock between Radio 1 and 1xtra.
He admitted: "It was terrifying! My issue was my comfort zone in regards to the culture and music I was used to playing. It was very urban, whereas Radio 1 had a much broader scope, so I found it quite challenging to begin with."
Dev soon found his feet and before he knew it, he was called in to have a meeting with Ben Cooper, better known as 'the big boss of Radio 1'.
A smile crept across Dev's face as he recalled the moment he was told he had his own early morning radio show. He said: "Ben said that he was really impressed with what I had done and told me to re-set my alarm clock as I would be getting up very early for the forseeable future."
He added: "It was very surreal and to be honest it didn't really sink in for a long time. I kept expecting Ben to take it away from me and tell me it had all been a joke."
In person, Dev is charismatic and relaxed but you would be mistaken to define him as laidback. Behind his cool demeanour is a brilliant hardworking man with an outstanding work ethic.
A perfect example of Dev's determination to succeed at any cost, was his revelation that whilst hosting his own show, he was also studying full-time for a music degree.
Dev shrugged and said humbly: "To tell you the truth, it wasn't easy. I did not have a proper schedule and my health suffered. I wasn't sleeping or looking after myself properly. I think that was the closest I have ever been to having a breakdown."
Dev's gruelling days consisted of waking up in the middle of the night, going to Radio 1 to do his show and then going to univeristy. After his classes, he would sit in his studio working until almost midnight before going home to sleep, only to wake up one hour later to do it all over again.
Dev revealed that his exhausting schedule taught him a lot about himself and his limits.
He said: "Getting up that early and running on nothing does start to become second nature after a while. I wouldn't recommend it, but I was so busy that I cold never overthink anything. I had no time to be nervous or distracted, there was no time to waste."
Dev laughed long and hard. He sighed deeply, then added: "It is a little scary thinking about how hard I was pushing myself. In hindsight it was the best training I could of hoped for. There is no way I could do it now though."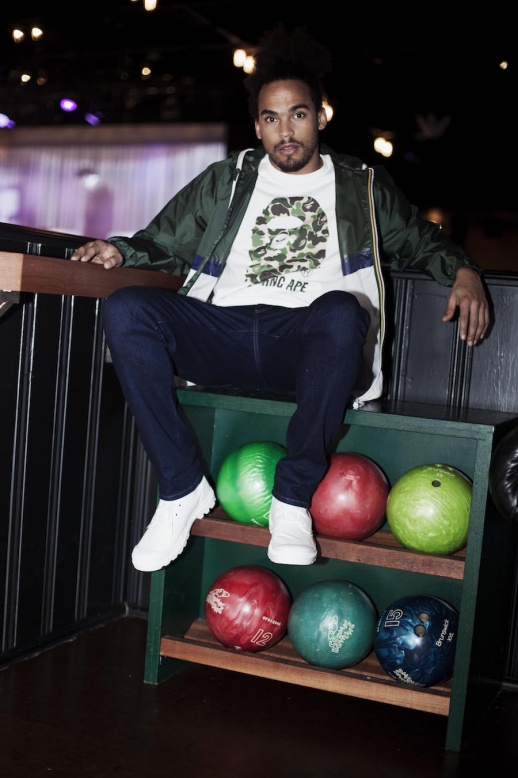 T-shirt: Bape x YR Store   Jacket: Kway    Jeans: Energie   Trainers: Paladium
The life of a DJ is often depicted as high-octane and impossibly glamourous and indeed it can be. However, it can also  be notoriously chaotic and demanding.Their schedules are spectacularly taxing and they often work incredibly unsocialable hours.
Despite what some may think, this extraordinary life is certainly not for the fainthearted.
Dev said frankly: "I want to say something that has been on my mind for a while. I know I'm not saving lives or changing the world. I won't pretend that I find it difficult to show up and talk, I actually feel quite comfortable being myself, especially at this point in my life."
Dev leaned back against the sofa and sighed. He said exasperatedly: "I do get aggrevated by snippy little comments I get from friends who claim that I have it easy because I 'only work four hours a day'. What they don't understand is that I am never allowed a day off, I can't just call in sick because I can't be bothered."
He added: "Don't get me wrong, I love my job and my listeners, but my job does have its pressures. One of my rules is to never let people know I am tired even if I am completely exhausted. I imagine the last thing someone who has just worked a double shift wants to hear, is me complaining about how tired I am."
Dev also admitted that in the past he has struggled to wear his heart on his sleeve, but now accepts that letting people in is part of the job.
He said frankly: "In order to do this job properly, you have to be candid. If you want to build trust with your listeners, you have to let them in on your personal life. Whether it's my favourite flavour of ice cream or something that has got under my skin that day, it is important that I can share it with them."
Although it is fundamental for Dev to have an open and honest relationship with his listeners, he admitted that it can be a double-edged sword.
He admitted: "I don't mean to sound ungrateful, but you lose a lot of privacy. When I am out, I love meeting people and most are respectful and completely lovely but some aren't. It is definitely a minority, but some people can be really demanding, it is as though you owe them something."
He shook his head solemnly in disbelief, then added: "Especially on Twitter. People can be pretty horrendous, they say things they could never get away with saying to your face."
Despite this, Dev knows how fortunate he is to have carved out a successful career doing something he truly loves.
One of the most notable perks of the job is the array of music industry heavyweights Dev has worked with; including Kanye West, Sir Paul McCartney and Justin Timberlake.
He said: "I get way over excited to meet people and then I get really over familiar with them. I probably do the exact thing that I just said annoys me. I had an absolute melt down before I met Paul McCartney."
Radio 1 had organised for Dev to get guitar lessons from a surprise legend.
He threw his head back and laughed: "I thought I was going to get a cheesy look-a-like or a tribute band and then I was told it was going to be Sir Paul McCartney from The Beatles, I just sat there waiting for the punchline!"
When it dawned on Dev that he would be meeting Sir Paul McCartney himself, he ran outside to call his sister in order to calm himself down.
He said: "Paul was the lovliest guy and I was relatively composed until he picked up his guitar and asked me to play him something. I freaked out, imagine playing for one of the biggest musical legends of all-time? It was completely ridiculous."
Dev admitted that he had been surprised at how humble Justin Timberlake was when they met.
He said thoughtfully: "I know this sounds silly but Justin Timberlake was so normal, he didn't have any airs or graces about him. He was promoting a film at the time and he genuinely wanted to know what everyone liked and didn't like about it."
Dev shook his head in disbelief, then added: "After about 5 minutes it didn't feel like you were talking to a world famous pop star, it was like he was just one of the team."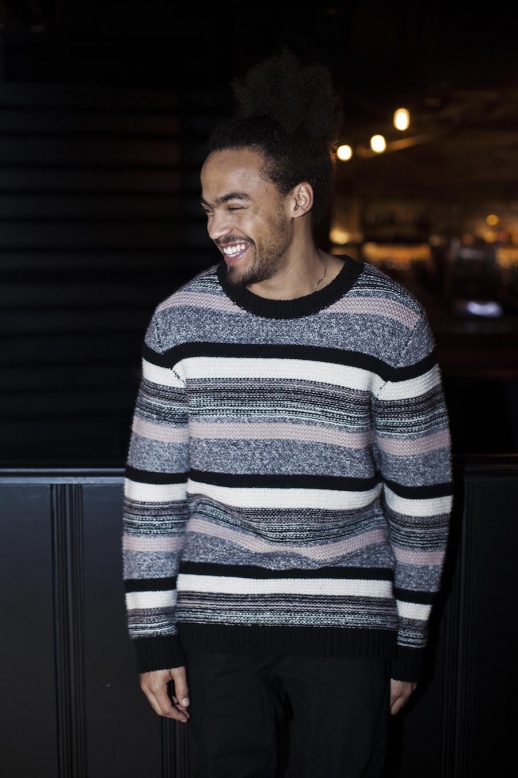 Jumper: Samsoe and Samsoe
Suddenly, our conversation was interrupted by a knock on the door. A waiter came in brandishing two platters; one laden with fried chicken and the other with a mountain of golden chips, drenched in cheese and gravy.
A frustrated sigh escaped Dev's lips as he eyed the platter. He groaned painfully, then elaborated: "You are honestly trying to kill me. I'm on a big health binge at the moment and this all looks so good but so bad."
I took one look at Dev's athletic physique and raised an eyebrow. He burst out laughing and said: "I am turning into one of those really annoying health nuts. I have only been doing it for a few weeks and I have already become really judgemental. I walk past McDonalds and judge the people in there. It's funny because I was in there myself about 2 weeks ago."
Healthy eating and fitness may be a new concept to Dev but it is something he is taking incredibly seriously.
He admitted: "I'm trying to rectify years of being a pig. I used to eat really bad things, for example a typical breakfast for me at work is; a sausage roll, cake and a Mint Cornetto. There's something so refreshing about a Mint Cornetto in the morning."
He joked: "I'm trying to make a change before it all catches up with me and I end up middle-aged, morbidly obese and unable to get off my sofa but still clutching my Mint Cornetto."
Before I knew it, our interview was drawing to a close and Dev was due in hair and makeup. Suddenly, it dawned on me that although Dev was charismatic, hilarious and warm, what impressed me most was his admirable work ethic.
With the rise of reality television and social media, this is a generation that seeks instant success and gratification. Dev has proved that he is not afraid of hard work and pushing himself to the limit. Not much is certain in this world, but this I know for sure, whatever Dev turns his hand to, I guarantee he will be a roaring success.
Ten Questions We Ask Everyone
1. What did you want to be when you were younger? 
When I was about 6-years-old, I used to piss about on my mum's hi-fi. I would play her records and record my own radio show. I always knew I wanted to be a DJ when I was older, I just wanted to play great records and talk shit in-between.
2. If you could offer advice to your twelve-year-old self, what would it be? 
Never ever stop playing the piano. In fact learn a bunch of different instruments and learn a new language. Don't stop playing basketball, don't take up smoking and stop spending all your money, save it.
3. You have 24 hours with no travel restrictions, how would you spend it? 
The first thing I would do is go and see my sister who lives in Trinidad now. I would spend a good amount of the day hanging out with her. Then I would probably go somewhere I have never been like Africa, I have heard really good things about Ghana.
4. What is the most exciting thing that has happened to you this year? 
Radio 1's Big Weekend was cool, I warmed up for Kings of Leon. Whilst the band were on stage playing, Caleb looked at me and held my gaze for like 5 whole seconds. I went nuts, he knows that I exist.
5. The film you can watch over and over yet never tire of? 
The Goonies
6. The song that always makes you emotional?
Ok, so this isn't a very cool answer or whatever but I have always thought that Beethoven's Moonlight Sonata is a powerful and beautiful piece of music. It is so incredible that it kind of makes you stop whatever you're doing and you get lost in the moment. If I could write anything that captured even a little bit of the emotional intensity in that song, I would very happy man.
7. If you could spend an entire day with anyone uninterrupted, who would it be? 
A whole day! Well, it would probably be Rick Rubin, I'd want to hang out with him in a studio somewhere. We could just talk music and projects, it would be incredible to climb inside his head and beard for a bit.
8. It is Friday night at midnight, where are you most likely to be? 
These days I am at home in bed, because I have to get up so early for work. My days of taking my shirt off in clubs are well and truly behind me.
9. What is your biggest vice? 
Crack! No, i'm joking. I used to eat very poorly, so junk food and lack of regular exercise was my vice I guess. I am trying really hard to rectify that now though.
10. How would you like to be remembered? 
It would be nice for people to think of me as a reasonably lovable idiot who always did what he believed in.
Catch Dev live on Radio 1 Weekend mornings from 6 – 10am.
Follow Dev on Twitter: @dev_101
Photographer
Stylist
Kitty Cowell
Make Up and Grooming
Jessica Hunte
Photography Assistant
Kim Jobson
Assistant
Misty Griffiths
With special thanks to:
Brooklyn Bowl
The O2, Peninsula Square, London SE10 0DX