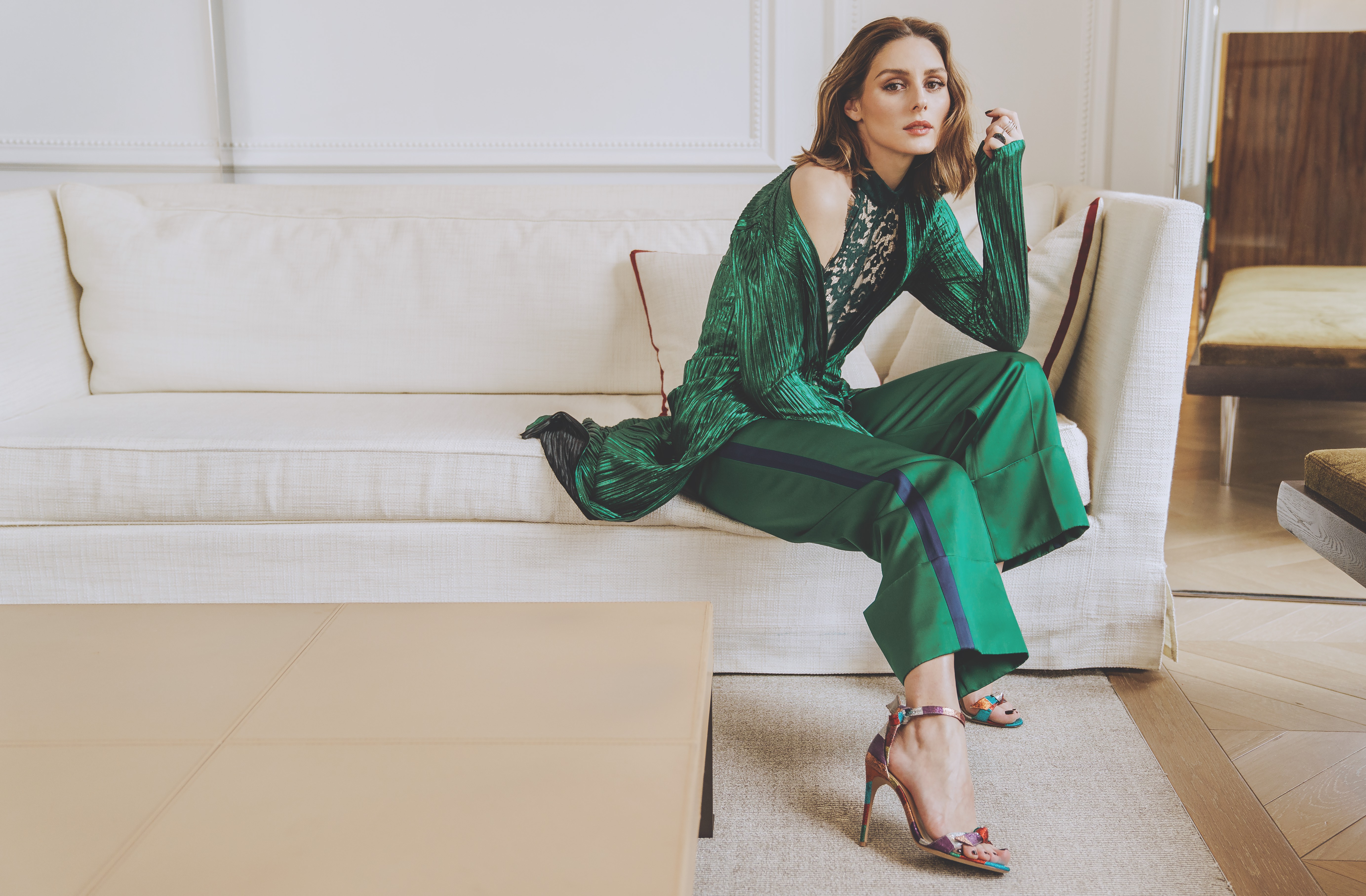 Jacket – House of Harlow 1960 x REVOLVE available at Revolve
Bodysuit – Majorelle available at Revolve
Trousers – Tommy Hilfiger
Shoes – Alexandre Birman
Statement Ring – Annoushka 18ct Rose Gold, Topaz & Blue Diamonds Dusty Diamonds Topaz Ring
Silver Ring – Arté
We live in a digital world where Instagram reigns supreme and millions of people are using the platform to embark on a career as an 'influencer', many promoting protein shakes, hair vitamins or waist trainers to a new generation of impressionable young girls. Then, there is Olivia Palermo, who has over 5 million followers on Instagram alone but that is the least interesting thing about her.
Olivia is an entrepreneur, model, muse and style icon. She has had multifaceted careers where she wears many hats and wears them so well. These days, Olivia is as consistent in the front row during fashion weeks as Anna Wintour, however, a young Olivia had dreams that were more common on the playing field than on the runway.
Olivia said nostalgically, "When I was younger I wanted to be a sports commentator. I remember never really seeing women in that job when I was a child and I always wondered why not."
Olivia said thoughtfully, "You know, I think wearing so many different hats in my career has been very beneficial. It has allowed me to be far more efficient and effective in each role that I take on. It helps me understand the industry in a better light, seeing new perspectives is important, especially these days with the digital revolution."
Olivia started her career working in PR for Diane von Furstenberg; she then went on to work in the accessories department for Elle U.S which was closely documented in MTV reality show The City. Unlike many others who breakout from reality TV, Olivia turned 15 minutes of fame into a phenomenally aspirational career, built upon vision, hard work and dedication. She has never allowed glass ceilings to stop her achieving phenomenal things; just a few years after working in Accessories she graced her first Elle cover.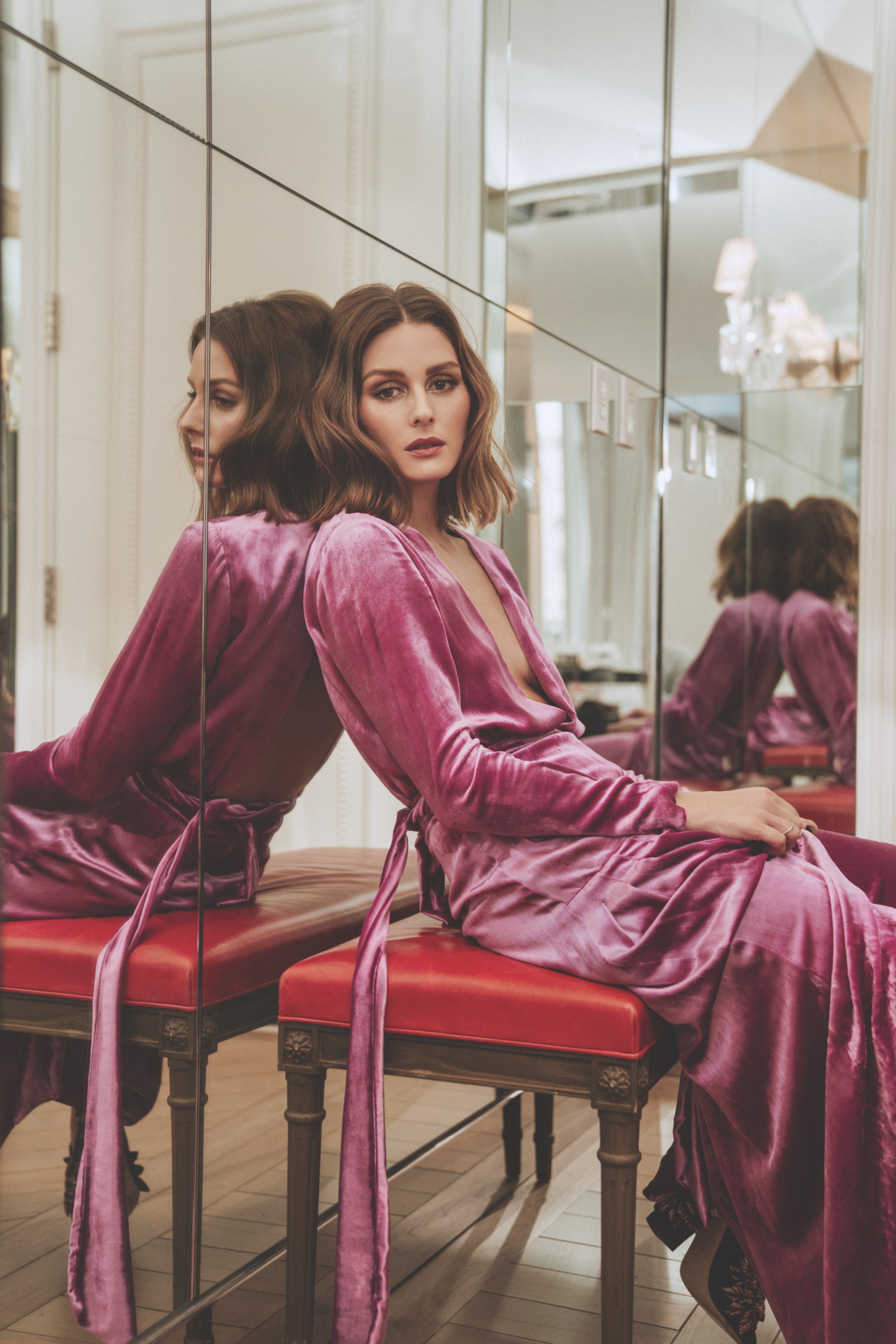 Jumpsuit – Temperley London
Shoes – Sanayi 313
18ct White Gold & Diamond Crown Ring – Annoushka
18ct Rose Gold & Diamond Crown Ring – Annoushka
Thin Diamond Ring – Monica Vinader
Olivia thought for a moment, then said: "It is a great strength to have experienced the fashion industry from behind the scenes to in front of the camera. Most of my friends also work in fashion but in so many different fields so their perspective and to see how things are structured has always been invaluable."
She continued: "PR and marketing for any brand is important but I also think that it is a wonderful foundation for someone who wants to break into the fashion industry, PR is so important to show focus and hone in on your customer."
With her perfectly tousled golden bob, cut-glass cheekbones and effortless style, Olivia effortlessly seduced the fashion industry. When she is not being a muse for designers or a source of inspiration for young women around the world, she is collaborating with some of fashion's biggest powerhouses. She has collaborated with Stuart Weitzman, modelled for Mango and was named Banana Republic's first Global Style Ambassador.
She is currently the face of Bobbi Brown, has released a collection with Pretty Ballerina and designed a collection for Banana Republic.
Olivia confessed, "I am so hands-on during the design process, I'm very close to the small details. With Banana Republic, it was nice to work with a big brand that are well structured and open to feedback."
She continued passionately, "The aim was to keep the essence of Banana but to take 50 pieces, like a great trench or trousers and really elevate it. I put my own touches on them, I call them 'wardrobe pieces', it is a collection you can build your wardrobe into."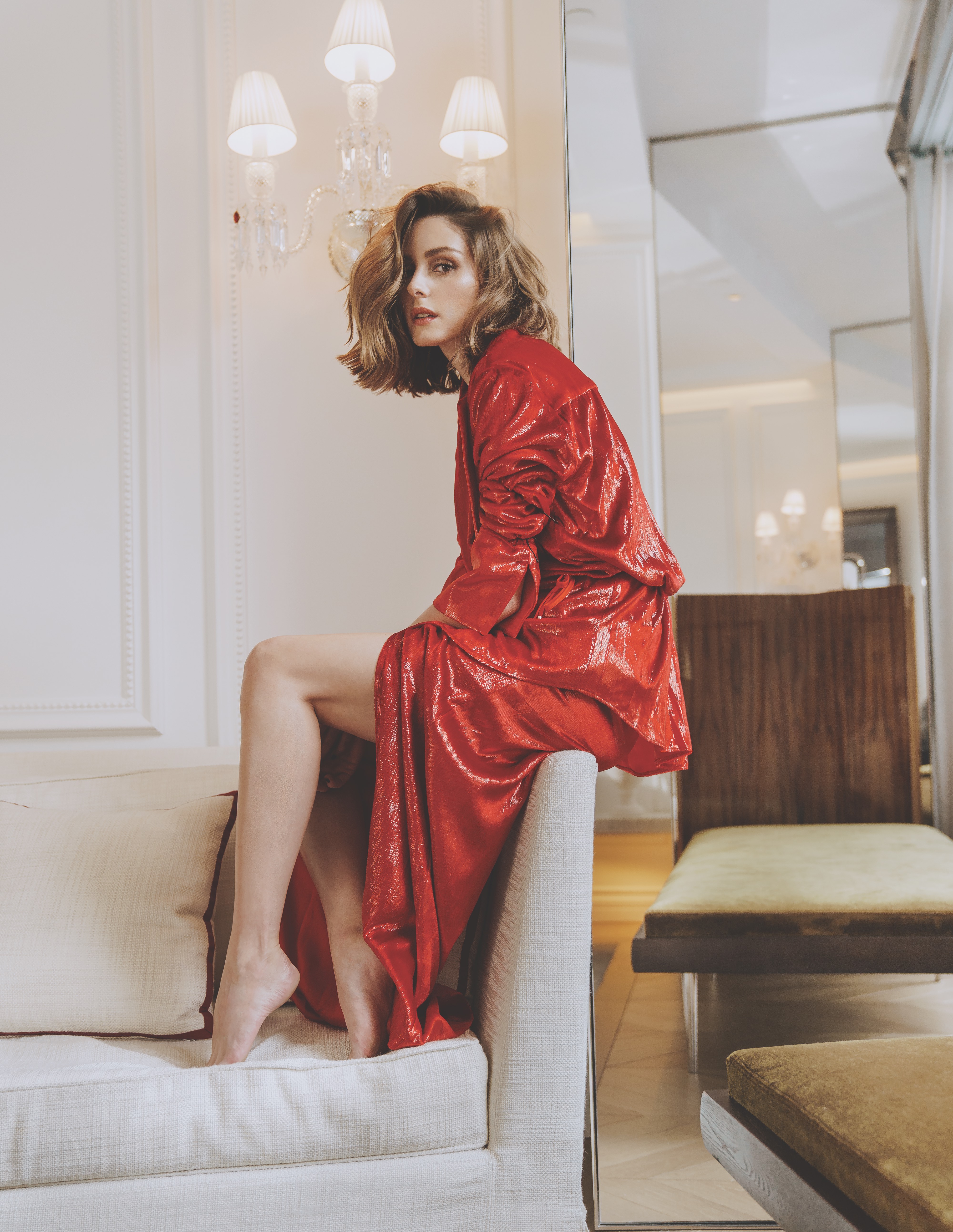 Skirt – Michael Lo Sordo, Available at Net-a-Porter
Blouse – Michael Lo Sordo, Available at Net-a-Porter
Olivia revealed that she likes to attend all of fashion month, she explained, "Each city has its its own aesthetic, its own craftsmanship. New York is always the biggest; I think it's more apt for leisure and casual wear. Of course, there are the bigger brands like Michael Kors that are a very strong sell and Ralph Lauren. In London, you look to Erdem or Pringle of Scotland, who are amazing for knitwear. In Milan it is all about the impressive Italian craftsmanship."
With the harshness of winter behind us and spring fast approaching, I was keen to discover what Olivia's predictions for Spring/Summer 2018 would be.
She thought for a moment, then said confidently: "Of course, I pay attention to trends but I don't let them dictate my style. Trends will always come and go and then come back around again, what is important is wearing what makes you most comfortable."
She said: "For Spring or Summer I think light layering is a great way to go. I find the seasons have changed so much and you can pretty much rely on one wardrobe for most of the year. I love great pastels, they can be very versatile."
Olivia Palermo has not only established herself as a powerhouse, or a force to be reckoned with in the fashion industry, she is so much more than that. She has never been pictured spilling out of nightclubs, spouting controversial statements or doing anything to gain attention. Simply because she doesn't need to, Olivia prides herself on letting her work speak for itself.
In a time where role models in the spotlight are hard to come by, she is a breath of fresh air.
Olivia paused momentarily, then laughed softly. She gushed, "Oh wow, that is a wonderful compliment. You have no idea how much that means to me. From a young age the importance of having good structure and not just doing things that you enjoy was instilled in me. Go to bed early, wake up early and have a full day. Open your mind and heart to new experiences."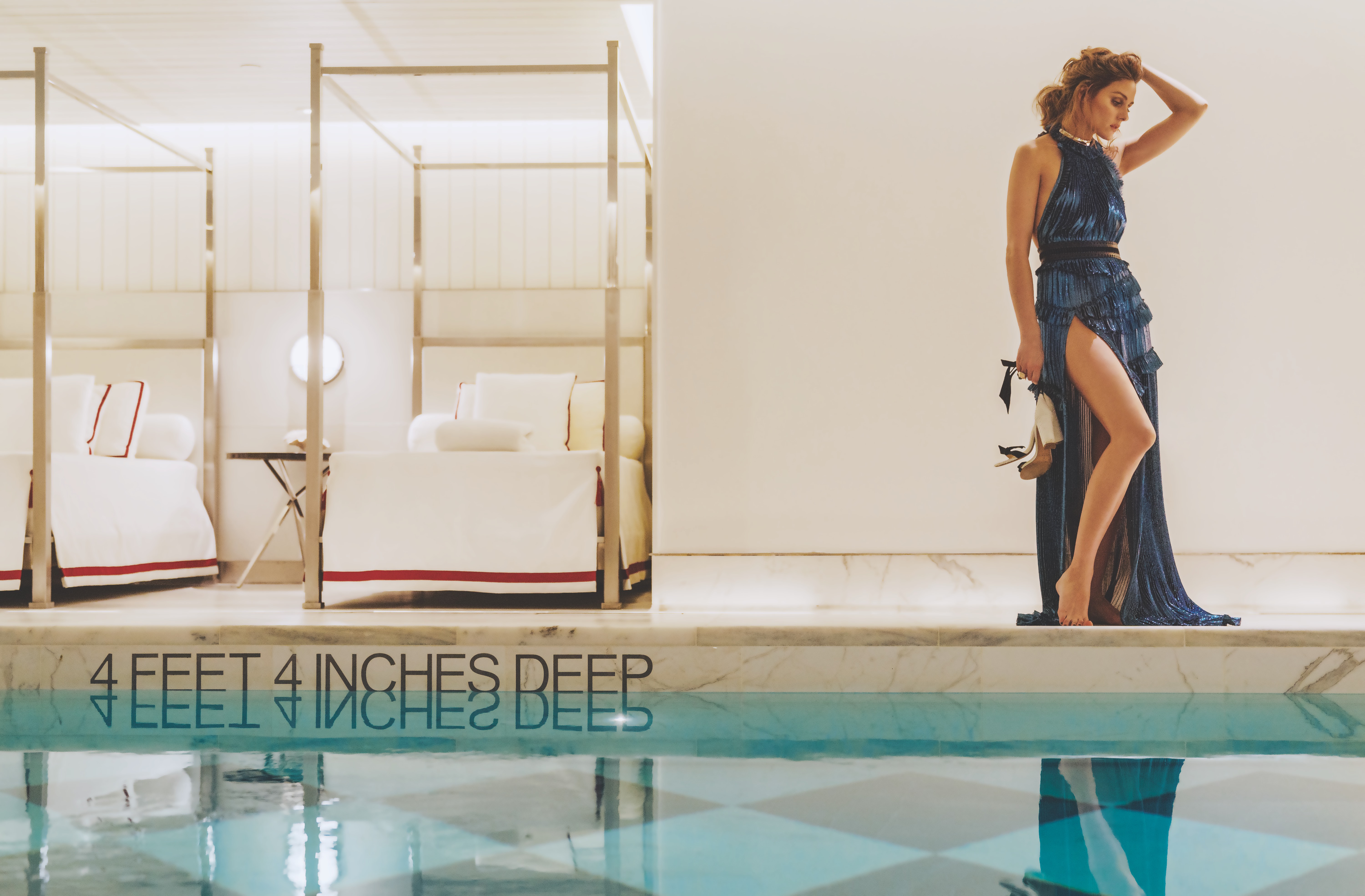 Gown – Aadnevik
Shoes – Alexandre Birman
Choker – Susan
Caplan Ring – Alinia Abegg
She continued, "To succeed in anything you must have a good foundation and understand the industry that you are in, if we are speaking about fashion, learn the history of fashion a little to help you understand the industry as a whole a little better. Whether it's going to classes or watching fashion documentaries, educate yourself, there is so much power in that."
Success is a mind field and of course there is no secret but Olivia believes there are a few things in life you should prioritise.
She revealed, "We live in a time when everybody is so busy with work and with life and it is so easy to get caught up in things. There is no shame in taking time for yourself, even if it is just 5 or 10 minutes out of the day to meditate or just reflect. Perhaps write a list of things that you'd like to work on, or do, or simply just ideas that happen to be in your head at that time."
She added, "You would be amazed at how beneficial taking a little time to yourself can be. Everyone is out to impress everyone else but there's no need. Let your work speak for itself.
One of Olivia's closest confidants put it best when she revealed to me: "I have been to so many events with Olivia and she is always approached by the public. There are so many teenage girls who have made so much effort with their outfits, because they knew they were going to see Olivia and wanted to impress her."
She continued: "For many teenagers, there is a time when you just want to be a clone and dress like your friends do but what is so inspiring about Olivia is that she encourages women to not conform but instead to dress how they want to dress, to be bold and adventurous in fashion."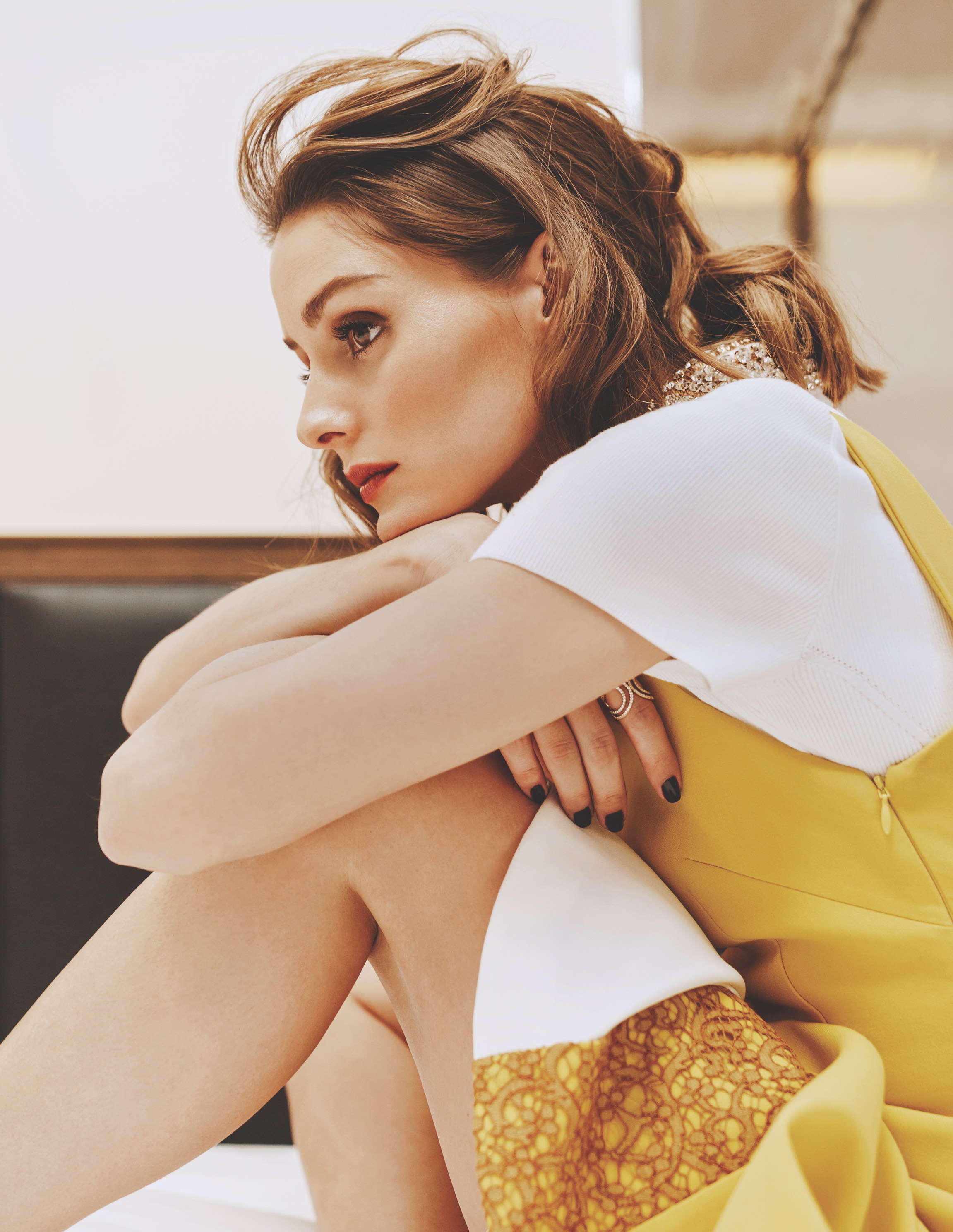 Top – Philip Plein
Dress – Sophia Kah
Ring – Savage Rose
For an industry that is based predominantly on aesthetics, it comes as no surprise that fashion and those that work in it can be perceived as conceited, and elitist. However, Olivia Palermo is the complete opposite to this in every conceivable way. In person, she is gracious, warm, kind and doesn't take herself seriously. For someone with such a pristine public image, it is amazing and admirable that she has such few airs and graces.
In contrast to her high-profile contemporaries, Olivia has always fiercely protected her privacy, this has led to her being seen as a perfect enigma. We are used to seeing her impeccably turned out in the front row of every notable show during fashion weeks around the world, we are used to seeing her gracing magazine covers or appearing on our televisions but who is the real Olivia Palermo?
When she's not gracing red carpets in Milan or cuddling up to Mr. Valentino himself and Giancarlo Giammetti on a night out, you can find Olivia at home in New York on a Friday night, listening to Stevie Wonder's 'Once in My Life', her favourite song, watching The Minions with her husband Johannes Huebel or playing Mario Kart online with her friends.
Olivia has the kind of power that many in her field could only dream of. When she is photographed wearing a dress, it immediately sells out, when she designs a collection it is torn off the rack, this has been coined 'the Olivia effect' in her honour.
Olivia has the kind of influence that all the money and overexposure in the world could not obtain. She is revered in the fashion industry and beyond because of her stellar work ethic and commitment to excellence.
She is a powerhouse and has achieved her success the old-fashioned way, no gimmicks, just hard work. For all the young girls, you could learn a hell of a lot from Olivia Palermo.
Photographer
Joseph Paradiso and Yuki @ Cerutti + Co.
Stylist
Jennifer Michalski-Bray
Make-up
Andrea Tiller using Charlotte Tilbury Beauty and traceymattingly.com
Hair
Matt Furgate for Exclusive Artists using Kerastase Elixir Ultime
Manicurist
Yukie Miyakawa @ Kate Ryan Inc
Local Producer
Elizabeth Remigio
Styling Assistant
Kayleigh Dennis
Location
Baccarat New York, 28 W 53rd St., New York, NY 10019, USA