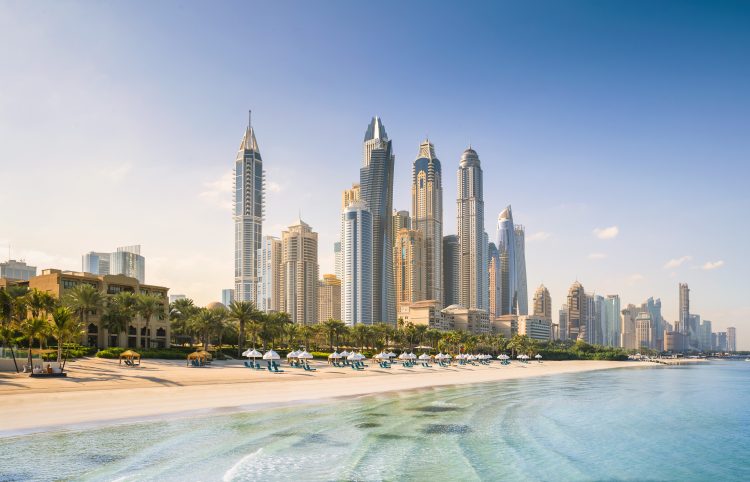 Among the city's oldest and most treasured hotels, One&Only Royal Mirage invites guests to experience a world of unparalleled luxury.
Reminiscent of an era before our time, the grand hotel entrance pays homage to the Arabian Bedouins who roamed the desert long before us. Each of the eight bronze statues remind guests of the hotel's roots before they step inside to discover opulence like they've never known before.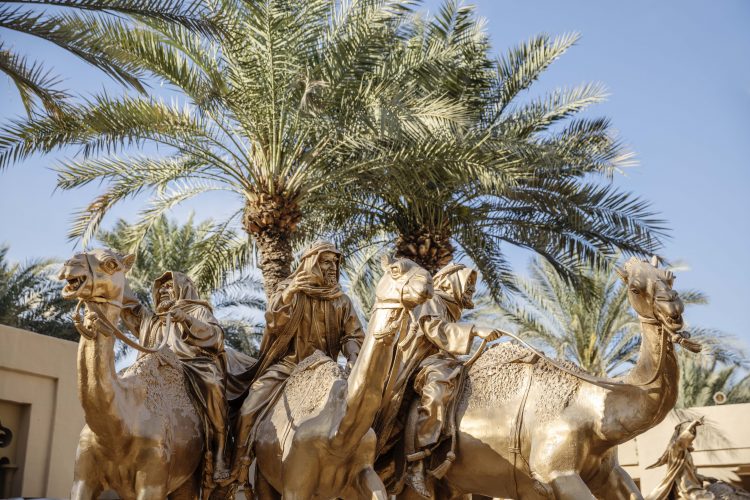 Mosaic-tiled floors, hand-painted ceilings and grand domes fill the entirety of the hotel. Vaulted arches lead you from one corner to another, while wavering palm trees follow you wherever you may go.
Our only wish is that the walls of One&Only Royal Mirage could speak so that they could tell us the tales of time. One of the very first hotels to open in Dubai, One&Only Royal Mirage has watched as the desert surrounding it has risen. Not too long ago, nothing could be found along the sand from Abu Dhabi to One&Only Royal Mirage, but now that is very much a different story.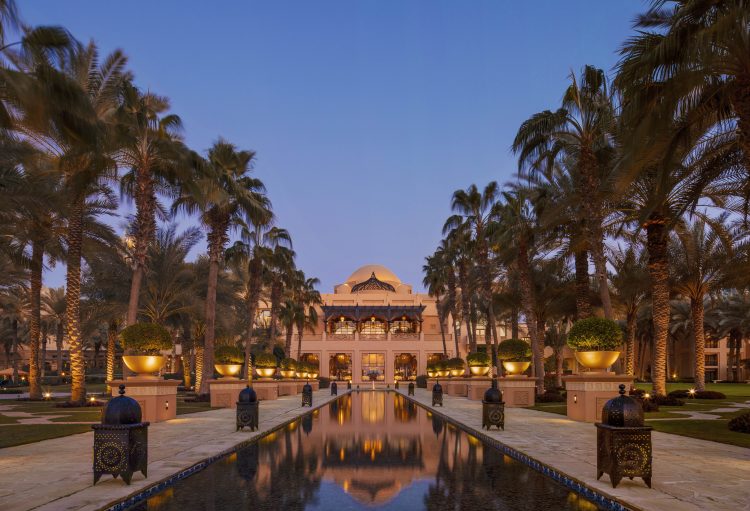 Made up of three properties – The Arabian Court, The Palace and The Residence & Spa – One&Only Royal Mirage is the hotel group's largest property yet offers the utmost intimate and exclusive service.
Our very own butler led the way to our suite which was like nothing I'd seen before. As he unlocked the door, he stepped to one side and gestured that we enter. I simply didn't know where to look first. A three-piece suite dressed in voluptuous cerise cushions surrounded an ornate dark wood coffee table. Exuding an unmistakable arabesque interior, it was not difficult to see why One&Only Royal Mirage is one of the most covetable properties in all of Dubai.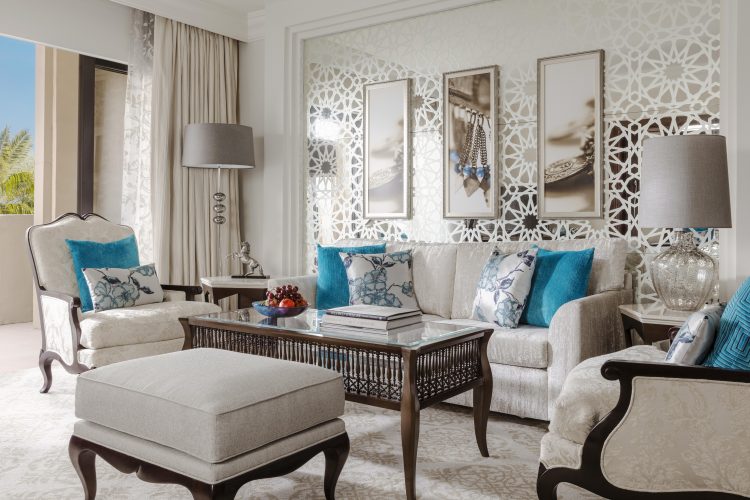 Beyond the lounge and dining area – which is complete with a fully stocked bar, cocktail shaker and ingredients included – lies a separate king-sized bedroom with walk-through wardrobe, en-suite and even its very own separate balcony.
Upon entering the bathroom, I couldn't help but notice that our butler had anticipated our late arrival by placing a pair of slippers and a fluffy robe by the side of the bath. Somehow, he knew me well.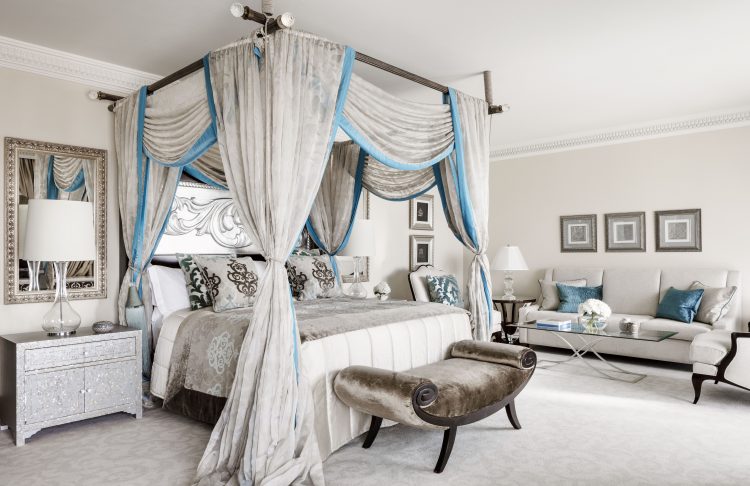 The following morning, I slowly opened my eyes and found myself smiling as I remembered the suite that I was waking up in. My body was out of balance due to all the travelling that I had done the day prior and so I awoke with an immediate appetite… a great problem to have when waking up at One&Only Royal Mirage.
I reached for the phone on the bedside table to ask our butler for a selection of fruit and freshly baked pastries to be delivered to our room. No sooner had I dialled, there was a knock at the door.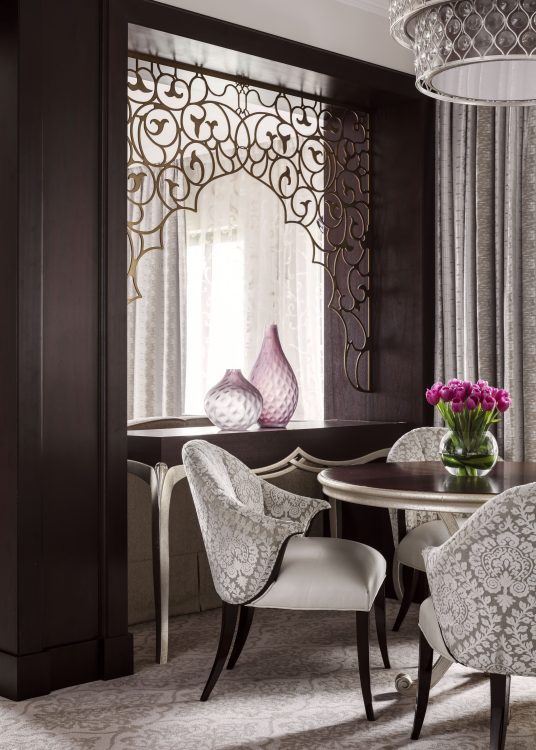 "Sabah alkhyr', the young gentleman said to me, as I opened the door and returned his morning greeting with a smile. I watched in wonder as he dressed our dining table with a linen cloth, silverware and a vase of fresh flowers before proceeding to serve a platter of fresh fruit, a basket of just-baked bread with locally made preserves, and a selection of pastries.
After breakfast, we wandered over to DRIFT, the hotel's very own beach club that attracts only Dubai's most glamorous guests. Overlooking the Dubai Marina skyline, the beach club sits on its very own stretch of private beach and offers uninterrupted views of Palm Island.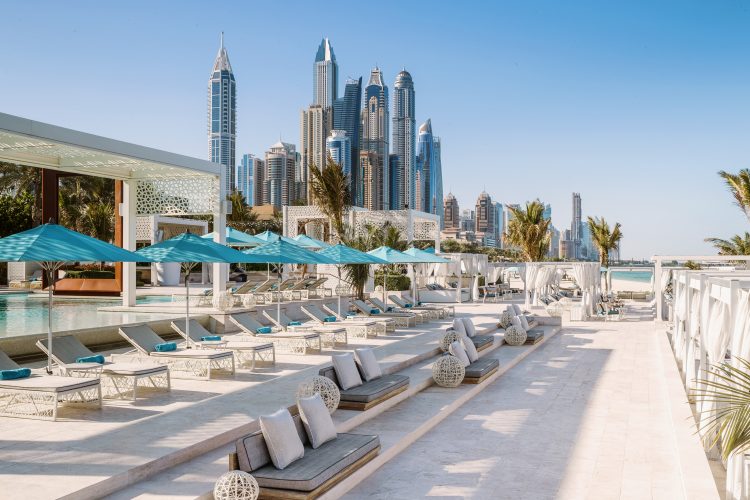 As I placed my beach bag on one of the sun loungers, a soft voice behind me welcomed us to DRIFT Dubai. Within minutes, I found myself lounging in a bathing suit with an ice cold glass of Champagne in one hand and a chocolate dipped strawberry in the other.
The oversized infinity pool is the perfect place to lap up the sophisticated and urban feel, while the waters of the Arabian Gulf just steps away are certainly tempting to dip your toes in and take a moment to relax.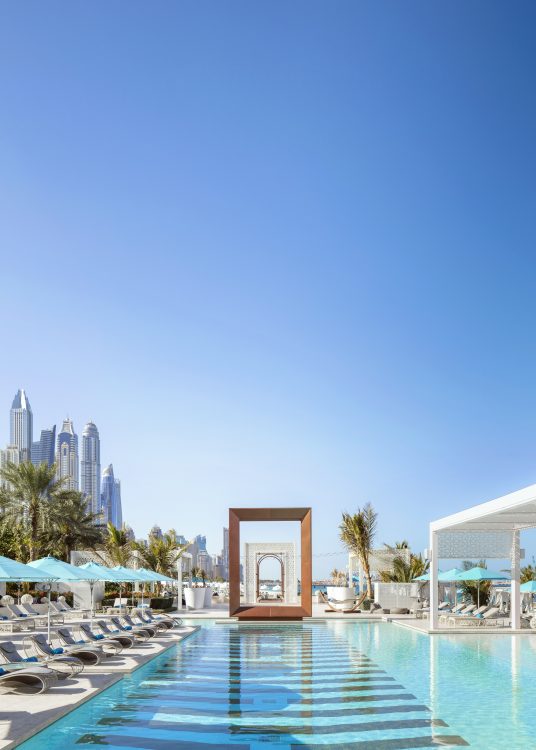 Before sunset, we made footprints in the sand on our way further along the beach to The Jetty Lounge where we swapped sunbathing for sun downing. The sky began to blush with pink and the city lights started to twinkle as I sank my toes in between the sand and listened to the soft sound of the waves rolling against the shore.
Soon it was nightfall and The Jetty Lounge was humming with conversation beneath the stars. If it wasn't for the fact that we had dinner reservations at The Beach Bar & Grill, I imagine we would have spent the entire evening at The Jetty Lounge soaking up the relaxed atmosphere.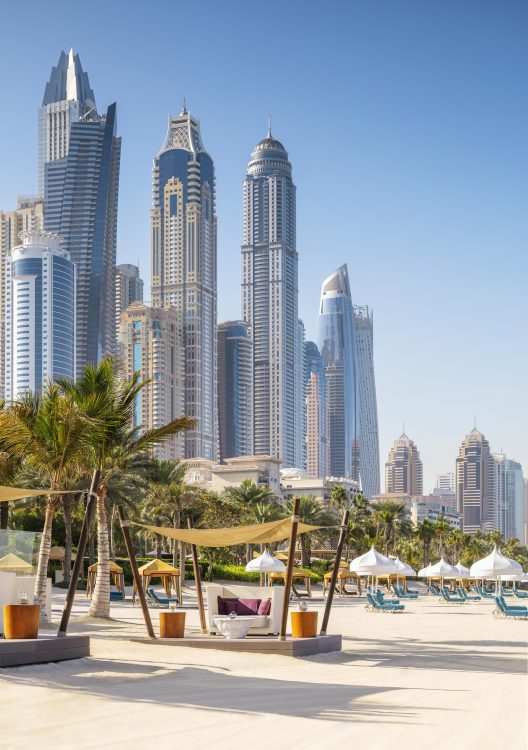 I picked up my sandals and the corner of my floating floor length dress and strolled further along the beach. The softly lit palm trees led the way with their warm pink glow and gentle rustling in the faint beach-side breeze. Nestled beneath the swaying palms on the kilometre of private beach is one of Dubai's most renowned restaurants, The Beach Bar & Grill by Mauro Colagreco.
Chef Mauro Colagreco is a Chef Patron of three Michelin star restaurant, Mirazur, which is located on the French Riviera and was recently voted number one at The World's 50 Best Restaurant Awards 2019. Chef Mauro has introduced new menu concepts to both the hotel's fine dining restaurant, Celebrities, and to Dubai's favourite, The Beach Bar & Grill.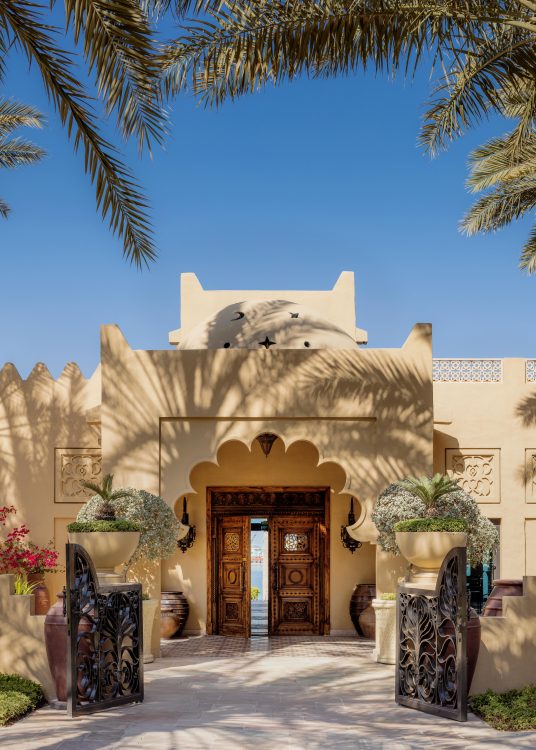 To start, we ordered Citrus Burrata and a Saffron Chickpea Salad to share. The latter consisted of sultana grapes and lemon olive oil with cucumber, coriander and feta cheese while the burrata was fresh and zingy with coriander seeds, sultana grapes, pistachio nuts and lime.
Knowing that the restaurant is admired for its offering of both sensational seafood and tenderly grilled meat, we were torn between the two. As the waiter approached us and I knew that I had to make a decision quickly, I opted for the Grilled Mahi-Mahi Fillet with Green Beans and Foyot Sauce while my guest chose the Australian Beef Tenderloin with Paprika and Chilli Pepper.
Each flake of fish was as flavoursome as the last and the foyot sauce was just the perfect accompaniment. My other half seemed to be almost silent whilst eating his prime cut of beef which is always a sure sign. With no room for dessert, we swapped our sea view table for cushions on the sand where we enjoyed one or two Espresso Martinis.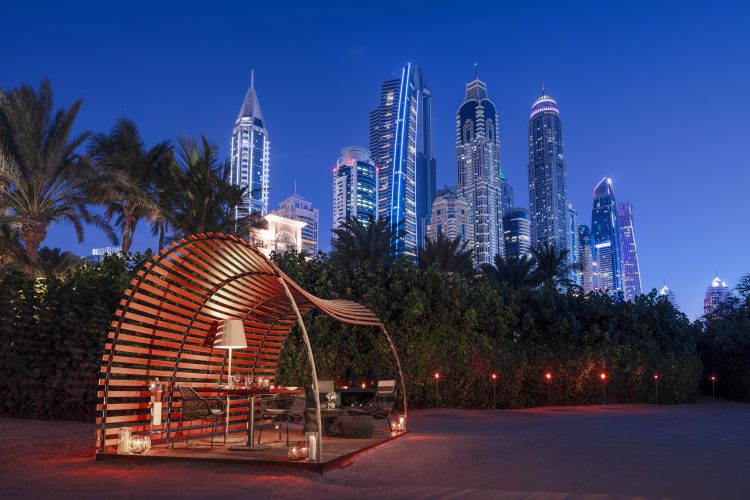 A stay at One&Only Royal Mirage is truly faultless. From the moment that you arrive until the moment that you leave, no ask is too big or small. Located just moments away from Dubai Marina and almost within arms reach of Palm Island; One&Only Royal Mirage has it all.
For those visiting Dubai for the first time, it is highly recommended that you visit the world's tallest building, Burj Khalifa, and the world's largest shopping mall, the Dubai Mall, which are just a short twenty-minute drive away.
One&Only Royal Mirage will gladly arrange any experience that you seek. Together with Platinum Heritage, One&Only Royal Mirage arranged an unforgettable desert experience for myself and my guest where we immersed ourselves in a nature-led safari across the dunes – all the while keeping an eye out for the indigenous Arabian Oryx – before enjoying a barbecue under the stars at a traditional Bedouin camp.
You often hear about the magic of Dubai but it is a destination that is to be seen to be believed, and never to be forgotten.
Rates at One&Only Royal Mirage start from USD $350 (approx. £268) per room, per night, in low season. For further details on the resort and to book, visit www.oneandonlyresorts.com