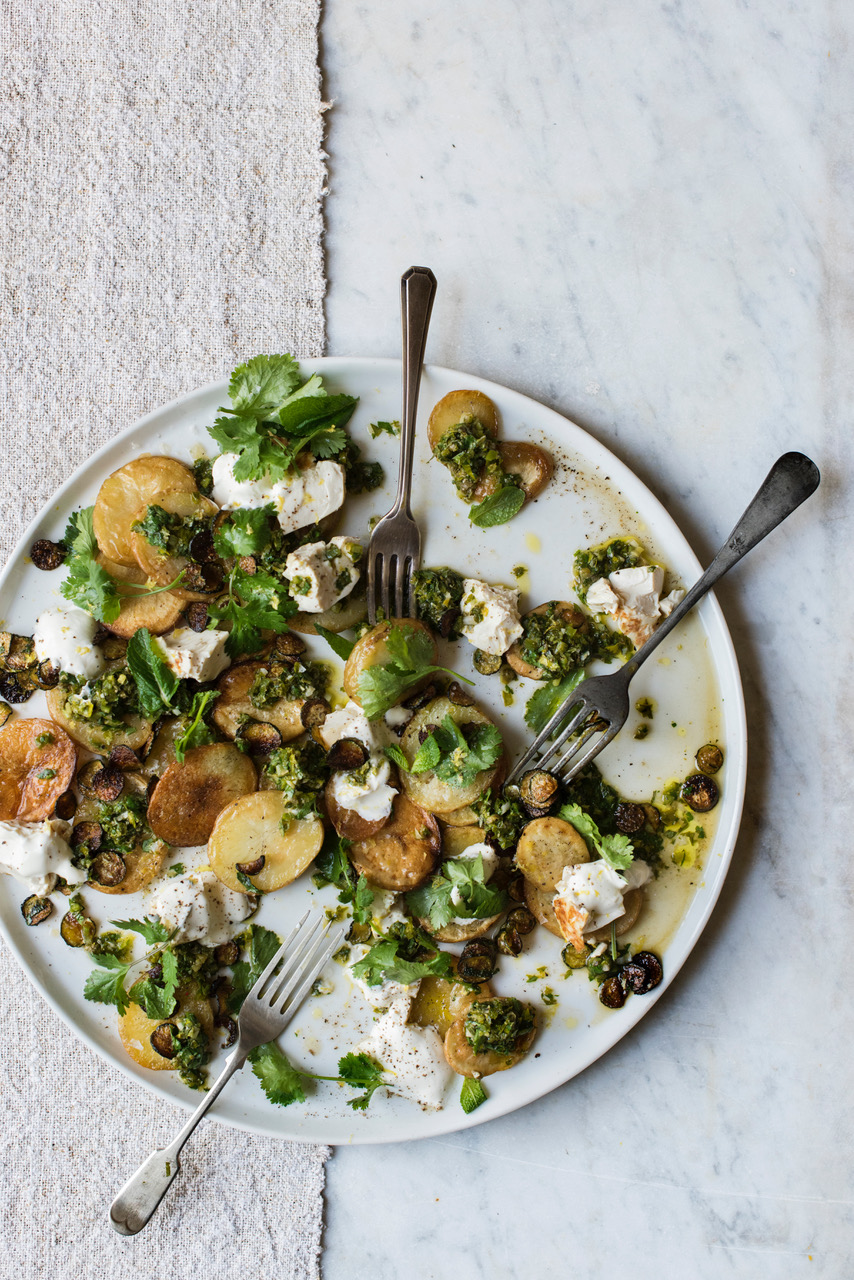 This recipe is a great alternative starter, perfect for sharing and if made up a little neater, it can even double up as great canapés. I'm all for simple sharing dishes that everyone can get stuck into, especially one with this much flavour. This can absolutely be made in well in advance if you have guests, just simply reheat your potato chips and add the sauce, tofu and crème fraîche at the last minute.
Preparation Time 10 minutes
Cooking Time 20-25 minutes
Serves 4-6
Ingredients
750g new potatoes – finely sliced into rounds
several glugs of rapeseed oil
generous sprinkle of sea salt flakes
zest of 1 lemon
200g silken tofu – roughly cubed
150g crème fraîche (can be left out to make it dairy free)
Chimichurri Dip 
3 cloves of garlic – crushed and finely sliced
1 baby shallots – finely diced
1 green chilli – finely diced
small bunch of coriander – very finely chopped or blitzed
handful of fresh parsley – very finely chopped or blitzed
several sprigs of fresh oregano – leaves plucked and finely chopped
several glugs of red wine vinegar
juice of 1 lime
several glugs of good quality extra virgin olive oil
generous sprinkle of sea salt flakes and freshly ground black pepper
Garnish 
200g Lambs lettuce
2 limes – quartered
Instructions 
Begin by preheating your oven to 200 degrees Celsius. Slice your new potatoes and place on a nonstick baking tray with a generous glug of oil and seasoning. Roast for 15 to 20 minutes or until golden and crispy.
Next either add all chimichurri ingredients to the blender or finely chop and slice all ingredients so that it's almost the consistency of a mint sauce. No chunky rough cut herbs here. Finally add in seasoning along with red wine vinegar and olive oil, mix thoroughly and taste checking whether you prefer more spice, pepper, salt, zest, sharpness and adjust to your preference.
Prepare the tofu, either leaving chilled or bake with seasoning for 10 minutes on 190 degrees Celsius. Once the potatoes are ready, roughly crumble the tofu, drizzle over the chimichurri and add the odd splodge of crème frache. Finish with a scattering of lamb lettuce, a little extra lime zest and a drizzle of olive oil and sea salt flakes. Serve while warm.
Follow Anna Barnett on Twitter: @AnnaBarnettCook
Follow Anna Barnett on Instagram:  @AnnaBarnettCooks